FandyFire XG-V5
Reviewer's Overall Rating:
★★★
★+
Summary:
| | |
| --- | --- |
| Battery: |   18650 |
| Switch: |   Reverse Tailcap Clickie |
| Modes: |   5-mode hi-med-lo-flash-SOS |
| LED Type: |   XP-G R5 |
| Lens: |   Glass |
| Tailstands: |   Yes |
| Price Payed: |   USD$18,60 |
| From: |   Dealextreme |
|   |   |
Pros:
Looks, style, size
Beam pattern, good throw/spill balance
Overall quality
Tail-stands
No memory
Heavy and sturdy
Well separated modes...
Cons:
...but low is too bright
Underdriven...
...but still has heat issues on high
Flashy modes
Single battery spring
Chews lanyards
Siderolls
Features / Value:

★★★★★
Again good value for money from FandyFire. Unlike the 2100 I reviewed this feels solid and sturdy from the start. It's very heavy for light its size, which is quite self-evident. But I only had aluminium lights before so it caught me by surprise. The 2100 had issues with bezel. This does not, as it does not have one. Lens exits inwards and is kept in place by the reflector. There are 5 modes. 3 usable ones and 2 silly flashies. But that's no problem, as there's no memory. Light starts always from high and goes med-lo-strobe-SOS from there. Because lack of the memory there's no need to cycle through the flashies. I'm low-med-high- type of guy myself, but I can live with these modes. This is very stylish light. It's all shiny and I like the grooves on it. Black switch is a nice touch. And being stainless steel, it should wear very nicely. It does not look like brand new if not safe-queened, but it should create very lively and credible surface wear over time. Not to everyone's liking, but I like the looks of worn steel. 
Design / Build Quality: ★★★

★
Build quality is way better than in 2100. This is top notch. Threads are fine and well made, emitter is centered, reflector is well designed and made and all machining is good. With one exception. There is a small area with pitting near the tail. It shows in this photo. It's doesn't stand out or feel any different than surroundings, just a visual defect.
Here's size comparison to my other favorite lights. Representing a standard P60 host a SF L2, then FandyFire 2100, Shiningbeam S-mini and XG-V5. S-Mini and ShinyFandy are almost identical in size. And as such, it's about the perfect size. Big enough to get good grip and to take 18650 battery, but still very pocketable and compact.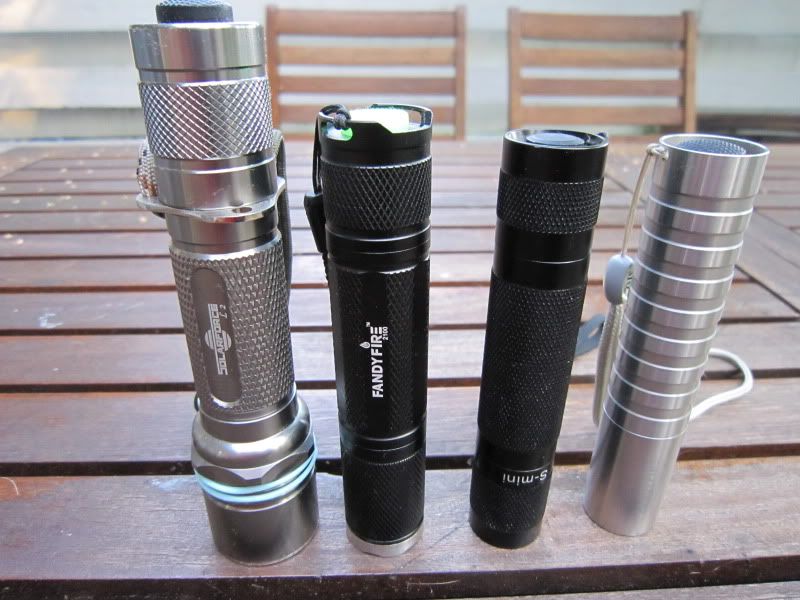 Here's some shots of the innards. There's not normal tailcap, just the head and integrated body/tail. I did not dismantle the innards. They should be just the same than in the more expensive but still waaay inferior and stupid Skyray ripoff for which Be-Seen used way more effort to review than that poor excuse for a light really deserves. Check there, there's some great pics.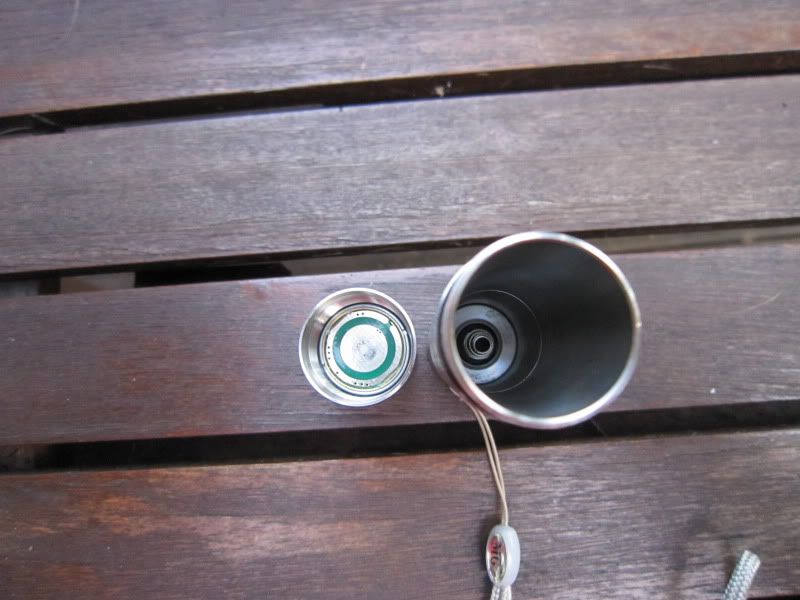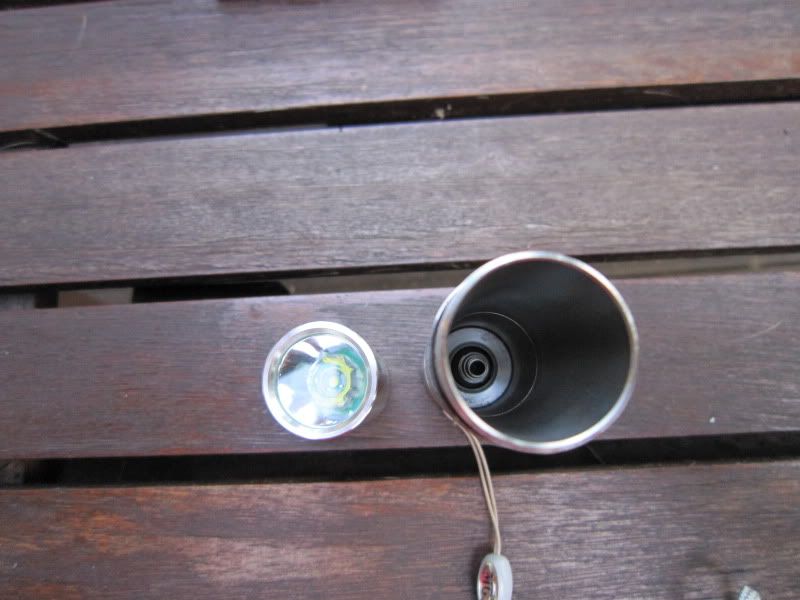 The driver board does not have spring. I don't really like that, as it compromises some durability and causes the modes to chance if the light it knocked around (sometimes even when placed on tail-stand in a hurry) but on the other hand it saves some space and contributes to compact size so it's not too bad.
Beam is very much to my liking. Light is cool white with no green or purple visible. Reflector is very good and gives nice size hotspot with plenty spill and no dark spots. I'd say I like it second best pattern of all my lights, only losing to the crazy flood of XML-modded S-mini. But then again, I prefer floody wall-of-light-type beam to throw. This has great balance. I didn't take beamshots, check Be-Seens shots, they should be the same, even his light is otherwise inferior.
One issue is with the lanyard holes. Those are sharp and could do with some re-working. The strap that came with the light was broken in minutes. That thing was too slim and cheap anyway. I put a gray strap I had laying around to it, and by now that is showing wear. And that is a good quality strap.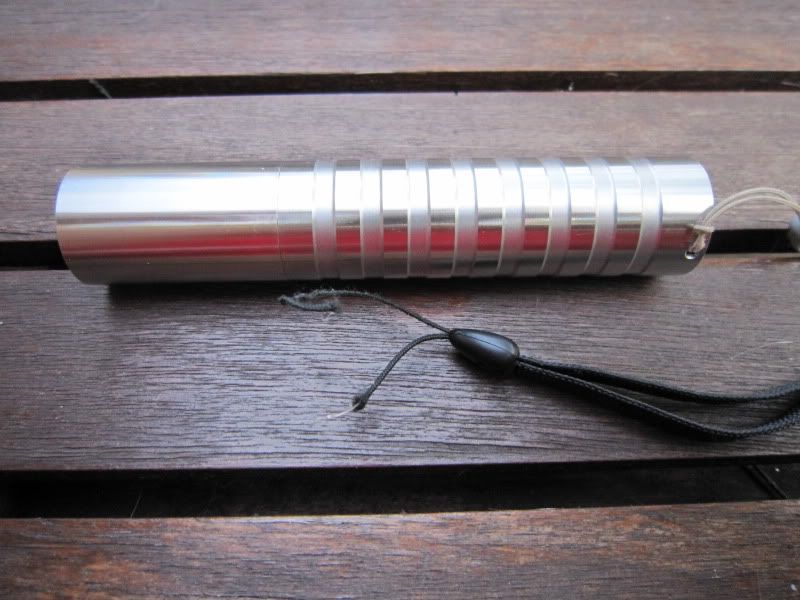 Battery Life:

★★★★★
Constant modes measure 1 amp, 0,5 amps and 0,1 amps. Quite well separated levels and should give for hours and hours of light. Low is brighter than I would care for but that's always the case with factory drivers. Medium is enough for most practical lighting needs with very good battery life.  
Light Output:
★★★★
High mode is what it's supposed to be at 1-amp driven R5. It's bright. Not XML-bright, but does battle the darkness well. Throws far, spills generously. Estimated 300-ish lumens is plenty. It does get hot on long sessions on high. And because steel is less than perfect what comes to heat distribution, it mainly heats around the head area while the body and tail remains at tolerable temperature.  
In very un-scientifical lighting measurement FandyFire 2100, which is crazy overdriven XPG R5 (1,85 amps @ 4,2v) gave 3400 lux when directed at luxmeter one meter away. XG-V5 with same battery gave 2500 lux on high. That's a lot in the paper but in the dark outside they look just the same. I could take some beamshots outside later. I think we're getting some darkness here finally soon after two months of non-stop (including the nights) sunshine.  
Summary:
★★★★+
Hmm... What can I say. It's the second FandyFire I buy for modding host. And it seems it will be second FandyFire I don't want to mod because it's so goodas standard. It's bright, it's great looking, it's steel, it shines wether it's on or not. What's not to like? At under 20$ it's a steal and I can recommend it to everyone. It's better than 4 stars, but then again it's not perfect. It's somewhat underdriven and low is too bright. It has useless modes and has only one battery spring. But other than those... I can't think of anything. It's a very good light. And most important. It's a 4 stars plus light, which makes it better than that ridiculous Skyray G6. I mean who names their lights after digital camera, airplane or Toyota Corolla special model? That's just stupid. 
—
καὶ τὸ φῶς ἐν τῇ σκοτίᾳ φαίνει καὶ ἡ σκοτία αὐτὸ οὐ κατέλαβεν