MaxToch Mission M12 - single cell 26700/26650 thrower
* provided by MaxToch for feedback
Manufacturer's Specs:
| | |
| --- | --- |
| Dimensions: | 172mm length, 63 mm head, 33 mm body |
| Weight: | 279g (Without battery) |
| Battery: | 1pc 26700 battery or 26650 battery |
| Modes: | Max-Mid-Min-Strobe-SOS |
| Emitter: | CREE XM-L2 U2 |
| Output (lumens): | Hi-1200, Mid-640, Low-260 |
| Distance: | 615 meters |
| Runtime: | Hi-2 hrs, Mid-4.5 hrs, Low-11 hrs |
| Finish: | Military Grade |
| Waterproof: | IPX-7 or IPX-8 |
| Lens: | AR coated |
| Accessories: | lanyard, o-ring, switch |
Additional Specs:
true copper MCPCB (believe it's direct path, about 25 mm)
~1,100 lumens OTF (@30 secs, measured in my PVC lightbox) on the provided 26700 cell
measured 98 kcd at 5 meters (626 meters)
body threads look like true square threading
rear tailcap switch - quality tactical (fwd clicky) w/black button (changed out to GITD)
The I.D. of the reflector is 5 mm larger than a HD2010 reflector, even though the head dimension spec is the same
no mode memory, but it resets to Hi quickly (within 1-2 secs when off), which is ok for me (for a 5 mode driver)
after adding 22 AWG wire in the tailcap spring, and charging the 26700 cell to a full 4.22v, cleaning up the tailcap threads and treating the tailcap threads and contact surfaces with NO-OX-ID, recorded a tail reading of 4.0A, lumens: 1,241 @start, 1,200 @ 30secs, and throw of 102.5 kcd taken at 5 meters (640 meters)
Here is the complete parts/accessories provided including the battery: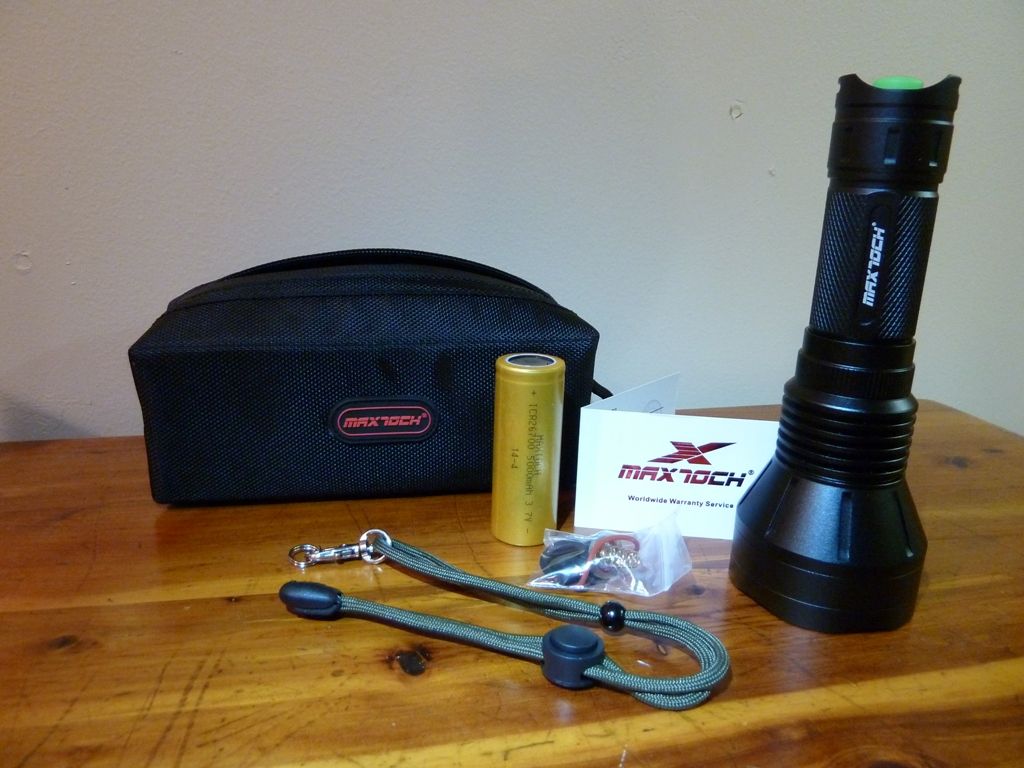 The M12 is a new design by MaxToch recently released, listed here in the manufacturer's store on AliExpress. Currently it's listed as "no longer available", but this is temporary, according to their rep, since the 1st production batch got totally sold out - they said a 2nd run is in process. The light shares style and apparently components with their other newly launched model, the Sniper M24 here. The M24 is a 2 18650 cell version of the M12. This new product line is either a direct or partial response to requests and feedback provided by BLF members. Amanda, the MaxToch sales rep, has been reaching out to several of us for comments and recommendations, as well as supportive to our forum with group buys and being available online for questions and support.
 My primary requests were for a copper direct path MCPCB and an AR lens, and all their new models incorporate these features now. The excellent performance confirms the benefits of the upgrades. What I like about this light is it's a HD 2010 with style, performance, fit and finish.
Here's a view with several popular lights (from left, the UF F13 clone from TMART, Convoy L4, SupFire L6, M12, Yezl Y3, SS T08, HD 2010):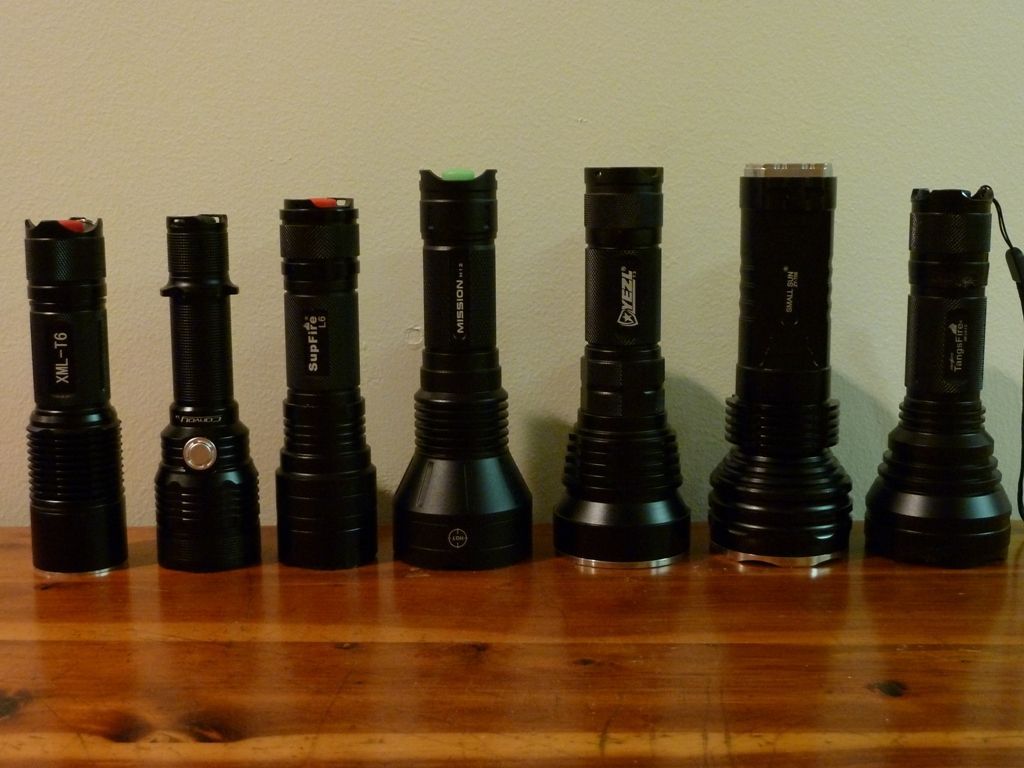 With the lights I have the closest in form factor:
More views: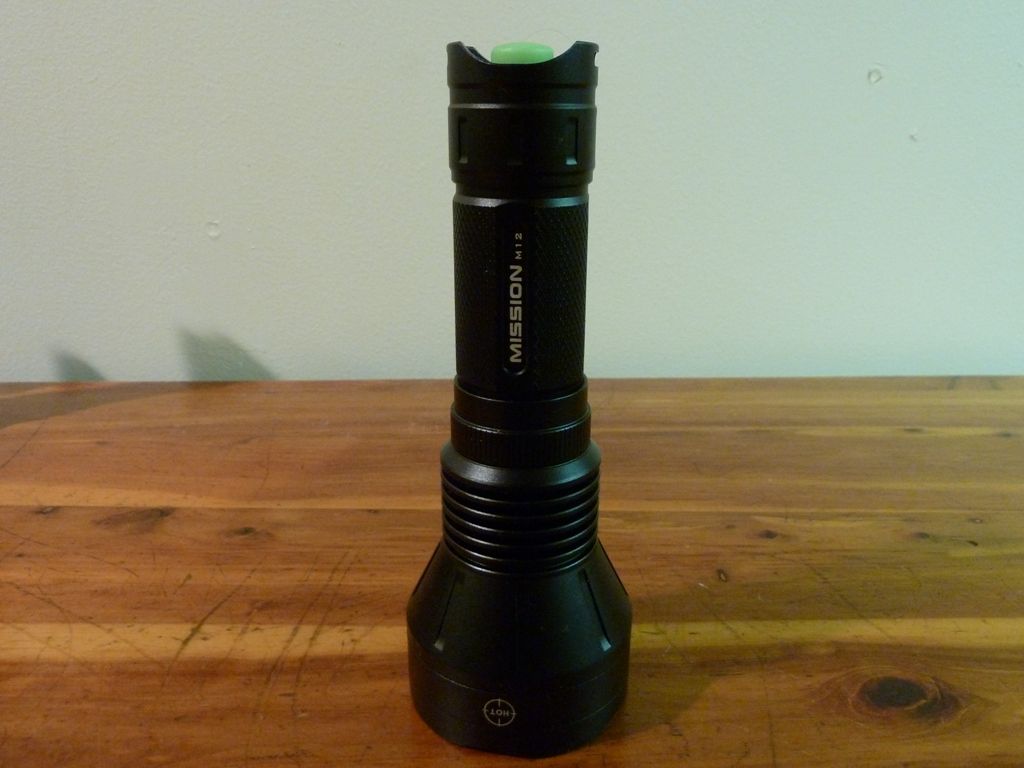 Note the AR lens has more of a bluish tint than usual purple, and fairly light. I like the fully exposed emitter - no blocking alignment piece: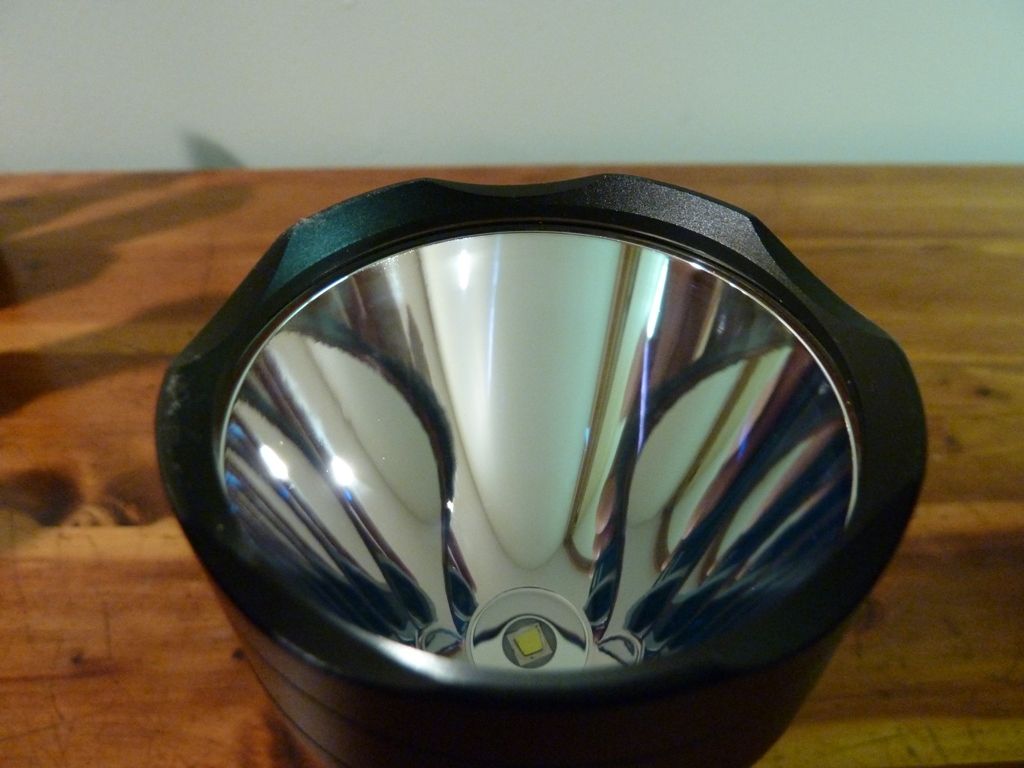 Up against it's more budget friendly rival, but, you do have to invest a bit of mod time and money into an HD2010 to get the performance #'s the M12 does stock: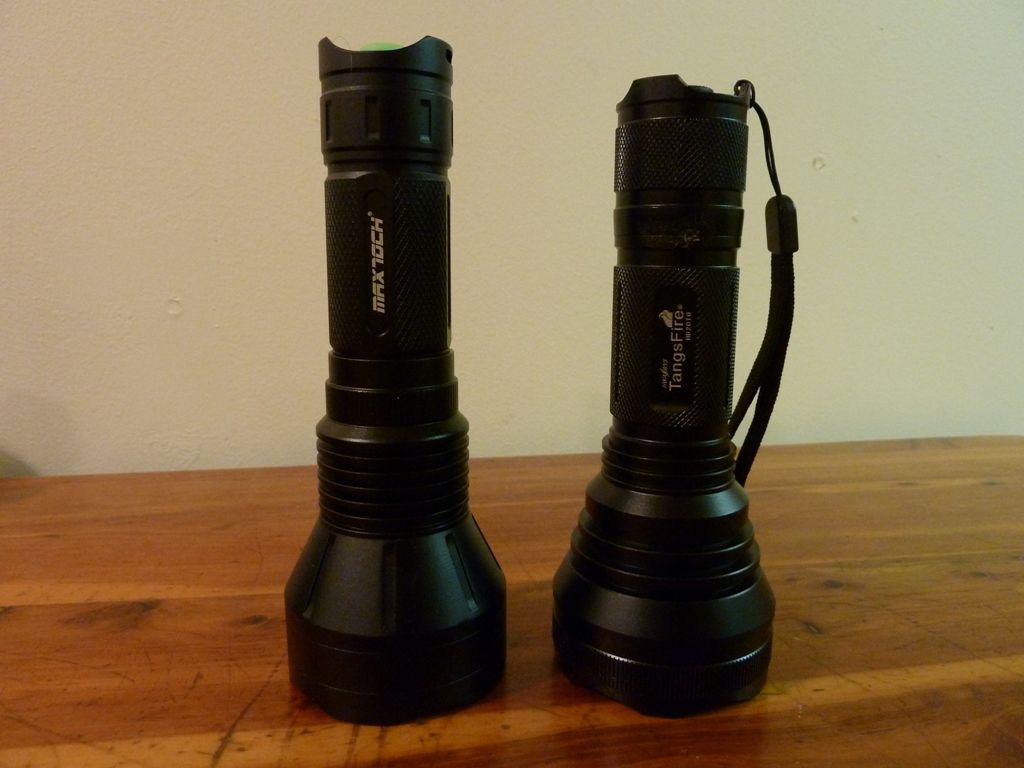 The Power Source
The cell MaxToch sells as an option with this light I found quite intriguing. I bought a Moli 26700 off of eBay a while back with the hope of getting good capacity, and good performance, but was disappointed on both of those features, plus difficulty finding a light that would fit one. I thought it would be comparable to a protected 26650, but it's a little longer, so makes it difficult to fit in most lights. This one with a rating of 5000 mAh puts it in a whole other level, and if it has the performance, then it would indeed be impressive. Here it's shown with some other common cells:
 Sure does look familiar, doesn't it? The labeling match's up very well with a KK. The 14-4 I assume is a date code (April 2014). I can't find this cell anywhere listed. In fact it's very difficult to find any 26700 cell. This is either specially made, or just too new to show up in the channel yet. Closer view next to the KK: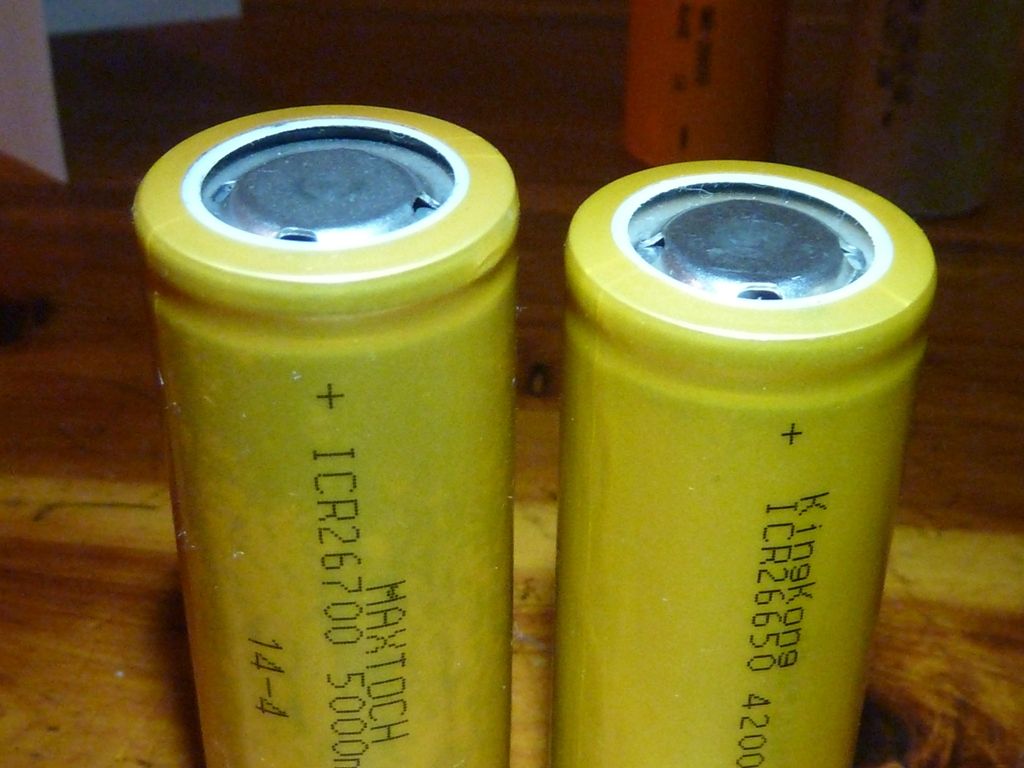 The cap, the look, the feel... Everything tells me it's made by the same manufacturer, just bigger and perhaps better. I tried a few other 26650 cells in the light and they all seemed to work fine. Here's the tail readings from several fresh charged cells:
MNKE IMR: 3.35A
KK ICR 4200: 3.72A
Powerizer: 3.85A
So with the new MaxToch ICR 5000 mAh 26700, I got a 4.0A tail reading. Hhmm - better than a Powerizer? Could be my Powerizers (and others) are getting old, so not sure if this is a fair comparison. In another DD light, I compared the MaxToch 26700 to the hot 2500 18650's, and the Efest IMR, LG HE2, and Samsung 25R all beat it, but not by much. I think this is in the class of performance of a true KK ICR.
Breaking It Down
The M12 is different than most single cell lights in that the battery is not accessed by removing the tailcap, rather where the tube threads to the head: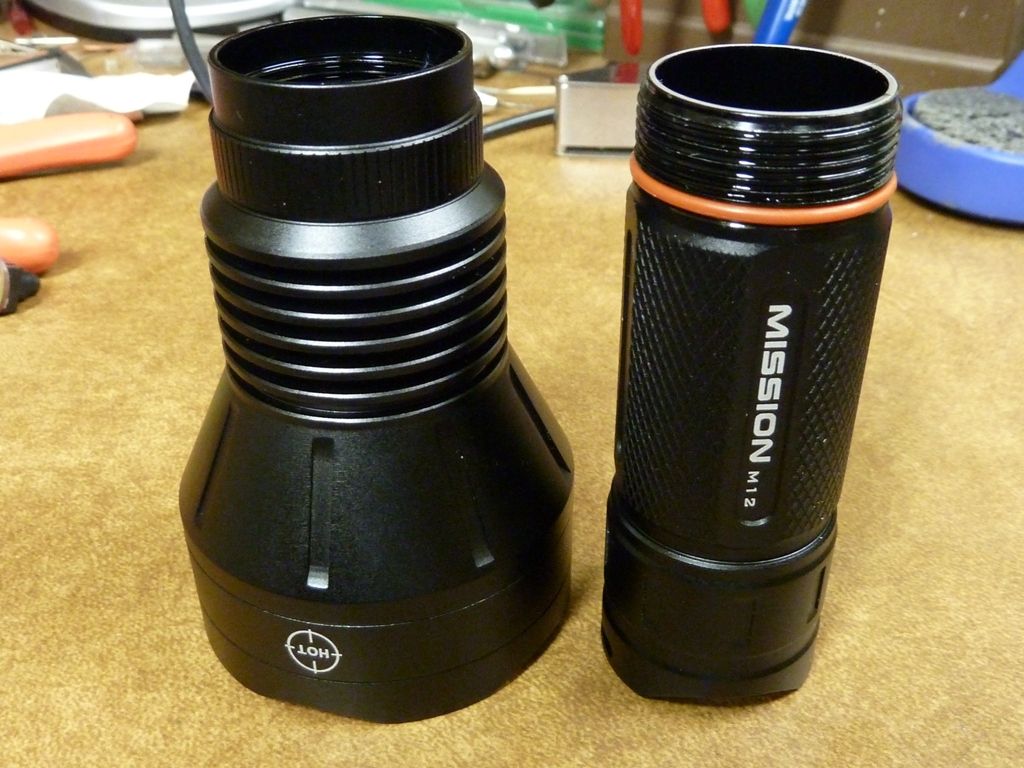 The tailcap assembly is removable to get access to the switch, but a PIA with those cutouts to apply pressure to: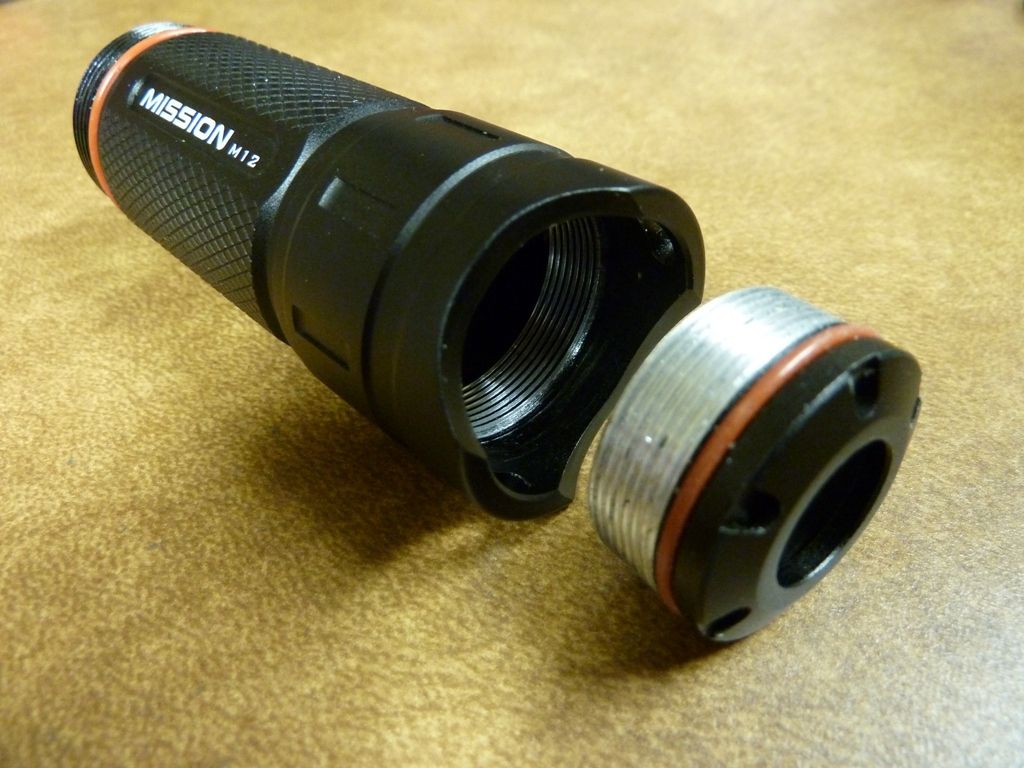 Components of the stock tailcap assembly: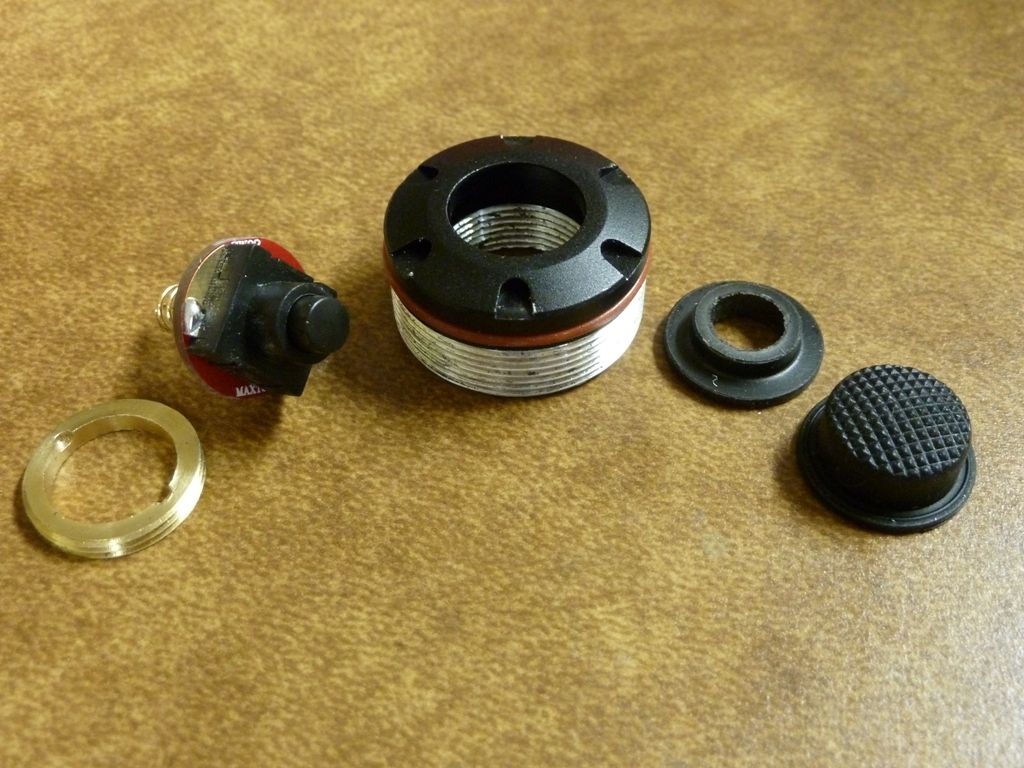 The threads here are rough and a little raw (not cleaned up), as you can see:
The dings below are from me - I used a needlenose, than a snap ring pliers and ended up scratching it up:
Here's the fwd clickie, nice quality from it's appearance:
I prefer GITD buttons, so replaced the stock black one. Just had to cut out the center knob to match the stock one: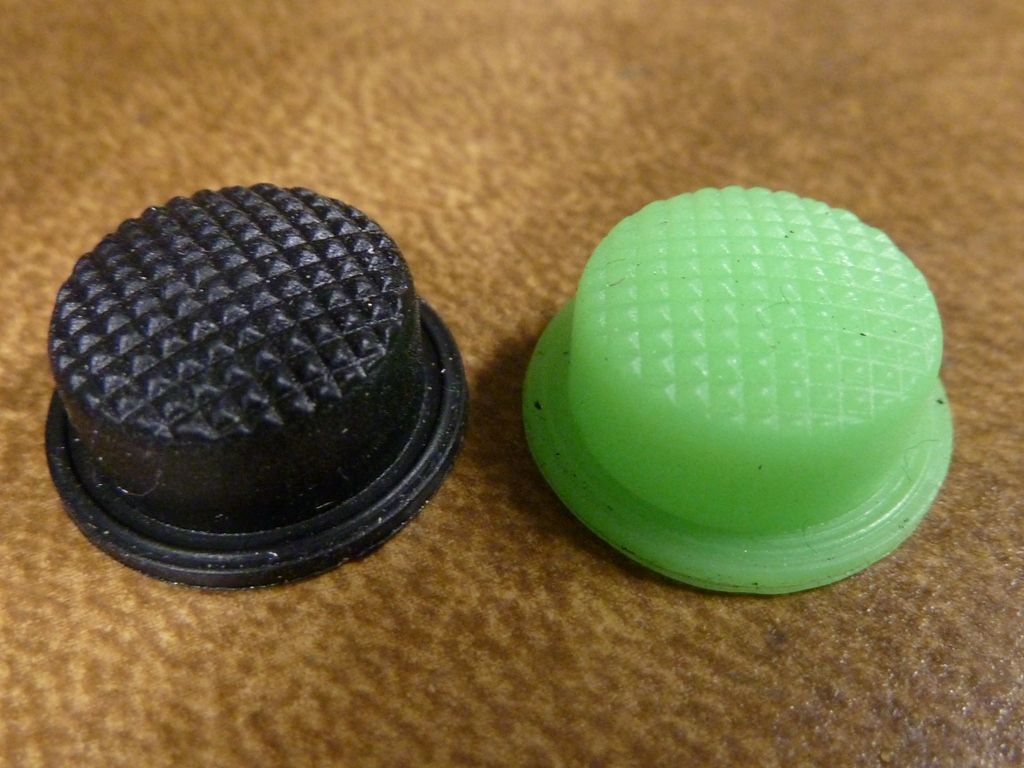 Here's a view of the body to head threads. Notice nice and square. This is the best pic I've ever taken of threads (
):
This is the emitter on the star. Without removing it, I could sneak a peek at the edges of the board by the wires and it does appear to be true copper. At some time I'll fully dis-assemble the light to confirm, and confirm it's a true direct thermal path, though there are good and bad di-electric layers, and of this has a good one, there is not much difference in performance from a direct path: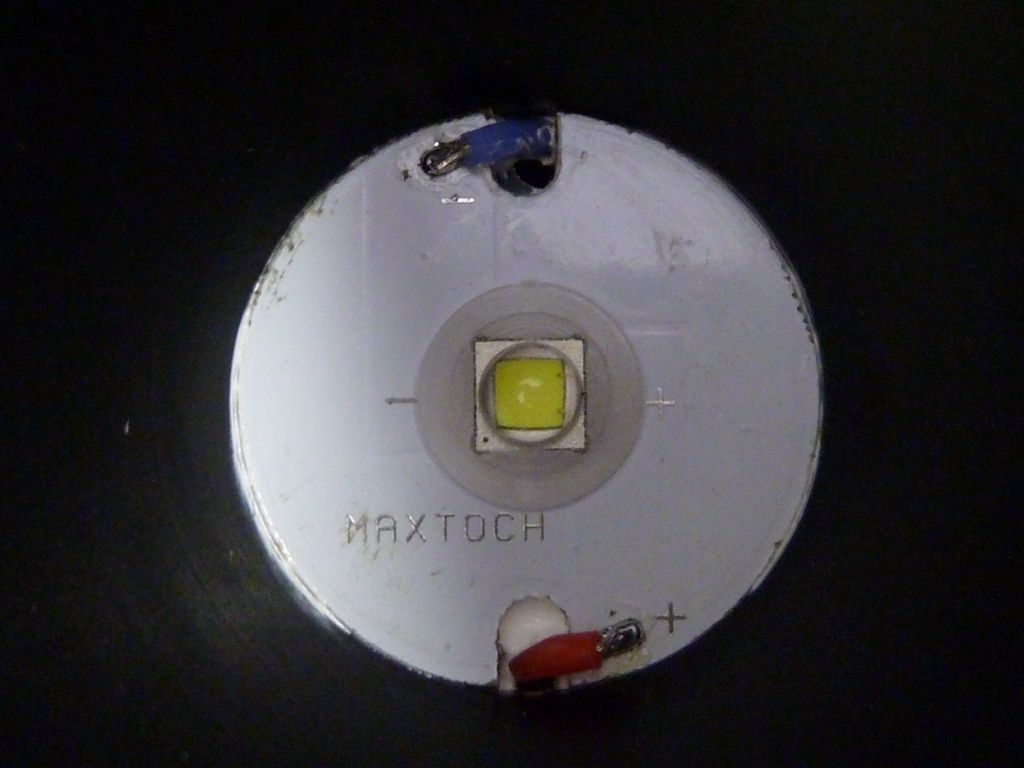 Flat bottom reflector, but the MCPCB is wide enough to not be a problem with wire connections: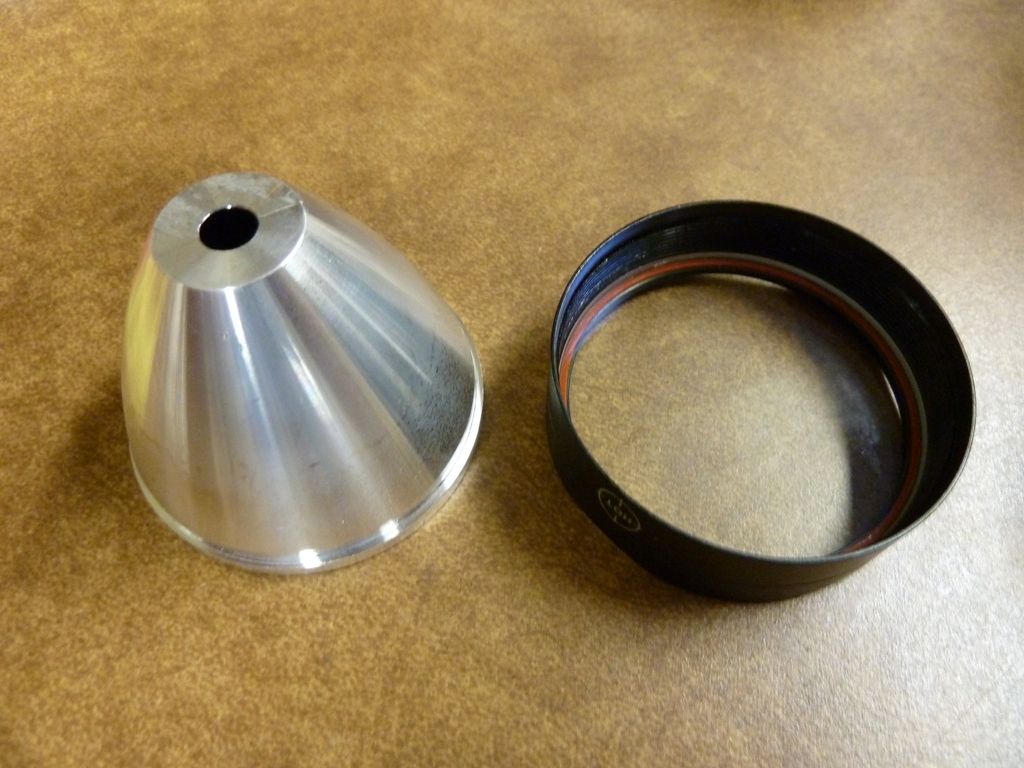 Reflector O.D.: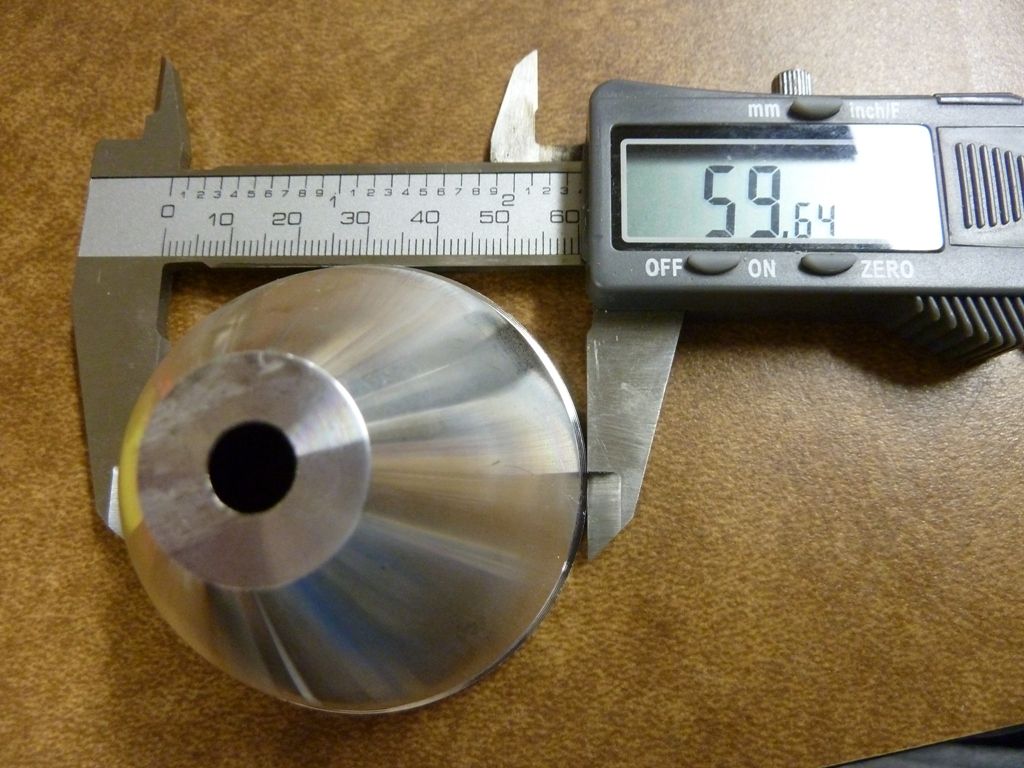 Reflector depth: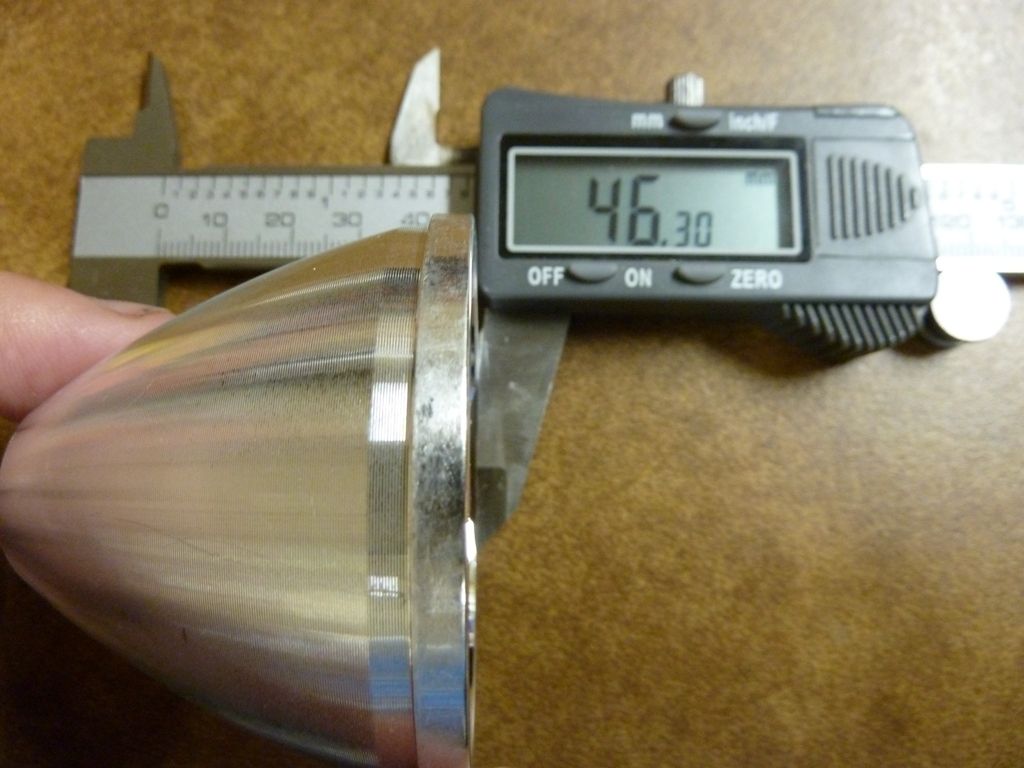 Reflector I.D. (best I could measure):
Next to a HD 2010:
HD 2010 I.D. (best I could do):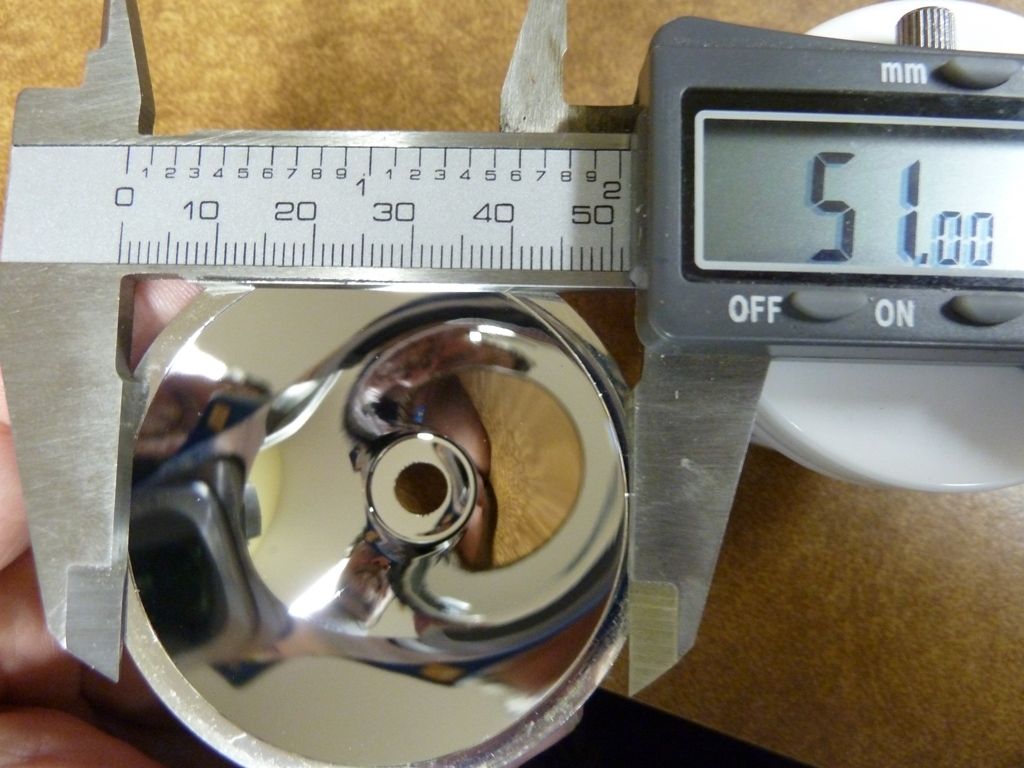 The + contact, driver access. With my usual needlenose, I could not budge this brass ring. I'm going to drill out the holes wider and deeper so I can apply more pressure. Nothing was glued on this light, but all threaded connections (tailcap, bezel) were very tight, but managed to open them by hand:
The only mod (I did so far) was to wire up the tailcap spring (below), using 22 AWG wire. I always test lights in the lightbox with a jumper wire on the cell vs. assembled with the tail and compare results. Most of the time there's loss's from the tail, and most of the time almost all the loss's are recovered by wiring the spring, and in addition, I'll clean and treat contact surfaces. Sometimes I get even higher readings with the mods than with the heavy gauge jumper wire. In this case with the 26700 cell, I picked up about 100 lumens (1,100 to 1,200), but I did measure a 130 lumen bump with the jumper wire.
NO-OX-ID right now is my favorite to use on electrical contact surfaces, including some threads, so it went on the inside threads and copper rim of the switch board: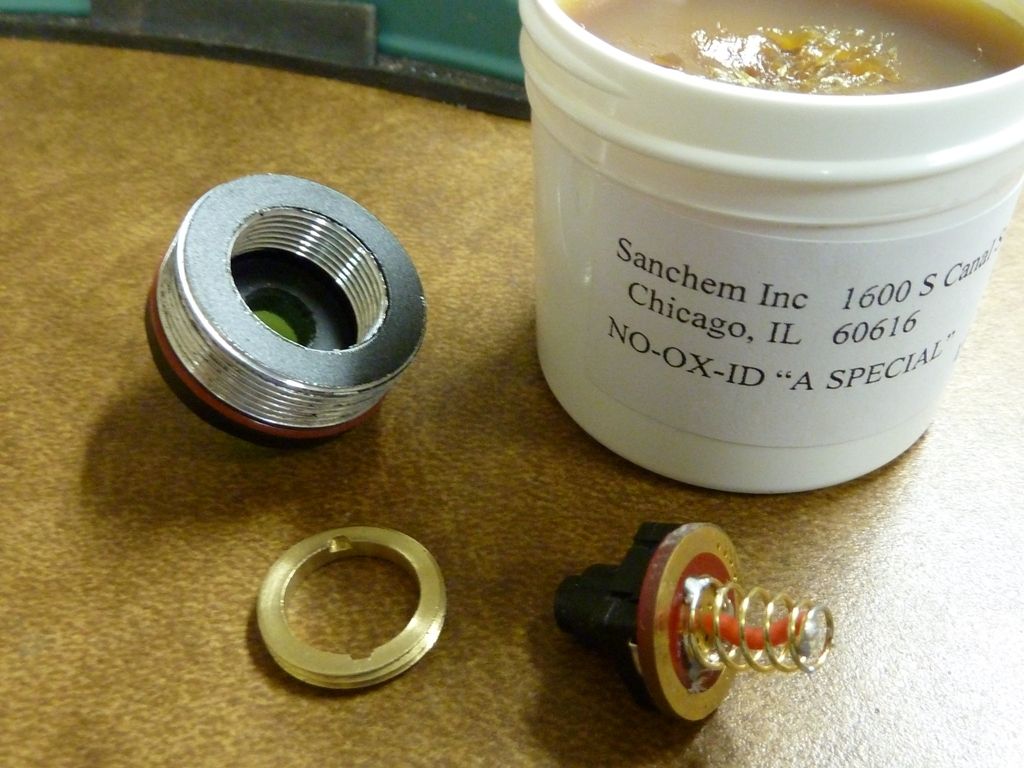 Wall Beam Shots
Here's some comparative wall beam shots. The following lights were used, in order:
(Camera Settings: F4.0, 1/60s, ISO 4000, WB DayLight)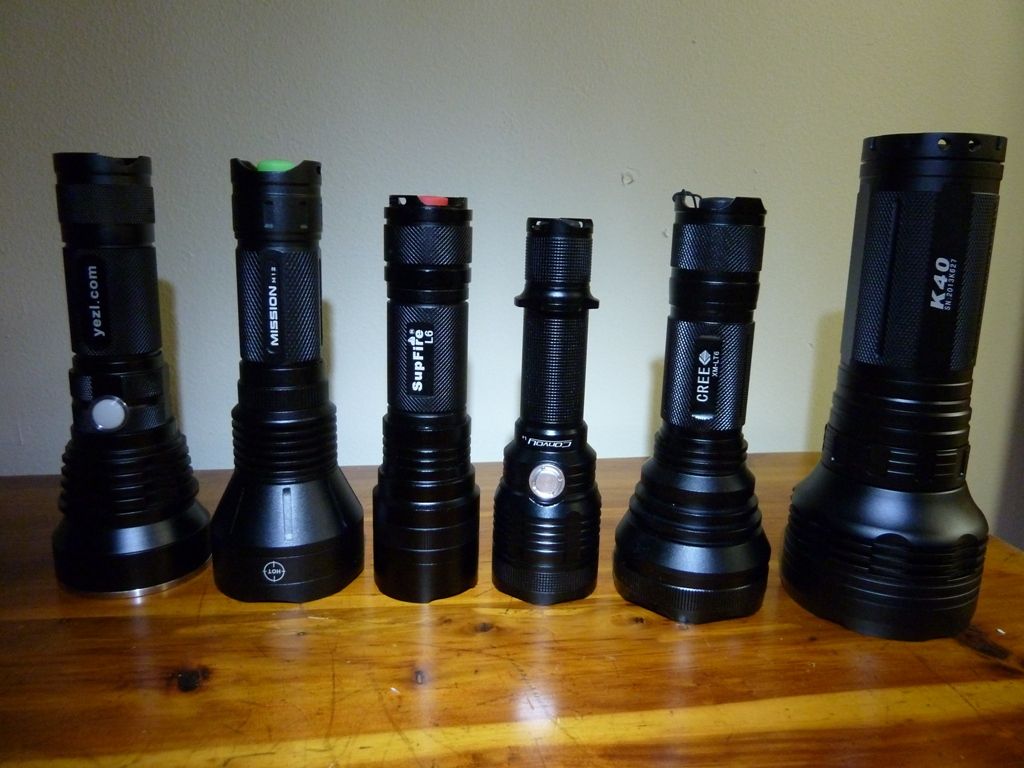 Yezl Y3 stock, measured throw at this time of 62.5 kcd:
MaxToch M12 stock (tailcap spring wired), measured throw at this time of 97 kcd:
SupFire L6 (heavily modded with BLF17DD driver, XM-L2 T6 4C LED), measured throw at this time of 52 kcd:
Convoy L4 stock, measured throw at this time of 39 kcd:
HD 2010 stock, measured throw at this time of 48 kcd: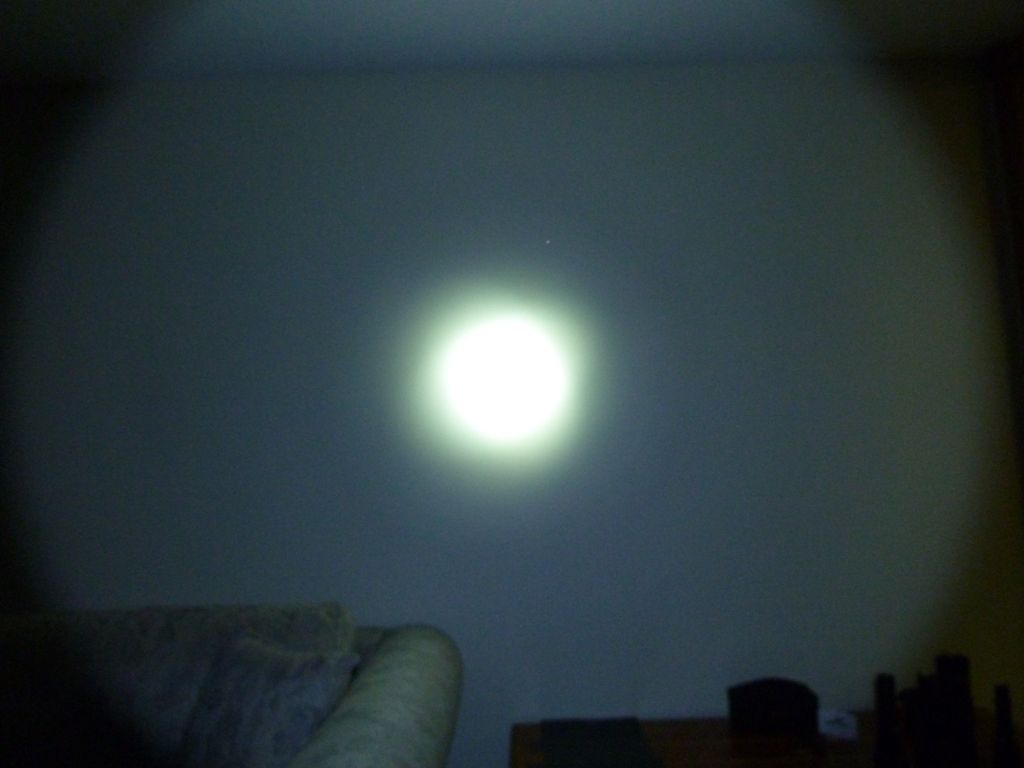 SupBeam K40 (heavily modded for high amps and de-domed XM-L2 U2 1A), measured throw at this time of 315 kcd:
Conclusion
 I always liked the form factor of the HD 2010, the size, weight and feel, and currently I prefer the Yezl Y3 for it's quality, side switch, SS bezel, slightly bigger reflector. However both lights have to be heavily modded to make them perform well, while the M12 is there -- out-of-the-box with advanced performance, and additional quality. Is it perfect for me? No - I'd like to see a SS bezel, SS tail, and maybe a e-switch to make it ideal. But this light (and MaxToch) brought something truly unique to the table in having the capability of running a 26700 cell, then also providing a 26700 cell which is outstanding in performance, and I'm assuming runtime. I haven't tested the capacity yet on my Opus dream charger, but will soon. I'd expect it to meet or exceed the rated 5000, just like the KK 4000's do (typically they do 4200).
 Will I mod this light further? Well, of course I probably will - I'm not a fan of the standard 5 mode UI, and perhaps I will push it to see how much throw I can get from it at high amps and a de-domed XM-L2 U2 1A. I'd expect to hit 300 kcd.
If you look at the MaxToch M24, the head is identical in looks and dimensions to the M12, therefore, I'm thinking they are using the same driver. if so, the driver could possibly take 2 cells (8.4v). Amanda from MaxToch sent me a pic of the driver and it shows a big inductor on the board, so most likely it's a buck driver.
The M12 without the battery is listed for $67.50, a bit pricey for a budget thrower, but puts you right in the 95 to 100 kcd range with a fine built light. I'm not too impressed with the bag it comes I'd prefer a holster, but the NiWalker holster from FastTech fits this light perfectly, and for just $4, you can't go wrong.
Additional Notes:
June 18th, 2014:
Be aware the 26700 cells don't fit in the NiteCore i4 V2, but do fit in the JetBeam i4 Pro and the new Opus "Dream" charger. For the Opus, I needed to add thin magnets on each end to make contact.
June 20th, 2014:
Sorry, for those interested and already  own/saw a MaxToch, the finish on the M12 is not HA-III - it's not listed this way, like with the SN6X-2X. The finish is listed as "Military Grade". I found the M12's finish to be ok, not flat black like the SN6X-2X, so I consider it inferior to the SN6X-2X, maybe on par with a Convoy, maybe less, I'm not sure. I'm no expert with finish's though, and can't really tell quality easily. I reported this to MaxToch, along with the pill top issues I found. I can't say they spec'd it wrong though - no idea what "Military Grade" is or means. I'll try to post a pic next to the SN6X-2X, but you can see in the pictures above the finish is as shiny as others shown.