She's been thru a few days (and nights) of playing around and annoying the neighbors. 0:) This is the brightest (ceiling bounce and most likely with my light meter) LED light I have now. Nice wide spill that's almost as bright as my Sipik clone on 14500's. The beam is tight w/o being too tight. From about 6 feet away, the "hottest" part of the hotspot is about 6 inches wide. Of course, I'm not going to be using this light from 6 feet. I'm relieved the beam's not super narrow like my $27 + tax HomeDepot 2D special I got a few years ago. I was going to return it as I really don't find such a light useful, but I dropped it and so.... Aaanyway, back to the subject.
First thing I did after opening the "present" to myself, was check her current. And much like the guy in another thread, I was only getting 1.47-1.54Ah on high (*These numbers were due to sub-par cells and poor DMM leads. The cells were old laptop pulls and is mentioned later in this thread. For the new leads I used 1/8 thick copper wire. With a panasonic imr, I got 4.9 amps, with green panasonics 3.7A and with the laptop cells 2.5A. So definitely this light is unregulated. Its the brightest single cell light I have. I love it!) Was a bit dissapointed until I turned X9 on. lol Once she was turned on, I forgot about her faults and the action got hot.
This is the first time I've actually felt a good amount of HEAT coming out the front of an LED light. And because I got a great price on ebay (about half), the faults are easy to forgive. Had I paid $54.00 from Manafont, I might be second guessing my purchase. But who know, perhaps I would have gotten a 3.0A light.(??)
-- Start Edit --
Just did some lux readings on my X9. My Meterman lightmeter's max lux range is 20K, so I had to record in fc and convert. (1 fc = 10.7639 lux). I only had time to do readings on the X9, the HomeDepot 2D Husky LED and my UniqueFire G10.
All readings taken at 1 meter (~39 inches).

UniqueFire G10 w/ 4.17v 14500 = 3,756 lux (ave of 3 readings)
Husky w/ 2D nimh 1.30v = 20,989 lux (ave of 3 readings)
TrustFire X9 w/ 4.17v 18650 = 36,489 lux (ave of 3 readings)
TrustFire X9 w/ 2xCR123a = 40,256 lux (ave of 2 readings)
Hopefully, this will give you an idea of how far she can throw relative to other similar size/style lights. For example, the G10 is brighter from a ceiling bounce than the Husky, but the Husky blows it away on throw (Most of the light goes to the "pencil" beam). I'll try to add more readings with different cells as well as record other flashlights like my Sipik which I can't seem to locate atm.
-- End Edit --
So on to the pics...more thoughts later.
Check out her good looks. Tall, dark and exotic...

Can you see me?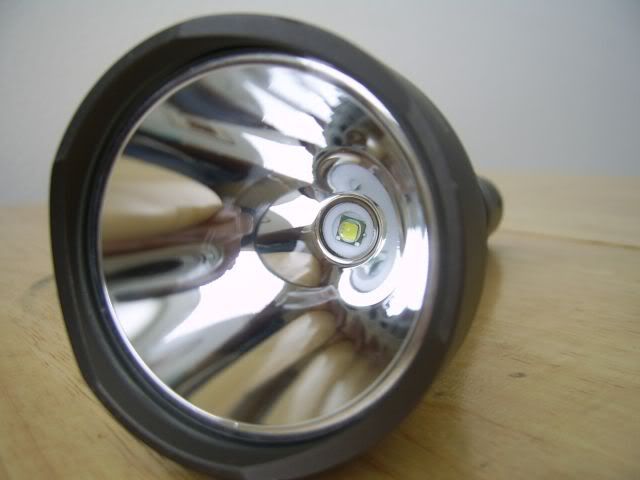 The "X9" part looks a litte funky.

Sometimes it's this color, sometimes it's darker. I love it.

Slight color mismatch just like a real SureFire!

The beveled edges are a tad sharp. Need to break out the dremel.

Preparing to get launched into space...

Now for some beamshots. About 75 feet to target. All shots were taken in manual but for some reason, the settings were a bit off. All the beamshots are a bit brighter than what I actually saw that night. I just couldn't tell from the camera's viewing screen. But since all of the beamshots came out this way, you can get an idea how bright things are relative to the other lights.
The control. (oddly, this shot looks darker than what I remember)

Here's the X9 on low.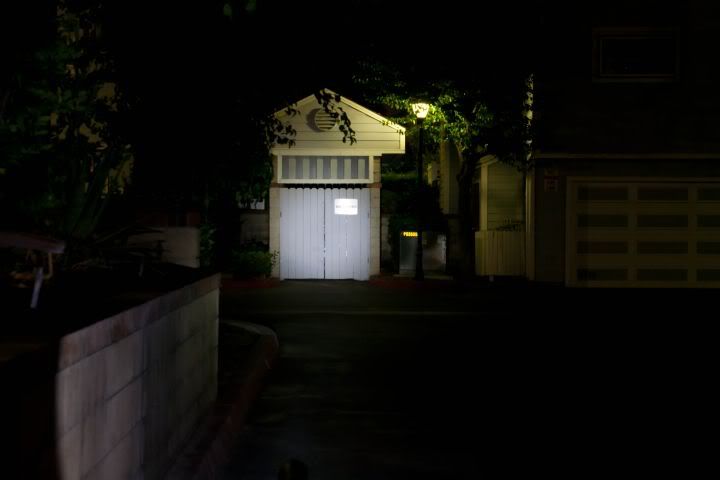 Here's the X9 on med.

And here's the X9 on high.

UniqueFire G10 with 14500.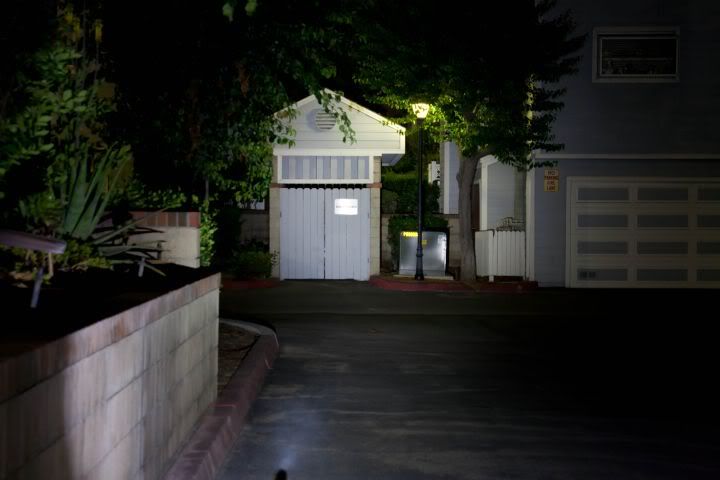 Sipik 68 clone with 14500.

Phoebus pk-05 with 17670.

Here's 2 pics that had the exposure dialed down equally. The Sipik zoomed and the X9 on high.
First the Sipik clone.

And now the X9 on high.


Again, I'm glad the beam's not like the Husky 2D (the spaceship) or spill-less, bordered beam of the Sipik 68.

Pros:
Nice design and finish.
Cool natural-ish color for a budget light.
Bright for a single li-ion flashlight.
Forward clickie.
Multi-modes (con for some I guess)
Returns to last mode used when turned off for 2+ seconds.
Good heatsinking.
Wide square threads.
O-rings through out. Double at tailcap end.
Can be completely disassembled (to pill).
Good pricing on ebay. (as of aug 2011)
Cons:
Dirty, slightly gritty threads. (but not a con anymore)
Tailcap had connectivity issues. (but not a con anymore)
Tailcap has sharp beveled edges!
At times looks like it's missing it's tailcap because of the polished end. lol
Entire body needs knurling.
Wish it had a SF C2/C3 grip thingy instead of the "pokey" lanyard/strap ring.
Not 3.0 Amps as supposed to be.
Even though it's not 3A, it burns through my cells (to 3.6v) in about 25 min. lol
I'll try to take some long range shots and compare her with the Home Depot light, the Streamlight Stinger mod and perhaps the Magcharger.
I know I'm repeating myself, but I really do like this flashlight! My G10 doesn't seem as bright as it used to..:(
**Edit**
Here's a video I made comparing the TrustFire X9 with a Keygos Ke5 and a Husky 2D.
Here's a video of the X9 going out to 500ft in an urban, light polluted area.