JETBeam HC20 - headlight
Link to HC20 @ Gearbest
(thanks for providing this sample for review)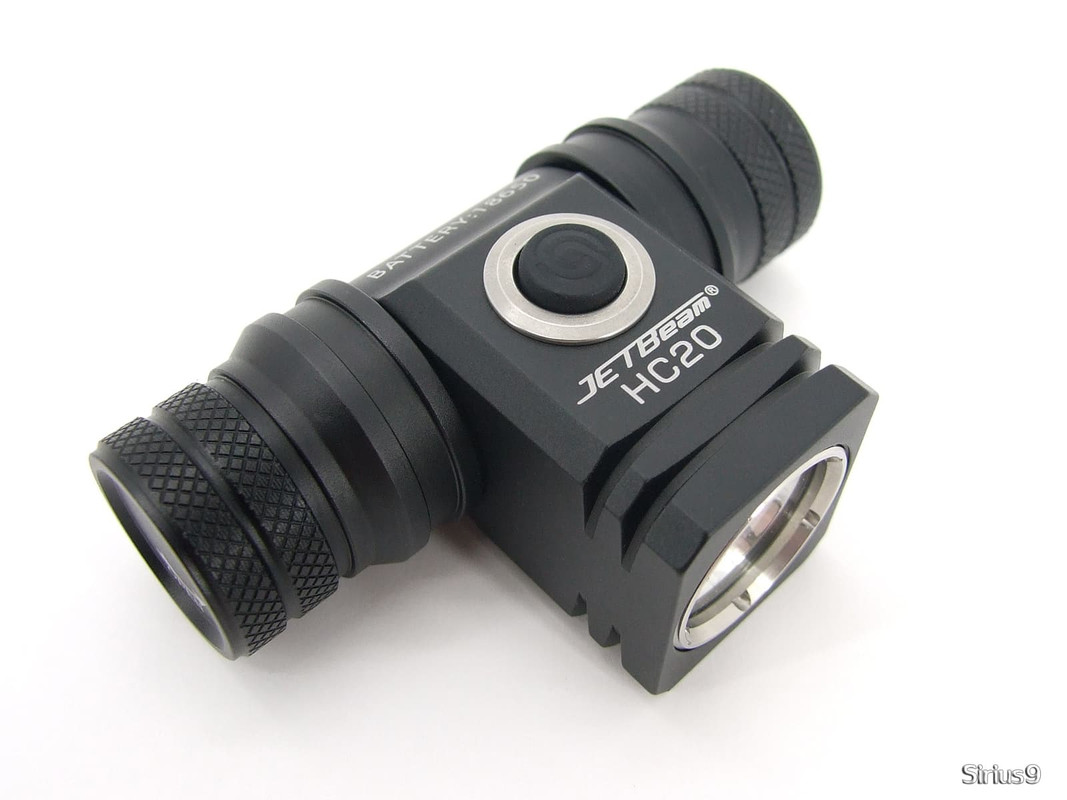 Specifications by GB:
Brand 

 JETBeam

Model 

 HC20

Function 

 Camping, Hiking, Walking, Night riding

Lumens 

 800Lm

Emitter 

 1 x Cree XM-L2

Mode 

 3 (High > Mid > Low)
 Actually 5, strobe and sos are hidden

Battery 

 1 x 18650 (included JETBeam JL240-2400mAh)

Reflector 

 Orange Peel

Lens 

 Glass lens

Waterproof 

 IPX-8 (Underwater 2m)

Beam Distance 

 100-150m

Body Material 

 Aluminium alloy

Weight 

 83gr!

Dimensions 

 (LxWxH): 8.2 x 2.65 x 2.9 cm
 or:  3.23 x 1.04 x 1.14 inches

Package 
content 

 JETBeam HC20 headlight, headband, 18650 battery,
 one spare O-ring, user manual and warranty card.
Introduction
       This is one of the new models released by one of the well known brands, JETBeam, at the end of 2014 year. Intriguing design and JETBeam´s reputation (you can't go wrong with JETBeam, right!) attracted me to this product, did it fulfill my expectations you can read in this review.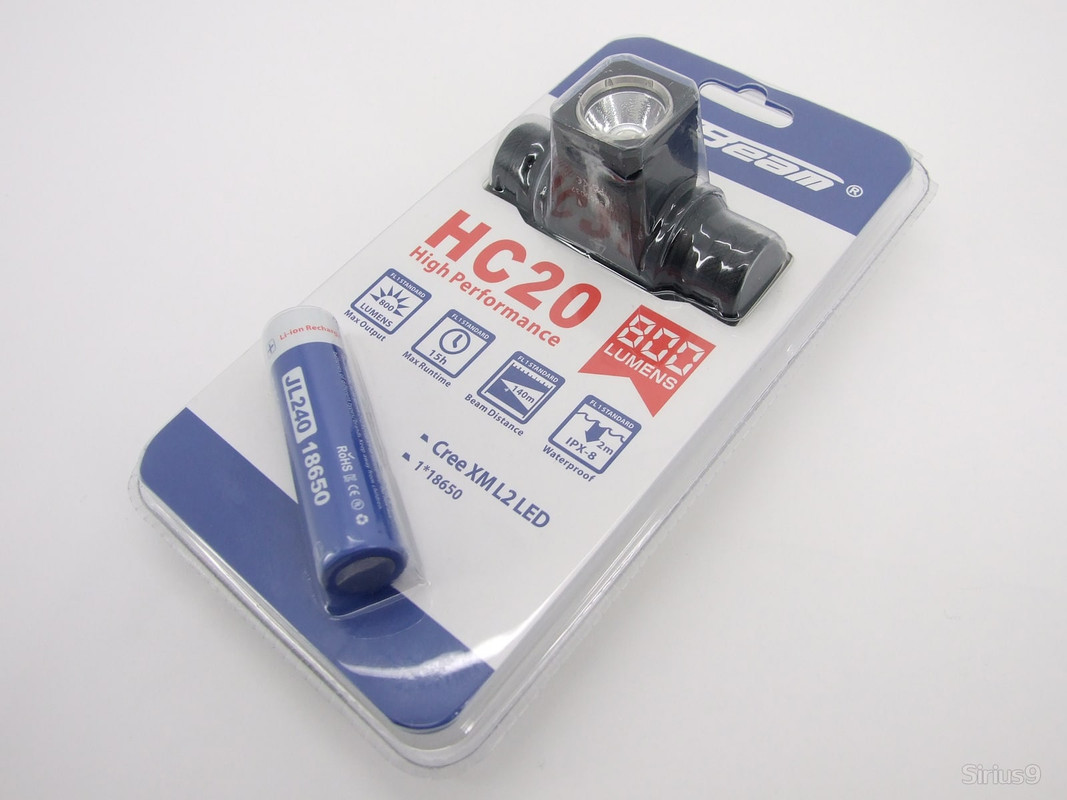 About the product
As shown, product is packaged in PITA to open blister packing of mediocre design with just enough informations to focus your attention on the 2 main things: 1) 18650 battery is included (so ready to go out of the package) and 2) square designed headlight business end with stainless steel like retention ring to make it more interesting. I should mention that they used pretty thick plastic sheet to make this blister housing so I believe it will be sufficient to protect headlight and battery but I still like more old fashioned cardboard box because it's good for storing the product when not in use.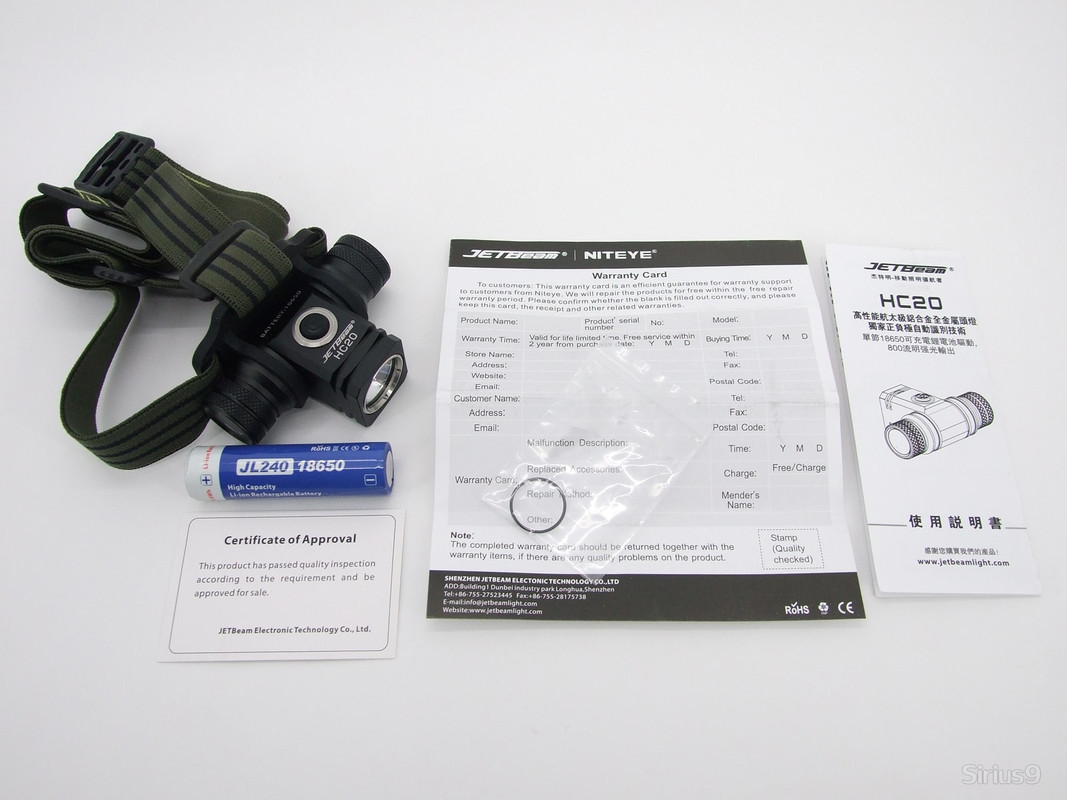 Inside of the package you will find HC20 headlight with headband already coupled, JETBeam JL 240 18650 Lithium Ion battery, spare O-ring, warranty stuff and ofcourse user manual for you to practice your chinese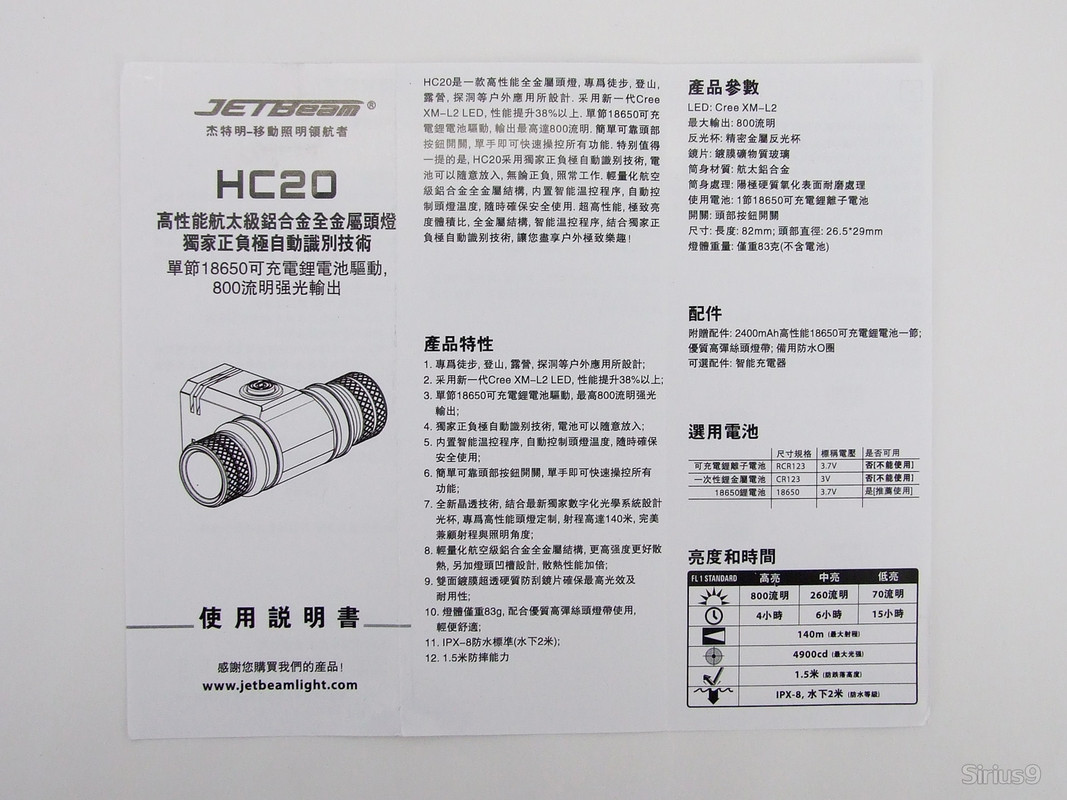 Headband provided with this light is standard type that you get with almost and other headlight, almost identical to headband of my Crelant CH10 but the quality is better and you can notice that. It has 2 points of adjusting, a bit stronger grip than generic bands and thats about all that can be said about headband...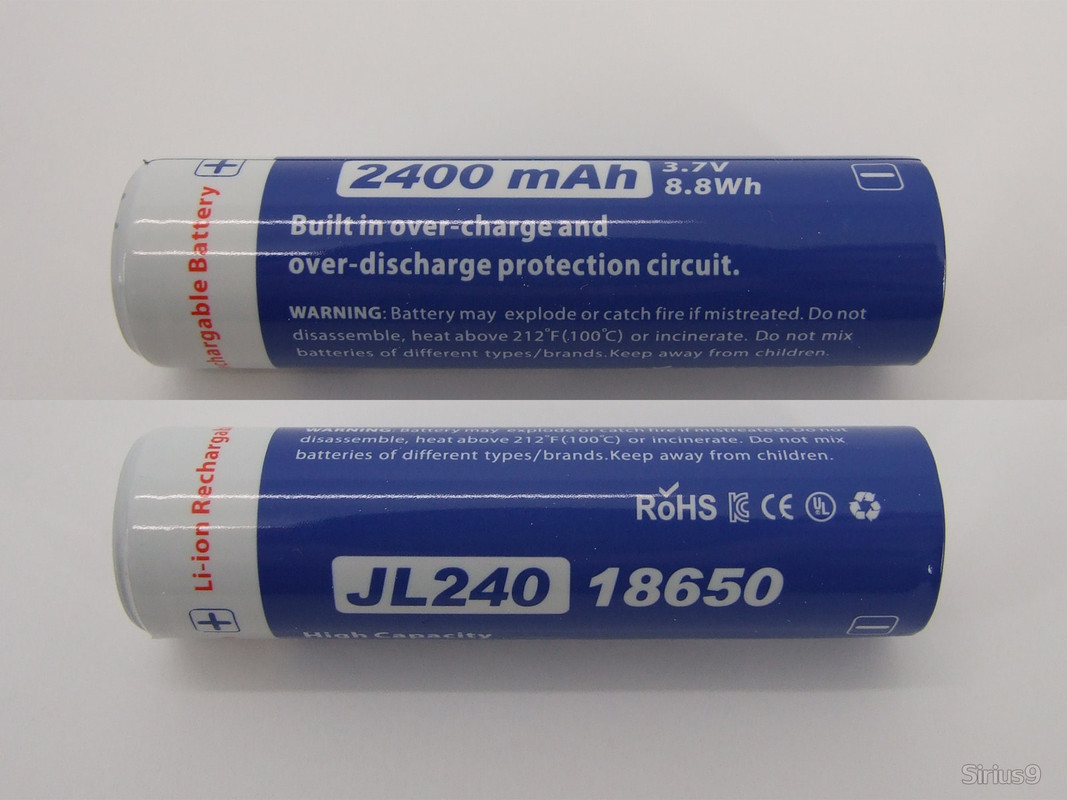 18650 battery that is included in the set is marked as JL240 and advertised by JETBeam as:
- High capacity of 2400mAh with over 500 charge-discharge cycles
- Perfectly safe with triple overheating protections* lost in translation!!!
- High performance with max output current of 4A
and some other confusing and a bit funny specs like:
- "18650 rechargeable battery In Live end protection plastic package technology"
- "High reliability and impact resistance with steel protecting three key parts"
Dimensions: 68.7mm x 18.3mm *measured
Weight: 48 gr
Inside is probably Sanyo cell coupled with protection PCB and the "triple overheating protections" is actually referring to standard overcharging, over discharging and short circuit protection. Max charging currend is 2A (recommended 1A). I used my Accucell6 to discharge this battery and from 4.11V to 2.80V it measured 2033mAh (at 1A discharge rate) then I charged it in BT-C3100 and got 2036mAh (charged at 700mA rate) so slightly under specification, they probably used very low charging or discharging rate to get 2400mAh!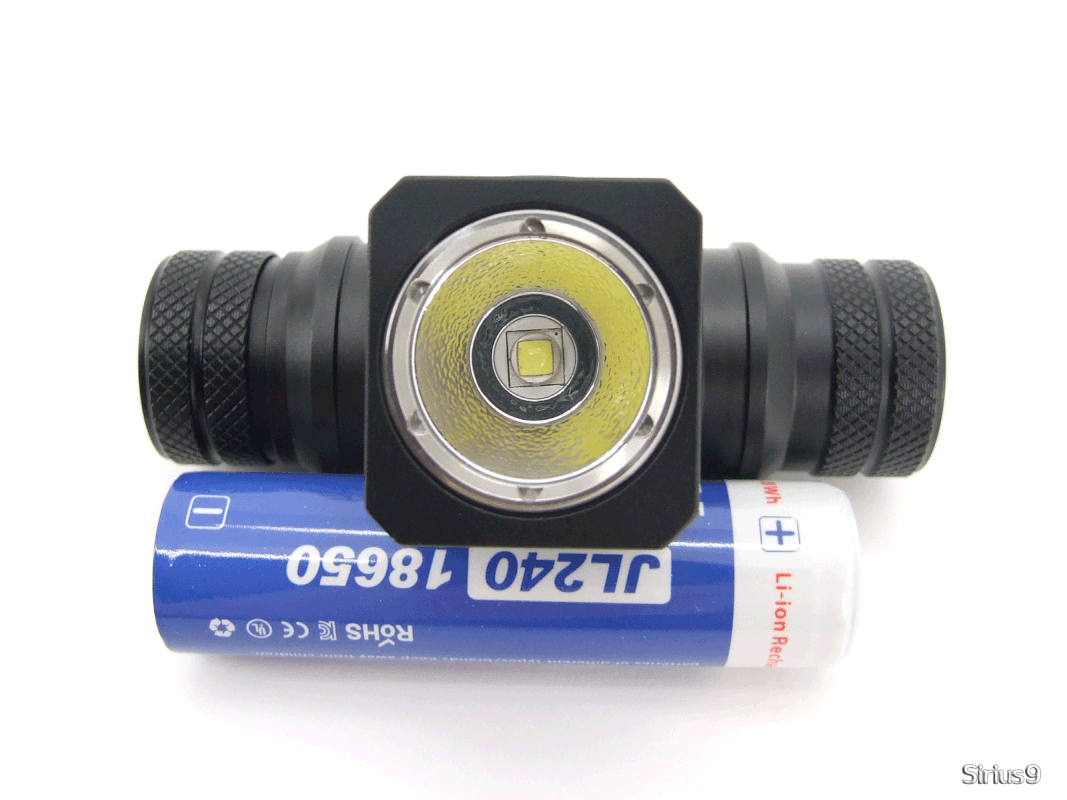 Business end is equipped XM-L2 T6 emitter in CW version, I would say that the tint is about 1B or 1C so there is a slight green hue at least on my sample. Orenge peel reflector will nicely smooth out the beam making it comfortable for close up work. Until now I used Crelant CH10 with XP-G2 emitter that makes noticeable spot on any level you set it, and that can be annoying if used for close up work plus it has much deeper reflector so in my case CH20 is appreciated upgrade.
Machining and anodization I would graded as excellent, my sample didn't had any dings, scratches or other imperfections.
Before we dig into this product and start disassembling it here are several comparison photos including mentioned Crelant CH10
can you notice resemblance? No! How about now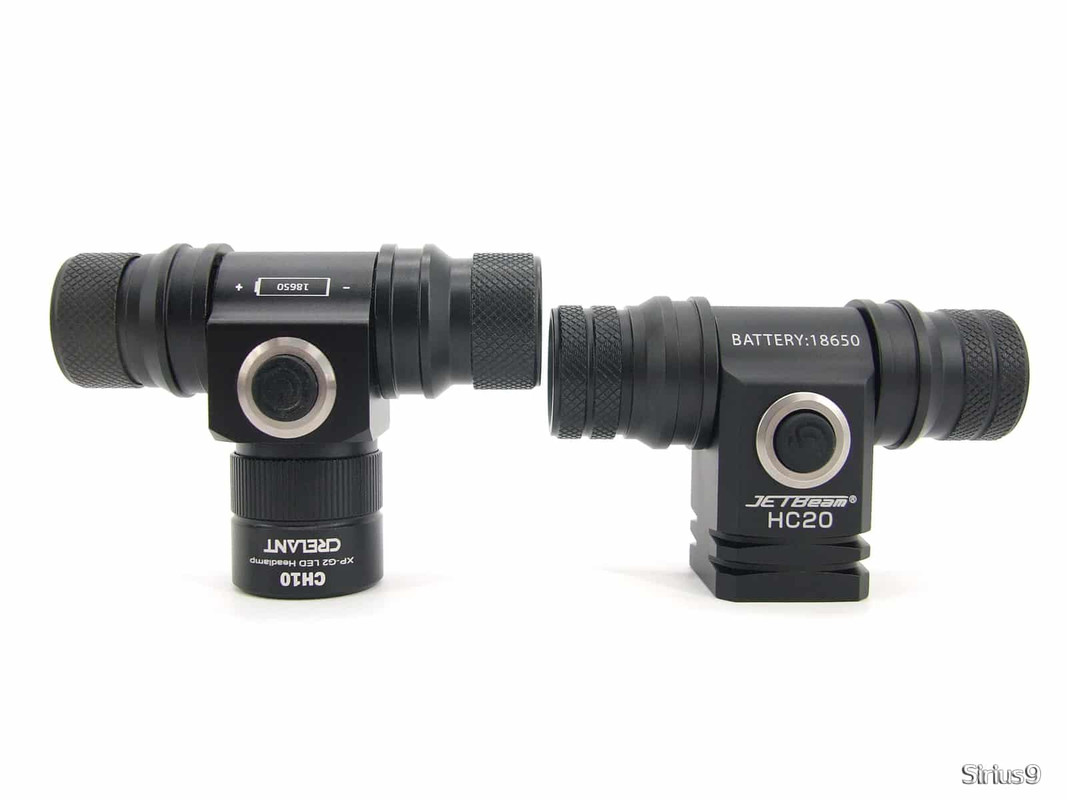 Either they were made in the same factory or someone copied someone or... not sure what but similarity is beyond coincidence.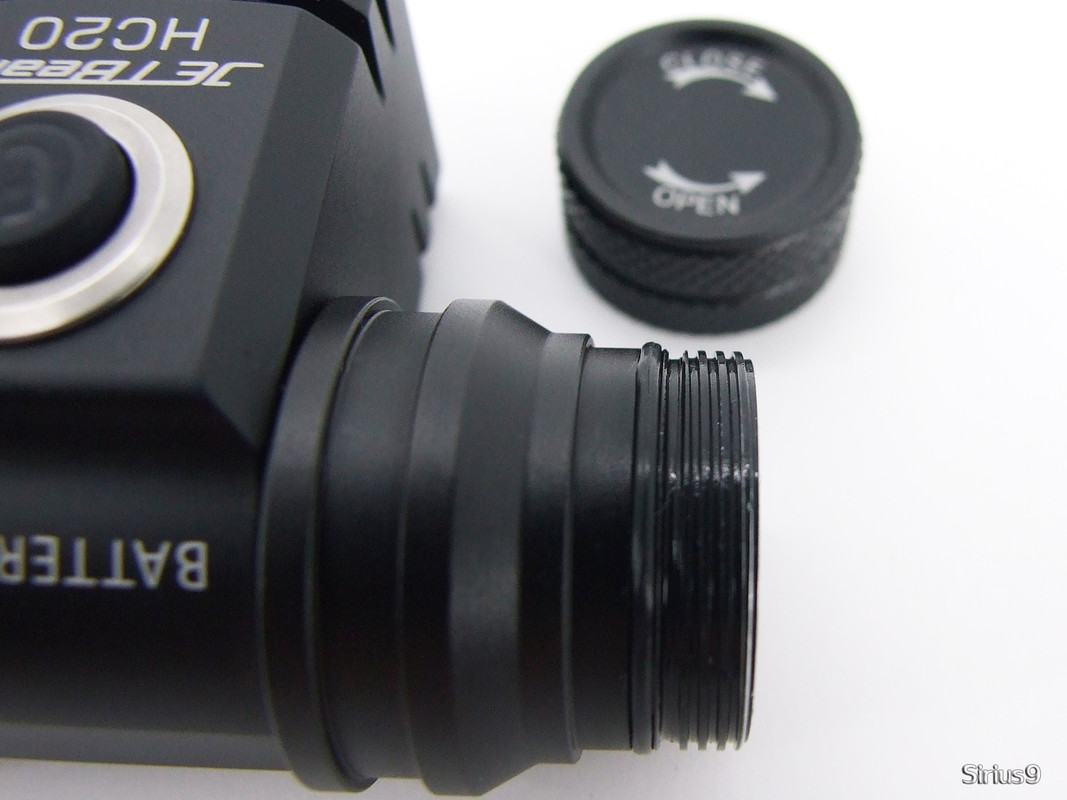 As shown, threads are square cut, lubed, operation is nice and smooth, O-ring is of good size to make tight fit when tailcap is screwed. Tailcap has printed markings about directions for opening and closing but I should mention that there are no markings about how should you insert the battery and this is because you can insert the battery both ways
of course I tested this and it works, points goes to JETBeam fot this one.
"Unique "anode and cathode AUTO-ID" technology for battery random connection"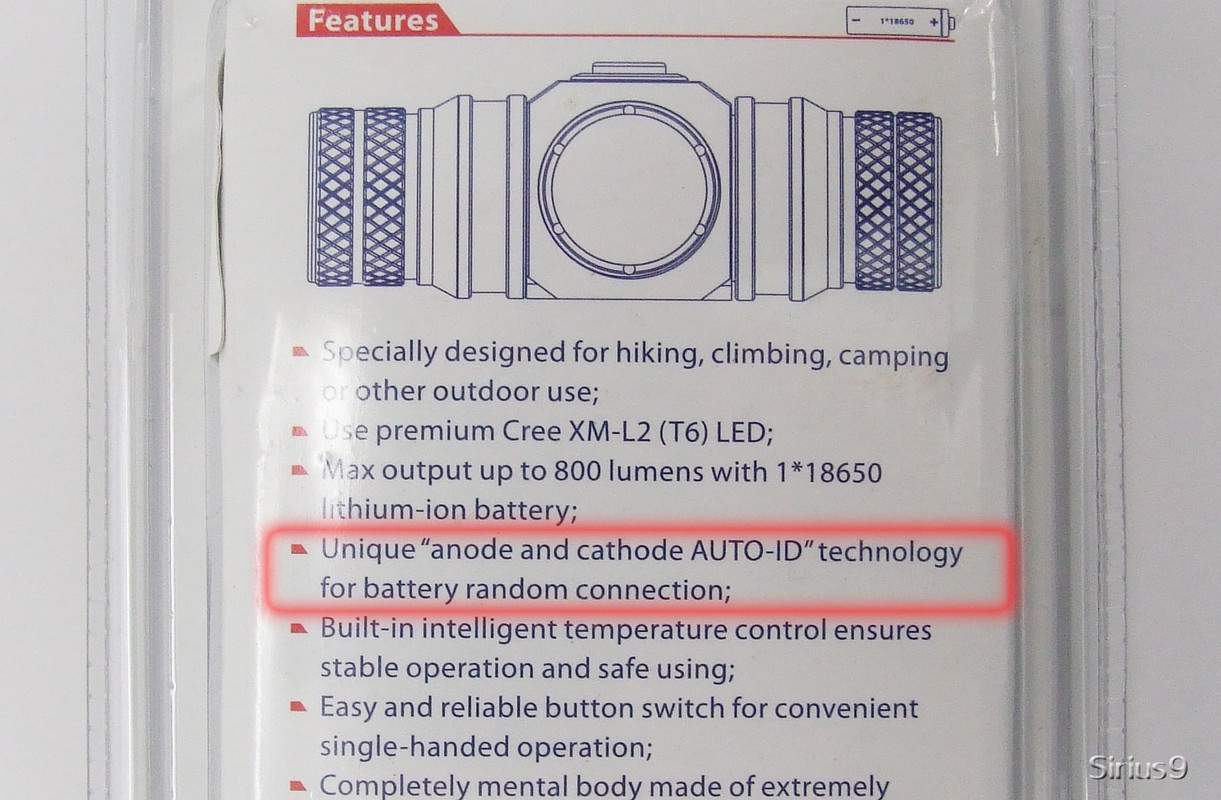 Most flashlights have reverse-polarity protection but wouldn't it be nice if they would work regardless how you insert the battery.
OK, let's move along, a bit more force applied while screwing the tailcap and this happend, I accidentally unscrewed opposite side of battery tube! I would like to think that this happend because I have strong hands but in this case most probably they put a too little of thread lock glue (there were some guy residue on threads)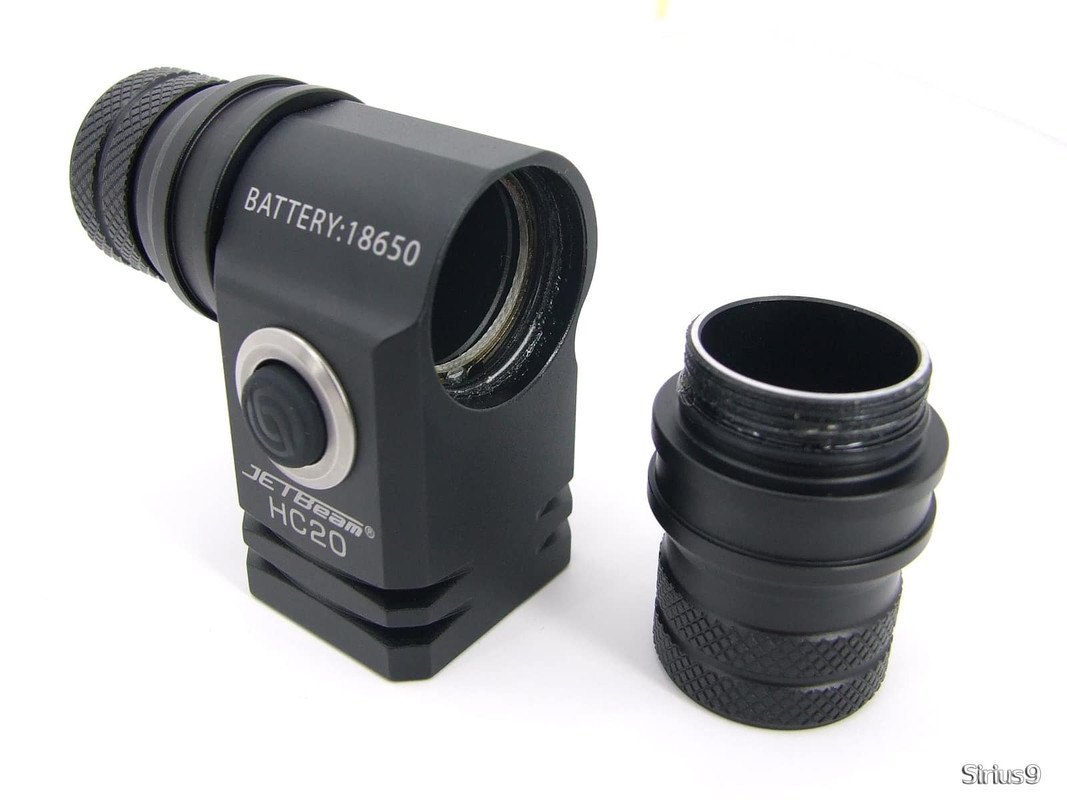 This gives us an opportunity to inspect how electricity is transferred to the driver, there are 2 thin circular cut PDBs that make a contact with end of each battery tube, seems like slightly complicated solution that requires hand assembling...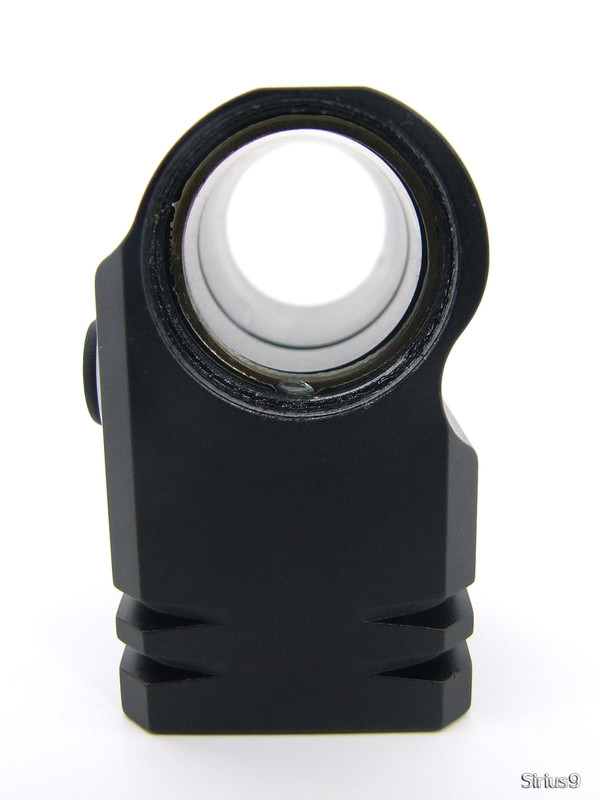 Under retaining ring (that look like it's stainless steel but it is not) there is a O-ring and then just plain ordinary glass lens, no AR coating on this one. Glass is 23mm wide and 1.4mm thick.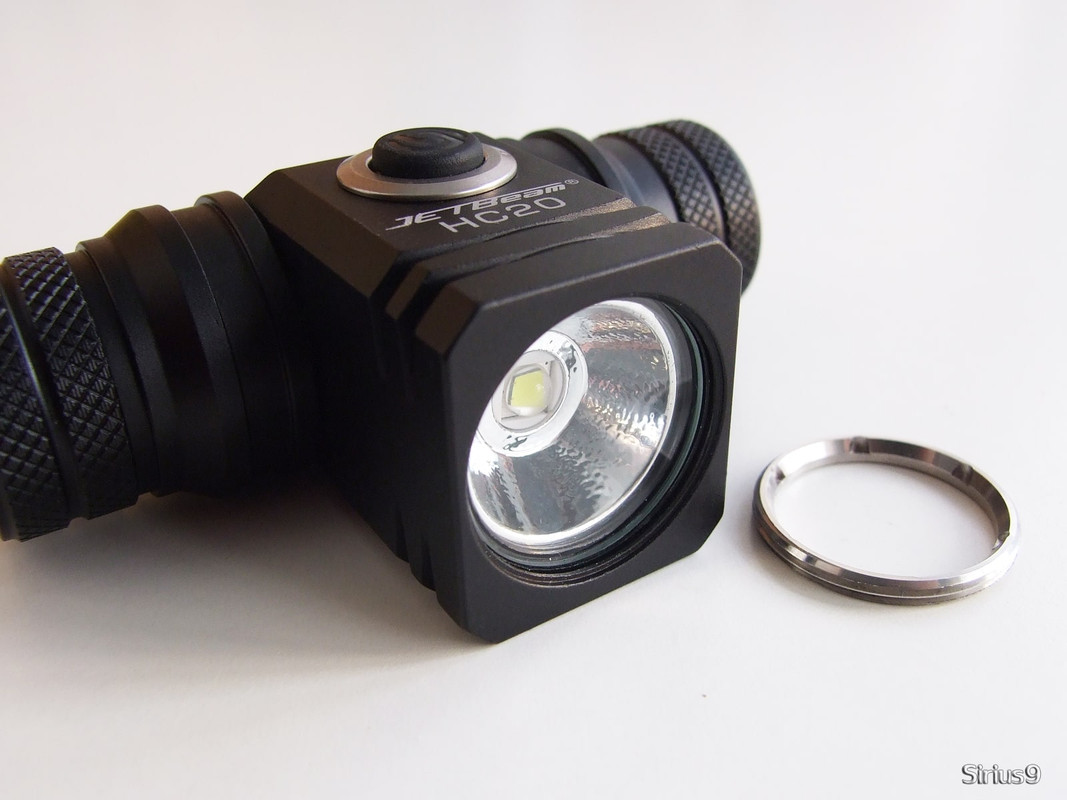 OP refletor is 23mm in diameter, only 7.7mm deep and the emitter hole is 7.35mm wide.
Emitter is ordinary 20mm aluminium star, sticked with thermal paste on a thin shelf, inside of the headlamp head there is a rim on which this shelf sits. I have to say that I expected more, at least they could make threaded shelf or they could press-fit it inside after driver installation.
Under the emitter shelf is the driver, it looks like solution that can be used for handheld flashlight also nothing particularly interesting/attractive on it, not sure what for are those two unpopulated resistor pads, they look like already bridged on a PDB...
User interface and current draw
User interface is simple and easy to use. There are 3 main (High > Mid > Low) and 2 hiden (strobe and sos) modes. For opperation press and hold for power ON or OFF, when ON short/quick tap on the button will circle through min > mid > high  and then back to min mode. double click is used to access to strobe and sos modes and you can do that only from ON state, you can not fire strobe or sos from OFF.
Driver also features mode memory so it will resume its operation in last used mode. I measured current draw using supplied JETBeam battery as well as NCR18650PF, 15 seconds after power on and here are the results:
| | | |
| --- | --- | --- |
| Mode | JL240 – 4.15V | NCR18650PF – 4.18V |
| High | 1.80A | 1.98A |
| Mid | 0.53A | 0.57A |
| Low | 0.17A | 0.17A |
So, it would appear that claimed 800 (LED) lumens are about right (more or less). Working in High mode causes relatively fast heat build up so after 120 seconds Step Down is activated and current draw starts to drop gradually all the way to 1A. Presumably this is done to prevent meltdowns
You can do a power off-on circle and get it working in High again for next 2 minutes but that won't make heat go away.
Also, one more issue raised while I was playing with this light, after disassembling it driver started whining in Low and Mid mode for some reason, prior to that all was fine.
All in all I think that JETBeam could do a slightly better job with this headlight, they have a solid base and a room for upgrades like making the emitter shelf thicker, there is enough room to add even 5 mm of copper
that would also allow prolonged operation in High mode, maybe offer neutral white tints, people seem to like them.
It is a nice and useful light, I use it mostly when tinkering with small electronic parts, soldering, etc because i have poor room lighting, I use mostly low and mid mode, high hardly ever and it does the job well, better than XP-G2 based Crelant CH10
shutter speed
@f3.2

Mode

High

Mid

Low

1/1000s

1/800s




1/640s

1/500s

1/400s

1/320s

1/250s

1/200s

1/160s

1/125s

1/100s
Thanks for reading.