Ok, so I spent a crap load of time doing this. For the driver I used an A17DD-S08 that I built to direct drive the LED's with the exception of the red LED. I used the same pill and same driver for each LED to eliminate inconsistencies. For batteries, each test was on a freshly charged unprotected Keeppower 26650 4200mAh high drain battery. For the Lux Meter I used a LX1330B. Lux was taken at a measured 6 feet 30 seconds after turning on the flashlight. I did use two different LED's as I dedomed all the LED's at one time except for the extra XP-G2 to replace the damaged one.
There are some surprising results!!!
Some notes:
There is an increase in output from the red XP-E2 that is dedomed, but removing the dome is a frigging hassle on this LED. It's harder than the others despite adding a ton more heat. I had one XP-G2 S3 that I dedomed that gave mediocre results. It would only pull 2.92A at 351 kcd. I assume I damaged it taking the dome off. I killed 2 qlite drivers and 2 red LED's. I dunno what the hell is going on there. I ran the test on the red dedomed LED just fine. Changed the LED to a domed one and when I check current at the tail, the DMM read a really high current and pop goes the DMM fuse, LED, and driver. Being the genius I am I did it again and got the same results. That's why I had to use the domed red LED results I took a week ago.
Here is a picture of some of the LED's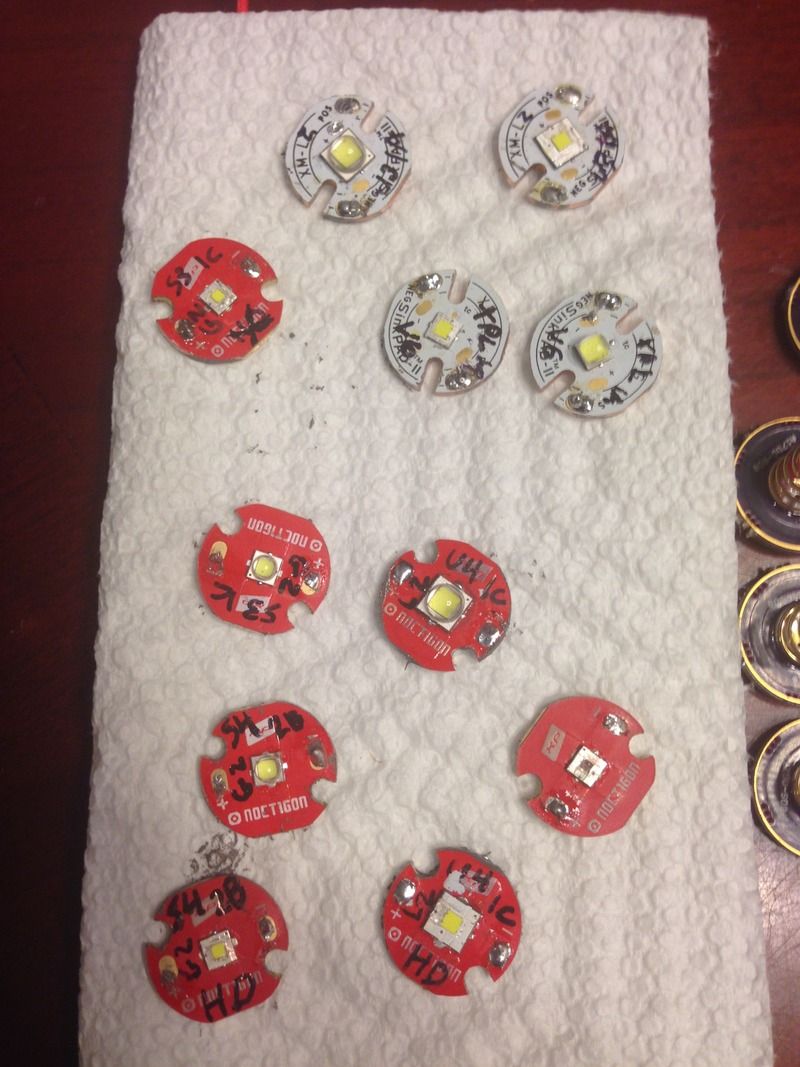 XM-L2 U4 1C
Domed – 56800 lx at 4.70A for 190 kcd
Hot Dedomed – 130000 lx at 4.73A for 435 kcd
XM-L2 U3 1A
Domed – 51400 lx at 5.11A for 172 kcd
Hot Dedomed – 114800 lx at 5.15A for 384 kcd
XP-L V6 1A
Domed – 56500 lx at 5.87A for 189 kcd
Hot Dedomed – 107900 lx at 5.82A for 361 kcd
XP-G2 S4 2B
Domed – 74800 lx at 3.80A for 250 kcd
Hot Dedomed – 137000 lx at 3.76A for 458 kcd
XP-G2 S3 1C (the ones I sold)
Domed – 75900 lx at 4.05A for 254 kcd
Hot Dedomed – 127000 lx at 4.05A for 425 kcd
XP-E2 P4 Red (from Mouser) using 6× .380 4135 driver at 2.28A
Domed – 93 kcd (tested previously)
Hot Dedomed – 39900 lx for 133 kcd
Update:
I got dedomed the other XM-L2 U4 and XP-G2 S4. I also tested the previous XM-L2 U4 and XP-G2 S4 in the 1505 and 1503. The amp readings are from a different meter since I need a fuse in my other one and all the currents are higher. These were taken hanging from the ceiling 6 feet over the lux meter in my garage. I checked with my LX-1010B lux meter and readings were within a couple thousand lux. I used freshly charged Sony VTC5's for the readings.
1504
New hot dedome XM-L2 U4 1C at 5.05A for 118300 lx and 396 kcd
New hot dedome XP-G2 S4 2B at 4.74A for 135100 lx and 452 kcd
1503
hot dedome XM-L2 U4 1C at 5.40A for 53000 lx for 177 kcd
hot dedome XP-G2 S4 2B at 4.32A for 54200 lx for 181 kcd
1505
hot dedome XM-L2 U4 1C at 5.28A for 42200 lx for 141 kcd
hot dedome XP-G2 S4 2B at 4.90A for 34100 lx for 114 kcd
—
Three tomatoes are walking down the street- a poppa tomato, a momma tomato, and a little baby tomato. Baby tomato starts lagging behind. Poppa tomato gets angry, goes over to the baby tomato, and smooches him… and says, Catch up.