Got my hands on a Skilhunt H15 to review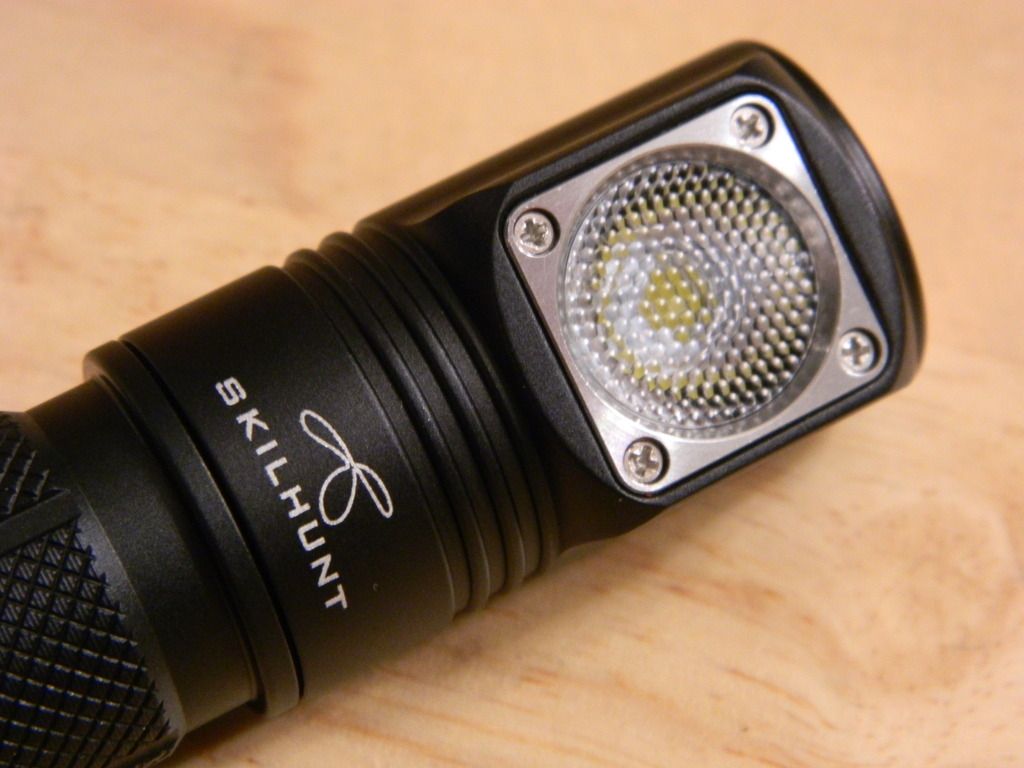 Headlight brand: Skilhunt
Model: H15
Function: Hiking, Walking, Night Riding, Household Use, EDC, Camping
Feature: Tail Stand Capacity, Cooling Slot of High Efficiency, Can be used as headlamp or bicycle light, Reverse Polarity Protection
Luminous Flux: 500Lm
Peak Beam Intensity: 1500cd
Main Lamp Beads: Cree XM-L2 U3
Beads Number: 1
Mode: 5 (Turbo; High; Mid; Low; Strobe)
Switch Type: Clicky
Switch Location: Head
Battery type: 14500, AA
Battery : 1 x AA / 14500 battery (not included)
Power source: Battery
Working Voltage: 0.9-4.2V
Lens: TIR Lens
Impact Resistance: 1m
Waterproof: IPX-8 Standard Waterproof
Mode Memory: Yes
Available Light Color: Cool White, Neutral White
Color: Black
Beam Distance: 50-100m
Processing Technology: Aerospace Grade Aluminum Body with Anti Scratching Type III Hard Anodization
Body Material: Aluminium Alloy
Ok… so lets talk about this bad boy. Normally I'm a pretty strict budget guy when it comes to flashlight and rarely can justify spending $45 on a headlamp. But this thing is seriously impressive. First lets talk about it. The user interface is simple, and you can access turbo and strobe easily. The memory mode works as well. The locator beacon seemed annoying at first, but it can be turned off with a simple twist of the tail cap. I tested the low voltage warning and it turned on at 3.55v. Threads are annodized so you can lock out the flashlight as well. The headband is simple and easy to use. It is held in place by friction and you can adjust to whatever angle you want. It also comes with a pocket clip that makes this very handy to use in a shirt pocket, on a duty belt, or even in the front pocket of your jeans if you angle the clip towards the front. This makes it a truly versatile hands free EDC flashlight. The clip is tight and holds into my normal cotton shirt front pocket. The beam is very diffuse with no hot spot. I could easily see my fire pit from 50 yards away. It lights up easily 140 degrees in front of you. Heat management is good, and it only gets warm with turbo. There is a 2 minute step down on turbo as well. Run times seem true to the spec using a efest 14500 battery. The driver tab is recessed so it looks like you can only utilize button top 14500s.
I think this would make a fantastic backpacking headlamp as it is easily pocketable for the trip in, or you can clip it to your pack shoulder straps or hip belt and put on the band at anytime. The locator beacon is useful for use in the woods after dark. Not sure how much juice it drains though so turn it off for long periods. The beam makes this ideal for doing camp chores in the dark, no overpowering hot spot and its easy on the eyes so your not blinding your friends.
Construction looks good. Threads are annodized, and the clicky and led lens cover are held in by small screws. the kind you have in your eyeglasses so they could probably easily be replaced and taken out with an eyeglass kit that you get at the dollar store. The tailcap spring is held in place with the same screws as well in case you need to replace that. The finish is nice and found no flaws in it.
I think this flashlight really shines as an edc light as well. The run times are excellent and I like the mode spacing, and I'm a sucker for a low mode that lasts for days on end. Overall I think its a good value compared to the other 14500 head lamps on the market.
Very pleased with the light!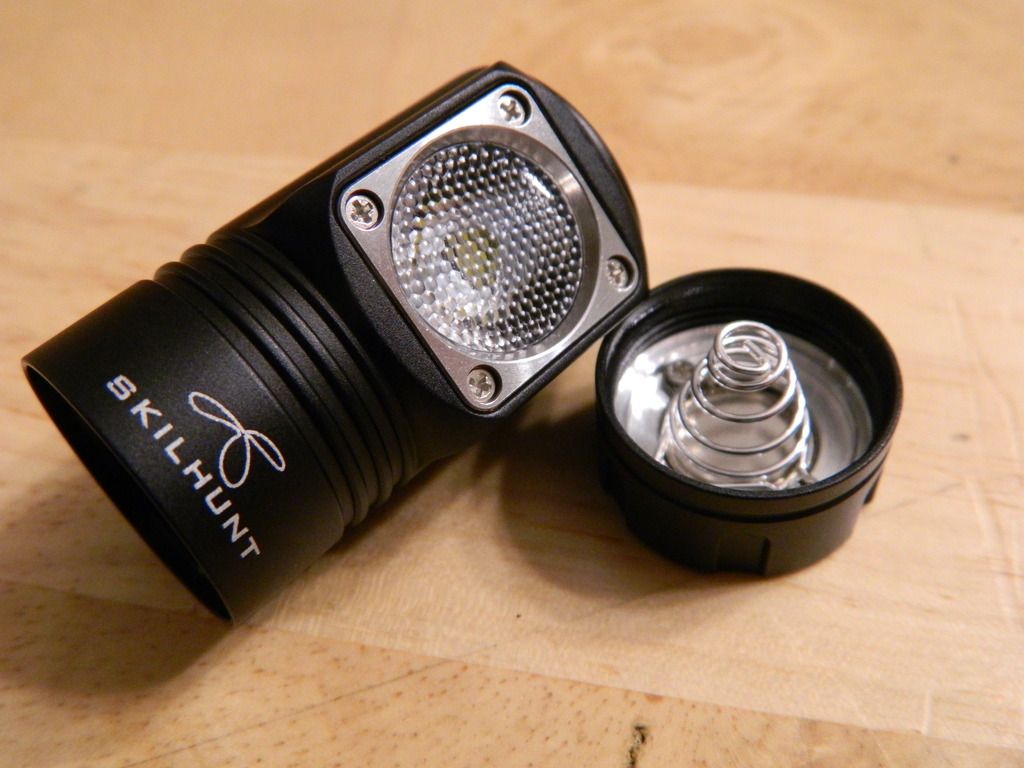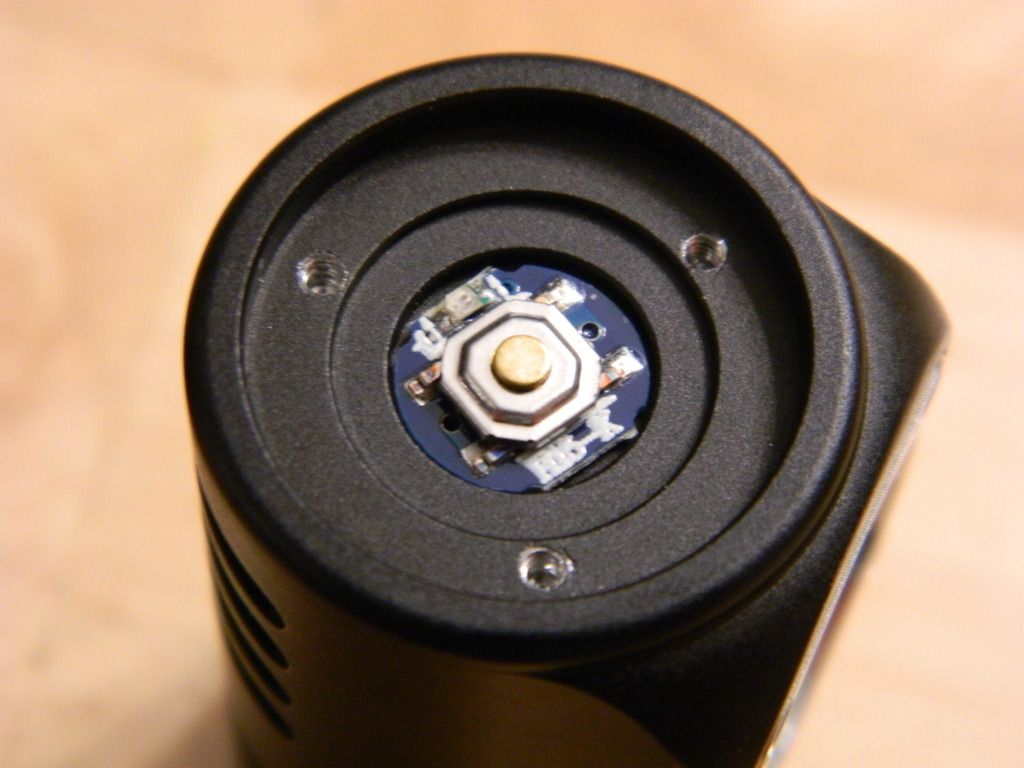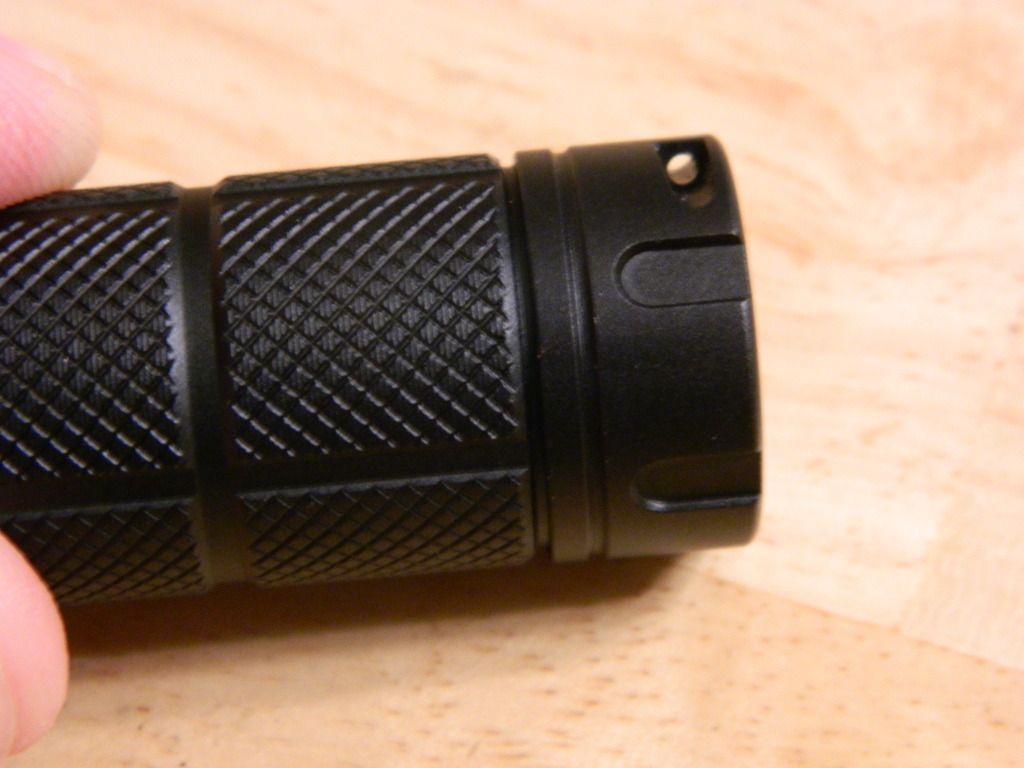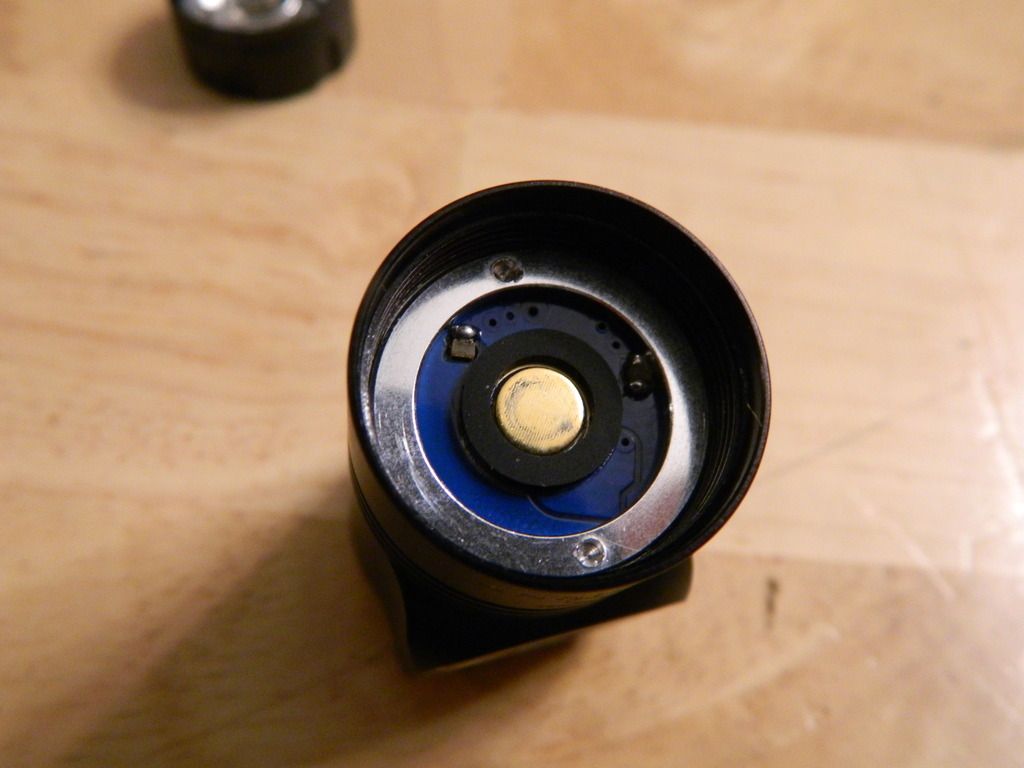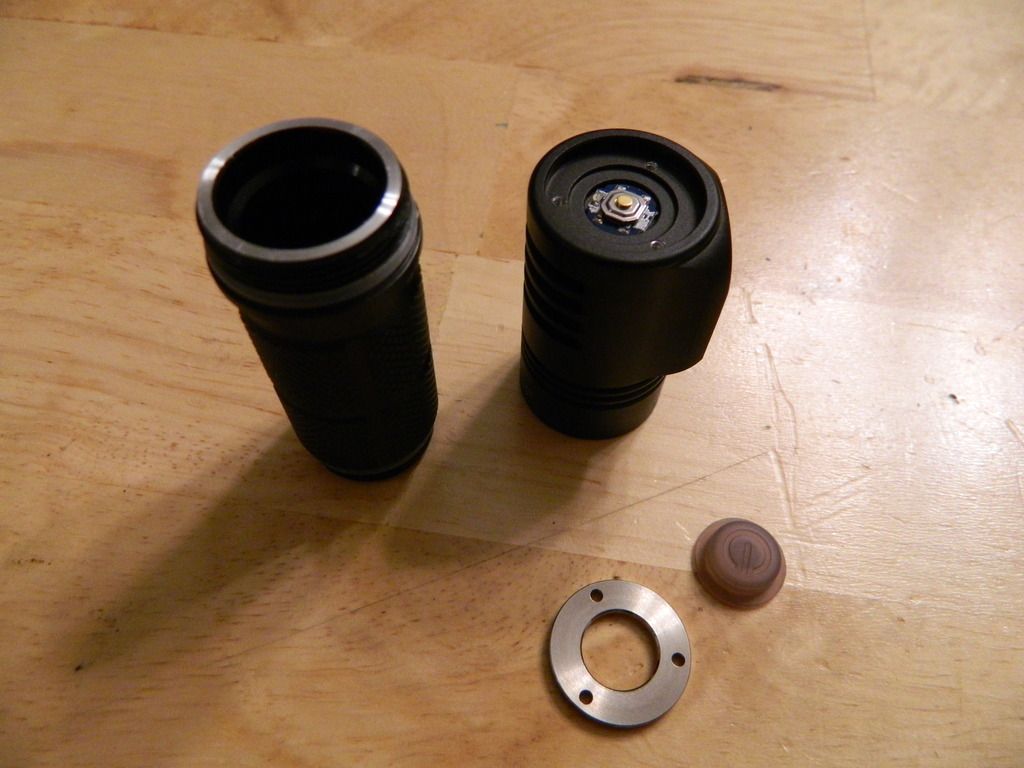 And a look at the beam shots
mid mode: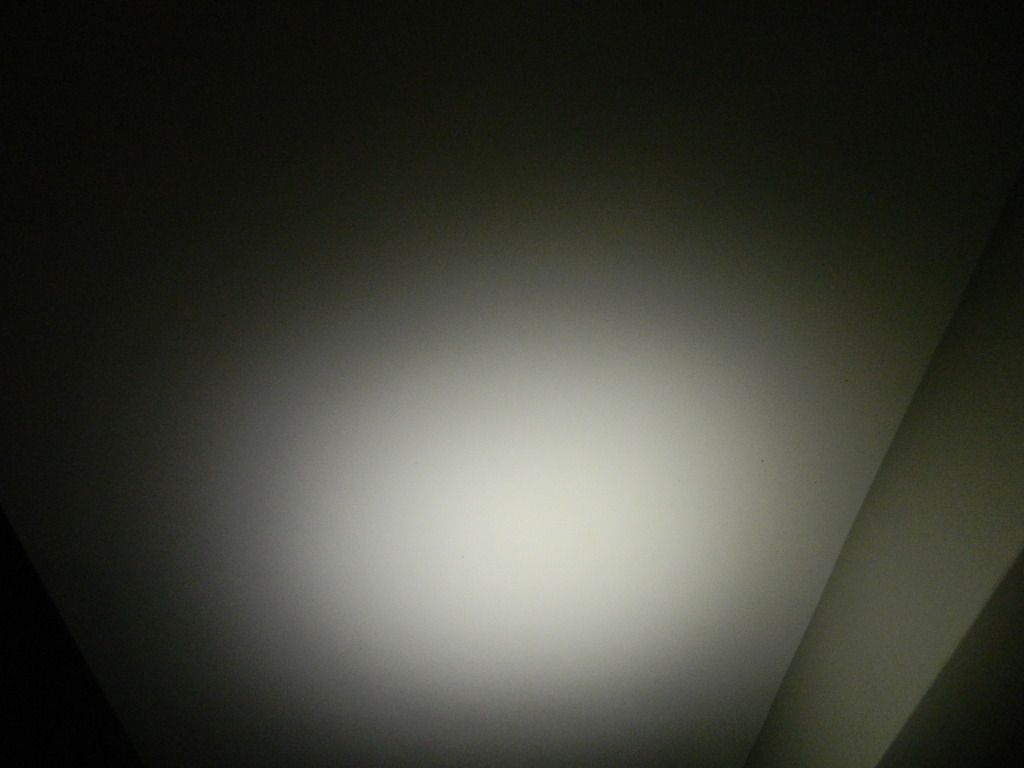 Turbo Mode: