HALL OF SHAME
WARNING - DO NOT BUY FROM THESE SELLERS
No.

Store name

Sale Platform

Reported by

Remarks

1

白金宫殿, 笑忘书19861210

Taobao

Freeme

Case confirmed.




Seller has confessed in his reply and refund has been made. 

2

EdisonBright

Amazon

Lightgecko

 Member jhalb has reported that his D4 from eBay is authentic though. post #30

3

afforddaily

eBay

sorotantaz

Seller proudly admit it is imitation post #93

4

superdigitalexpert2012

eBay

Dimking

Fake i2 bought in 2014.

 
 REPORT

 

 

 
Updates
New 2016 packaging for D4.
Digicharger D4 logo has reduced in size to make way for the new EU letter on the right.
Discovery
Received a batch of fake D4 and possible fake i4 today. It caught me off guard as this new store had positive ratings with 100% "good" feedback, and chargers were listed about $3 cheaper than usual only. I made 3 separate orders from this store last week. Fortunately, I still have time to cancel my 3rd order but 2nd order has already been shipped. More updates after I settle with these BS.
Anyone who has recently purchased an authentic Nitecore charger lately, please post your box packaging in this thread so that we could use it as a reference to counter check. Thank you.
Differences in validation code sticker.
No 3D Hologram for D4.

Typeface used.

Orange pattern background and green floral logo.

Grey coating strip for validation code.

QRcode.

Rounder edges for the sticker.

Character spacing is wider than original for "(RCR123)" text. Spelling mistake for the word "Worldwide".
New finding: Qrcode on the questionable i4 leads to official Nitecore i4 product page whereas authentic qrcode will lead you validation page with validation code automatically loaded into the field. Manage to validate my um20 within two attempts but i4 gave kept give security code error on all browsers.
Sad to say that fake charger package is made of stronger cardboard than original.

Font is bold for original. Typeface is slight different.

(RCR123) label alignment is off  to the left for fake.

This is the most obvious mistake. The word "Worldwide" is mis-spelled with a "c" instead of "e". 
Yellow top sticker material is a bit translucent compared to original.

Air bubble formed due to double layer of screen protectors. Screen looks 

grayish in color instead of black.

"Deboss" depth of the battery icons is deeper for fake. Icons design is not exactly the same at closeup. 
From 2014 models onward are installed with NITECORE designed power socket. Design is most probably to help consumer to differentiate between fake and original. First generation of sockets are blue in color.
All the metal contacts and rails will attract magnet for fake. Only the negative contacts will attract magnet for original (based on D4).

Rail springs are stiffer and require slightly more strength to pull for original than fake.
Mode button for original charger has a more vibrant yellow.

Fin thickness is different

.
NITECORE word is spaced out more. Letters are easier to read.

Original charger has a rugged texture pattern. 
Original cable is thicker, longer and heavier.Emboss NITECORE logo can be seen on the pin side.
Nitecore i4 (2014) Teardown
It looks fairly similar to HKJ (http://lygte-info.dk/review/Review%20Charger%20Nitecore%20Intellicharger...) but without quality capacitors.
No NITECORE capacitors insight.
According to NITECORE site - IDENTIFICATION GUIDE FOR NITECORE CHARGER USERS, contact points and railings are made from non-magnetic material. However, this particular model's railings failed the magnet test. FIY, OPUS BT-C3100 does not attract magnet too.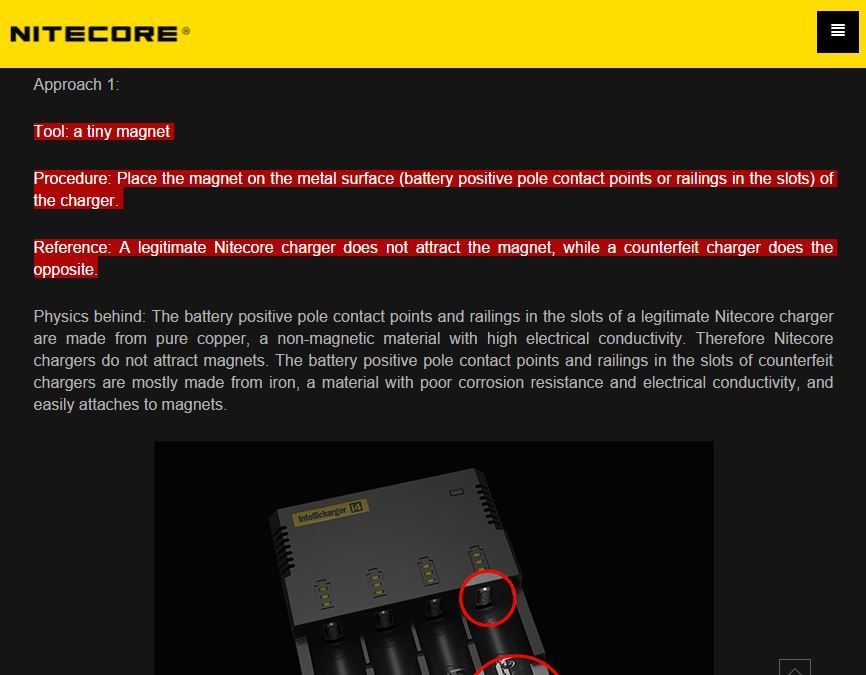 Packaging Comparison