I'm afraid I've let my new-found flashlight enthusiasm get the better of me… I've been taking apart all my lights just to check them out, and give them a (very novice) mod-ability screening. Tonight's victim was my Thrunite Neutron 2A (original version, not v2, no side switch). One of my nicer lights, I'm really quite happy with tint and beam pattern, but I wanted to check it out.
So I dug right in, and in trying to remove (unscrew – oops) the MCPCB, I sheared the wires. Turns out the LED sits on an aluminum shelf that is apparently not removable, but the wires extend through two holes in said shelf to connect LED to driver. At any rate, I cut both wires between the LED and driver, and now I can't figure out how to remove the driver to attempt a replacement.
Picture is looking at the back of the driver (+ battery terminal)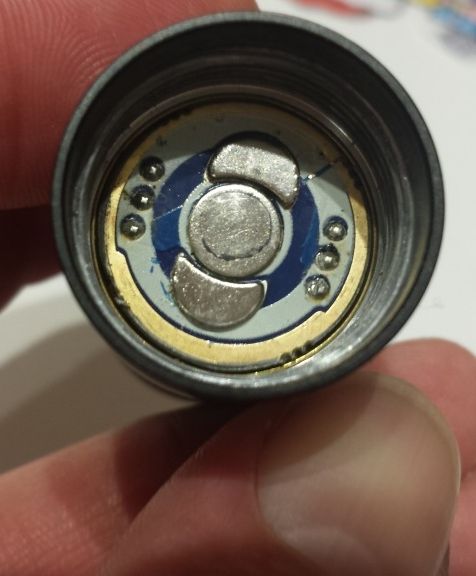 Does this thing unscrew? If so, what tool would be appropriate to use? I see little teeth (5:00 position in photo), but I can't seem to get a grip on those with needlenose pliers, and my forceps slip before anything moves. I don't want to force anything until I'm sure what force to apply!
Alternatively, does the shelf come out? That would make sense to me… There are two holes in it, but moderate force in either direction with snap-ring pliers doesn't budge it.
TIA,
Andy