I'm confused on calibrating my 12" D.I.Y. Polystyrene ("Foam") integrating sphere, modeled after this build thread by djozz with pics in post #64. Few things about my sphere: it's sanded with 100 grit sandpaper inside, luxmeter is the "good" LX1330B and set into the foam a bit (no baffle, but shouldn't get any direct light). Entrance hole is approximately 90mm at the top and 80mm at the bottom inside edge. I did NOT paint or cover the outside. Lux readings were taken in nearly complete darkness (verified that any ambient light was negligible beforehand), and during each "measurement session" I started with my EDC Convoy S2 on a freshly charged cell to be sure I was getting +/- the same readings as during it's initial measurement. "Consumer" flashlights with ANSI ratings were all tested with brand new Alkalines, and I even tested some 12v MR16's and 2 household LED bulbs. Readings were always taken with the light's bezel +/- even with the bottom of the entrance hole.
I don't have many (if any) reputable regulated lights to calibrate to and so I chose to use a co-workers Fenix HL55 headlamp with a fully charged cell. This headlamp has been tested in a DIY sphere at CPF with it's ANSI ratings pretty well verified. I tried using a Princeton tec Apex headlamp (again – not mine) running on NiMh cells as a "calibration check" light, but the manufacturer doesn't list their spec as ANSI nor outputs for separate modes (I now think the Princeton Tec's "275 lumen" rating is with both the spot & flood LEDs on high together (a mode I didn't measure in). Other ANSI lights I tested were a 2D LED Maglite, a 2AA Xenon Mini-Maglite, a 3AAA Home Depot 100 lumen XB-D light, a 3C Defiant XM-L (light prior to the "Super Thrower" which isn't in my spreadsheet yet), a Walmart "Ozark Trail" 2AA XB-D and Ozark Trail 3AAA headlamp, Rayovac Sportsman Extreme 3AAA, and a Thrunite Ti (though I could not confirm it's ratings are actually "ANSI").
So I determined an average "sphere multiplier" using the Fenix HL55's Low, Med, & High modes and then used it to calculate lumens on the rest of the lights. As you can see in the spreadsheet below, some lights check pretty well, but others are way off. I don't know if the ANSI ratings are false, were tested on different batteries, or what. What do you think? Do I need some more regulated trustworthy lights to check my calibration with? Is there a proper procedure like calibrate to a low lumen level and check a high level? Or average a low & high "multiplier"?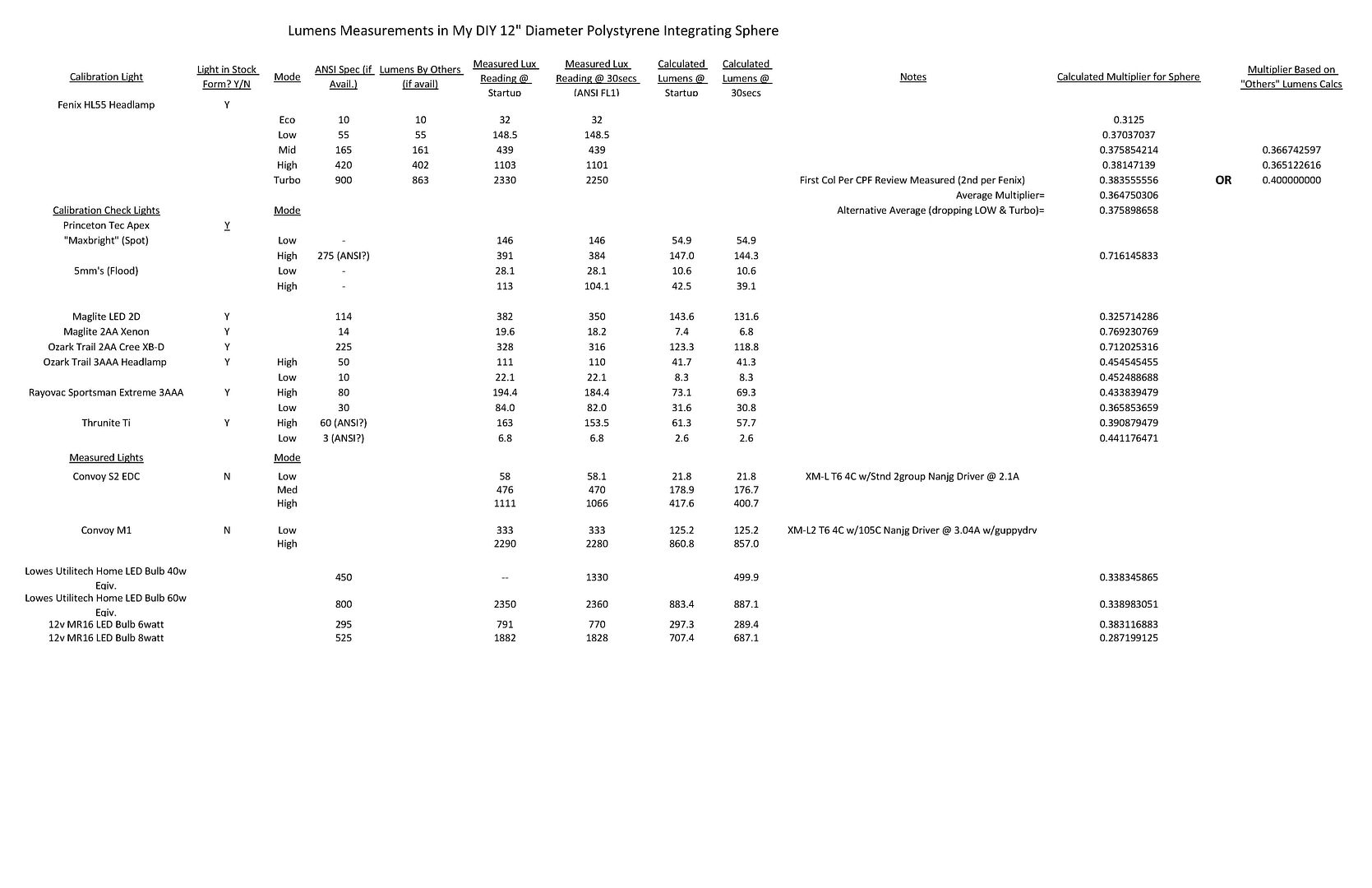 Thanks,
Garry