Unbranded 18650 XM-L U2 Flood to Throw Flashlight / Headlamp Combo thingy
| | |
| --- | --- |
| Battery: | 18650 |
| Switch: | Forward Clicky |
| Modes: | 5, no memory |
| LED Type: | CREE XM-L U2 |
| Lens: | Aspheric plastic |
| Tailstands: | Yes, a little wobbly |
| Price Paid: | $34 |
| From | Ebay Seller Keygos |
| Comes with | Light, Headband, 2X Ultrafire 18650, Bicycle clamp, Charger |
Pros: 
Extremely Bright.  Good balance on driver between brightness and heat.

Great beam pattern in flood mode.  Typical emitter spot in throw.

Comfortable in headlamp mode.

Amazing flexibility for the whole system.  Interesting design.

Quality components, although we'll talk about construction in a second.
Cons:
Zooming is a bit too easy for my taste.  This might be fixable.

No memory.

Lots of components were not tight when I received the unit.  Had to screw things together, but easy enough.

O rings are undersized which makes me doubt water resistance. Again fixable.  

Would like lower low.  

Package arrived crammed into unlabeled box that was falling apart.  
Long story short, this is a very interesting design, and you get a lot of bang for the buck.

I've always been a sucker for Zebralights and the Ultrafire UF-HX series where you can carry the light in your pocket and use it for a headlamp if needed.  I've been wanting a flood to throw zoomer for a while and stumbled upon this unit on Ebay.  Why not the best of both worlds?

http://www.ebay.com/itm/CREE-XM-L-U2-LED-Headlamp-Zoom-Headlight-Bicycle-Light-Flashlight-Torch-Zoomable?item=251060235556&cmd=ViewItem&_trksid=p5197.m7&_trkparms=algo%3DLVI%26itu%3DUCI%26otn%3D5%26po%3DLVI%26ps%3D63%26clkid%3D8897711351938132651#ht_4331wt_825

There's a lot of stuff going on here.  It's a zoomable flashlight!  It's a headlamp!  It's a bicycle light!  It's an XM-L U2!!

I can say that everything pretty much works as intended with the possible exception of the bicycle light.  I have not tested this, but given the ease with which it zooms, I feel you might get some zooming action if you were riding with this off road.  


Features / Value: 5 stars +
You get a lot for the money on this one.  2 batteries.  A charger.  A sturdy bicycle clamp.  The Headband. And that's not even counting the actual unit.  


Design / Build Quality: 4 stars
I would rate this higher except that several components were loose on my unit when I got it, including the headlamp bracket and the pill assembly.  Nothing that wasn't easily corrected, but a little sloppy.  I bumped it up a little due to the fact that it is so easy to switch between flashlight and headlamp mode, and the fact that the headlamp is so sturdy when assembled.  Anodization seems fine, with no major flaws.  


Battery Life: TBD
Will get runtimes if there is interest, but here are the tailcap draws:

High: 2.0 A
Med: 1.2 A
Low: 0.7 A

Driven well enough to be bright, but not enough to get too hot since you can wear this ON YOUR HEAD.  After 15 minutes of use on high, it is hot, but not uncomfortable to hold.  


Light Output: 5 stars
This sucker is bright.  As bright as my Ultrafire HD2011 XM-L T6 driven at 2.5 Amps or an XM-L T6 P60 driven at 2.5 Amps.  And with no hot spot in flood mode.  Beam has some artifacts from some shiny bits around the emitter, but I understand this is fixable with some well placed matte paint.


Summary: 4 ½ stars
I am anxious to see how this does on one of my many camping trips, but either they really thought this one out, or a lot of things went right.  The extension of the head on the headlamp bracket gets the light out far enough to get over the brim of a baseball cap without blocking the beam.  The head tilts enough to make a dandy reading light with a nice floody beam.  Aspheric lens gives a nice beam pattern. Good balance on the driver where you wouldn't mind putting this near your noggin.

Also, makes me wonder what would be possible if this were done with a P60 type head on the unit that could be interchangeable.  Could make a very flexible system.  

Now for the important stuff:

PICS: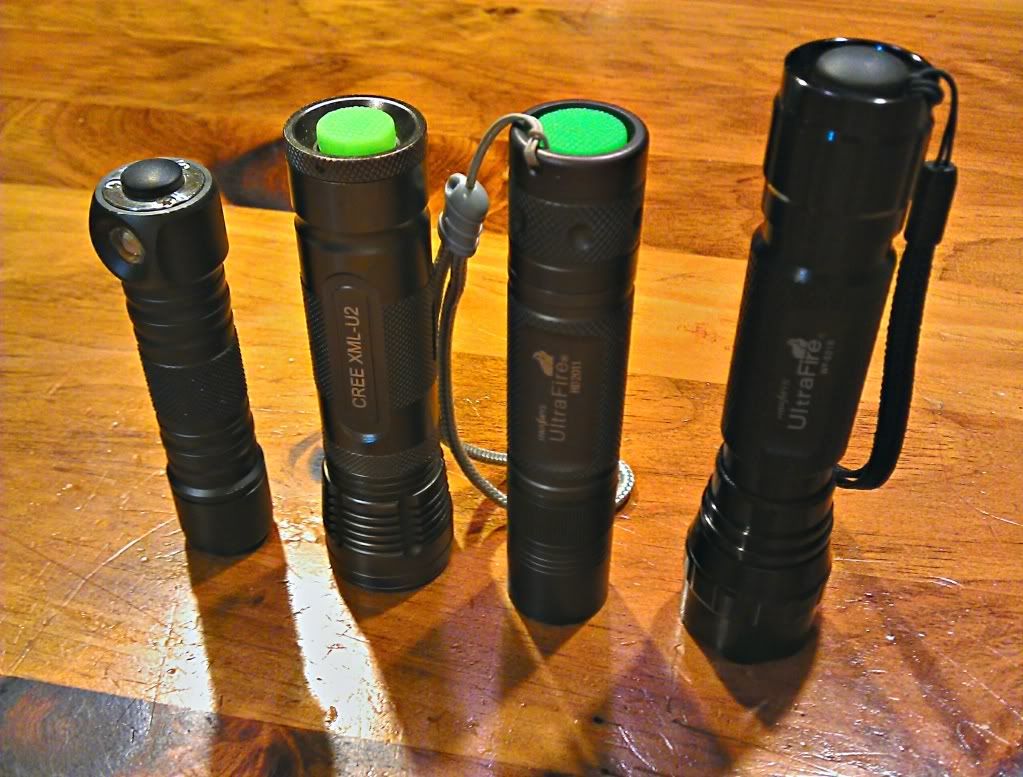 L to R: Ultrafire UF-H3, Combo Unit, Ultrafire HD2011, Ultrafire WF-502B all 18650s X1.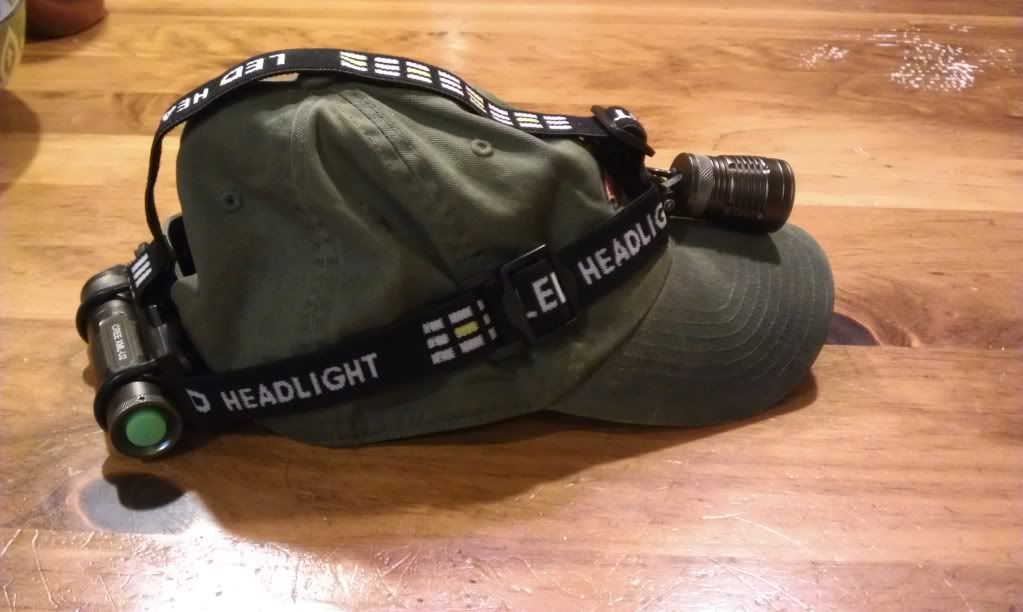 In headlamp mode on my stinky, well-worn fishing hat.
Basically, the body of the flashlight becomes the battery pack on the back, and the head screws on in front.
A thick O ring (it also came with a spare) holds the body in place on a groove in the bracket.
Up close and personal
Head disassembled.
Let me know if you have any questions/requests.