Here I will give a perspective on both Primary and Backup dive lights.  To help out other divers I only want to share economical scuba lights.  So I tried to list inexpensive but well made lights. 
I am a technical diver.  I've dove in Germany, Israel, west & east coast of America, etc. and prefer cave diving.   Cave divers usually carry 3 lights, one canister light and two backups, while some individual may carry more backups.  
When diving inside a spring (i.e. a cave) at a quarter of a mile penetration and in pure darkness I do not WISH that my lights work, they MUST work - come on and stay on - otherwise my life could be in jeopardy.   I understand that most divers reading this will be recreational divers, but this hopefully explains why I'm going to say the things I do.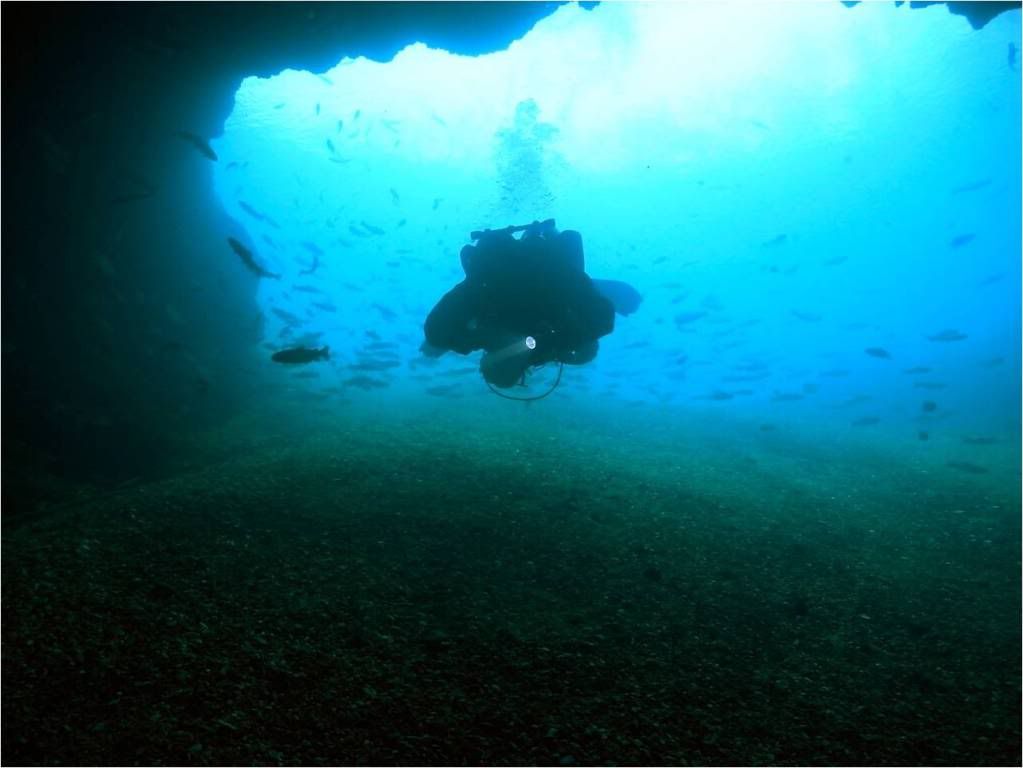 Preferences...
Simple UI (User Interface):  Multiple modes and flashing strobe is not ideal.  The idea that more modes is better is not optimal.  Instead the principle of KISS (keep it simple stupid) is most practical.   So a simple twist of the head to turn ON is preferred or magnetic twist switch.  
With one mode - ON/Off.  Or two modes:  Hi/Medium.    The idea is that in pure darkness I can access my light and quickly turn it on.  I can also grab my dive buddy's light and do the same.
Design:  The light must be robust & dependable.  It should always turn on when you want it to.   That is why many prefer LED emitters rather than HID.   
To prevent water intrusion - the less openings the better.  If the light can unscrew from the front bezel, mid-section, and rear part than there are more chances of a possible leak occurring.  
And part of reliability lies with user Care & Maintenance.  The most important things you can do before diving are…   
1.  Verify battery voltage with your digital multi-meter (DMM)            see >>>
Some chargers display the voltage while charging cells (cf. TN MCC-4, Xtar VP2).
These are for rechargeable cells such as Li-ion: 18650, 26650 (buy: mtnElectronics)
2.  Regularly grease the o-rings with silicone grease (non-petroleum based) or equivalent grease - Often people that neglect this regular maintenance wonder why their dive lights flood. 
The backup light should also have a Rear Attachment Point for tying on bolt snaps with cave line (aka nylon line).  see how to tie one at bottom of post.
◄ Bolt Snap (DGX)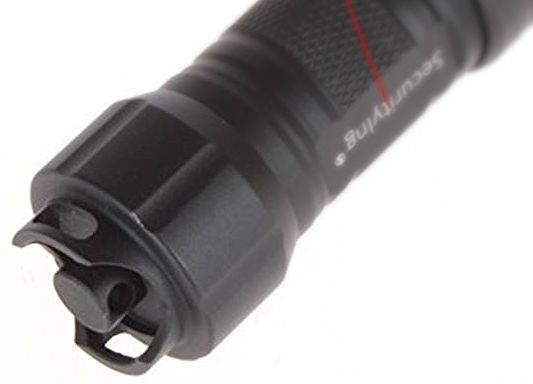 ◄ rear attachment point

Beam Pattern:   Should have an intense hotspot with generous spill.   A tight hotspot will do two things.  (1) You can cut through the muck and see further, and (2) also signal your buddies (cf. video, vid).   The side spill allows you to see the big picture and not run into things while swimming. 
bright Hotspot with Spill ▼▼▼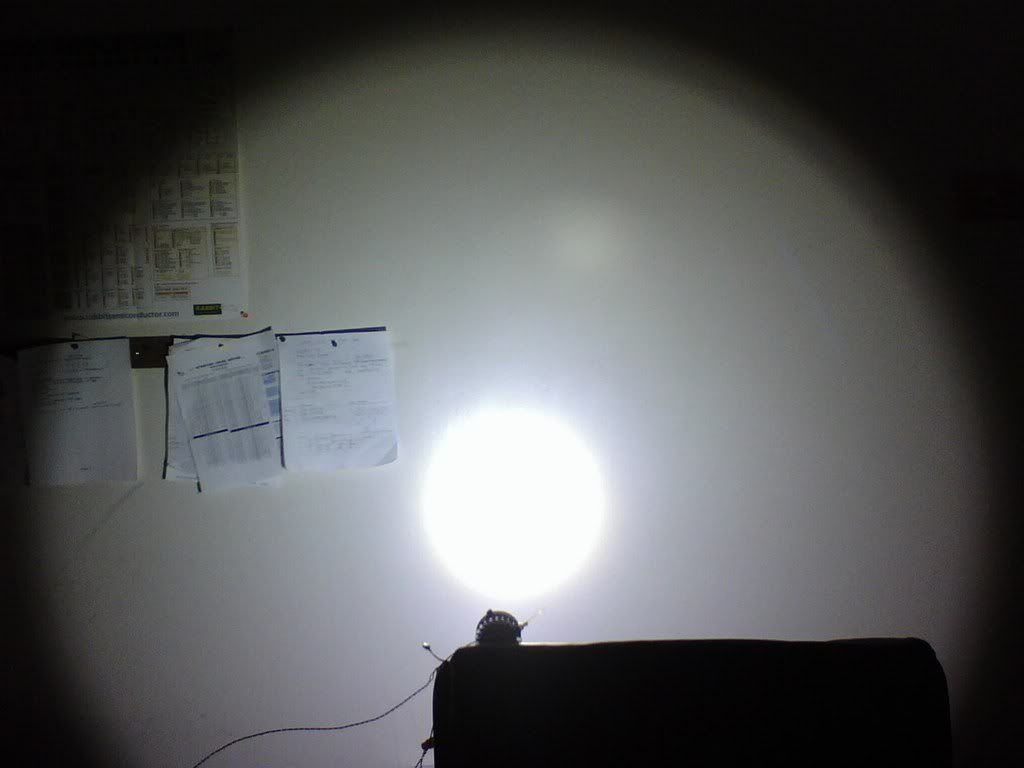 Exception:  Video/Camera lighting.  For these applications you simply want a flood - a flood of light with no hotspot.  Usually this means considerable lumens.  And flood lights also work well in crystal clear water.  However, where the water is not very clear (i.e. murky) these aren't very effective.
Video Light examples:  OrcaTorch D500V, Brinyte DIV08V, DRIS Impact, DIV05V, Wolfbeam, Hi-max X-8. 

Brightness & Burn Time:   Usually the primary light /canister light is the brightest and has the longest run time.  Backups don't have to be bright, their primary importance is to come on when you need them. 
Because we don't like lights going out during the dive, all lights are tested to determine the duration of its run time.  The burn time must last the duration of the dive and then some.  This ensures that your light will stay on even if you get lost.
Canister Lights:  These primary lights are usually expensive ($200+) and used to be big & bulky.  Plus that umbilical cord can be a nuisance. I was sometimes irritated with the cord and thought there must be another way.   However they come with a large battery that should support generous run times (3+ hours).  some budget examples HERE
A concentrated beam is preferred for exploration diving. (e.g. 6-8° hotspot with spill).  Some HID canister lights have a focusable beam.  Then the light can be used both for penetrating thick muck or illuminating a large area like a wreck.  Focusable beams are great, except HID bulbs are not as durable and long lasting as LED emitters.

*Non Umbilical Primary Lights:  Recently with efficient emitters & high capacity cells (Li-ion batteries) we've entered an era where we don't need a canister light for advanced technical dives.  In some cases lumen output and burn time is sufficient.  Here's setups that can do that…
> OrcaTorch D500:  Selfbuilt review w/YouTube vid.). (Buy: LP, Ali, Ali, BladeHQ, KC).  See also D510 (LP, DD).
> Brinyte DIV08:  excellent anodization. multiple modes. (buy: DX, DX Australia, Ali, Ali, eBay).  
> Stubby Impact from DRIS:  runs on single 26650 Li-ion, and the light head can be swapped out for either a Video head (here) or regular beam head (here).   DRIS is noted for their excellent customer service (TP, SB).
These can be mounted on Goodman handle (DGE).  This mount has a curved bed where the light can rest.  I tightly wrap the light in bungee cord to secure it.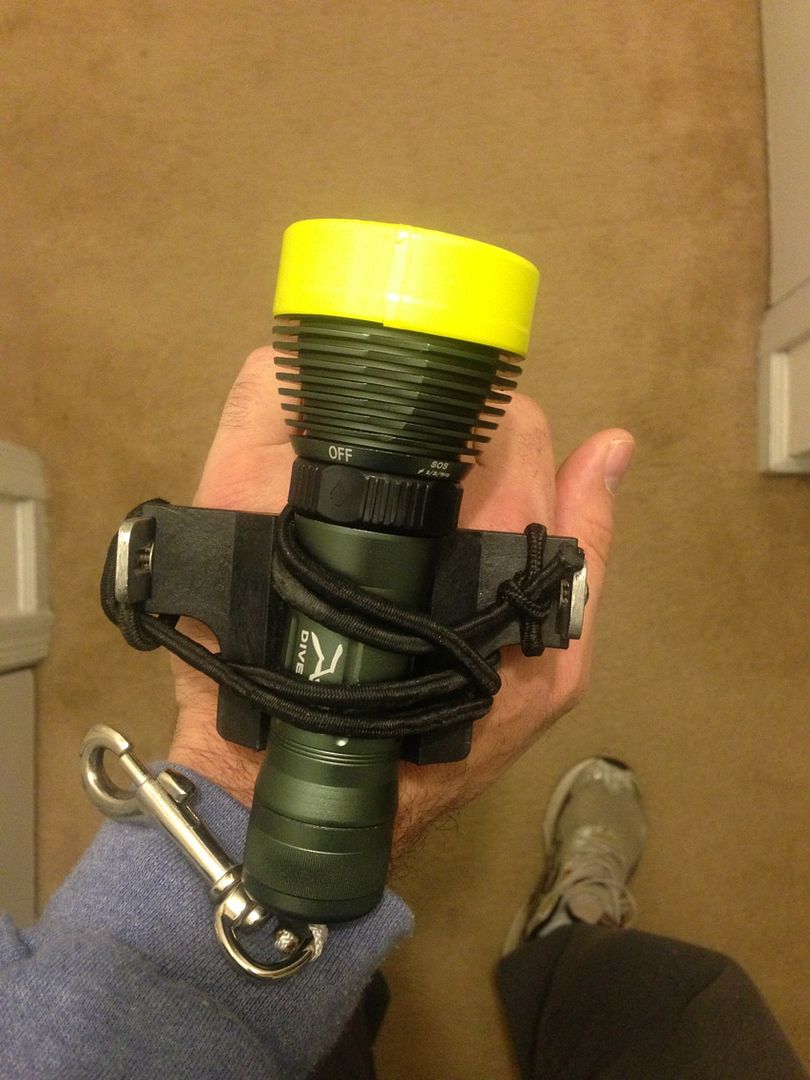 Goodman Handles          
A Goodman handle will allow the light to be placed on top of our hand, freeing it for several tasks.  You can quickly switch hands with the handle.   See DGX metal handmount.

There is also a Goodman Glove which does the same thing (see BigBlue LP, DS; other brands - DS, *DRIS models here, here)  But you cannot readily transfer the light from hand-to-hand as with the Goodman handle.
Some recommended back-up lights. (I prefer smaller, more compact back-ups)...
> ~$37 - Brinyte DIV05 (Ali, eBay, DX, Amzn, DGX):  1-mode (Hi), single 18650, compact, simple interface, bright, robust.  See my review here
>  See Securitylng's line of dive lights.  And Brinyte's LINE & sister company - OrcaTorch.
Wear:  Two backup lights are attached to each of the two chest D-rings, one light per side. Each is tucked away to reduce drag by an elastic band strap, usually a Snoopy loop.  A Snoopy loop is strip of bicycle inner tube.  This puts them beneath a diver's shoulders, where they are completely accessible but out of the way.
Divers can always reach these lights and turn them on without unclipping them from their D-rings. Must still allow for easy one-hand removal.  Turning on a back-up light before unclipping is very important, since divers have inadvertently dropped their backup light while attempting to retrieve it.
How To: attaching a bolt snap to back-up light.  Tie bolt snap to light or hose (DIR article).    NO zip ties – eventually they get brittle, just twist and they break.   
We tie bolt snaps to dive lights so that in the event the bolt snap doesn't operate (is stuck) you can cut the line and remove the light from your harness.
I've been continually doing minor corrections & adding new dive lights.  ADDED:  OrcaTorch D500, Stubby Impact,
REMOVED:  UF WF-3430 & Aleto Dive Light:  eBay seller (aletocn) - I only recommend this seller because I bought other ones and they had weak output (less bright) - and a different UI.  Edit: not recommending anymore...  switch components may rust in saltwater   
& There are several good reviews in the Diving Lights section.
—
נֵר־לְרַגְלִ֥י דְבָרֶ֑ךָ וְ֝אֹ֗ור לִנְתִיבָתִֽי   (Psa 119:105)