After many months of testing cells and not getting consistent results, I think I've ironed out most of my issues and wanted to share some results.  I figured that this comparison may be of use to some people, so why not start here.
So here goes nothin…
The Cells:
Equipment:
My wife's old laptop
A second-hand West Mountain Radio CBA II with "Pro" software upgrade (calibrated so that the voltage under load read by the CBA matches within .01v of the DMM)
An Irwin Quick-grip clamp that's been modified using a couple bolts covered in thick copper foil to which the leads to the CBA are soldered
LOUSY cheap DMM with a battery that's on its way out (upgrading soon)
Areas of Uncertainty:
The CBA reads high when the cell is idle. The software can correct the voltage, but only under load. The graphs all start out north of 4.2v but the cells never read that high with the DMM.
The DMM. OK, I'm lazy and haven't gotten an acceptable one yet and don't even have a spare 9v in the cupboard. Once I get something I can trust, I won't be concerned with either of these things.
I wish these tests were run with new cells, but comparing them to earlier tests, they appear to be performing "as new".
The Testing:
Regardless of the cutoff recommended by the manufacturers all of my "3.7v" cells are tested to 2.8v.
Both cells were charged @ 1A and then again @ 0.4A to top them off.
Hot off the charger the cells measured the following (with DMM):
AW - 4.17v
Lighthound – 4.16v
Both cells are being tested with 1.5A.
The Graphs: (click thumbnail to open image in new window)
1.5 amp discharge

3 AW IMR 14500 and 1 Lighthound IMR 14500 @ 3A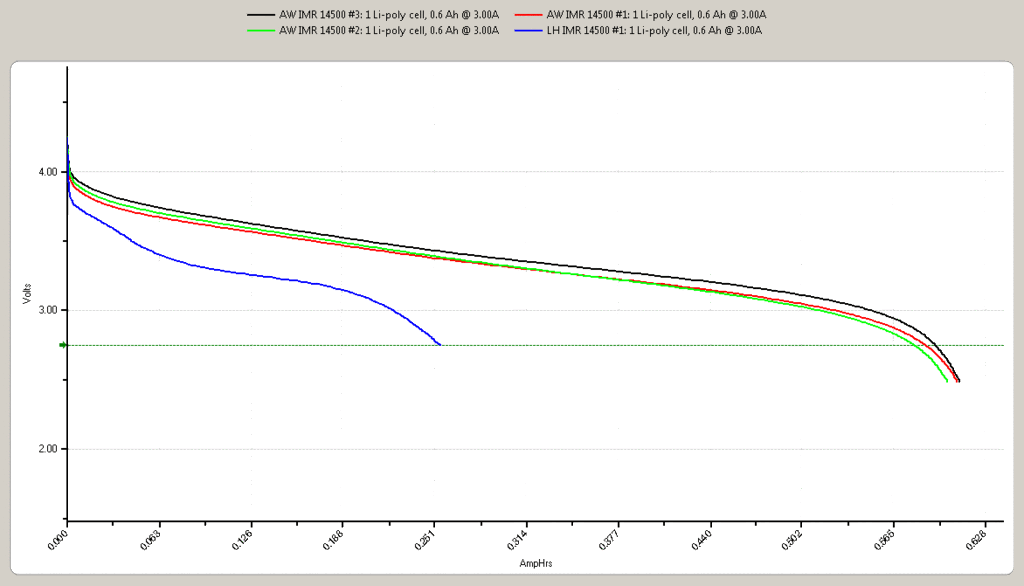 AW IMR 14500s at 4.8 amps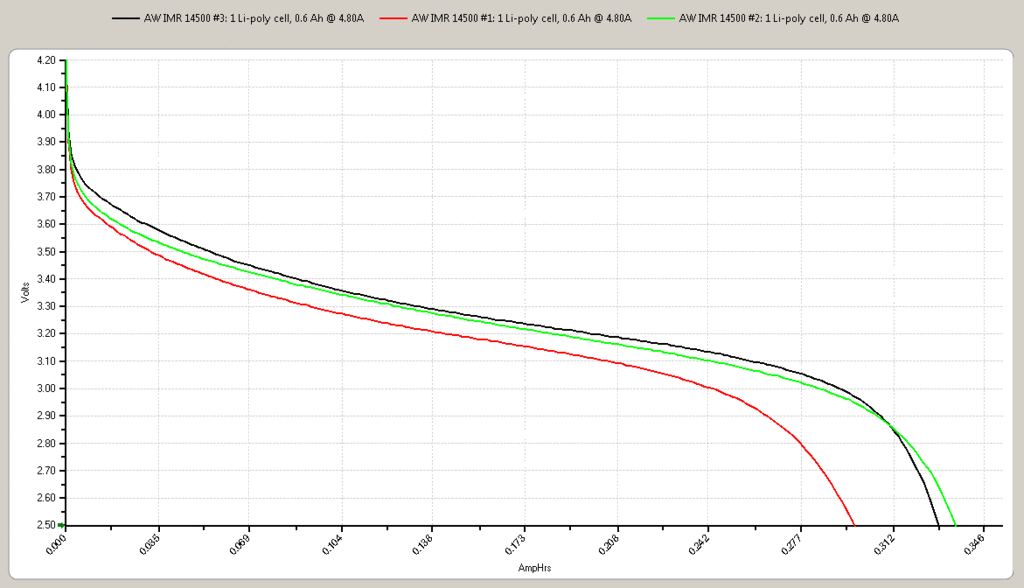 Tested Capacity @ 1.5A:
AW #1 - 648mAh
Lighthound – 655 mAh
 Tested Capacity @ 3.0A:
3 AW cells- 600+mAh
Lighthound – 255 mAh
Tested Capacity @ 4.8A:
AW  - 296mAh -  335mAh

Results:
Well you decide. It's a pretty even race at 1.5A. Personally I'd rather have the Lighthound IMR, but both perform well. (EDIT: I'm not sure now. It really is a toss up)
Notes:
I only have one of the Lighthound cells, but I have 3 AWs. The Lighthound cell is slightly newer and has had a few less cycles, but neither cell has been abused. I plan on doing further testing on these cells (various loads) but I'm open to requests and have some other cells I'm anxious to get to, so I can't make any promises. Thanks for reading and I'd appreciate any input you can give me on how I can improve my tests or what cells to test.