I started this mod some time back and did not take any pictures while modding it.
I have another one of these on order, and might take more pictures then.
I started out with one of these.
I whooping price of 4.70$.

I have to say, that is one crappy light in terms of light output! But I think it looks really good, and it sits nicely in the hand.
Screw off the front bezel. Then the convex lens can be taken out from the front, its press fit. After that you can screw out the pill.
I bored out the head with a 20mm drill I had mounted in the lathe. I did not go deep. I might have only used the tip of it to make more room for the drop-in and to make a good contact point for the P60 to the body.
I also used a lathe to open up the edge of the head just a little. Then I used a lathe to shorten the reflector a little. I also removed a little on the outside to make it fit perfectly inside the head. This type of mod might be possible to do with a dremel if you work more on the head, but I just modified both just a little bit.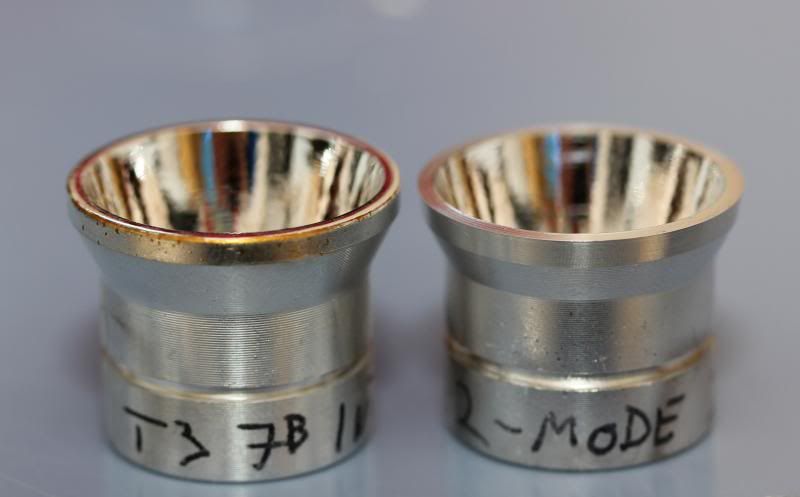 Stock reflector on the left side. Modified on the right.
A P60 drop-in with the "slightly customized reflector now fits perfectly. As you can see, its flush with the edge.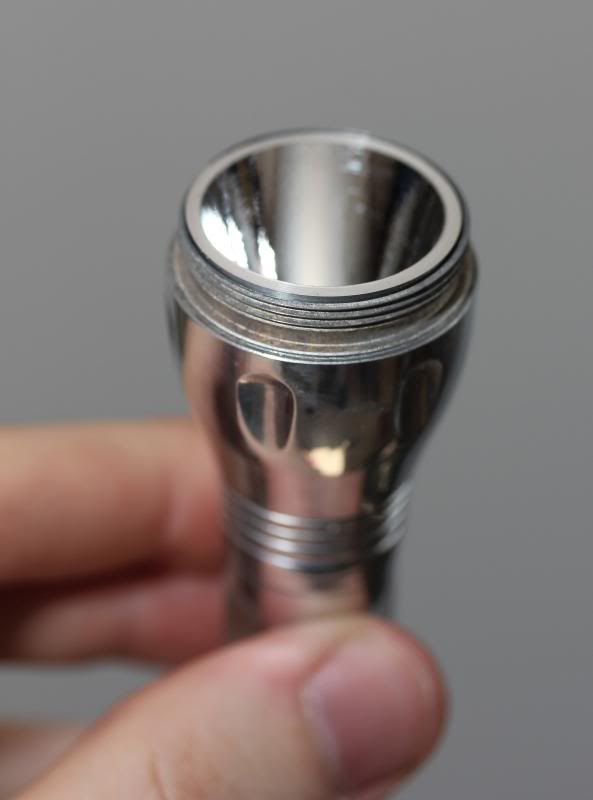 DX had a glass lens that fits perfectly. This will set you back another 1,86$ for a 10-pack!
As you might have seen, my flashlight is not black. While waiting for the lens to arrive, which only took 8 days (a new HK shipping record for me), I used a Dremel and polished the shit out of the light. After I had removed the paint with some caustic soda that is. I used several hours on it to get it really shiny! This was my first time doing some "extreme" polishing work. Its time consuming.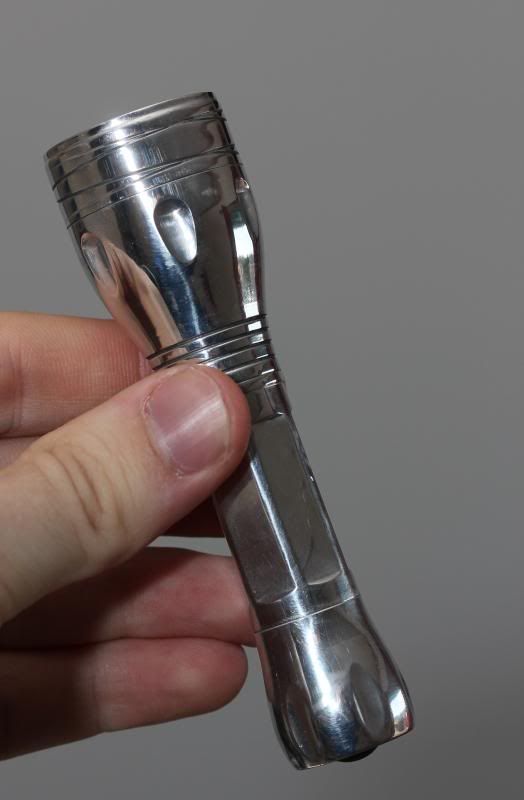 I used a drop-in with a shiny XM-L. It suits the shiny light. 8)

Im pushing out around 2.8a on a fully charged battery with the pictured drop-in. Combined with XM-L2 that makes the wow-factor quite large in this nice little BLING light.
I have had no issues with the tailcap. It seems to handle up towards 3A.
Comparied with other P60 flashlights it looks really nice!

If you are interested in my 3xAA P60 light. There is a short and simple mod thread here.
Thanks for reading. Hope you enjoyed my mod.