EDIT: pictures in this post does not show the whole truth. NW XM-L T6 and XP-G R5 exist and always been! Sorry for wasting other peoples time with this. I should have read the text in my own pictures better and and checked the Family Binning and Labeling document properly
I have learned a lot on this forum, but it seems like many people have been misguided by others. I seem to have learned what is wrong by others, and then given the
same false information to others. It also seems several stores spread wrong information too. Which does not make it easier for anybody to get things right.
What im talking about is the cool white (CW) emitters that are down towards 5000k.
They are mostly known as "neutral white" T6 3C and the "neutral white" XP-G R5 3C (5000K), both of which are in fact CW. I say again, NOT neutral! At least that is how I how I see things when looking at datasheets from Cree.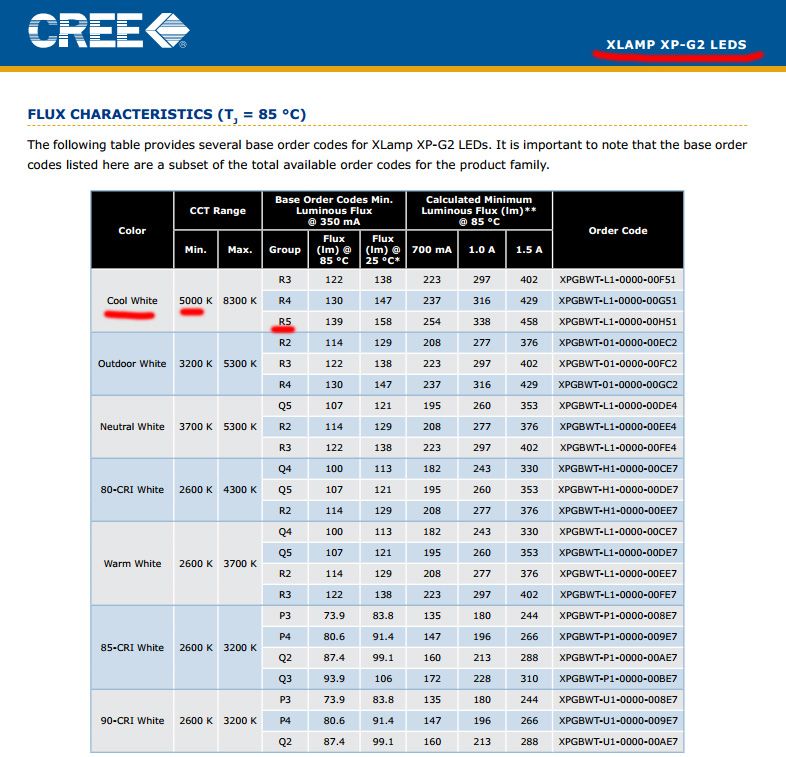 As seen on the datasheets, for XM-L to be NW its has to be T5 or T4 BIN. There is no such thing as a NW T6 according to shown datasheets.
That is not to say that T5 needs to be NW. It can also be CW.
Generally speaking Cree CW xml emitters are 65-CRI, while as NW being 75-CRI. (70/75 for XPG)