Others have shared their way of doing this. This is my way.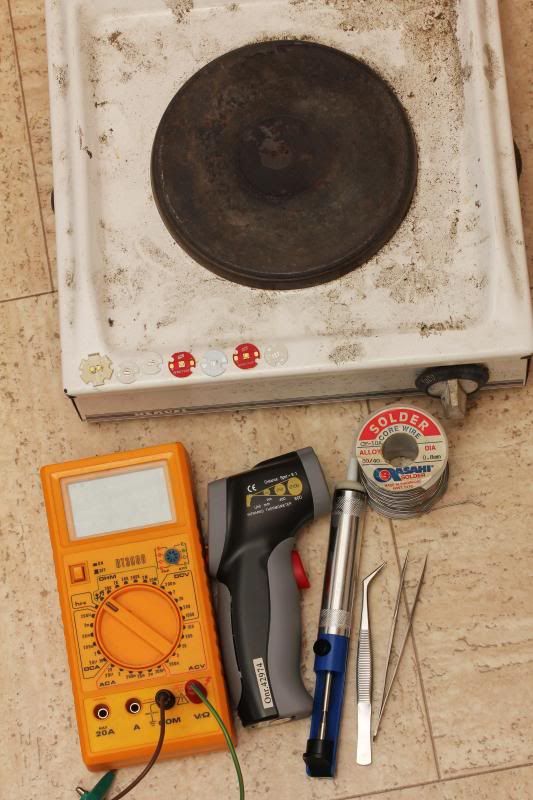 My highly professional re-flow setup.
The gear:
-A dirty "cooking plate" from the garage
-Two tweezers (one could do)
-Solder sucking thing, just in case I add a bit too much solder
-IR gun, to monitor the heat (You don't want it to be warmer than needed. The solder should melt, but not any higher temperature. That could damage the LED)
-DMM, just to double check it was a 100% successful re flow.
-Aluminium plate (sorry, not pictured)
The ingredients:
-Solder
-Copper MCPCB (or new MCPCB of some sort)
-Emitter on star or bare emitter
My cooking recipe:
-Throw on the copper MCPCB. Get the heat up to a level where the solder will melt on the three traces where the emitter should sit. You only need a little bit of solder to cover the surface where the emitter sits.
-Throw on the MCPCB that the emitter sits on (if you don't have a bare emitter). Once the emitter gets loose, use a tweezer and move it over to the copper MCPCB. Make sure to put it on the right way (+ to +), not sideways or anything either.
-Make sure the emitter sits nice and flat. Take of the copper MCPCB and put in gently on an aluminium plate or something (not pictured), quickly use the tweezer to push it down on the MCPCB without touching the dome.
-Once cooled properly. Test it with a DMM. Put it on the setting where you check if there is contact between stuff. The beep thingy.
Connect the positive wire from the DMM to the positive on the led. Negative to negative. It it should light up a little bit.
-Success! Dinners ready!
100% success rate with this setup. Its real easy and fun!