POP Lite F10 Diving Light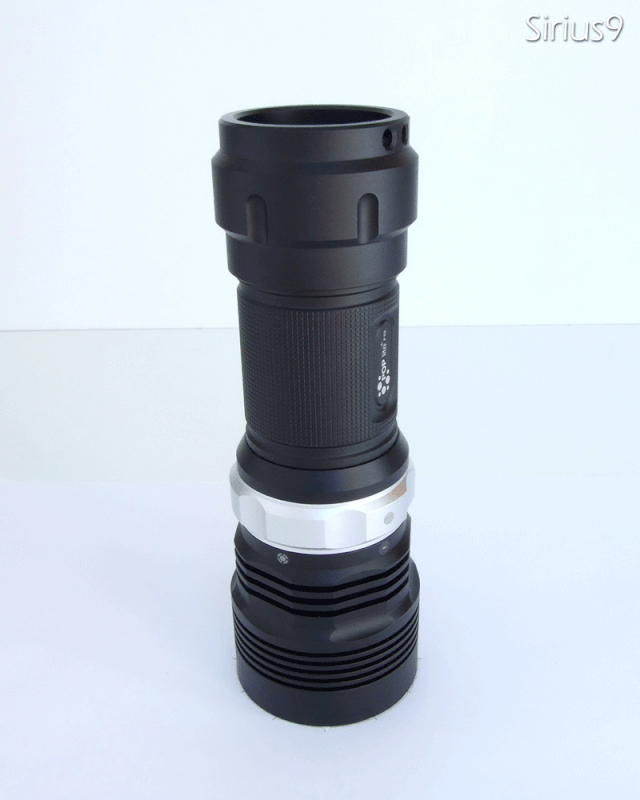 Summary:
| | |
| --- | --- |
| Battery: | 1 x 32650 (included) |
| Switch: | Twisty (5 position magnetic ring) |
| Modes: | 20%/Strobe - 40% - 80% - 100% |
| LED type: | CREE XM-L T6 |
| Reflector: | Aluminium Textured/OP |
| Body: | Rugged aerospace-grade aluminum alloy 6061-T6 |
| Lense: | Coated Glass Lens |
| Accessories: | 2 spare O-rings, lanyard, 32650 battery charger, flashlight grease |
| Other: | Submersible to 100 meters of depth |
| Weight: | 374 gr (flashlight & lanyard) + 145 gr battery |
| Source: | |
Pros:
 Build quality is excellent
O

verall design, it

'

s massive and heavy, gives you confidence

Rotary magnetic ring is well lubricated out of the box and has a very smooth/precise operation

Glass lens, I would say it's of a high quality

If you have a submerged table or similar flat surface it will tailstand no problem

Included charger that accepts huge 32650 battery

Sturdy and nicely made gift box (can be useful and important if your flashlight is to travel ~9000 kilometers)
 Cons:
Underdriven

No adapter for 26650 or 18650 battery
 Other:
Battery must be at least 67mm long


Maybe a bit to heavy but it's a diving flashlight so this could actually be positive thing
 
Intro
So, the girls from LightsCastle.com were nice enough to send me this interesting flashlight for a review, never had a diving light before so I was very thrilled to receive one
Package
Packaged in standard bubble wrap envelope there was a intriguing gift-box, nicely designed, with all relevant information about the product, actual box that contains the product is made of a thick cardboard, all black, kind of a classy. I am happy when flashlight comes with the box, trip from China to me is very long and stressful and any kind of additional protection is welcome.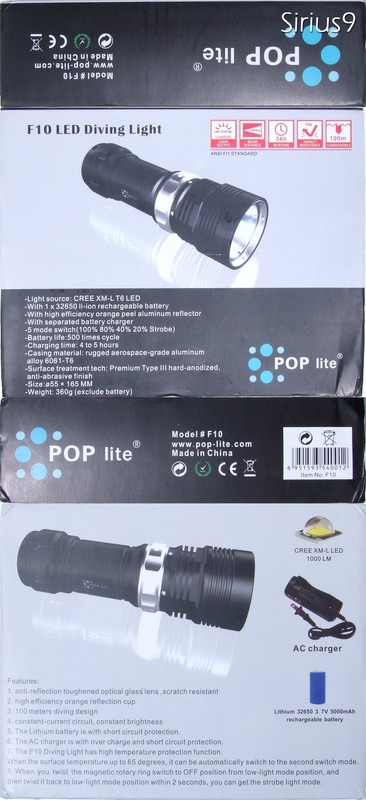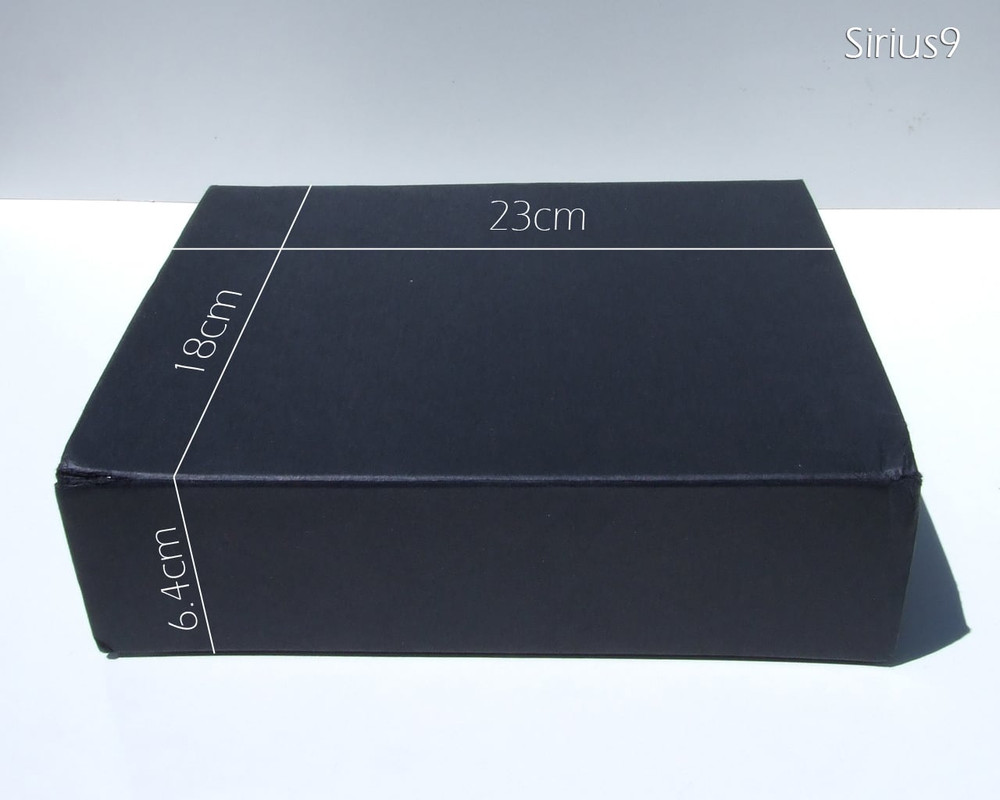 All components have their own cut outs in foam-like material, ThruNite uses same stuff to package TN31.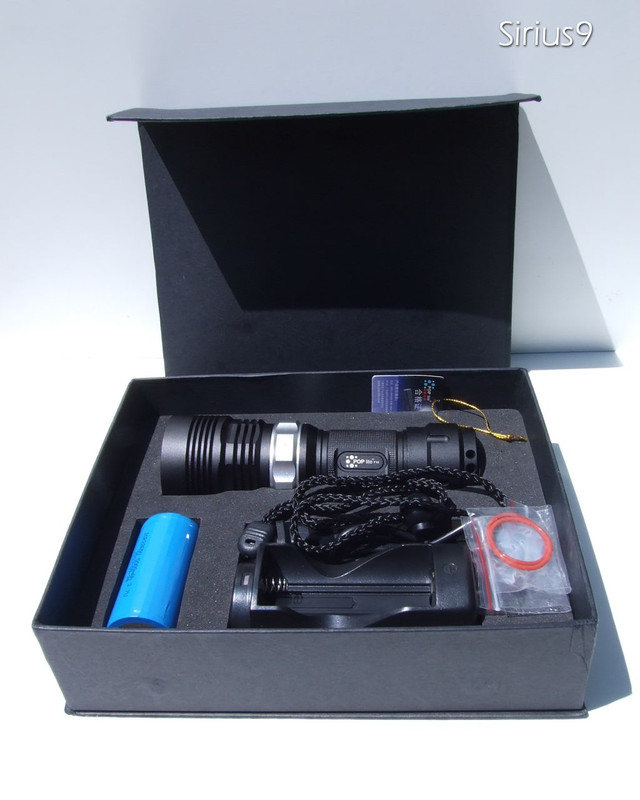 Here is what you get inside:
POP Lite F10 diving light (with lanyard)

32650 Li-Ion battery

2 spare O-rings

Charger

A little bit of grease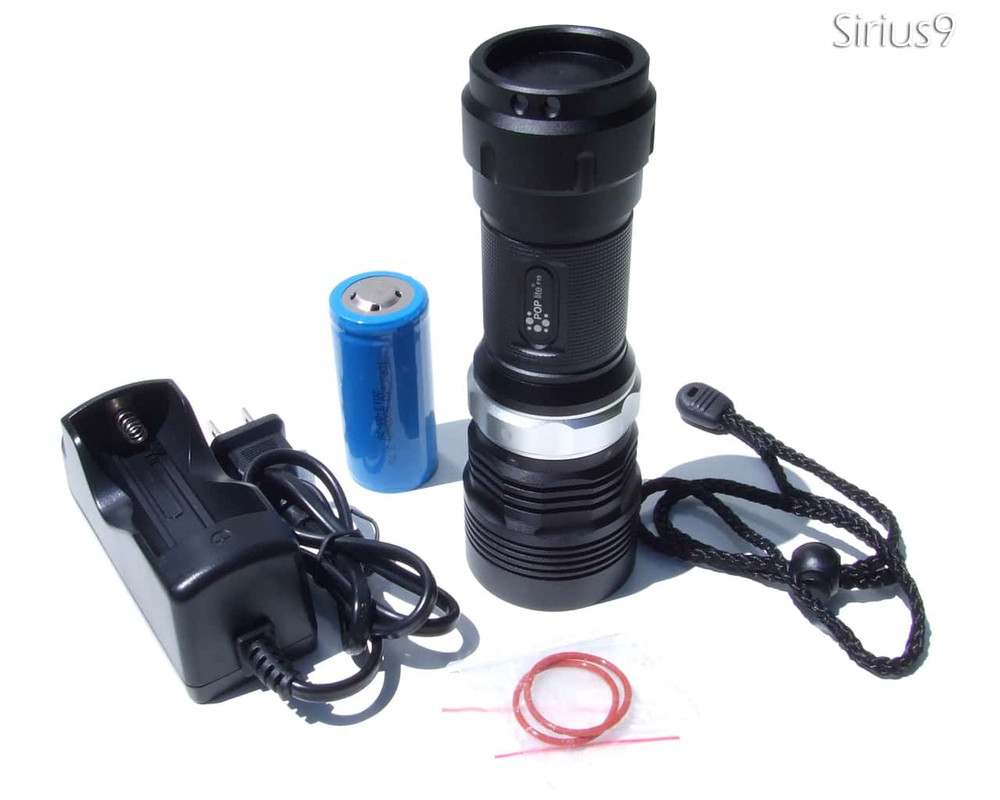 Design and build quality
first thing that popped into my mind when I took the flashlight out of the box was: "it's big, and it's heavy" it gives an impression of sturdiness, like it's built to withstand anything. There is a good amount of material in this flashlight, walls are thick, tailcap is huge, retaining ring that holds the glass lens is also considerable.
Anodisation seems to be of high quality, there are no corners with ano. Imperfections, sharp edges, color mismatching or something like that, I was pretty impressed with it and the big credit for that goes to rotary magnetic ring that is used to change modes. Ring is very precise, it clicks right where it's supposed to click, no wobbling, no aluminum to aluminum scraping and, it was properly lubricated straight from factory, believe it or not I think it performs better than the ring on Niteye EYE30 that I had earlier (was way too dry).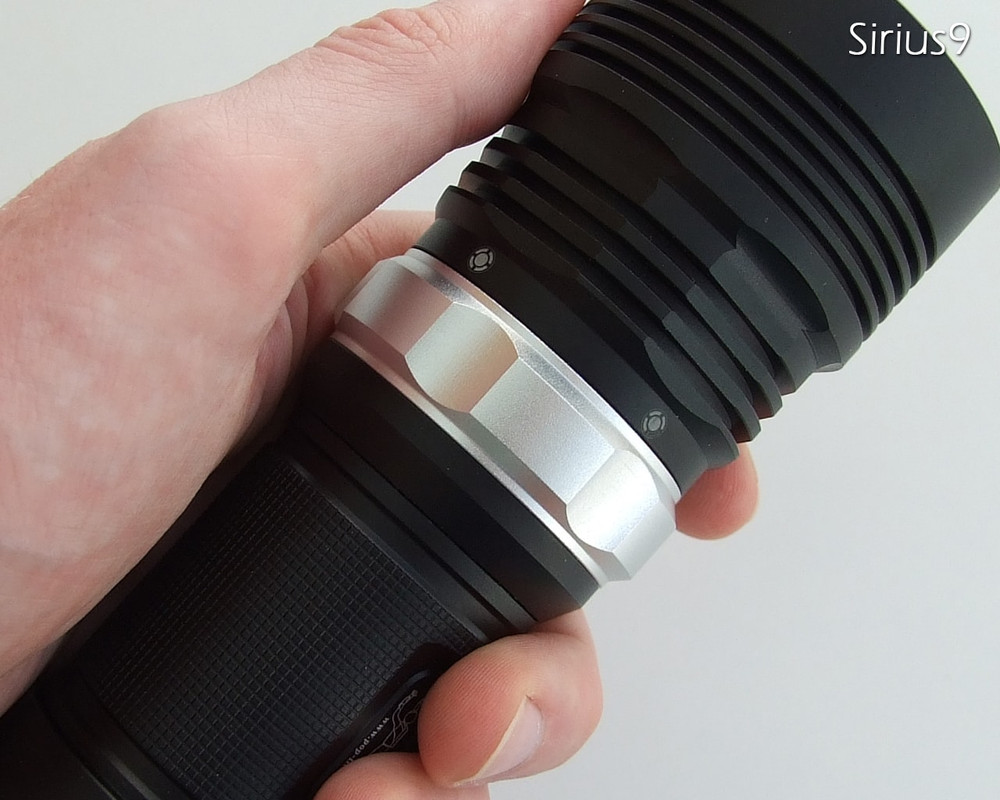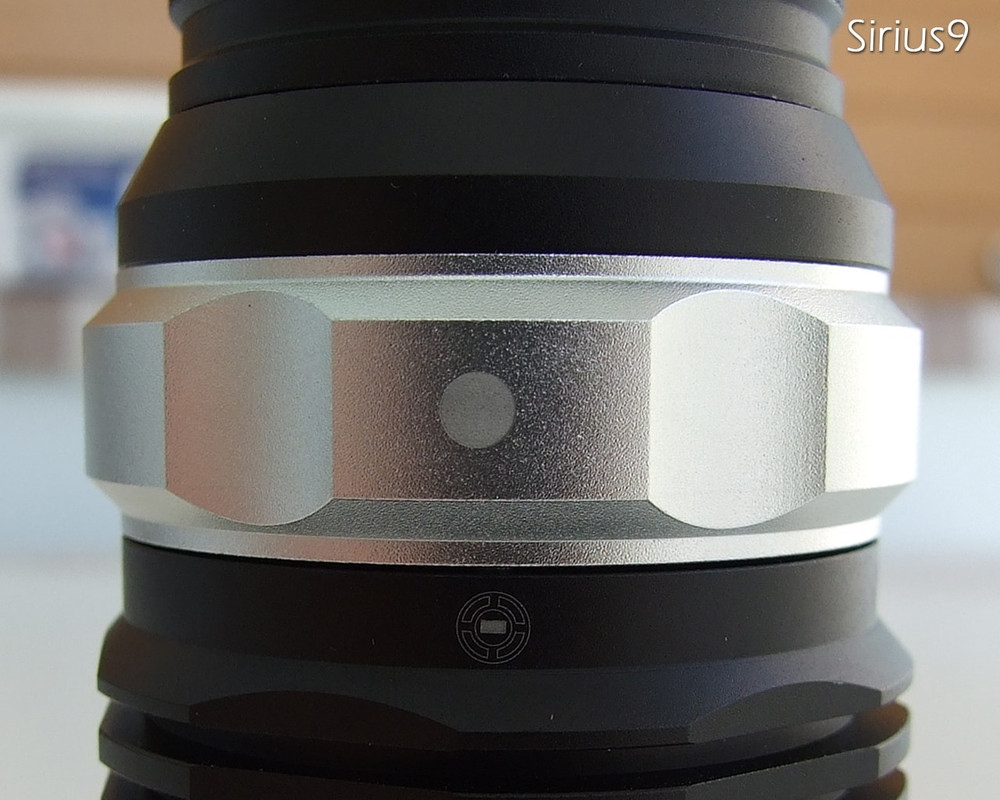 Another thing that seems to be of high is the lens. It's AR coated and the box says it's toughened and scratch resistant, interesting thing is that when I look directly at reflector it almost seems as if there is no glass, at all, but when I tap it with my fingernail it has a dull sound like it's 3 or 4 milimeters thick. Unfortunately, until posting of this review I wasn't able to remove retaining ring that presses glass lense and presumably reflector, because for this a special 4-notch key is used so I would need to fabricate something similar, from plexiglass or so...
Reflector also looks nice, it has a two notches at the top, I presume that it is screwed in and this two notches are used to undo that operation. At the bottom of reflector there is a XM-L T6 emitter with something that looks like centering ring.
Hard to see but yes, it is AR coated.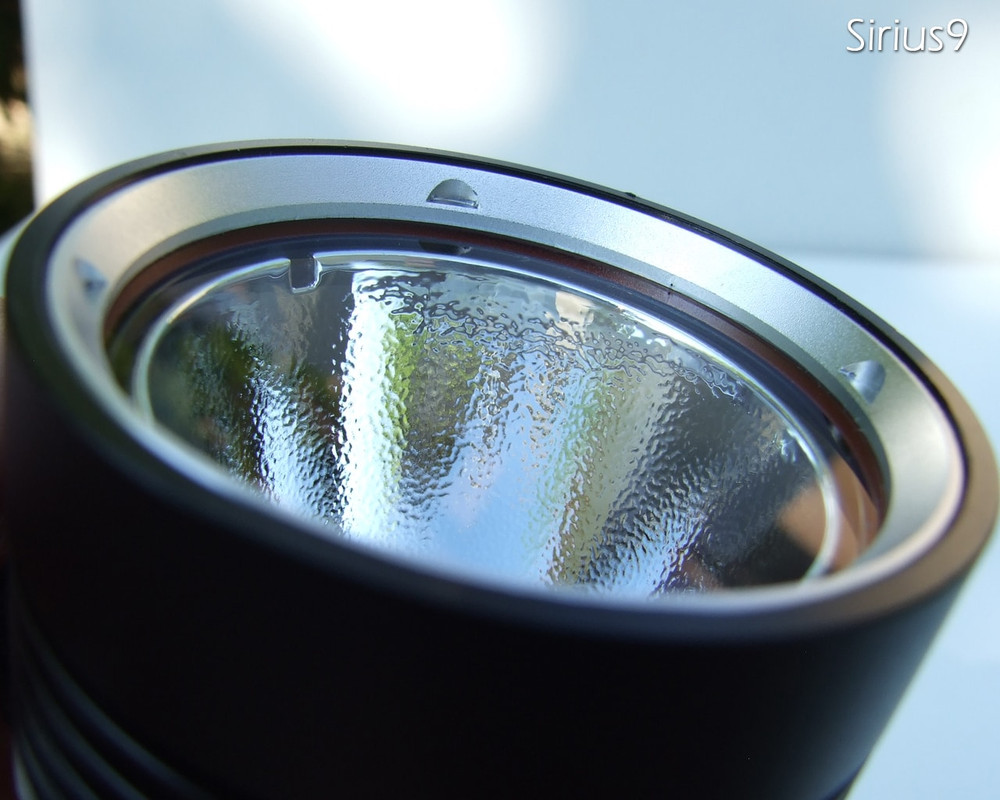 Aluminum retaining ring, a pain to disassemble (and not to damage) without proper tools...
Hello, my name is XM-L T6, and you are?
Nothing special to say about the tailcap, deep threads, springy insert in the middle to make a contact with the battery, looks like copper but it's not (attracts magnet). I wasn't able to figure out how they assembled this, it's not threaded! as if it was pushed inside and then expanded!?
A donut-like spongy thing was pushed around the contact for negative battery pole!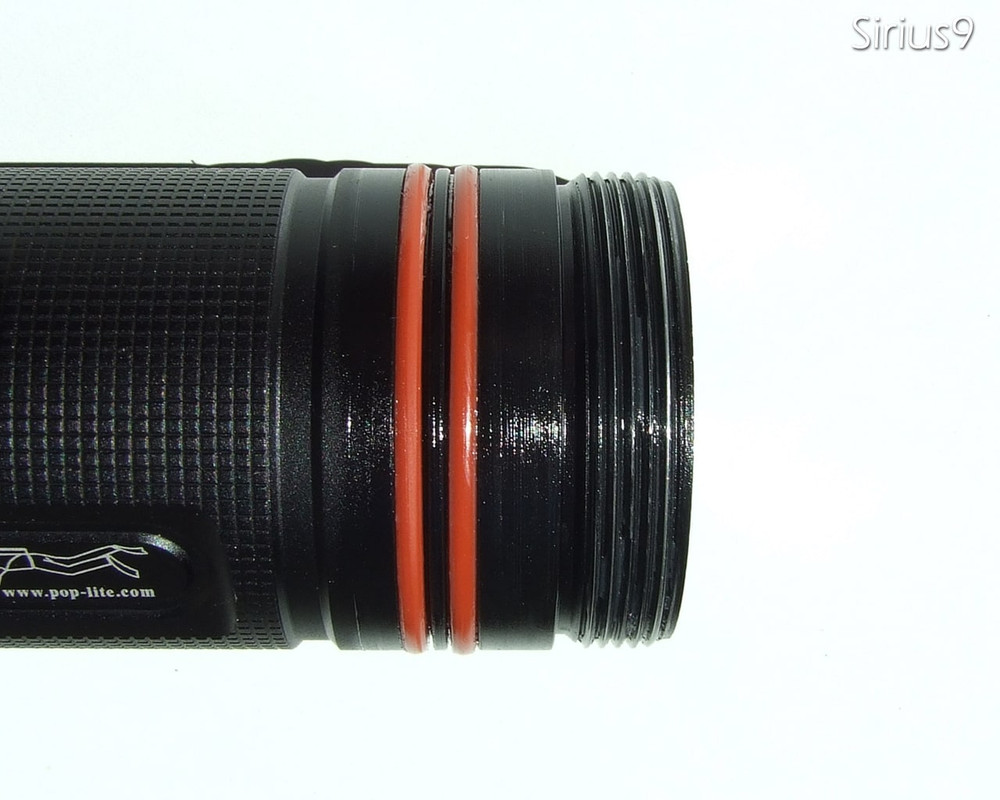 Nicely lubricated threads and O-rings right out of the box but.
The threads are not completely anodised, so no lock-out function
Driver in this thing is mystery, despite all my efforts I wasn't able to unscrew the battery tube and get closer to the driver. I think they glued it for some reason (tube), which would be really pity!  I have one more thing in my sleeve to try (will try to cool down upper part of the flashlight and heat up battery tube), if that doesn't do the job = no more nice guy from me
Positive battery contact is surrounded by a plastic ring with two holes which are obviously intended for needle nose pliers but the battery tube has to be unscrewed first, so complicated
A huuuuuge protected 32650 battery included with the flashlight seems to be manufactured couple months ago, arrived almost fully charged, with 4.10V. Let me tell you, when I got my first 18650 battery, I thought those are big but compared to this "big blue" 18650 is small
BTW, I would really have to get myself Turnigy Accucel-6 and until I do that I will trust that the 5000mAh is a real deal (right).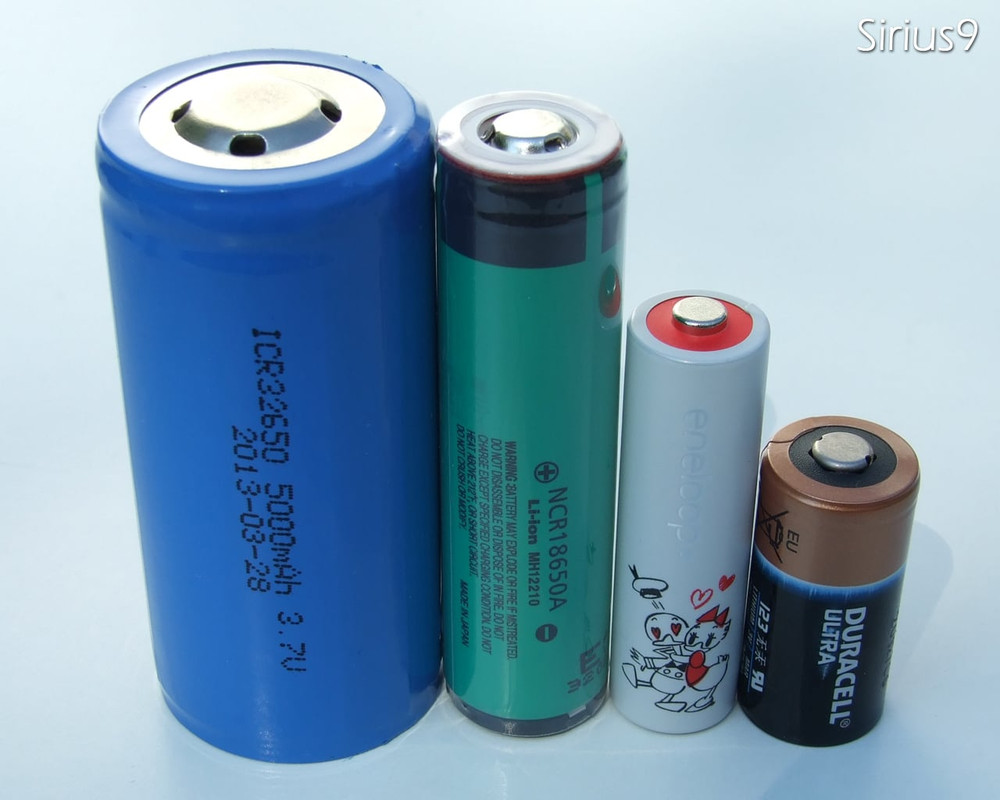 Not so tough now 18650, are you...
There is also included appropriate charger that can accommodate big blue. It features overcharge protection, short circuit protection, red light = charging, green light = battery full, input voltage: 110-240V so all usual except maybe slightly higher charging current (1000mA) but it's understandable, who would like to wait 10 hours while the battery is charged (if @ 500mA).
Of course, charger can be used for charging other high capacity lithium batteries like 18650 or 26650.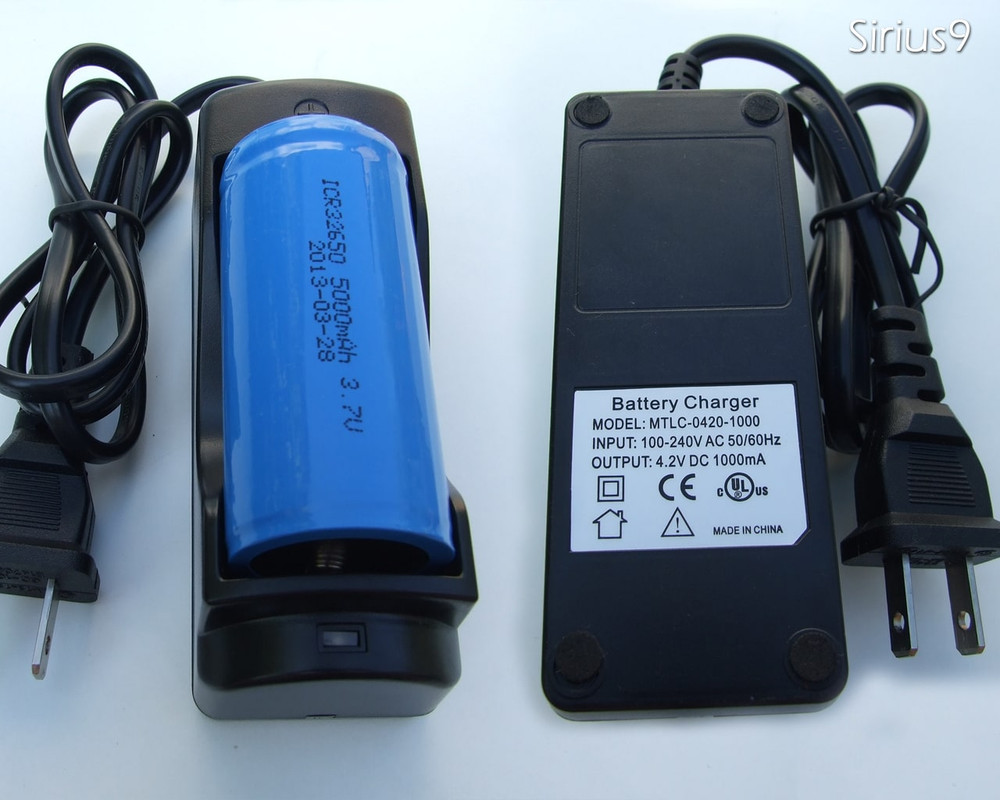 Two more photos and then we got to UI and beamshots: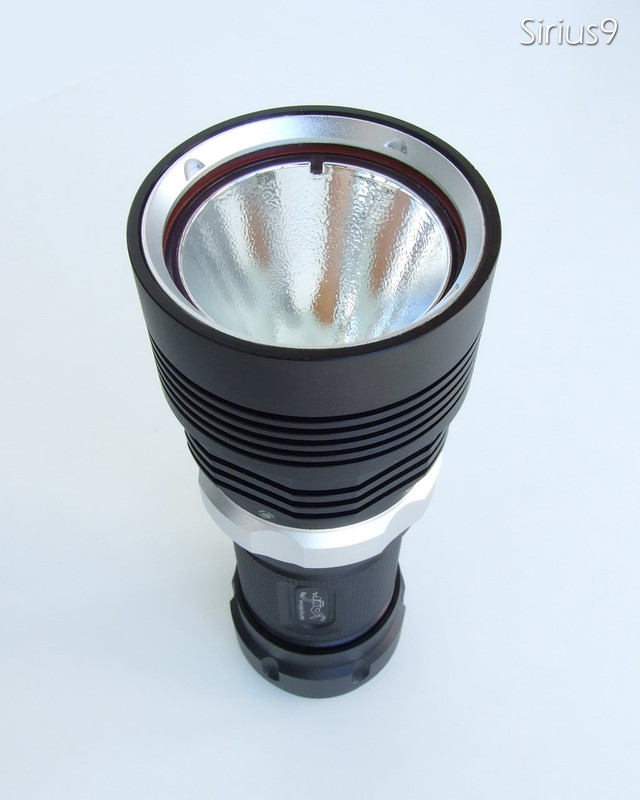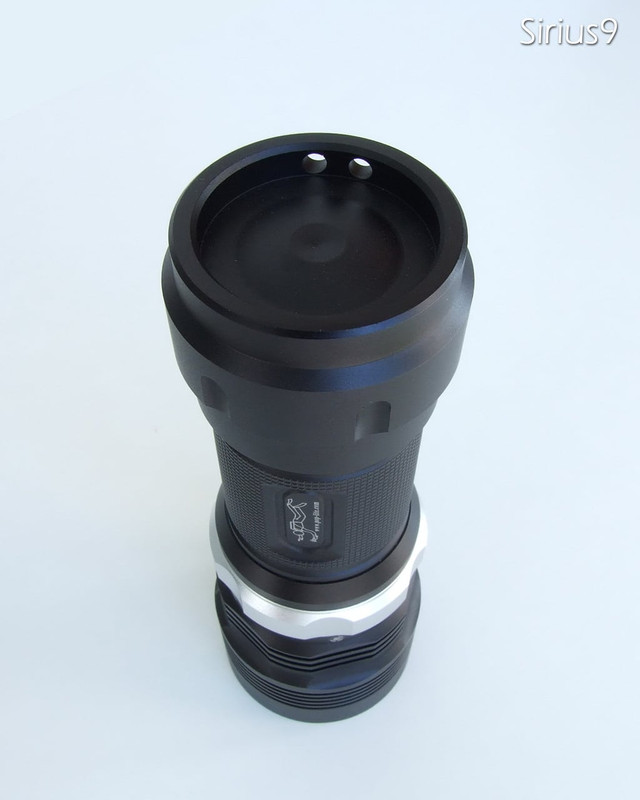 Modes and UI
User interface is straightforward thing as always with magnetic rings, you start from standby/off position -> 20% ->40% -> 80% -> 100% and if you go from standby -> 20% -> standby -> 20% in less than 2 seconds you will find yourself in strobe mode.
As mentioned, I really have to commend functioning of the magnetic ring, really smooth and precise, and it spins 360° so you can jump from standby to 100% and vice versa
Simple current measuring revealed a small downside of this flashlight, 2.43A on high is not quite 1000 lumens but... I have to get that driver out
Good thing is that there is a low voltage warning, when battery drops to about 3.20V flashlight will blink twice letting you know it's time to charge the battery. On the other hand there is no battery protection so using protected battery is mandatory.


20% mode is actually pretty nice and low, ideal for walking along the beach and when you don't want bunch of a light, jumping from 20% to 40% is very noticeable as you can see from beamshot while jumping from 80% to 100% you get almost negligible increase of light. Maybe 20%-40%-60%-100% arrangement would be slightly better!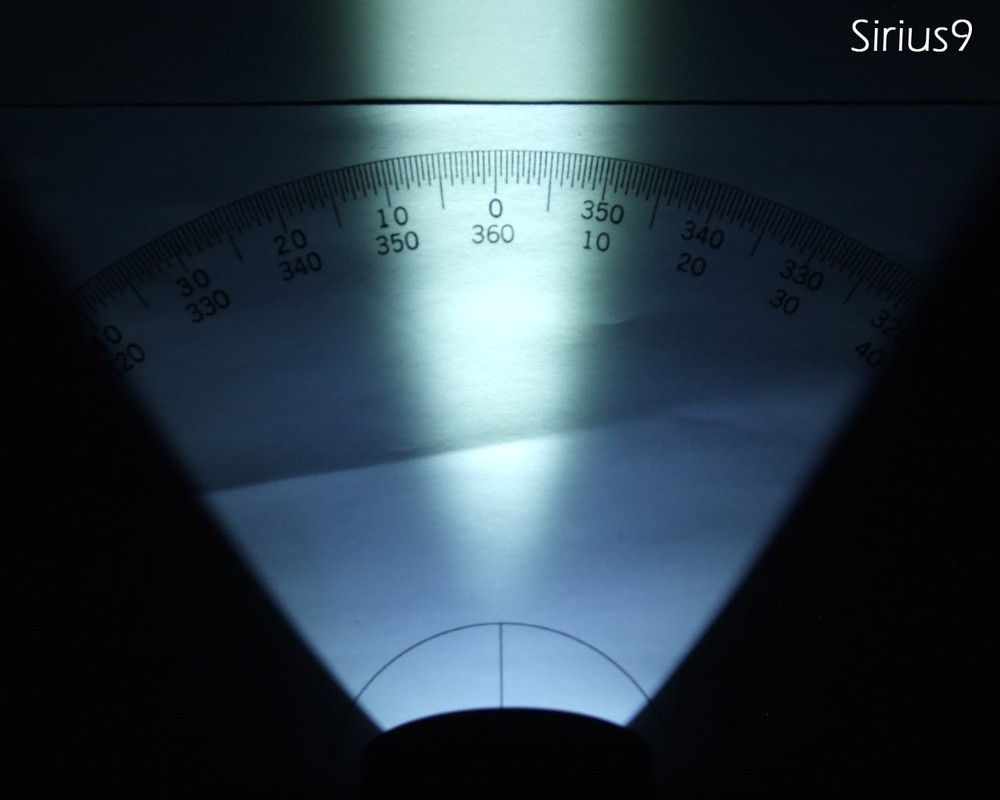 Now, since this is a diving flashlight I have to see how it performs under water pressure
and a bucket full of water just won't do the job. Conveniently, I have a well in my backyard
  it's about 8 meters deep and there is about 6 meters of water in it and I always wanted to find out whats on the bottom
Me: "You are going down there and you are going to find out what's on the bottom!"
F10: "Oh cr@p, I am afraid of sharks, don't want to go down..."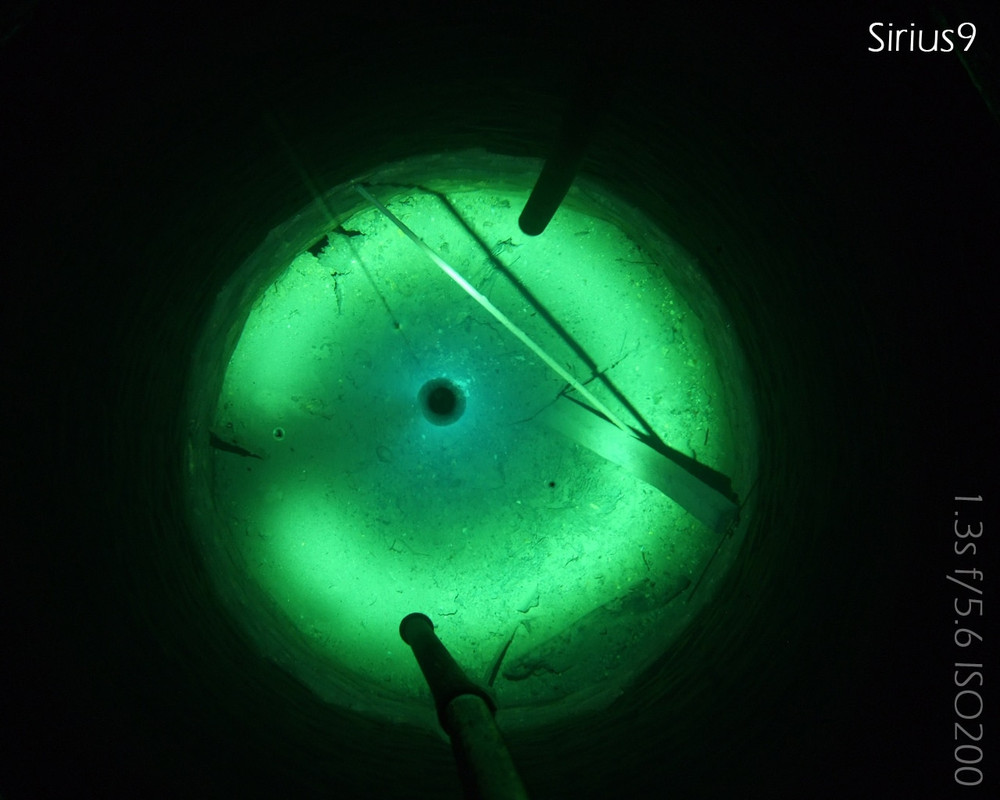 that would be about 30cm from the botom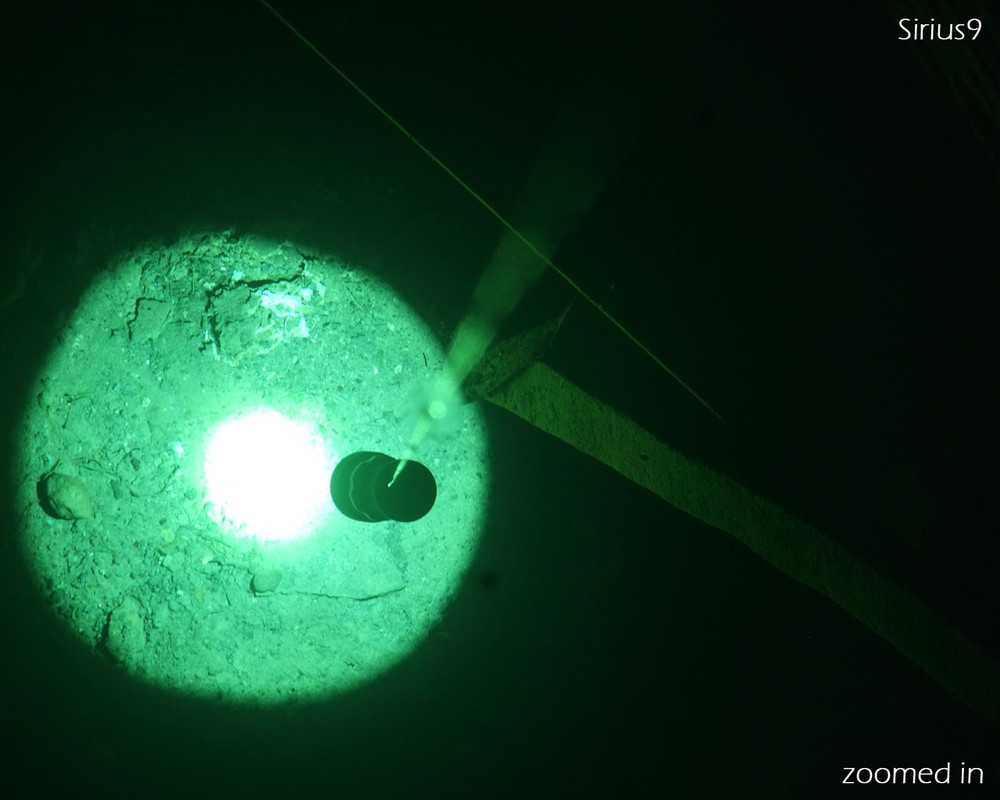 Yes, I know, there is a cr@p all over the place, this thing was not cleaned for over 30 years
Afterwards I naturally checked for leaks and as expected not a drop of water after first o-ring or under the lens, but this was only ~6 meter of water, would be interesting to see how it performs at 50 meters under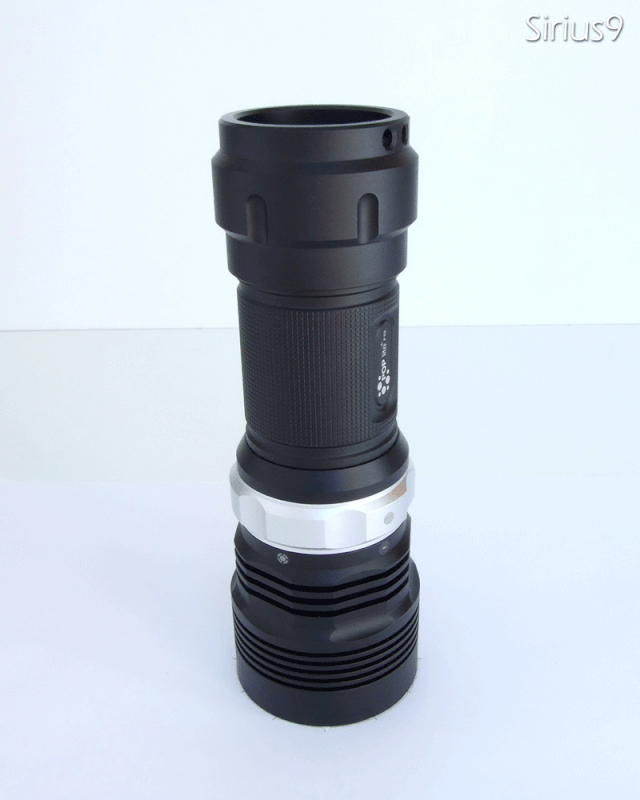 Overall impressions
Built like a brick, very nice finish and smooth performing, it gives confidence that this thing will not let you down in action, would be even better if it was driven harder
I hope you like this review and find it useful,
Cheers
Sirius9