I have two SRK type lights. A SRK and a UV-S5.
The SRK is modded here
It currently uses 3x XM-L2 T4 5B1 MINIMUM 80 CRI emitters mounted on Noctigon. Driver adjusted to 3,09A average to each emitter.
The UV-S5 uses the stock driver (3 toroid). Emitter current are 2,29A average to each emitter.
Currently, its got stock XM-L CW emitters, but they have been de-domed and put on Noctigon.
So how does these lights compare?
For the record, this is not a SRK vs UV-S5 comparison, or a CRI comparison. Its mainly meant to be a beam/throw comparison.
But first. Lets see how the modded SRK compares to the stock stock UV-S5 (without de-domed emitters and Noctigons.)
(These pictures are exposed darker than the following pictures and with AUTO whitebalance). Mouse out for modded SRK. Mouse over for 100% stock UV-S5.
Camera settings on the following pictures:
1,3s, F4, ISO 400, 17mm (APS-C), WB set to daylight (5200K)
Now, modded, vs modded. Short range. Modded SRK is shown, mouse over for UV-S5 de-domed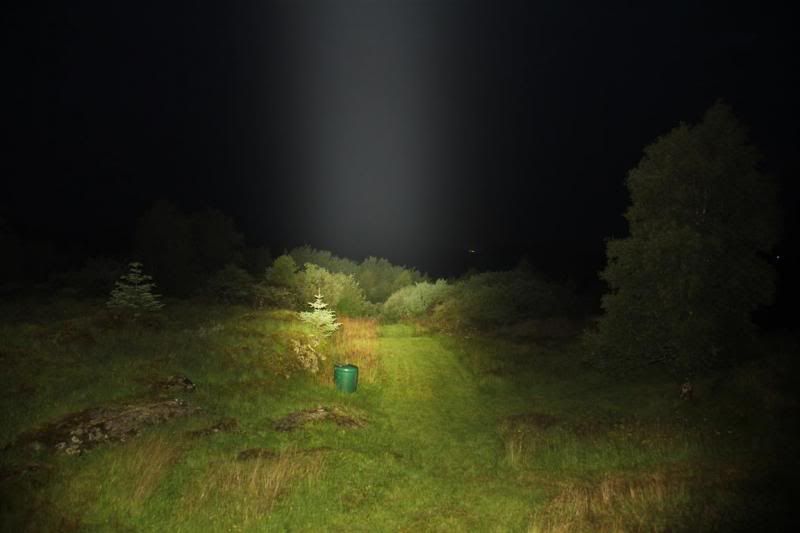 Long range. Treeline in the distance are 120 meters away. Or 393 caveman feet.
Modded SRK mouse out, mouse over for UV-S5 de-domed
Comments on color rendering
Due to white balance setting, the 80+ CRI SRK looks slightly warmer than it is.
The de-domed light (UV-S5) renders everything too green, kinda like you see in the pictures, and does not show red colors well. I would say it looks better in the pictures than in real life. But its not bad in real life.
Conclusion
If you want a pocket light with good spill, and also good throw. Then a healthy SRK with de-domed emitters does the trick even if its not pushing any extreme current to the emitters. I think the treeline that is 120 meters away show the throw ability quite nicely compared to a "normal" hard driven and modified SRK.
Ill probably do more mods to the UV-S5 in the future, but for now, ill leave it as it is for some time. I often mod the same light several times, or in several stages.