About 3 years ago I threw a Birthday party for my wife who was having one of those "milestone" birthdays. Our house is set back off the road and the driveway is dark at night. As a lot of guests were expected, some of them elderly, I suddenly realized that I had to hook up some lighting quick. I went to the home center and picked up 2 lampposts and a couple of large square concrete patio tiles. I bolted the posts to the concrete, wired the lights to an AC plug and hand trucked them into place. I had a bunch of 100' extension cords that I got years before for cheap and ran them out to the posts. Worked great. Originally I had intended to make them more permanent but that didn't happen for another 3 years. Actually it is amazing to me that those extension cords lasted through all the rain and snow for all that time. A few weeks ago I put down conduit pipe and finished the job.
Now that I have a permanent source of AC down at the entrance of the driveway I can install some landscape lighting. I have tried those solar landscape stakes in the past. They are cheap and easy to install,just stick them in the ground, but they just don't work. They are not very bright, don't shine all night, and the solar cell tends to cloud up after a very short time.


The proper way to do it is to use low voltage lights that are powered by 12AC. They haven't sold well recently, probably because everyone is caught up in the fantasy of using the solar powered stakes. I was in Lowes one day about 2 years ago and came across a nice 12V lantern light that was on clearance for $1.56. This was ordinarily a $25 light, nothing to think about, I bought all 13 that they had left. Besides the included bulb costs more than that and I could at least use the bulbs as replacement for the lighting that we already have up at the house. It was a no brainer. Here is a picture of 1 of the lights assembled. Made of metal and the globe is glass.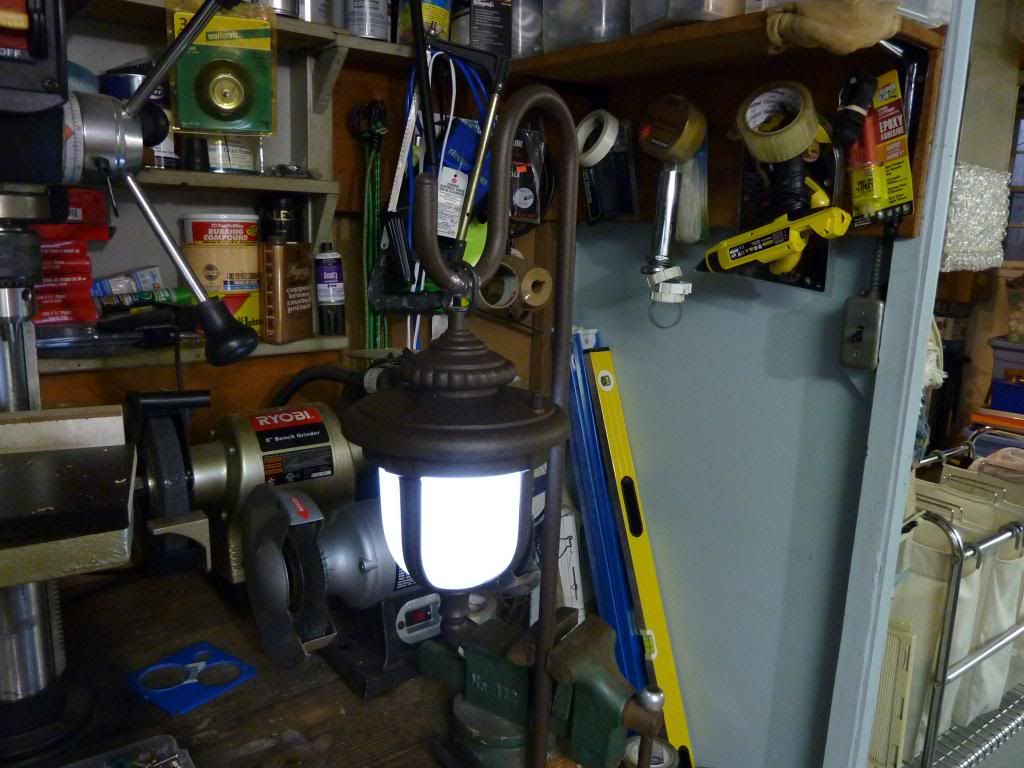 As it is, had I paid full price for the 13 lights, it would have cost me $325.00. But I only paid about $30! There's a problem though, the include bulbs are 10W halogens. 13 lights times 10 watts means I will need to buy a big, expensive power supply. I know!, I'll convert to LED. Much less power not only means less electricity to operate, but also a much cheaper power supply can be used.
So instead of having to buy this: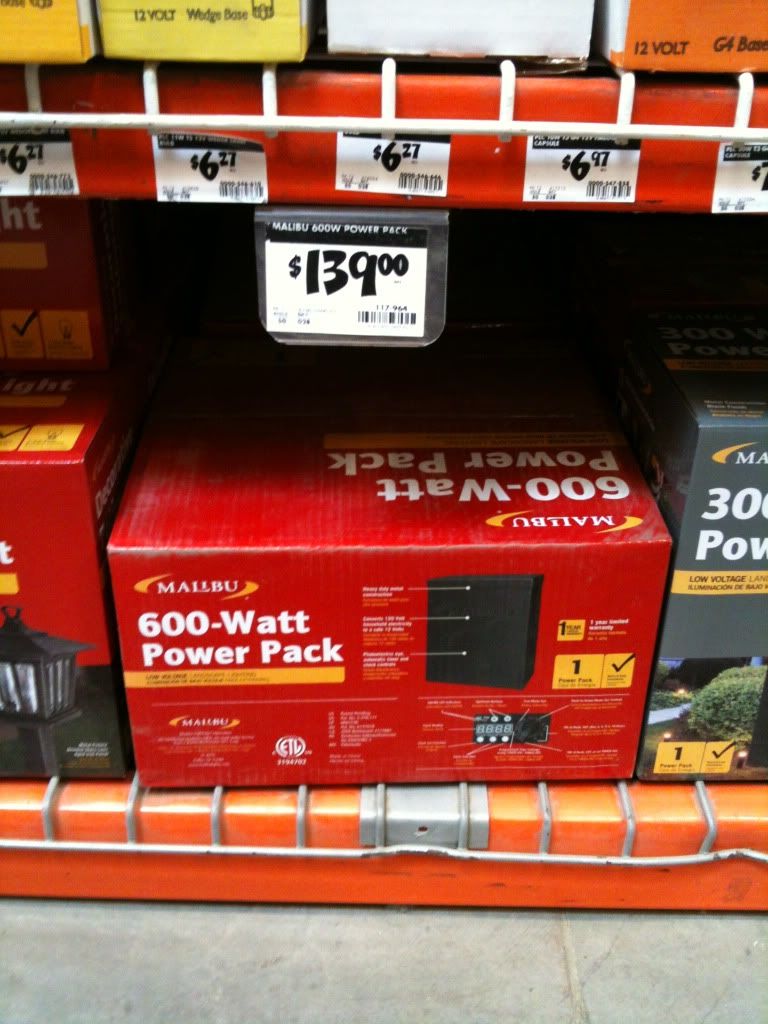 I can use what I already have, a 12V 5A power brick for an old 15 minute AA fast charger.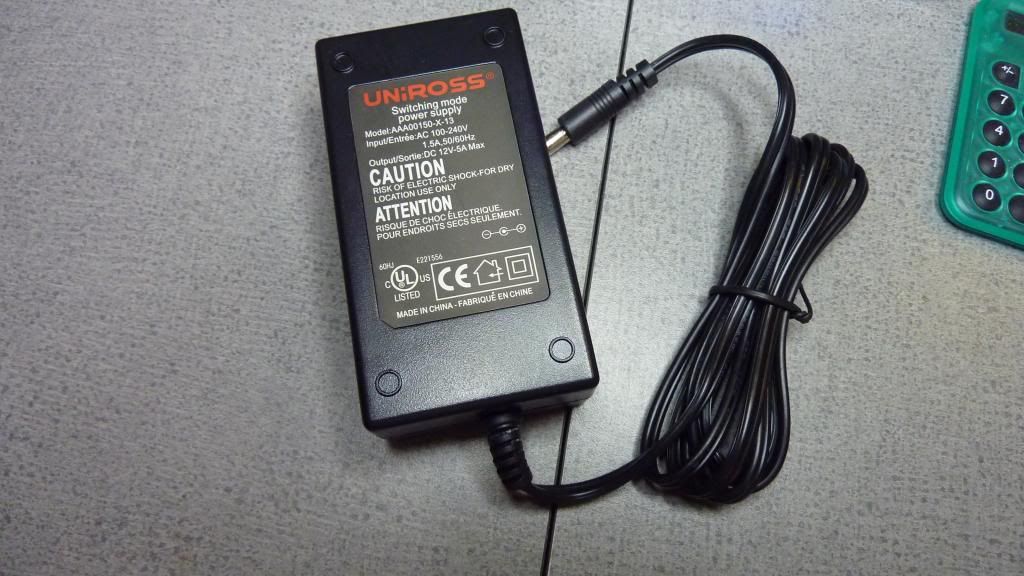 And because LEDs use much less current I don't need to buy 3 of these 12 gauge 100' coils of landscape wire.


Instead, I can use 4 of these much cheaper 18 gauge 80' coils.


This is the bulb that was included with the fixtures that I bought, 10W Halogen.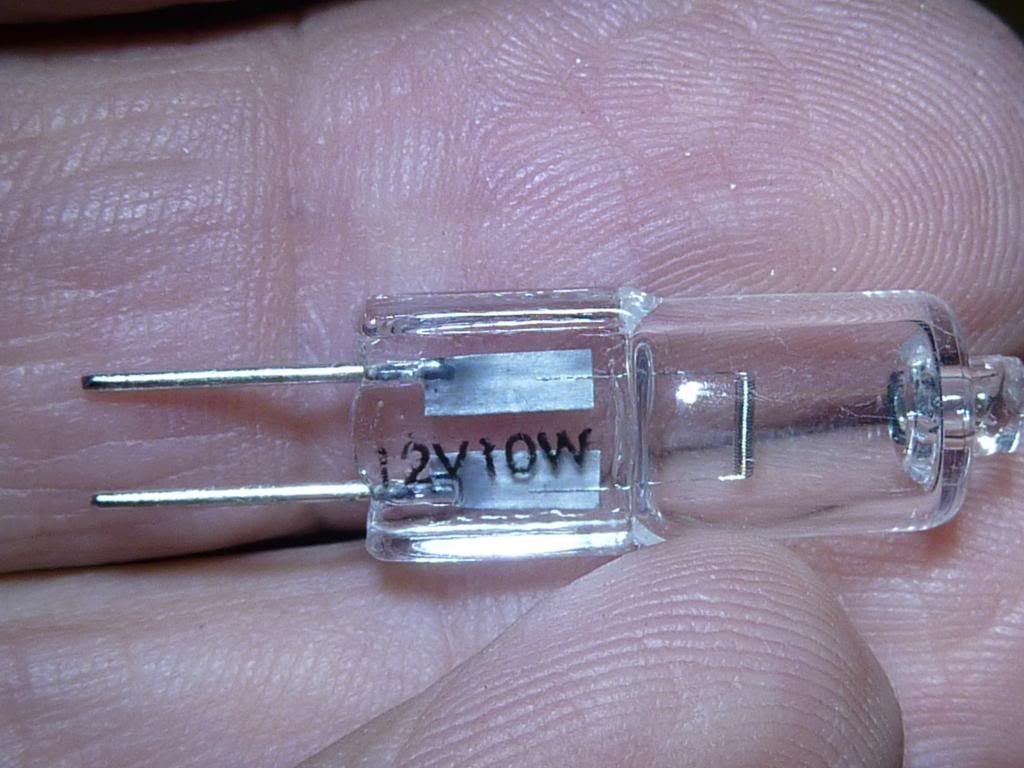 What I now need to do is make an led "bulb" that will fit this socket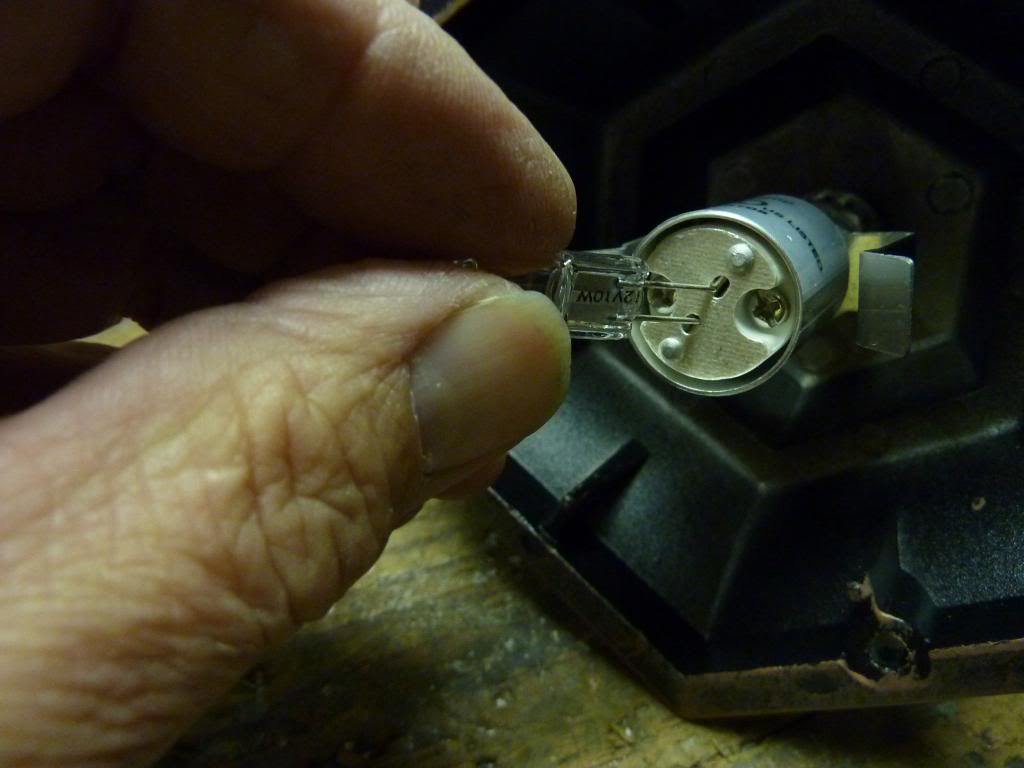 It must run on 12V as that is what the power brick supplies. I had just the thing already. I had a half spool of these LEDs that I bought at FastTech. The whole spool of 300 LEDs was $10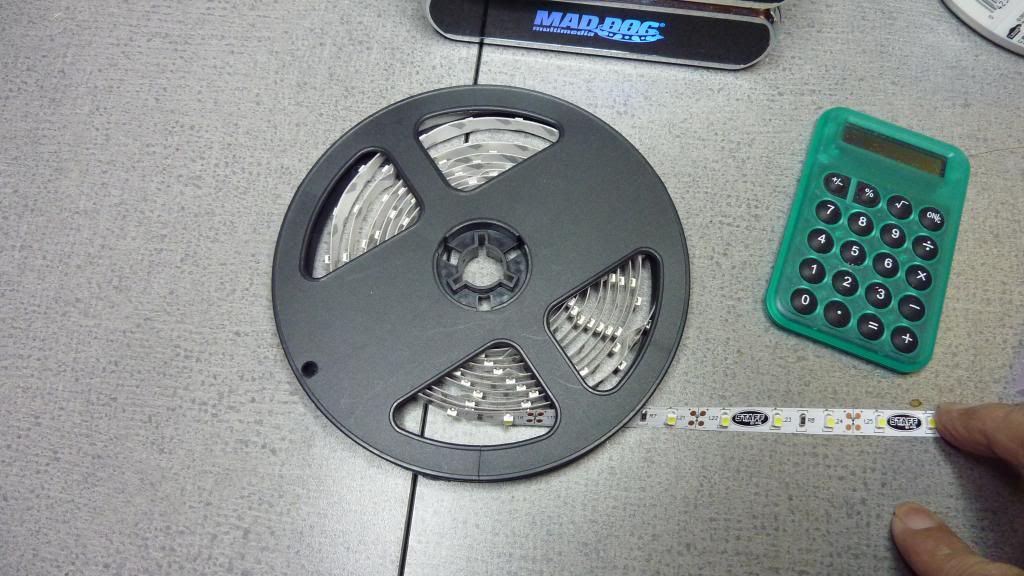 Here is a closeup of the strip. Notice that each set of 3 leds are in series with each other and a current limiting resistor. On the top and bottom of the strip there are the + and – buss. at each end there are copper solder pads. This strip can be cut to any length as it is configured in a series-parallel connetion.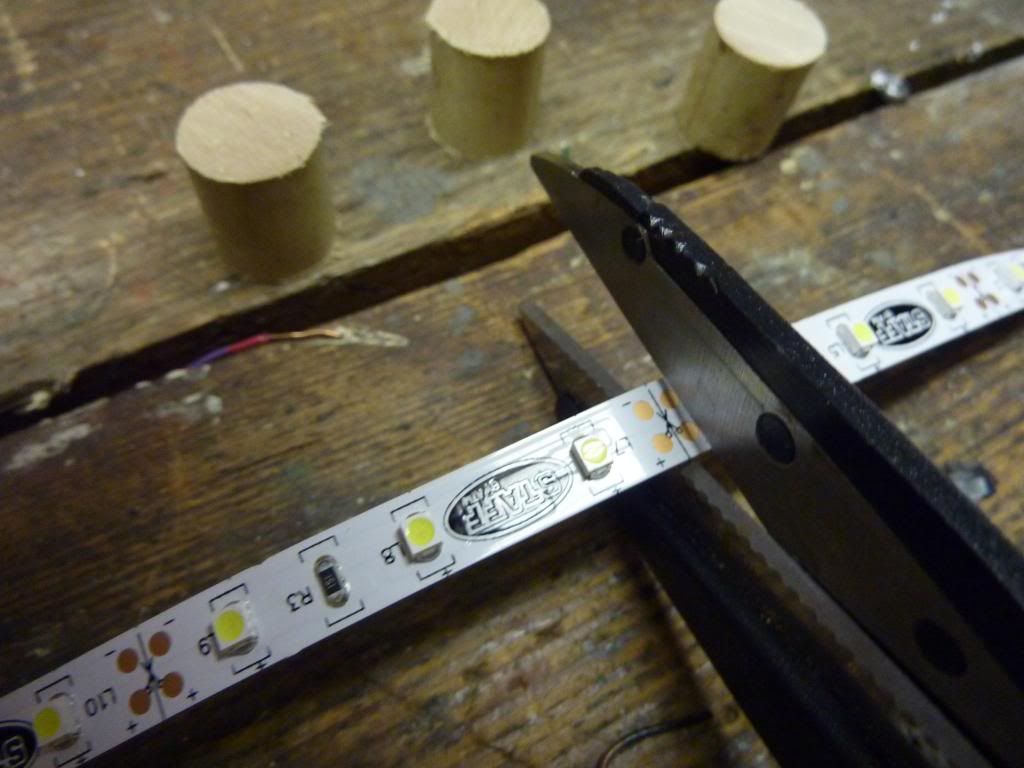 To make a "bulb" I took a wooden dowel and cut it to length. The pins for the connection are brass brads.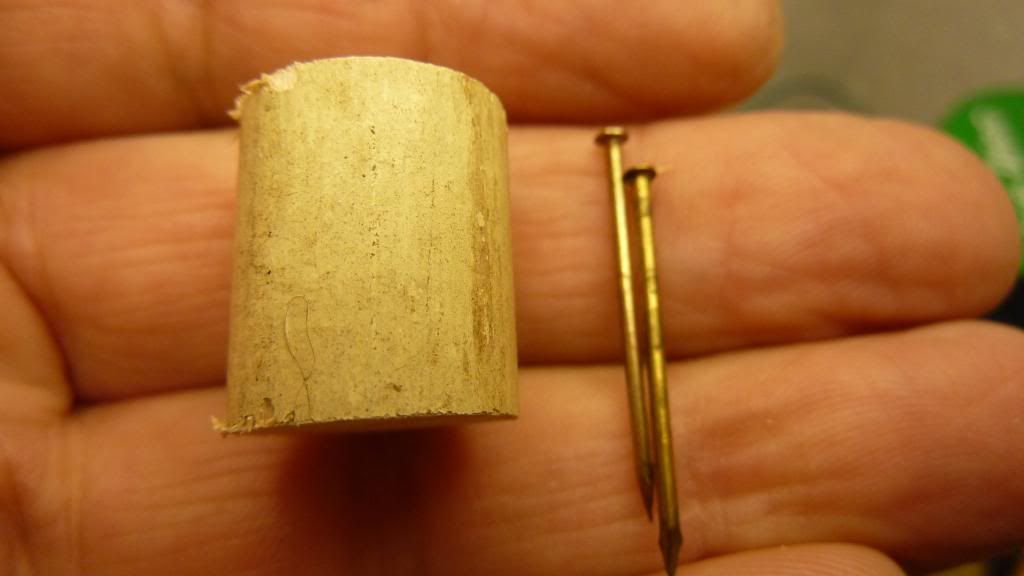 I drilled holes almost all the way through the dowel and drove the brad through the rest of the way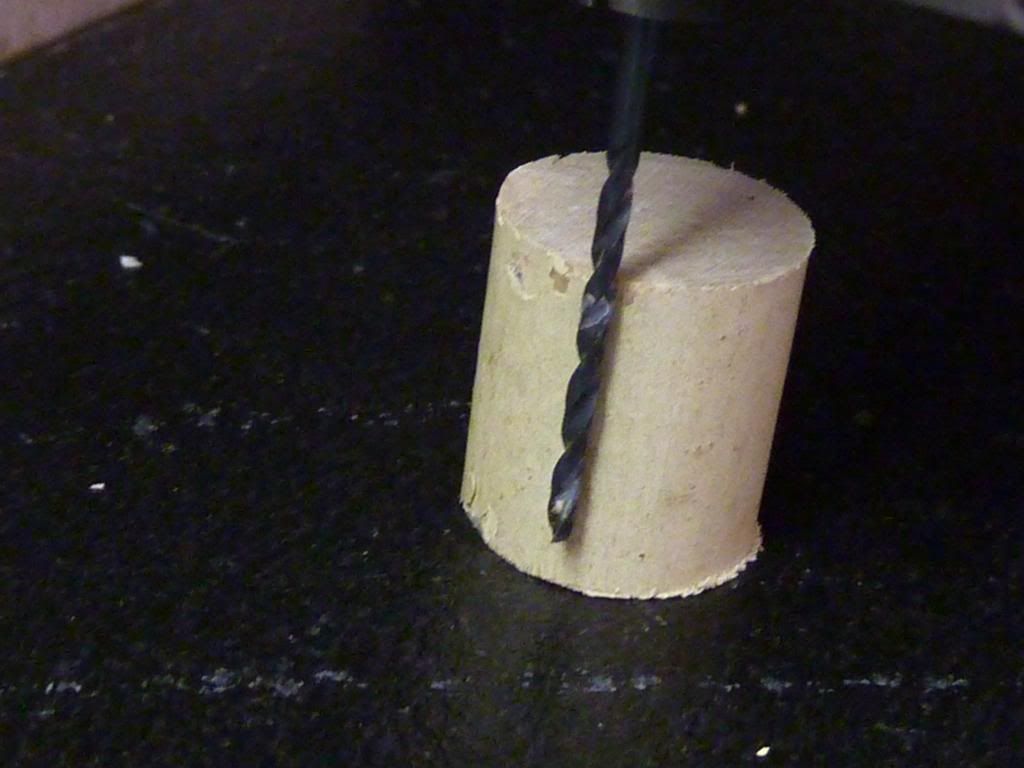 The LED strip is just peel and stick!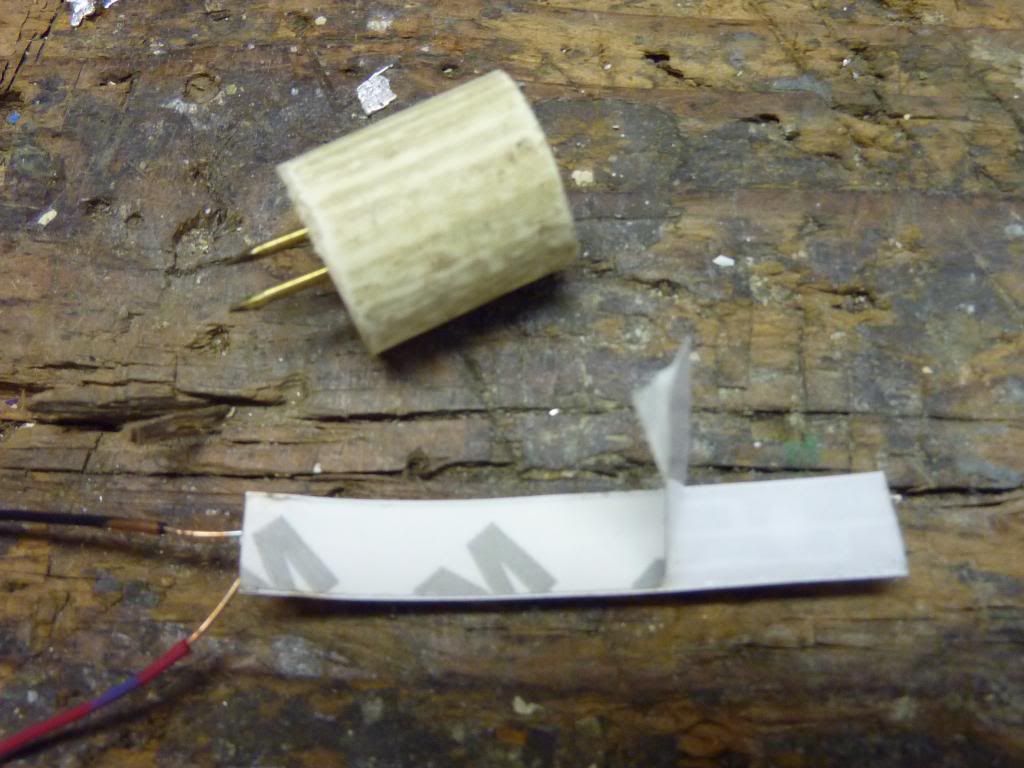 2 strips of 3 LED's wired in parallel.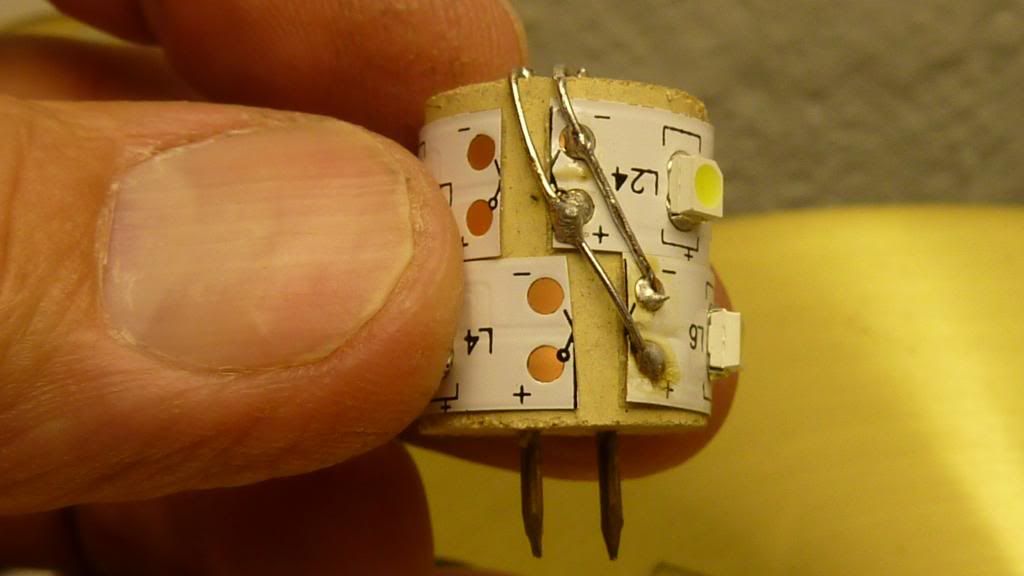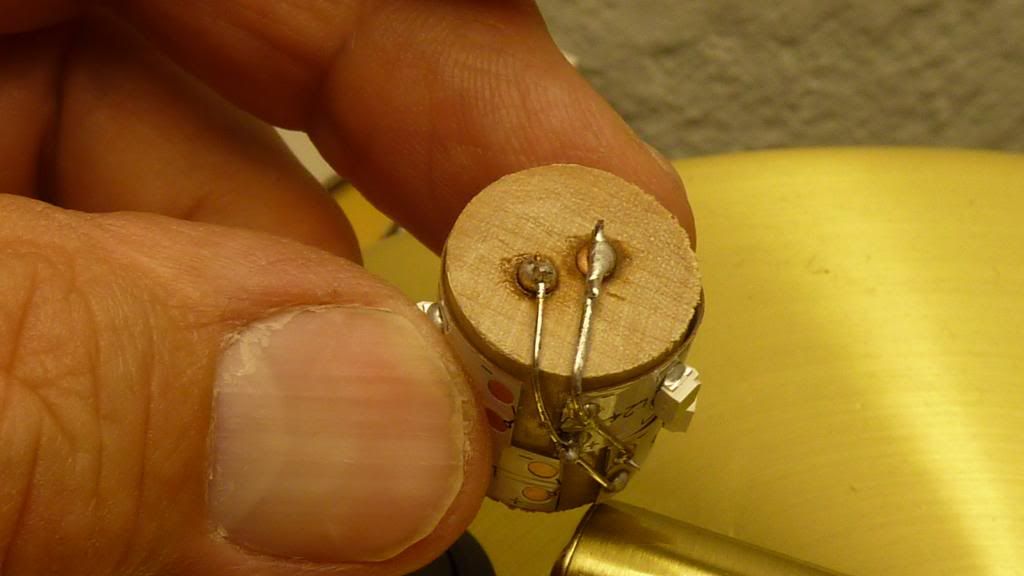 The 12V power supply for the LED's picked up AC power in a lamppost and I hung the brick inside the pole to keep it off the ground. This is about where it will be inside the pole.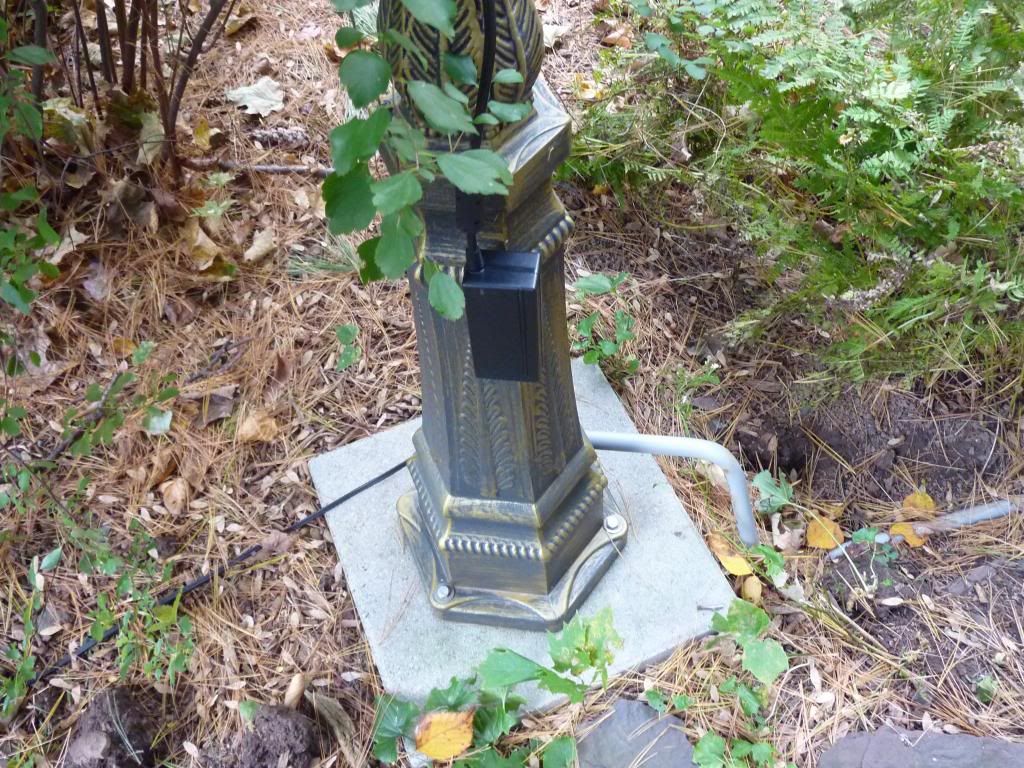 The secondary wire, 12V, was buried underground.
Final installation: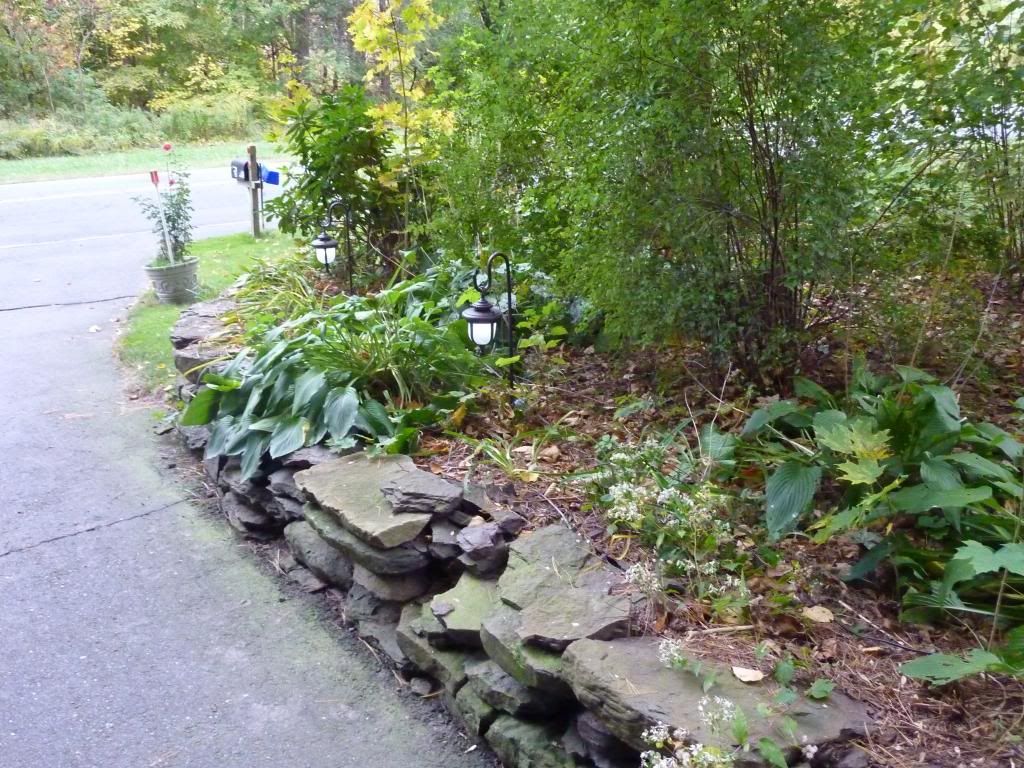 Total cost:
13 light posts – $30
Power Supply – already had, but about $10 if you had to buy it (Not $139.00 for high power if halogen)
Wire – $20, 4 coils of 18 gauge @$5.00 each ( not $165 for 3 coils of 12 gauge)
Dowel, already had it
LED's, had that too but a whole spool of 300 is $10 at FastTech.
Now the caveat. The bulbs that I made are a little too white to be attractive for landscape lighting for a residence. The color would be more appropriate for a commercial setting, therefore I have ordered these bulbs from FastTech. They are G4 base, same as my original bulb and they have a warmer tint (or so they say)
It will take 3 weeks to get them though.
https://www.fasttech.com/products/1364710
The whole point of this post is that because wired landscape lighting is not selling well, it is possible to pick up the fixtures at clearance prices. If you are willing to convert over to LED, a lot of money can be saved in the process.
For some reason, I have not seen the wired landscape lighting using LED's in the stores yet. It seems that the marketers are also chasing the fantasy of selling the solar powered sticks.