Got the light in yesterday and did all testing then...  Ordered from WB when it was on sale. Even at around 25$ with coupon, or close to 30$ this light is worth the price. 
Shes a beauty!  
Since the first I saw this light I knew I liked it...  Its a really sweet light! I think it looks 10 times better than a traditional C8, and I im a sucker for side switches. Its got a forward/momentary switch on the rear. Nice for signaling or short bursts, just like the Olight I6. Its got last mode memory. You use the side switch for changing modes,high-medium-low. Fast double click for hidden strobe. 
Size comparison vs a few other similar and know 18650 lights.
From left: T10, L4, C8, I6, D4, F8 (10 points to you if you knew what lights Im talking about just based on those short names)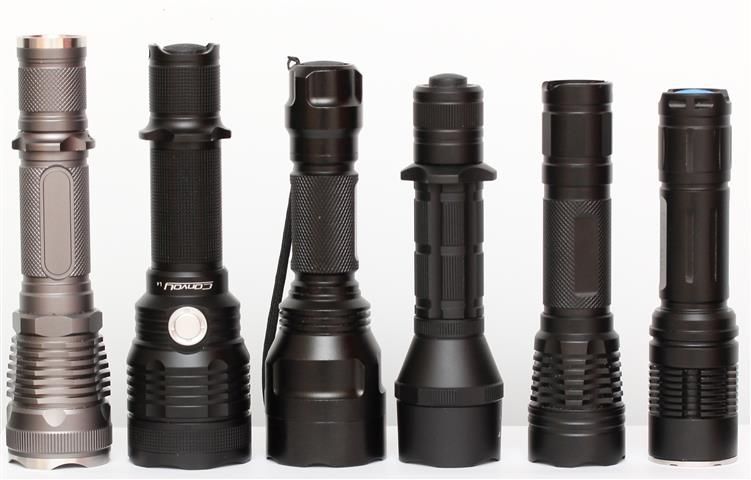 Now, lets cut to the chase... Emitter was nicely secured with screws (something all well driven lights should come with IMO) Mcpcb was copper, slightly thicker (and heavier) than a Noctigon (about 0,1mm)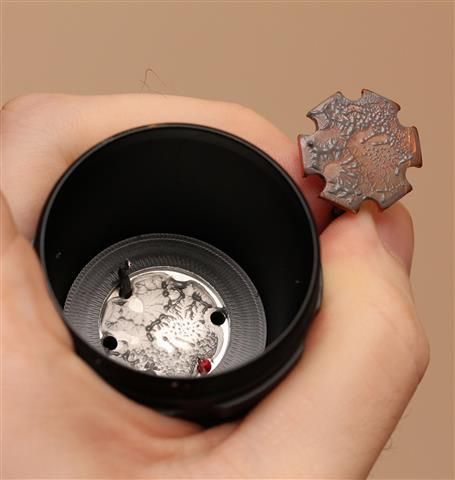 This, another reason to buy it. No pill. Should have great heat transfer..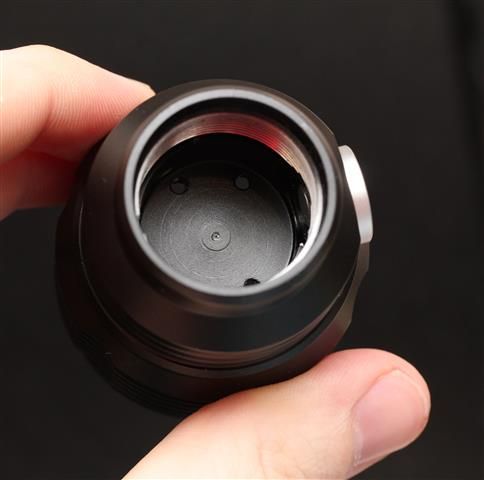 Driver was nicely secured by a screw in retaining ring. See more and better pictures here or in this review.
At the emitter I was seeing 3A - 1,02A - 0,09A. That is very sweet mode spacing IMO. If you like a Qlite, you should like this. It uses and LD-34 driver circuit, no audible PWM or anything really annoying.. I would prefer 3 quick clicks in order to get to strobe, but its a likable driver. Its not like a Shadow SL-3 which goes into strobe just because you think of switching modes in normal speed.
Why mod it if its such a sweet light?
Im a Noctigon/Sinkpad addict. "A light with a copper mcpcb with direct thermal transfer is a happy light"
  I think the saying goes something like that... ??? .. ?  ... I doubt the stock copper mcpcb had direct thermal path. Still, nice to see copper mcpcb in a stock Convoy light..
Second, when I tested it with a Protected NCR18650@ 3,92V. Emitter current on high was already down to 2,8-2,85. On the tail I would still see 2,98-3A. Reason being is the voltage sag in the springs. I added copper braid to the tailcap spring. Emitter current with same battery was then up to about 2,99A.
I then did the driver circuit spring and changed to 22 awg wires to the emitter. Emitter current was then showing 3,01. The reason for removing resistance is to keep the light regulated at 3A longer, and also make sure that once the light starts to sag due to a drained battery, current will be as high as possible.. This is common modding for all well driven XM-L2 lights using a single cell with some sort of linear or direct drive driver.
I did not mod the driver. If im not mistaken there was an R025 at the top of it. Im not sure if Ill bother to try a resistor mod, as Ill probably just stick to normal protected high capacity cells in this light. At least for some time... 
I swapped the stock lens with a AR coated 42mm lens...
The Ultimate C8 style light for modding?
Quality wise, design wise, thermal transfer wise, price wise. I think this is the best C8 styled light for the price. If you want to go fully hot rod you can fairly easily do that (as long as you are used to doing some modding). Im not sure how much the stock driver can do, or if its got a bit more resistance than a 7135 based driver (which it might have). But if you are making a hot rod, might as well push the limits of what can be done with a resistor mod and see if that does the trick..
Id consider the L4 as a more "sophisticated premium-budget prized" alternative to a C8. A DrJones driver would be a nice alternative for those who wants to bump up the current and does not want to use stock driver.  DrJones even have a driver that combines mechanical clicky for power with electronic switch just like Convoy L4 uses. The driver compartment have good room for a 7135 based driver with lots of extra 7135s, if you make a contact board, or strip the stock driver circuit. Nice to know if you should mess up the stock driver... With one of those souped up puppies in a L4 I dont see why anyone would desire a traditional C8 light..
You could also just throw in a Qlite with some extra oomph, east092 etc, but that would render the electronic side switch useless. Personally I would not go that route...  Unless you are a bit creative and make something nice out if it...
Why did I use a bunch of time modding this light for probably zero visible gain?
I wanted to test a XM-L2 U2 1A on Noctigon in it.. (I know, RaceR86 did not swap out a CW emitter to NW tint or some 80+ CRI stuff or anything? Well id though Id try to have a "non-thrower light" with a CW emitter for once.. At least until I feel the urge to swap it with something less harsh..
Now, the strange thing.. With the new emitter from IOS I was down to 2,75A with the slightly used cell. Same cell I got 3A with on stock emitter... WTF...?
Switched back to stock emitter, 3,01A at the emitter.. huh.. Thats good, but... Where was those amps with the IOS emitter? Tested another/different 20mm XM-L2 U2 1A on Noctigon from IOS, 2,25A.. WTF???? Thats just wrong.. where is my 3A? Tested another one, this one on 16mm Noctigon and ordered at a different time..Close to 2,65A WFT???? I want my 3 amps, without using a fresh cell or a high current/lower capacity cell.. Basically I want an emitter that can do 3A or close to it for a fairly good amount of time..
Ill reflow the stock emitter and one of my XM-L2 U2s to new Noctigons myself..
Result: 2,63A on emitter from IOS which I reflowed.. no improvement or loss..
The stock emitter better continue to do 3A.. And it did!
3A with the stock emitter on Noctigon and a slightly drained high capacity cell..
Lots of emitters have temporarily been sitting like showed on the picture...
I then called it a day, and went out to actually use the light outdoors for the first time..
 Im using the stock emitter re-flowed onto a Noctigon.. It must have lower Vf compared to my CW emitters from IOS. Not sure what else to make out of this... I have not noticed this Vf issue with several other (similar) emitters from IOS... Some of which im pushing well beyond 5A at the emitter (even seen 6A+ at the tail with fresh cell at startup) in proper direct drive setups...
oh well..all in all. Highly recommended light as it stock.. Id recommend to use a few minutes to do the copper braiding on both springs.. Its also got hot-rod potential if you work with or around the electronic switch...
Time to retire my other C8 (which is my 2nd C8), because its just cheaply made and boring despite that I been using it with well driven XP-G2s, XM-L/XM-L2s domed/dedomed and several combinations... Im done with regular C8s...  They never were my cup of tea, and I feel that the L4 is just a step up.. Mmm.. L4
(maybe its just the new-light-syndrome? Ask my again in a few months what I really think :p)
My Olight I6 can now more easily be replaced too. The light should not be compared to the larger reflector L4. But the L4 is just as premium in my eyes, brighter, and its still got that nice feature of a momentary on the back.... And it can tail stand..
My supposedly premium-ish Archon M20XL (not pictured in this thread).. I doubt Ill use that again..
Long live the Convoy L4. Stock, lightly modded, or heavily modded! Its a sweet light no matter what..