I'm pretty hyped about the Brinyte DIV05.   
Specifications:
Cost:  $34 - but fluctuates (Ali, MiC, Amzn, DGX).  see Brinyte's entire line: (Brinyte, Alibaba, MiC)
Construction: anodized "T6061" aluminum (most likely they meant 6060-T6 cf. wiki 6061)

Size: 135 x 40 x 35mm (length x head diameter x tube diameter)   
Imperial units: 5.3'' x 1.6'' x 1.4''                                          

Weight:  191g / 6.7 ounces (without battery).  238g / 8.4 ounces with battery

UI (User Interface):  Twisty (turn the head to turn ON/Off)
Powered by:  (1) 18650 Li-ion cell
LED:  (1) Cree XM-L U2 with smooth (SMO) reflector
ANSI Output:  600lm OTF;  8,800cd (candela)

Amp draw:  2.3-2.8A (advertised current draw varies depending on site)  I measured 2.78A at the tailcap

Burn Time:  1.5 hrs (advertised).  3 hrs with 3400mAh Panasonic (my results)

Working Voltage: 2.7- 4.2V
Depth rating:  200m (656ft)
Each Category gets a 1-5 star rating (*****)
**** UI (User Interface):  Twisty.  The light is operated by twisting the head.  I didn't give 5 stars because sometimes it can be harder to turn.  Edit: new dive light I received is easier to twist.

The head has some knurling, but I wish the grooves were deeper to provide better grip.  When the o-ring lube wears down it becomes harder to twist on & off.
  Notice the knurling

**** Design:   It feels solid in the hand, very robust.  It seems like you could throw this light down the street and pick it up and it would function like normal.  I wish I could do these torture tests for you guys, but I don't have the $$ to do that. 
My preference is for back-up lights w/out switches (magnetic switches are fine).  But regular switches can easily break when the dive light falls on the ground.  And if you periodically travel the light needs to handle the abuse of getting tossed around.

I don't care for the tint of the LED.  It has a cool white emitter and I can see some blueish tint in the beam when I compare it to my other dive lights.  But it's not so bad that I dislike the light, it's more preference.  I personally prefer a neutral tint like a 3C color temperature.  And there is no easy way to get to the LED to replace it.
The anodization isn't the quality of a light like the Light-For-Me mini back-up tec.  Whether the DIV05 is HAIII type anodization I don't know.  It has more of a matte black finish vs. the glossier finish on the mini tec or DIV03 (Cf. pic)

The length and LED tint is very close to the mini back-up tec (far right)...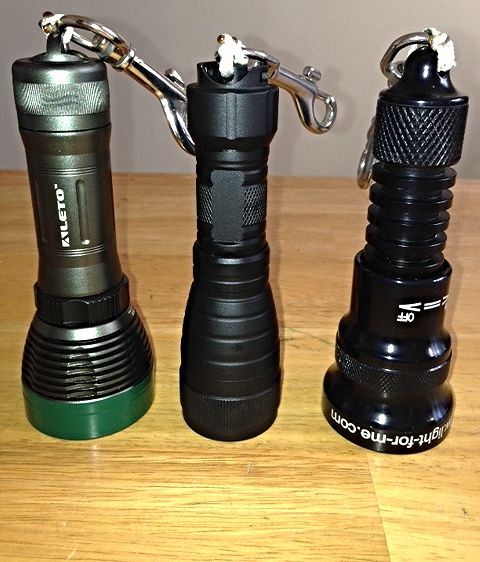 From left to right: Aleto 26650, Brinyte DIV05, LFM Mini tec
Rear attachment point for bolt snap

The DIV05 has 3 o-rings where the head separates from the body - usually I see 2 o-rings on most dive lights.
Unfortunately the DIV05 comes apart at not one, but two places, which is unnecessary because you can replace the battery where the head and tube come apart.   This is a problem because while your twisting the light head to turn it OFF you'll be gripping onto the tailcap end and this end can unscrew at the same time!  This is just another possible entry point for water to flood the light.
You can apply a little medium strength Loctite on the tailcap end so it won't screw off.  For permanent seal use Red Loctite.   Edit:  tailcap doesn't come off with new light I received.

There are two o-rings on the tube where the tailcap unscrews. 
Alternatively, you could use the tailcap end to turn the light On & Off.  But I prefer to permanently seal off that end, because it's easier for me to twist the head then the tailcap - there is just more surface area to grip on the head end.
They leave a spot blank so other sellers can laser engrave their company logo.   But you can add your own personal touch.   This one below is a Christmas gift for a fellow dive buddy. 
Edit: new one has Brinyte DIV05 logo. 

                                                        Merry Christmas David 

Burn Time & Brightness:  3hrs with an unprotected 3400mAh Panasonic cell. 
Runtime is not very long, this is because of the driver.  On the other hand it's pretty bright with a Cree XM-L U2 drawing around 2.7 amps at the tailcap.  A diver will probably want to change out the cell every 1.5hrs to keep it bright.  So on typical recreational dives you could use this on two full dives.

As with all my dive light tests - runtimes are done in a tub of cold water.  I use a Panasonic cell.  These offer some of the best runtimes.  I stopped the test when I ran the cell down to 2.75V so I wouldn't damage the unprotected cell. 
I like to use unprotected cells when technical diving.  Protected cells will cut off when they run down to their cut-off voltage (~2.7V).  And I don't want my light going out if I'm inside a wreck or cave just to preserve the battery.
Lumens are 600lm with 8,800cd (candela) for throw, using a Cree XM-L U2 emitter.

See Beamshot Comparisons:  vs. Aleto 26650    vs. Brinyte DIV03


***** Value:  I think this is a super deal - Solid light.  Very dependable.   Decent brightness without modification.  Simple twisty activation.   Single battery operation.   Because of these features it's one of my favorite back-up dive lights.  
Other sellers:  There is also a Securitylng seller (eBay, Ali, Amzn).  I received this version from Amazon and it appears identical in both appearance and beam.  I know they state 2.2A for the operational current, but I couldn't notice any decrease in brightness.

Ordering experience through Alibaba:  My first time ordering was kinda awkward...  I opened a chat session and asked for the cost shipped to USA.  They gave me a price then sent me a PayPal address to send them money.  So I sent the ~$36 and waited. 
For shipping I think I asked for China air (cheapest).  About 5 weeks later I received the light.  It took longer then normal because I ordered it right before National Day.  But after receiving the light it has performed flawlessly.

Conclusion:  If you think you like this type of user interface (twisty) then I highly recommend the DIV05.  I think it will last you a long time as long as you take care of it.  I have no reservations taking this cave diving or beyond 150ft depth.
This is one of the best all around dive lights.

I rate this 
—
נֵר־לְרַגְלִ֥י דְבָרֶ֑ךָ וְ֝אֹ֗ור לִנְתִיבָתִֽי   (Psa 119:105)