Trustfire TR-803  
I got this light as a pocket rocket host. Soon(ish) it will boast U2 XML driven at 2,8 amps. Before that, let's take a quick look how's it as standard.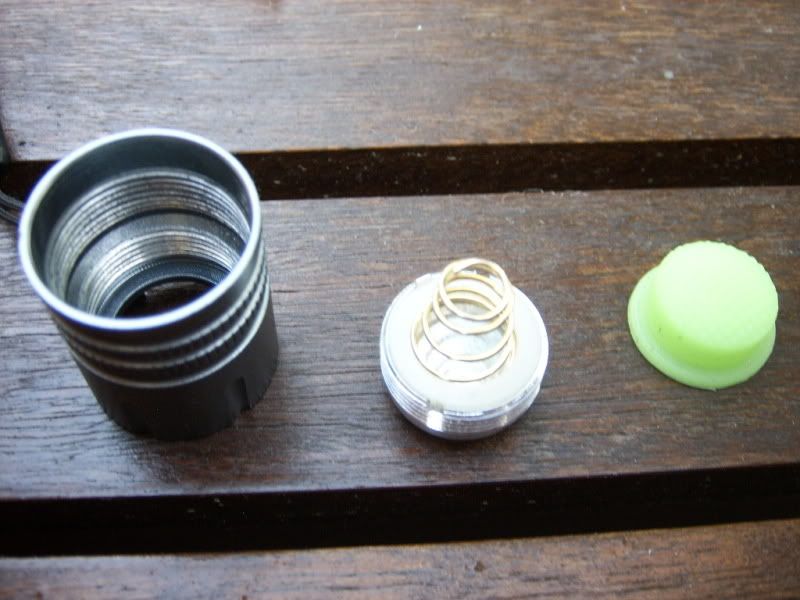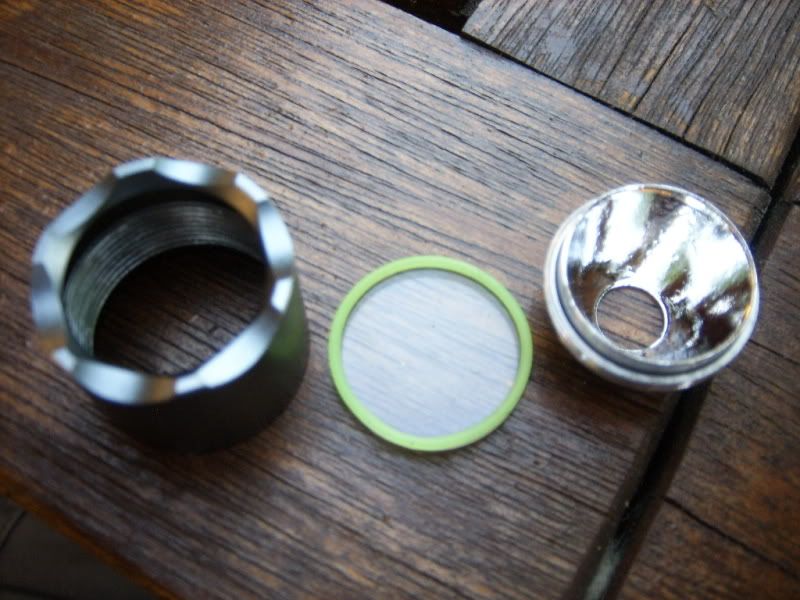 Seems like this light is made April this year. And the friendly people at TrustFire were nice enough to tell which way the battery should go... Nice.
Here's size comparison. TR-803 is just a tad over 8cm in length. With a minor Foybezeling it would go under the magical 8cm mark.
It's basically a little brother or TR-801, which is quite a common light I suppose. XPE emitter with 3 stupid modes. High-Low-Strobe. Pretty standard stuff for budget light. And there's a mode memory too, which works ok. The tailcap is double O-ringed, so  suppose it waterproof for normal use. Did not test. All the o-rings are GITD, which is odd, as apart from the one inside the lens they can not be seen when light is put together. But it must be helpful in a situation where the light is disassembled and after a while comes a power outage... Then U can find the parts in the dark *rolls eyes*
The gold ring in the head looks neat, not cheap (which it is) as one could imagine. Threads are pretty standard. Ok quality, nothing to hooray for. Came unlubed. Has a strap. Would be nice if the strap would be grey to match the light, but it's no biggie. Black is the new black. OP reflector puts out nice floody beam. It's not deep enough for throw anyway. All the springs seems gold (coloured material) plated and better quality than the absolute cheapest crap sometimes seen on budget lights. Springs are a bit longish. CR123 primary is ok, but protected 16340 does not allow full tightening of head or tail. It will push the positive spring to touch places it shouldn't touch and it will short out. With some minor spring cutting it will be fine. Pill is bigger than I supposed and theads snugly to the body so It should make decent host for modding. It takes the standard 17mm driver.
Amps then. Fresh 16340 gives 0,91 on high, 0,24 on low. The mode leveling is not to my liking. The low is much too bright. High is not bright enough (and will not be with this emitter no matter how many amps it's pushing). And then there is the useless strobe.
I'm liking the looks of this. I don't like the modes. If modding doesn't go south, this thing is going to be my favourite pocket rocket.
—
καὶ τὸ φῶς ἐν τῇ σκοτίᾳ φαίνει καὶ ἡ σκοτία αὐτὸ οὐ κατέλαβεν