Aluminium Twisty Custom Build
An attempt at a compact 18650 pocket rocket - Its a pocket R5-A3 sized torch, but with 2.8A drive current that lasts almost an hour (cumulative)!!
18650 (67mm compatibility)
Twisty (for minimum length)
Aluminium 2010 alloy (for machinability)
Triple XP-G Neutral with carclo triple optics (minimum length, max power)
Maximum 10 Watt power draw (gets too hot too quick)
105C Driver, 3 mode setup, Memory (don't like memory, sigh..)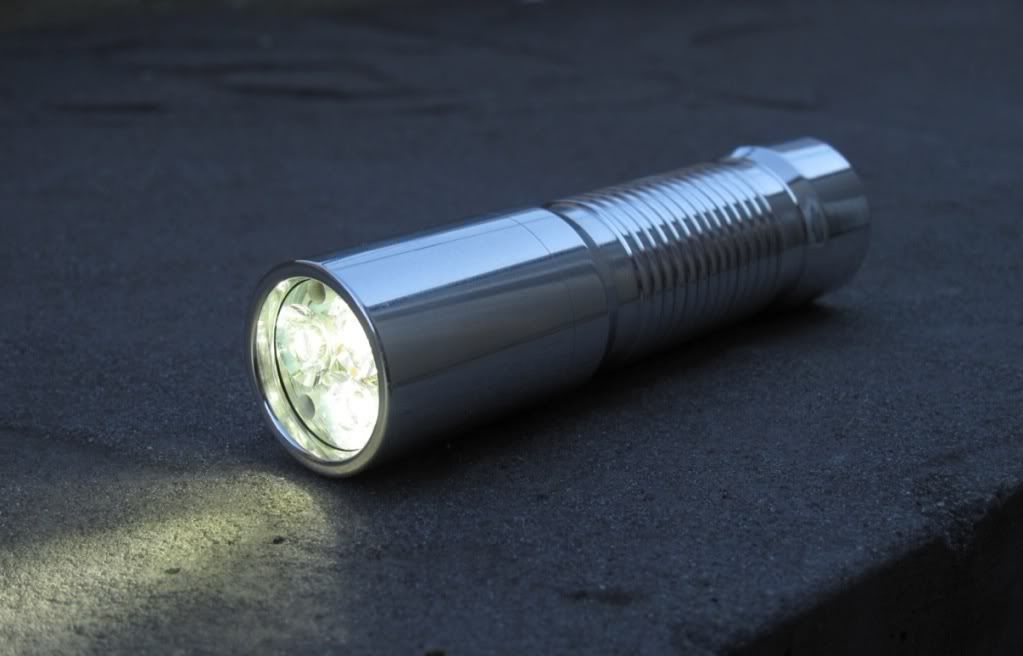 This was built with the purpose of being a compact high output torch. The body is 92mmx 23.5mm, and houses triple XP-G neutrals of 4B tint with the 20mm triple TIR optic providing a medium beam, currently driven with a simple linear 3 mode driver. 
Light output is as per the 20mm triple XP-G TIR - HUGE wide hotspot (so minimal throw) and a light spill. Walking around the house indoors however, this light is really awesome. The super big even hotspot makes this super nice for lighting up areas or close quarters. Throw is there with brute force on max, but its not really what this was designed for.
Because of the build specifications, Thermal limitations do exist and I would not be comfortable running this torch longer than a 30 secs to a minute on high. Theoretical runtime is 0.7h, 2.2h, 20h, however the behaviour of the linear driver will not maintain full output for the quoted duration, but will instead produce lower light outputs for much longer.
I don't really like the UI, and that gap between the head and the body really annoys me (part of being a twisty) Especially after I built this with a perfectly matched head/body joint. EDIT - this gap has been removed after some more machine work, and its now Perfect! (see first pic)
I believe that the UI makes or breaks a light, and although I love the body, the UI annoys me. Its a 3 mode low/med/high with memory (the simple "on" time memory) Nanjg 105C. Will think about changing this in the future, or at least consider a clicky switch based version some time down the line.
 (following pictures were taken under a 3000K light, the tint is about 4500k, which is a neutral white)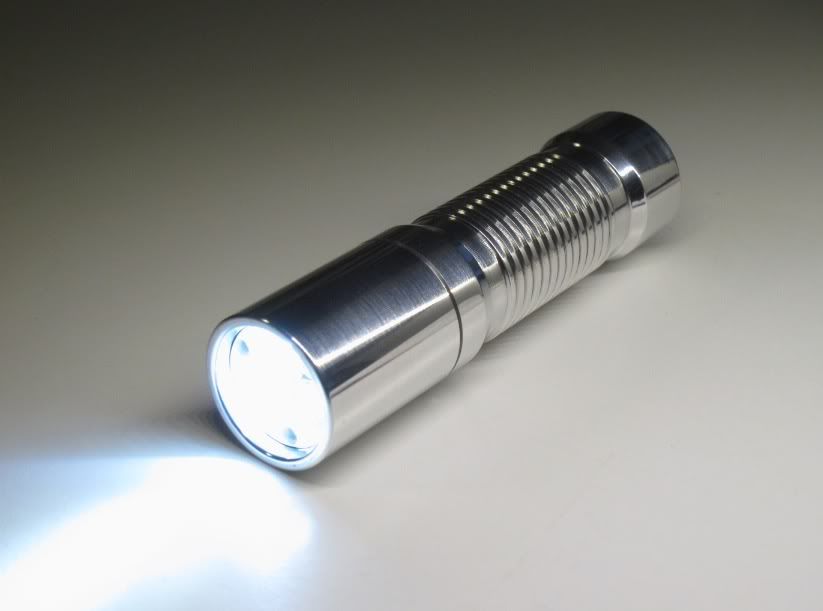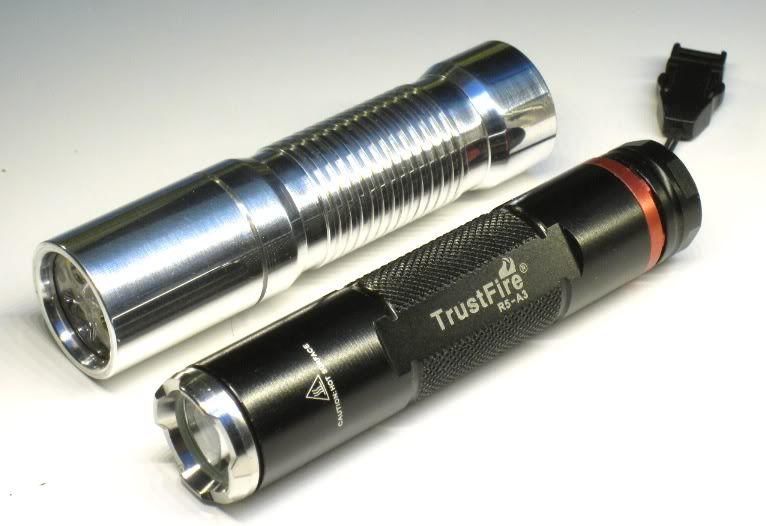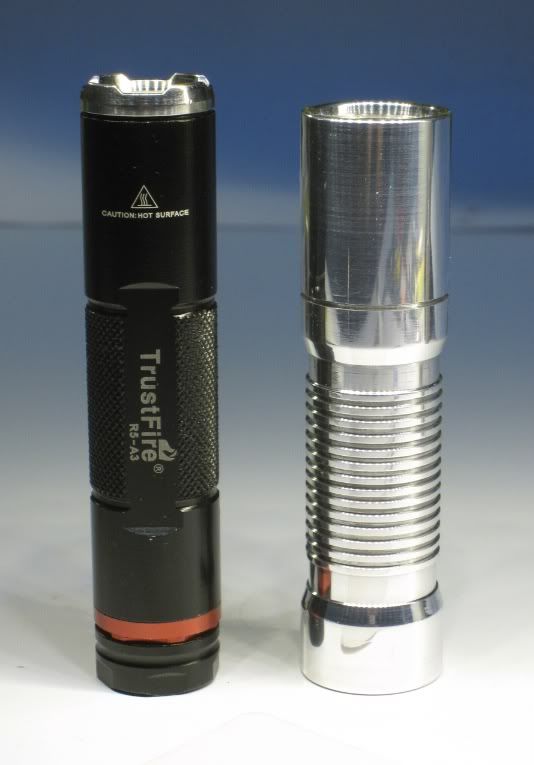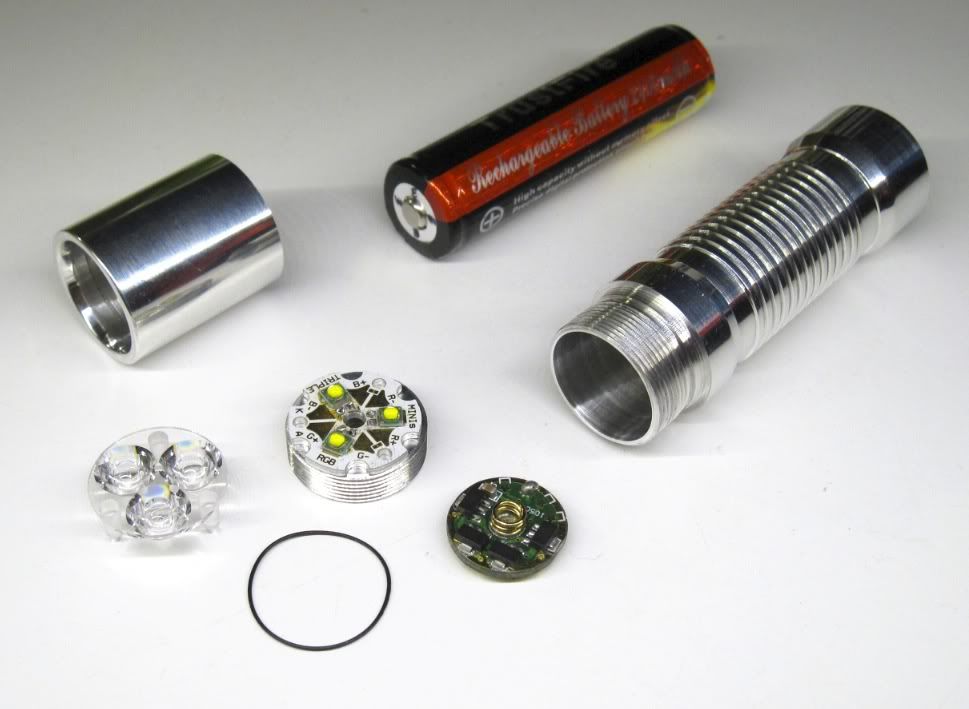 Beam Shot of D10 on Max - 130 lumens? - same as the nitecore EX10 SP - your standard AA torch output.  VS.  Alum Twisty - Just a really fat hotspot, with enough ambient bounce to create "spill" indoors
—
"like everyone else - I'm looking for my next "last" flashlight" -  ohnonothimagain