Purchased from a new aliexpress seller superman http://www.aliexpress.com/item/Sky-Ray-King-4000Lm-super-bright-4-Mode-7x-CREE-XML-L2-LED-Flashlight-Torch-Waterproof/1717229079.html

Came well packaged in a box with enough bubble wrap to probably survive a drop from 5 stories. It arrived to Canada in 16 days!
I did contact seller once and he emailed me back within 5 minutes.

These lights are smaller than I imagined. Some of the pictures of these lights make them look huge.
Light had a few minor nicks probably from manufacturing, but not from shipping.
Threads were all very nice, anodized and greased in middle but not outer threads.
Tailcap may be just slightly different anodizing, reflector has a couple millimetre sized imperfections, Light seems to have perfect machining otherwise,
3 of the emitters (yes they are xml-2) are not centered, 4 are, but it does not seem to affect the beam pattern. The beam pattern does have "flower petals" at the very outer edge of beam.
It has low medium and high with a satisfying click of the button. 2 disco modes only if you hold the button for a few seconds.

Pictures inside light in case you want to see if this is a good light to modify.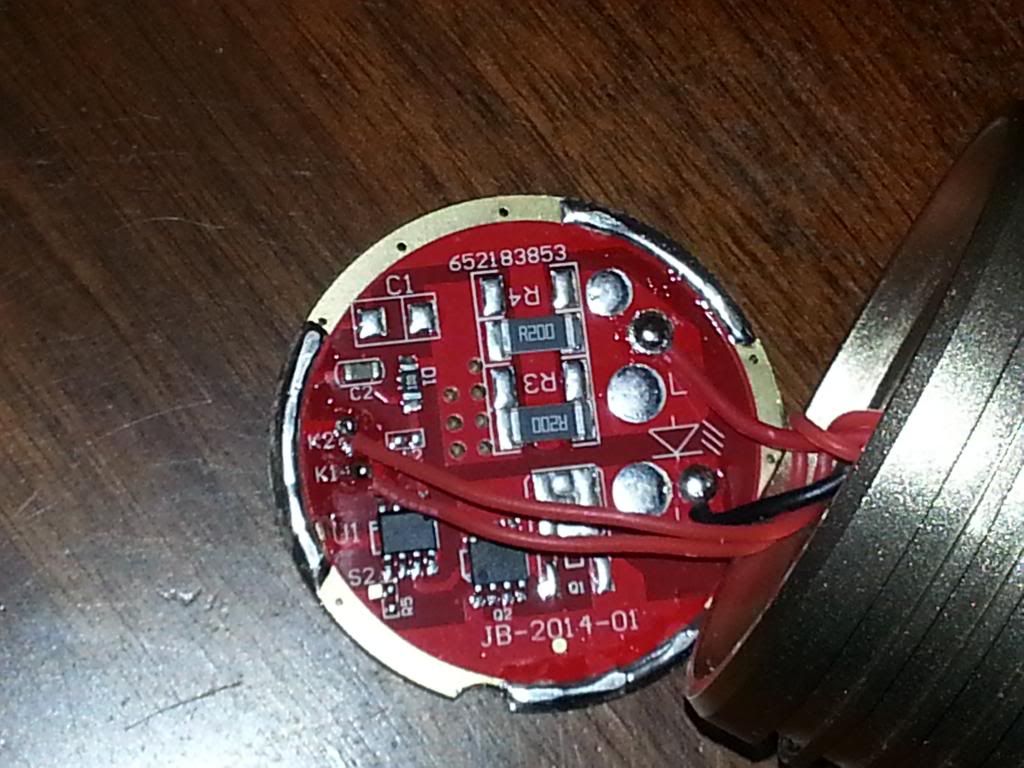 Honestly I think this light is pretty amazing as it is. I used it in a dark basement in a house under construction and will light up a room fairly comparable to a big 120 volt halogen work floodlight (not sure how many watts this one was) although the beam patterns are not comparable.
If pointed at a white ceiling it looks brighter than a 100 watt incandescent bulb on high, medium is about like a 50 watt bulb and low is about 25 watt bulb.
Compared to my other flashlights which reviewers have stated the lumens (Tangsfire C8, Convoy S2), I would estimate 2000 lumens on high, 1000 on medium and 500 on low. (at least one blf member would like to see a lower low on most flashlights — well this low to me is not very low at all.
The main part of beam is very wide and gradually merges with the spill.
The light seems to me very similar to convoy s2, only everything is bigger and brighter. The main beam, the spill, the brightness and the flashlight itself of course.
I am very impressed with this light.
"Can" rating 5/5