From the moment I saw the TR-J20 it caught my eye. The large chunky head, deep-finned aluminum heat sink, coupled with 3 × 32650 cells should do a good job as a flooder capable of sustaining high-mode run times. The size seemed on the cusp of what would otherwise be to large for a long term carry. As long as the reflector was properly designed, I thought it would probably be easy to improve the rest of the host if necessary (driver, thermal management, conductivity, etc.)
The TR-J20 arrived in great condition and looked as well finished as the stock photos above. Please excuse the dust on the light.
Pros:
Excellent thick robust aluminum construction and design
Water resistant
Excellent thermal management
Simple and easy to use UI
Excellent spill and satisfactory throw
Easy to disassemble and modify
Mode memory
Tail stands
Simple resistor modable for greater output
Robust non-galling threads
Near flawless anodizing and machine work
Cons
Can not lock out by loosening the tail cap
Slight blueish emitter tint
Modes are H/M/L/Strobe/SOS – getting rid of the last 2 modes would be nice.
Lens is not A/R coated
No lanyard, charger, batteries, instructions or accessories included
Plain brown box

Measured Specifications
Length 13 5/16"
Width 3 1/16"
Weight 3.26 lbs. (empty weight)
12 x Cree XM-L
Aluminum reflector
32650 to 26650 adapter tube included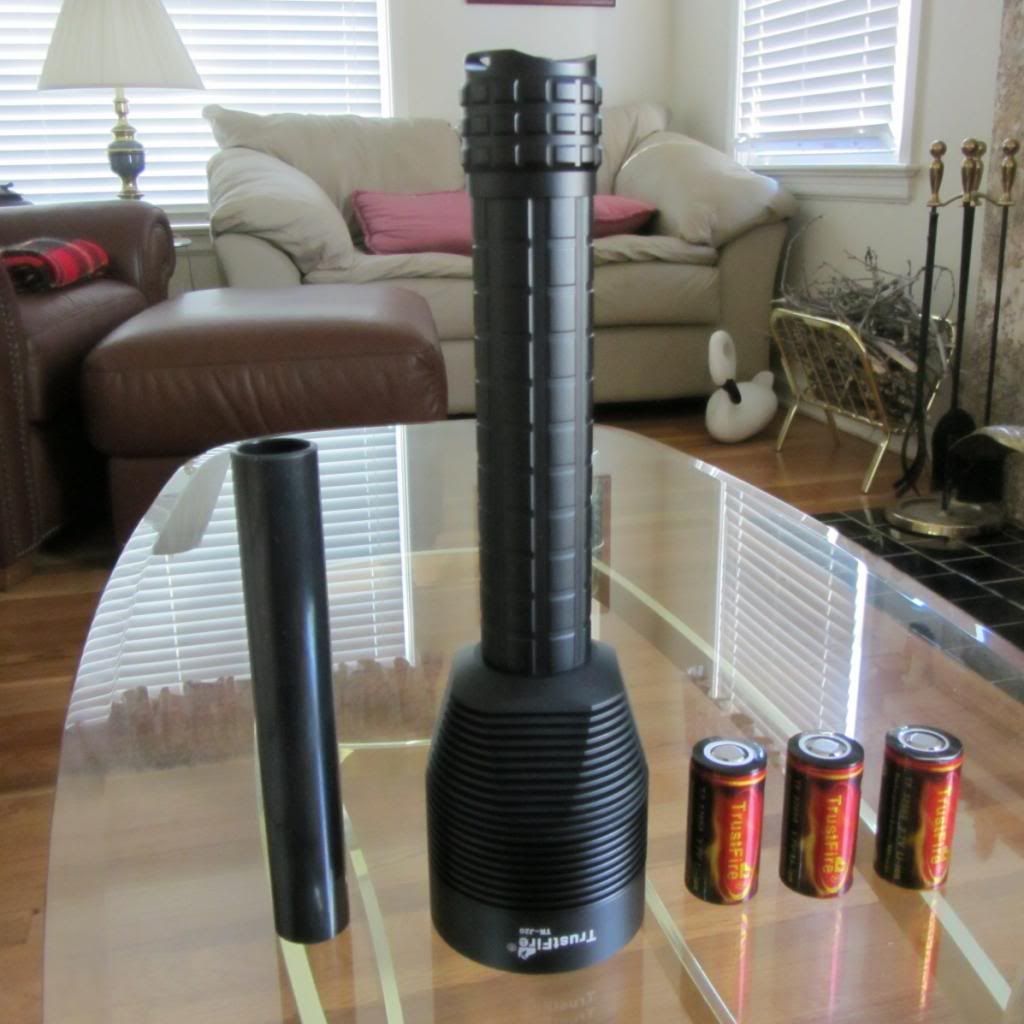 Light was tested with 3 x Trustfire unprotected 32650 cells (not included).
Initial thoughts: this light was built as a medium-wide area flood light with moderate throw. Overall build quality and finish is as good as Ive seen in a "budget light", which seems comparable to other top-of-the-line genuine TrustFire flashlights.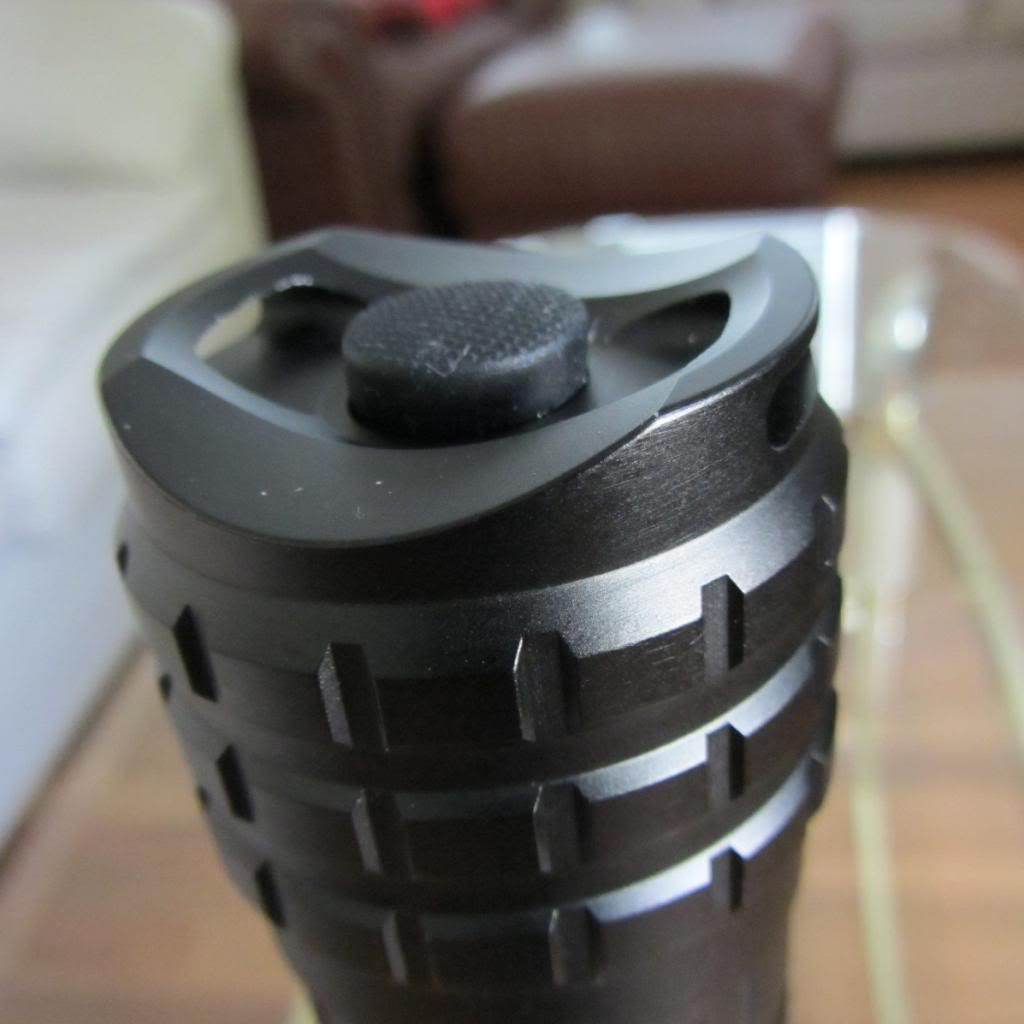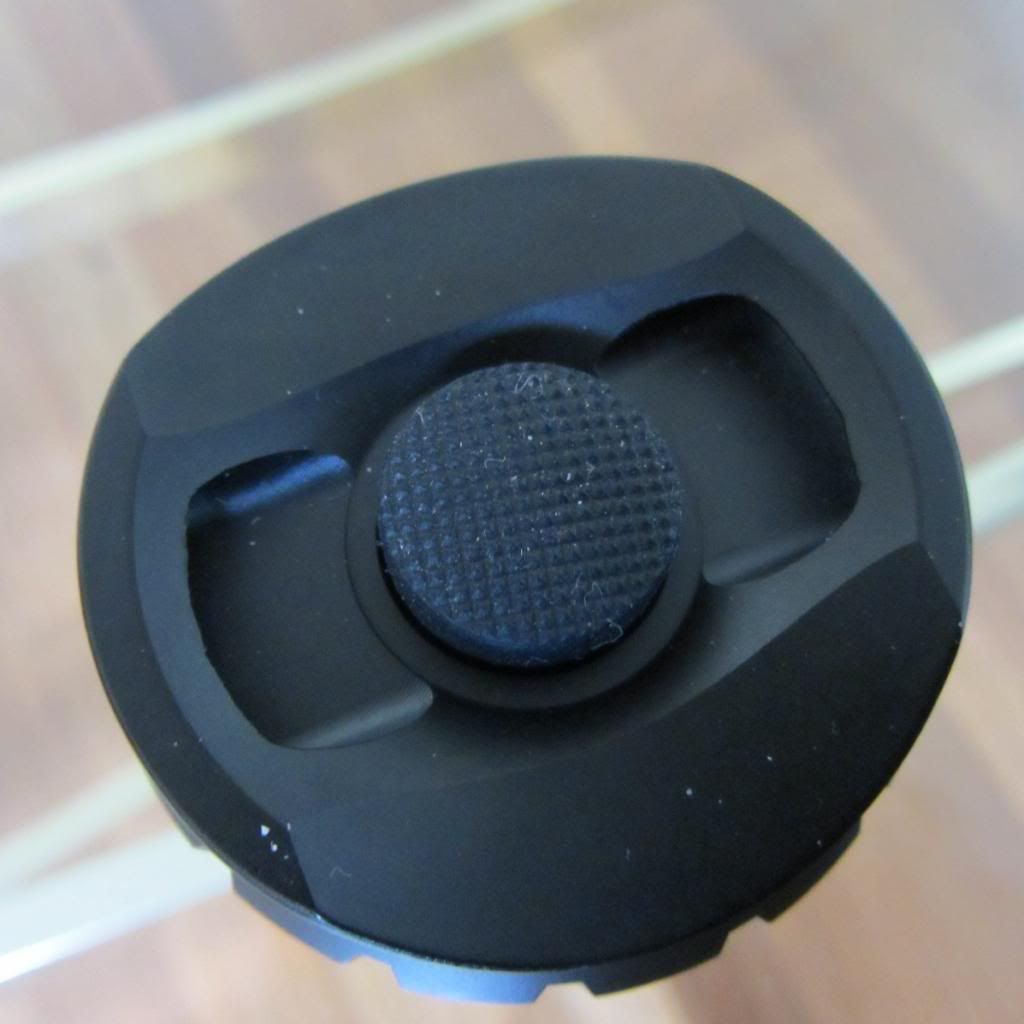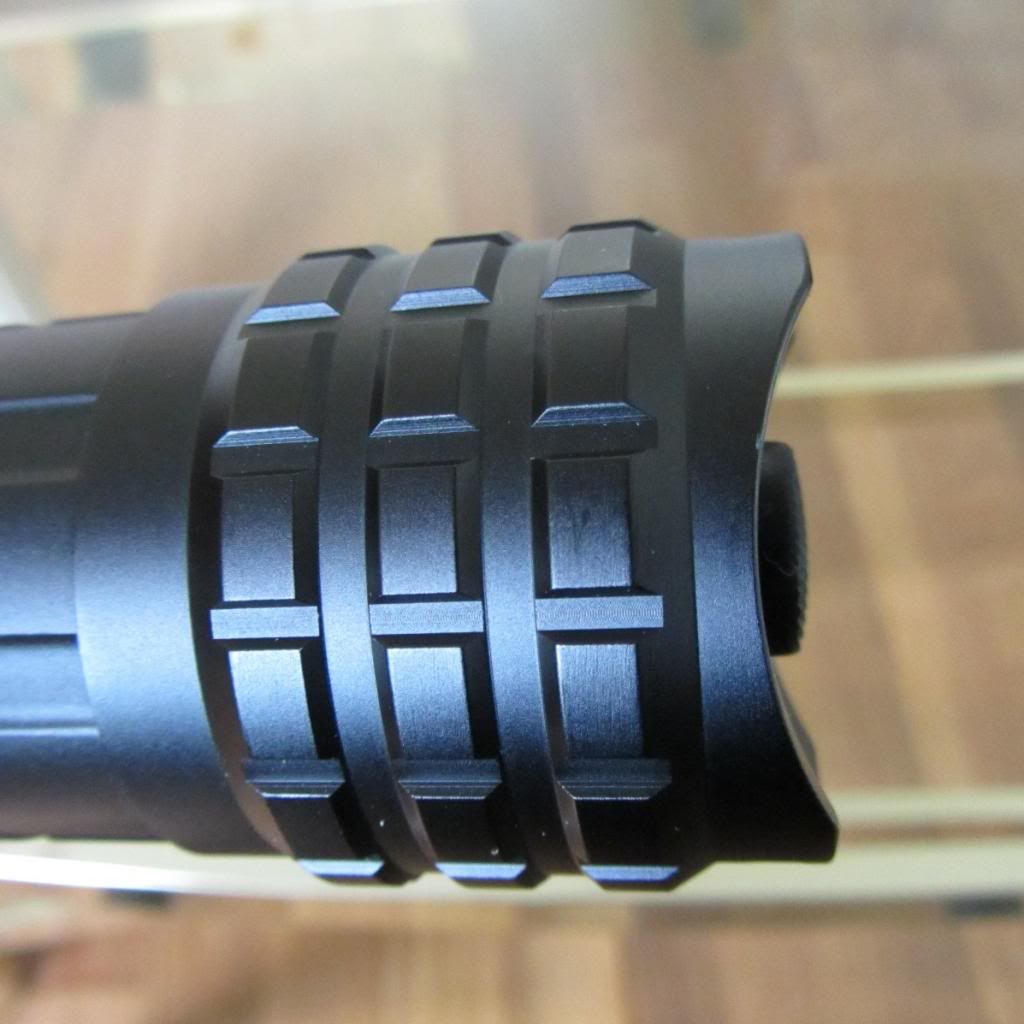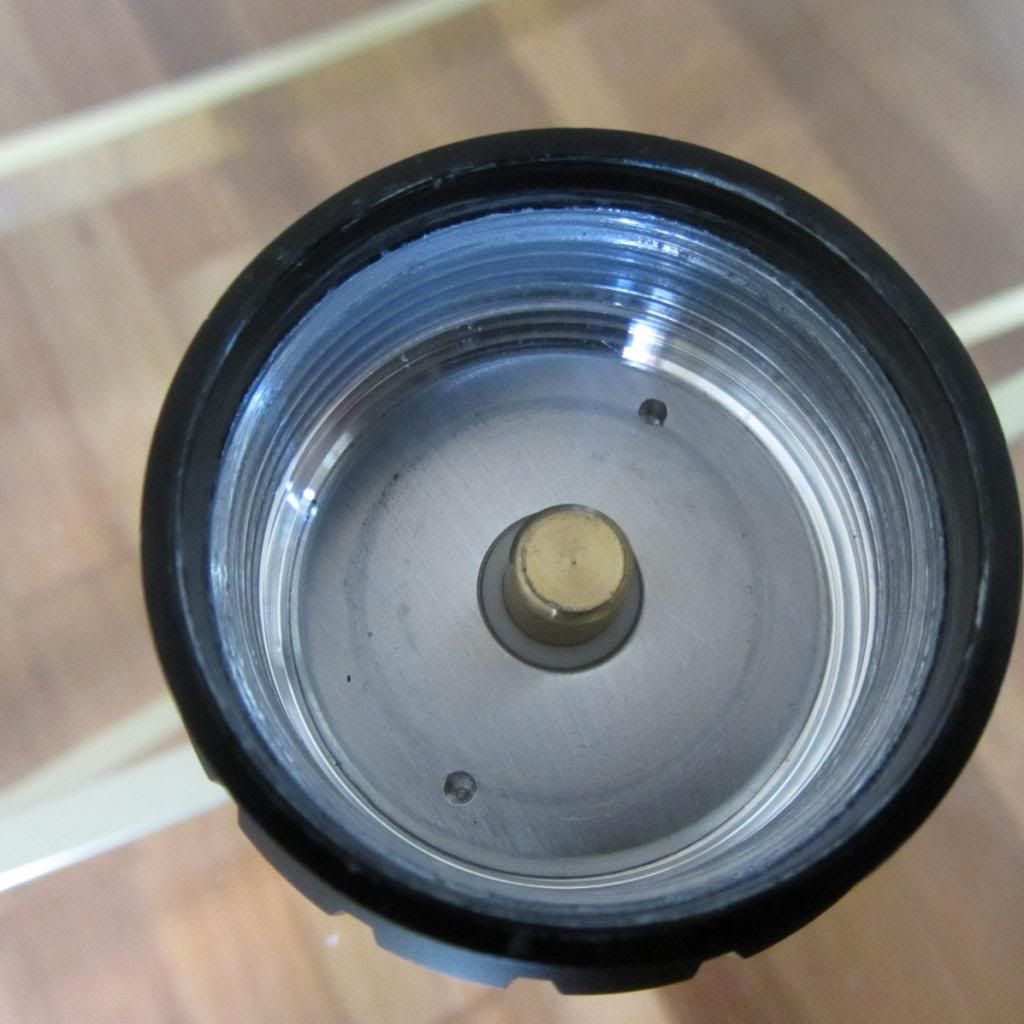 As can be seen in the above photo, the light easily breaks down into its sub-components.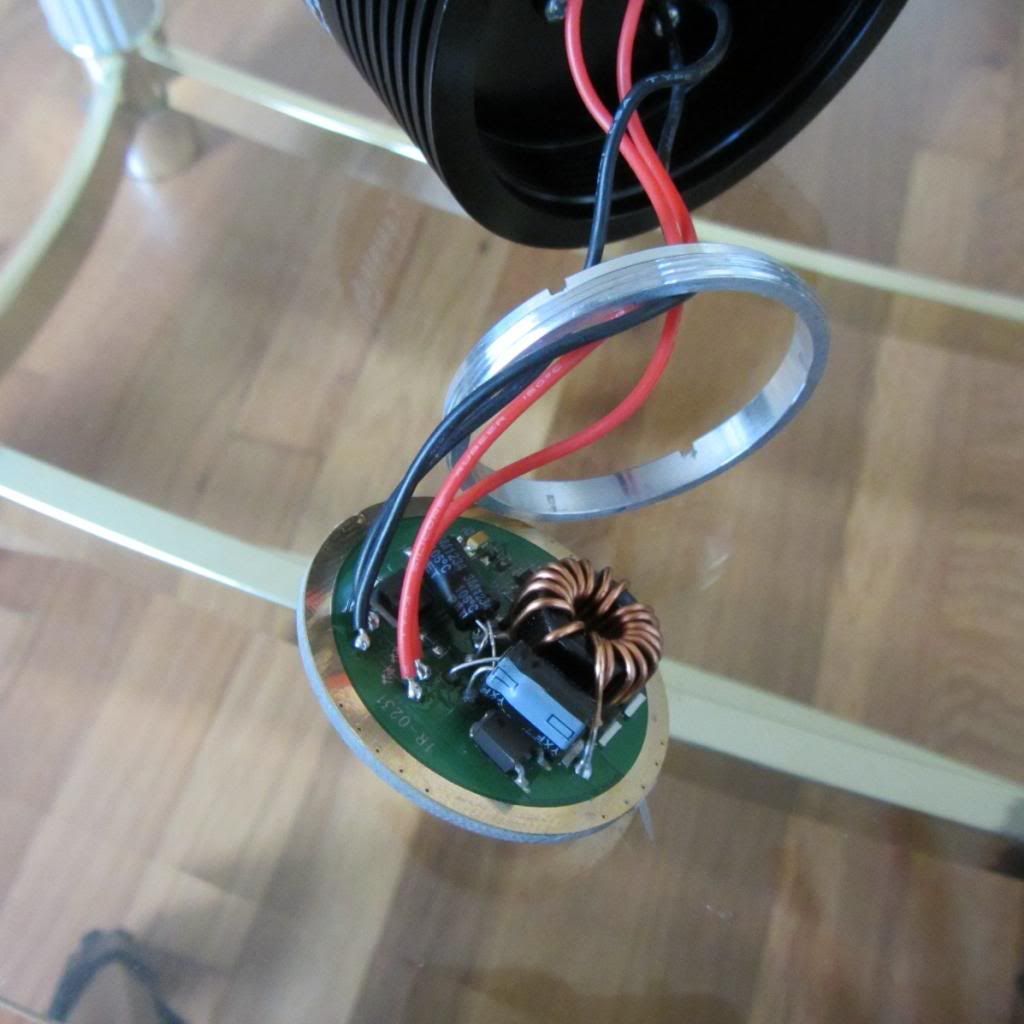 The driver is retained by a threaded ring that is easily unscrewed with needle-nosed pliers.
Photo of the driver, which can easily be modified to provide additional current to the emitters for a brighter flashlight. I like a light that doesnt require advanced soldering skills to increase the output to blistering levels.
Mod Discussion thread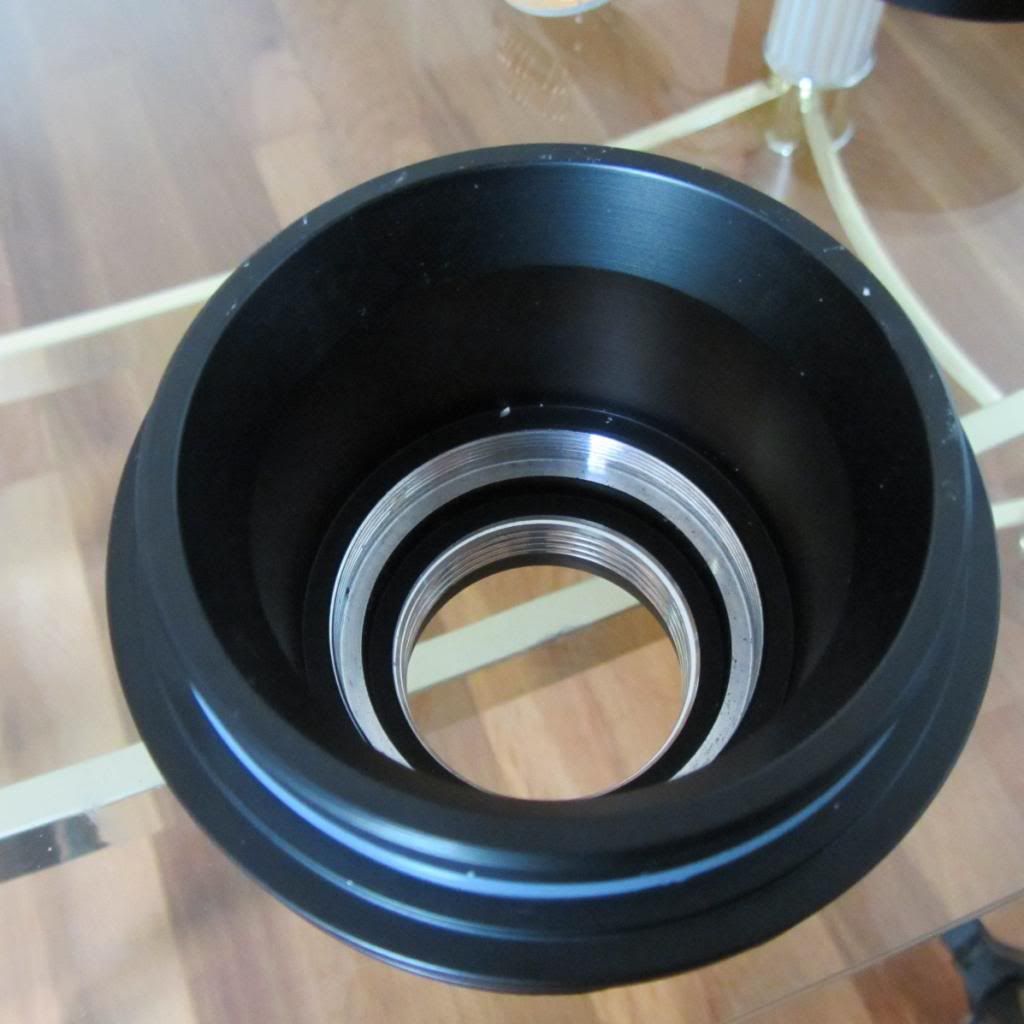 Photo of the driver mounting area. The aluminum is thick and well finned to conduct heat to the air.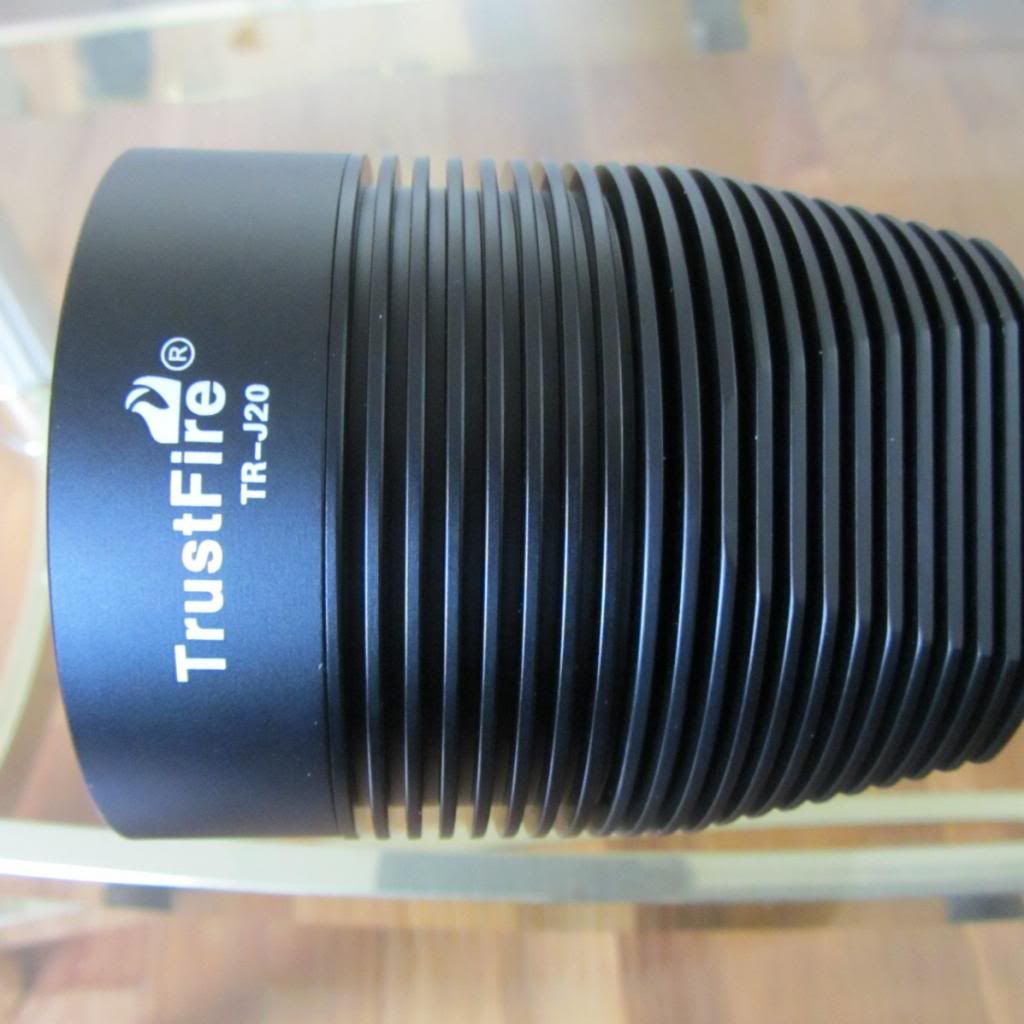 And what we would all like to know… how well is the thermal path designed and does it have sufficient surface area to conduct the heat to the air?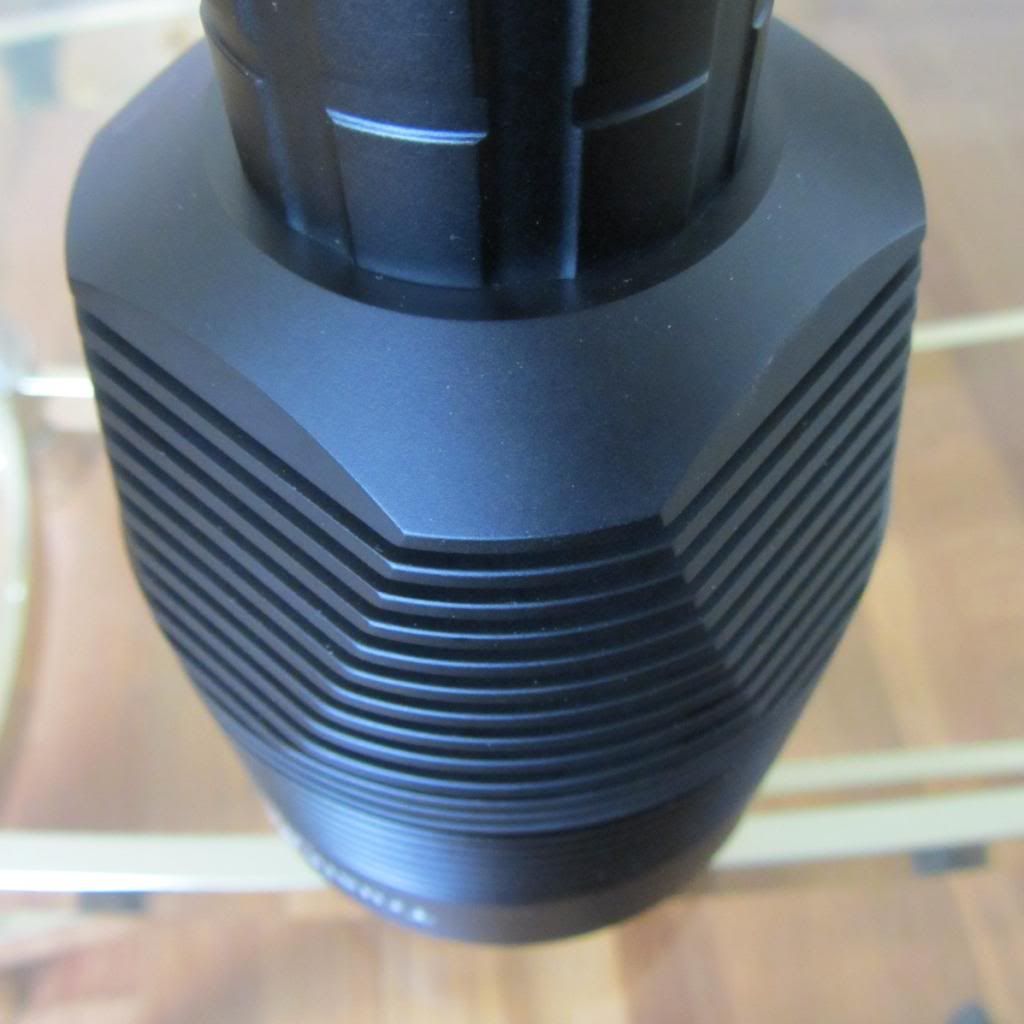 The head pieces are deeply finned thick aluminum and have a large surface area.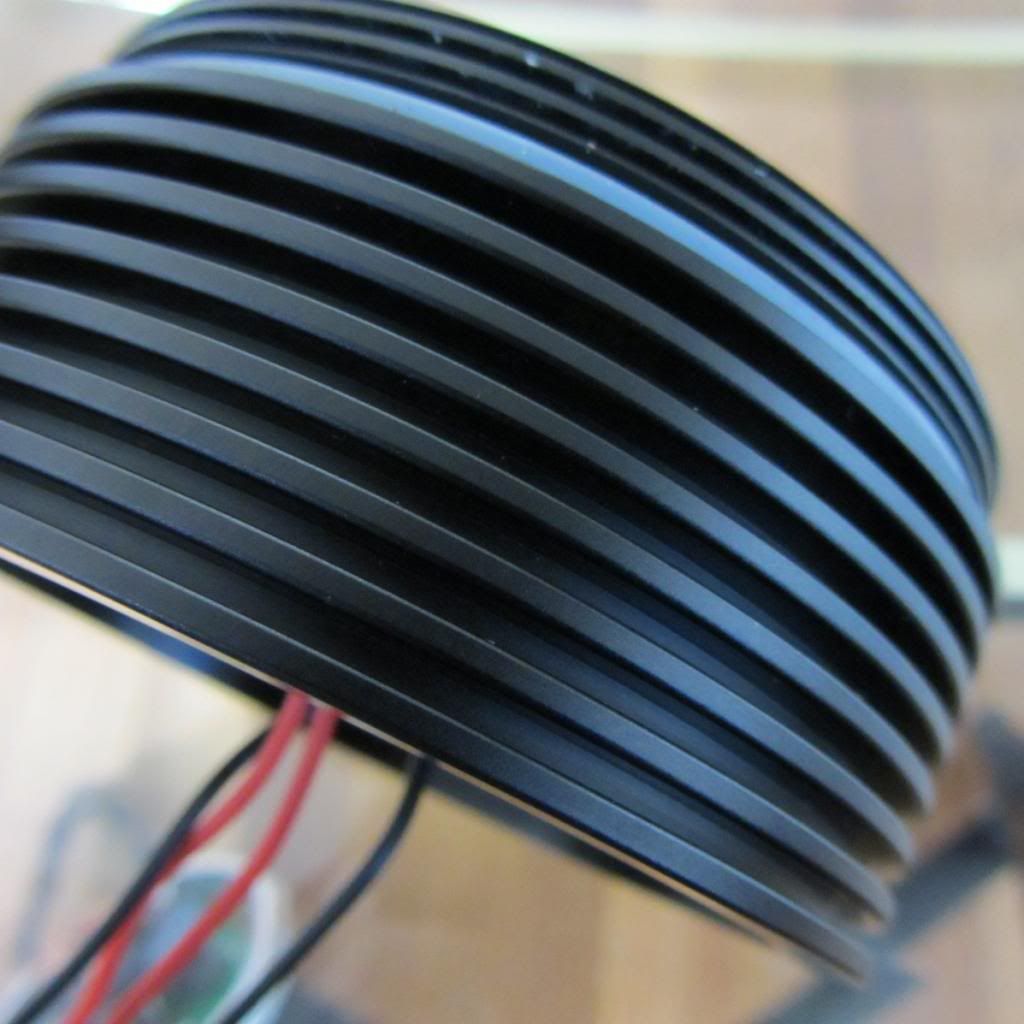 The emitter mounting plate is machined from a solid aluminum round. YES!!!!!! :bigsmile: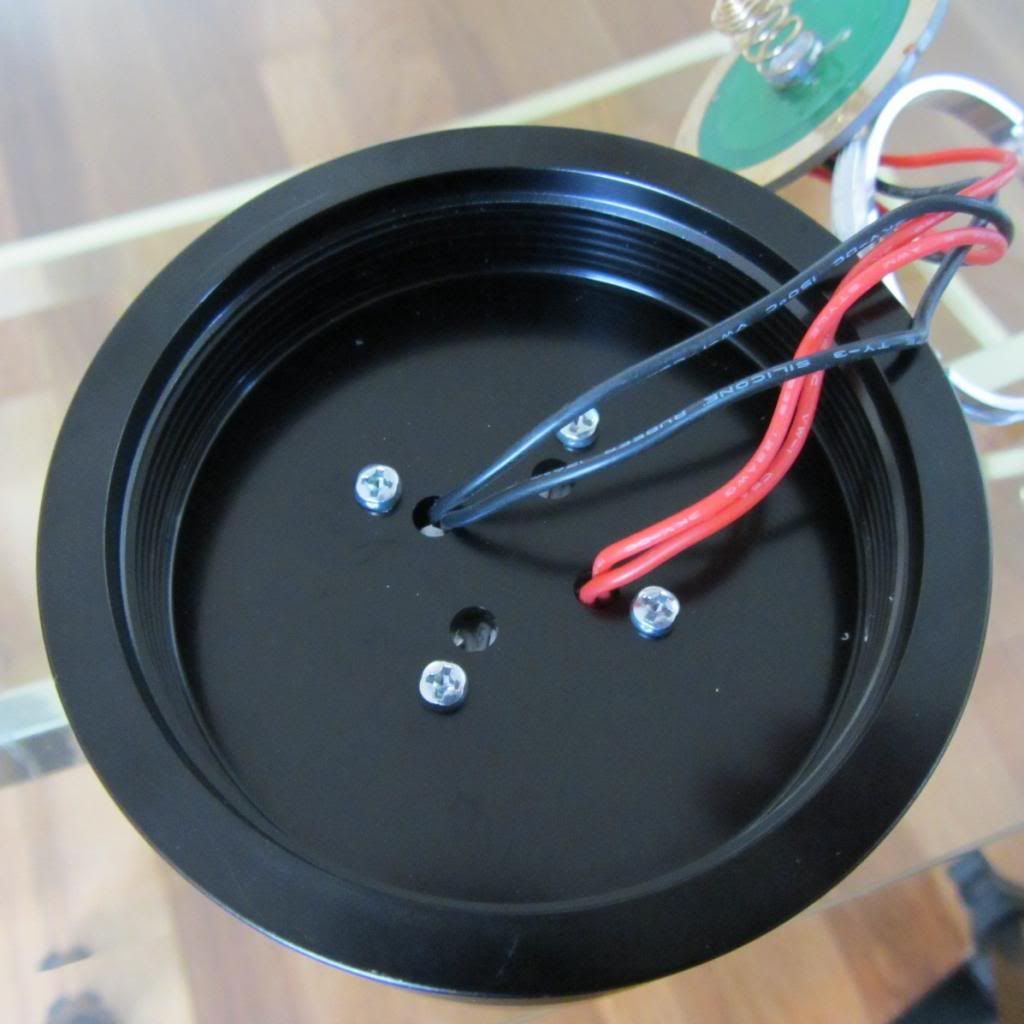 4 × 22 awg wires connect the driver to the emitters. The light is wired 2S6P to the emitters, which hints that the driver is a boost design which pushes approximately 18V to the emitters from the 3 cells (total 12.6V). The back side of the emitter mounting plate retains the reflector with 4 screws. Remove the screws and unscrew the bezel…
… and the reflector lifts out. Notice the thick aluminum floor plate where the screws passed through. Its approximately 1/4" thick! Ive just got to say that Im relieved and pleased to find the heat sinking portion of this light was well done. Where so many other budget lights have skimped on material to provide sufficient heat sinking and a good thermal path, this one does not. :bigsmile: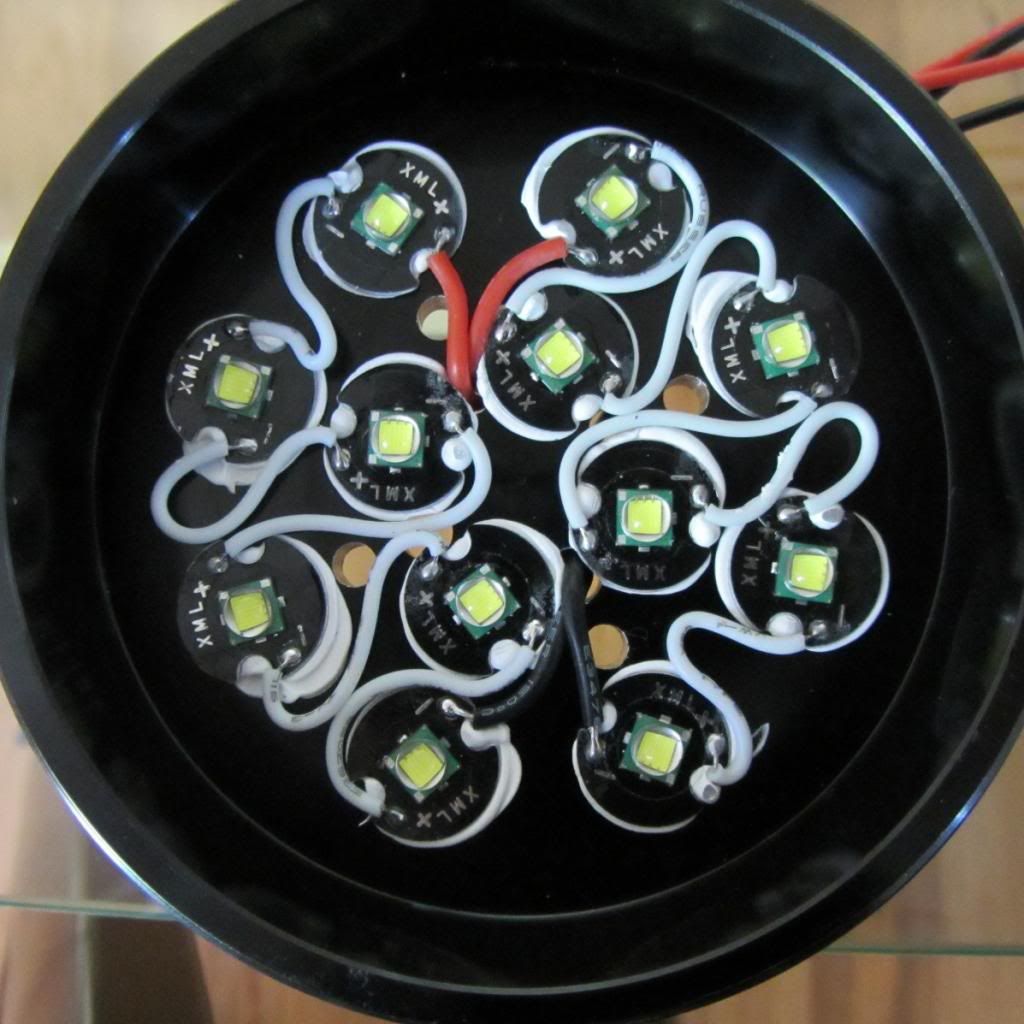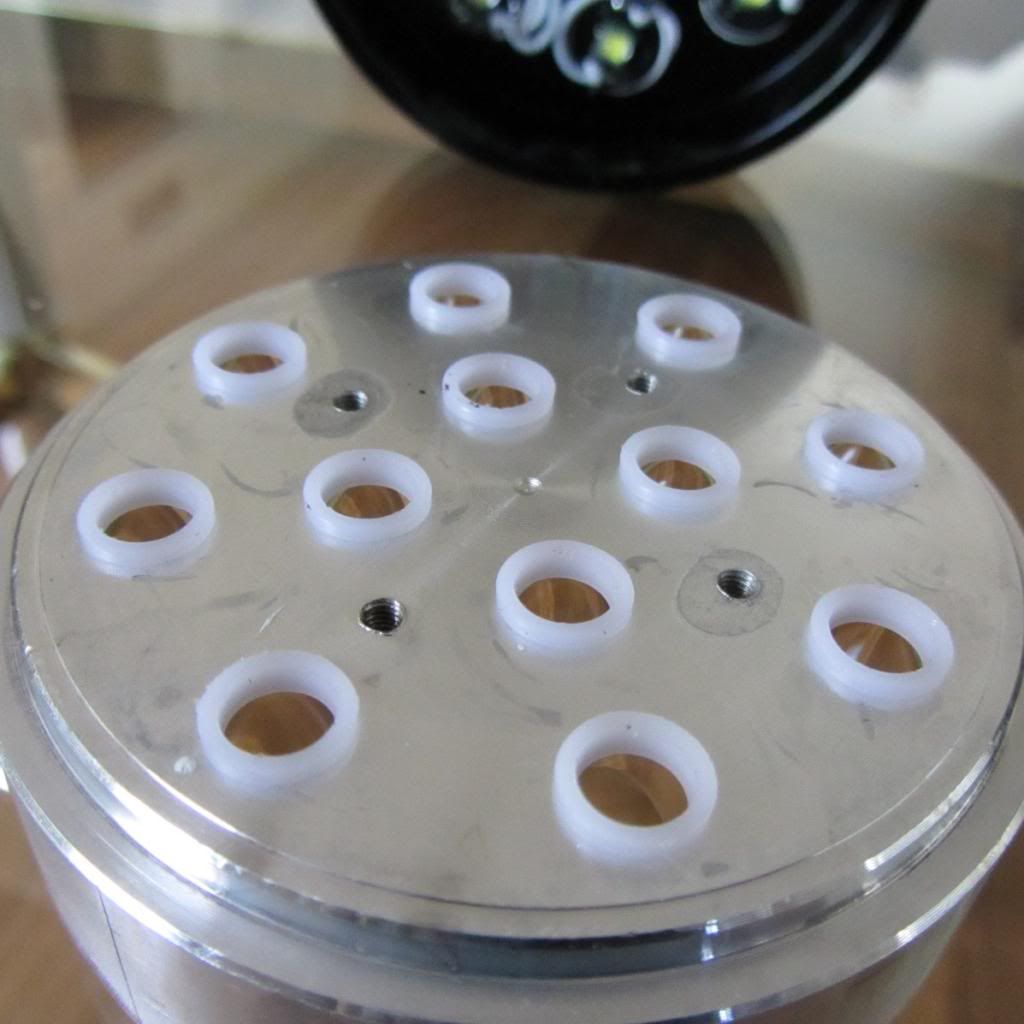 Emitter spacer rings are deep to clear the 22 awg wires, but might leave some room to to be sanded down to set the emitters deeper into the reflectors. MCPCB's are 14mm.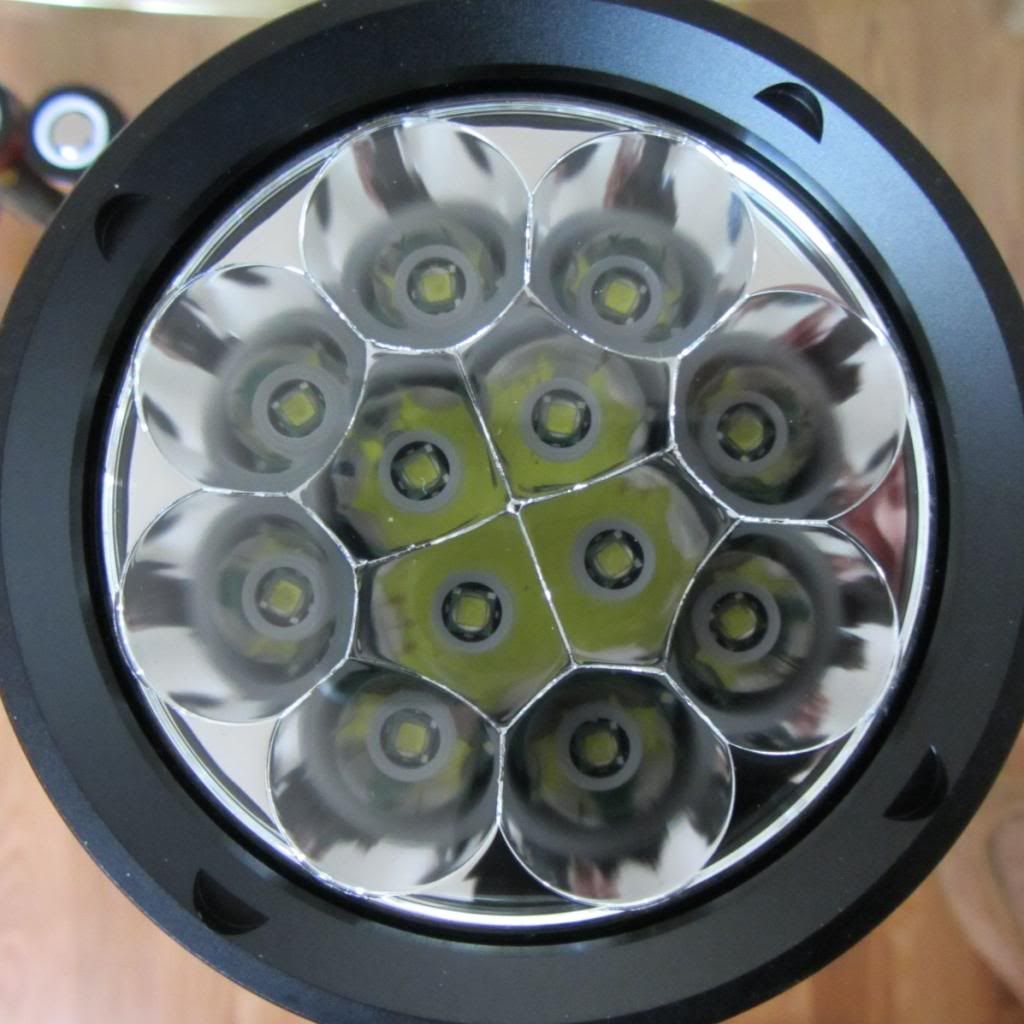 Reflector surface is high luster and nearly flawless, with a few very small bumps that are nearly undetectable. The dust in the reflector photo was later removed with compressed air.
Performance:
High: 3.16A (Tail cap measurement)
In my opinion, the Fandyfire 9XT6 is a great light for comparative purposes. Its well driven from the factory and puts out a good amount of light without need for modifications (although a copper wire mod to the springs will give it a noticeable boost). But how well does it compare to the Chunky Monkey? :bigsmile:
Fandyfire 9XT6
High: 5.82A
Beam shots: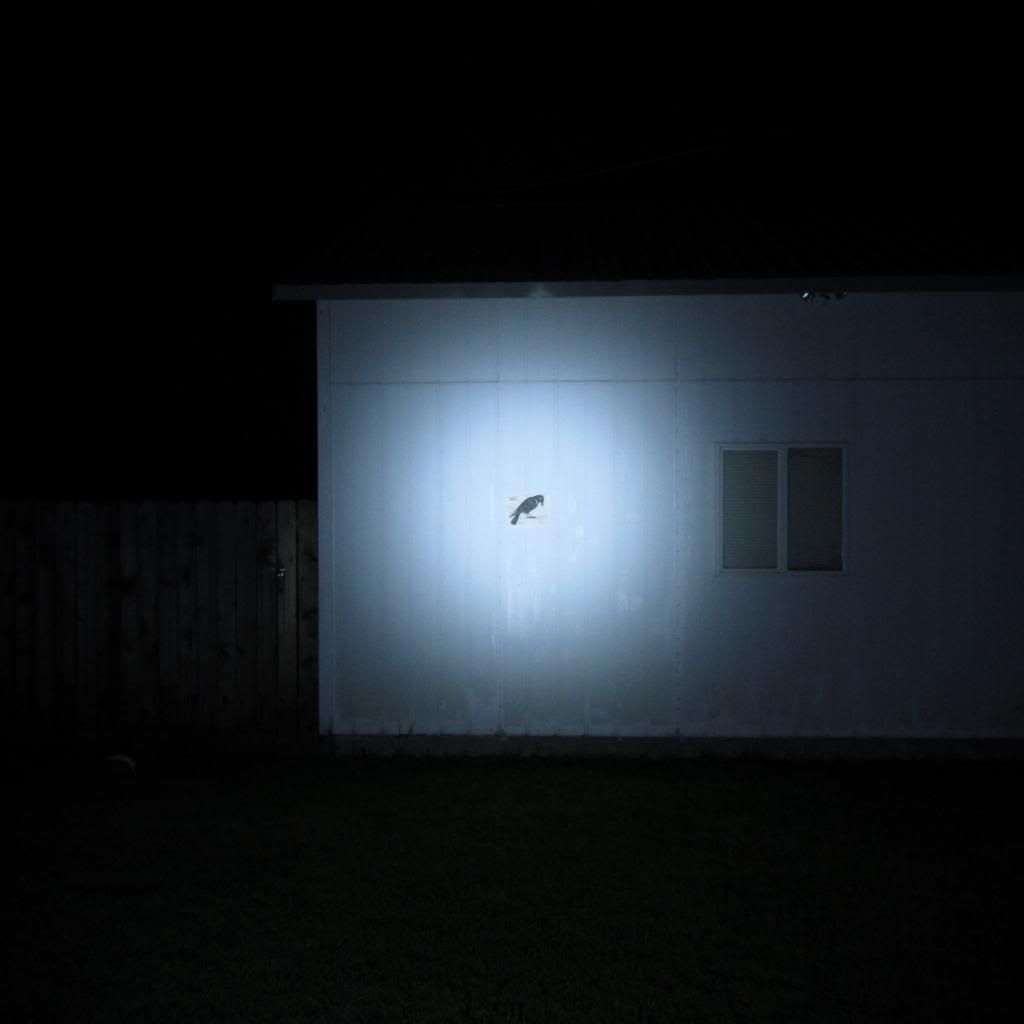 TrustfireTR-J20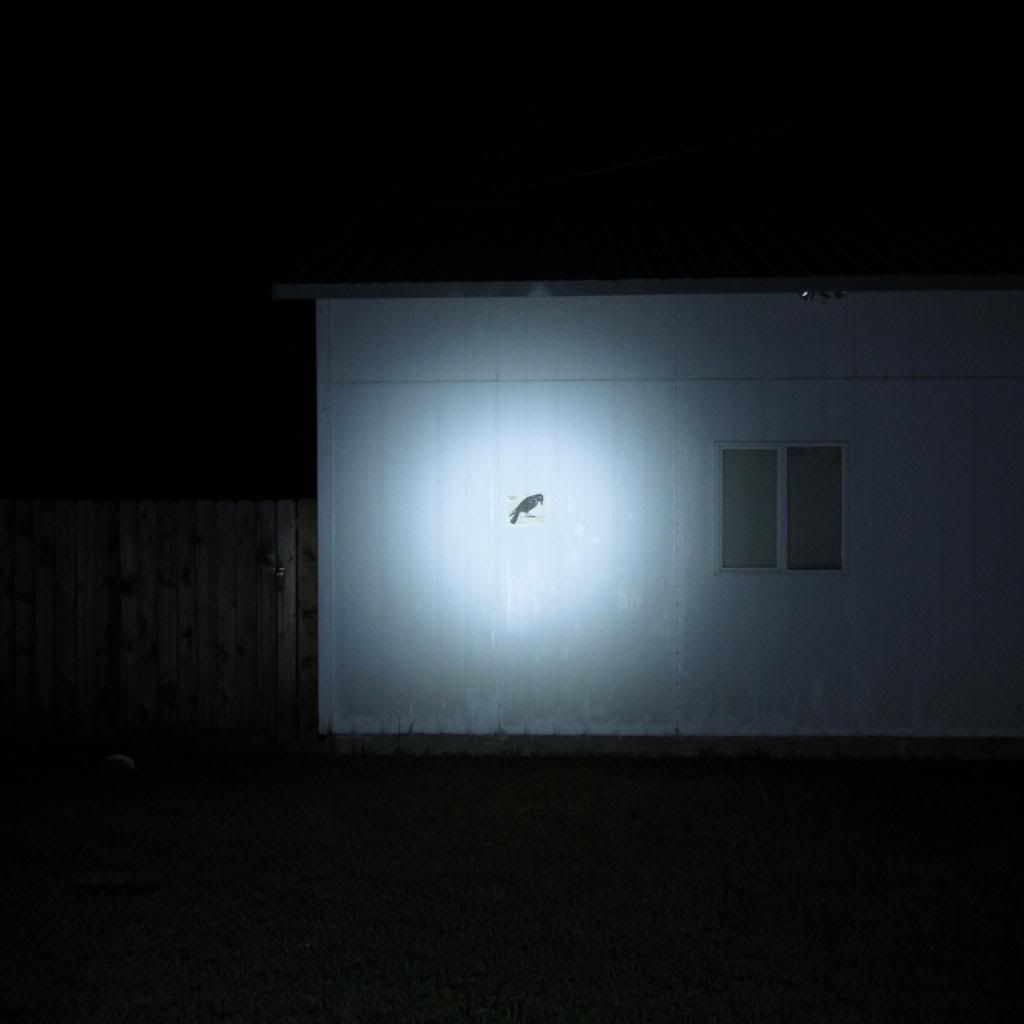 Fandyfire9XT6
Range to the wall is just over 32 feet. To my eyes, both lights created a blinding wall of white light that I found impossible to tell any comparable differences. Setting the camera to manual mode to dim the image revealed that the harder driven Fandyfire appeared a bit brighter with a wider spill beam. It also had a nicer tint. But taking the two lights for a long walk revealed a few surprises. The Trustfire has more throw and it remains fairly cool in the 60 degree F night air during the 30 minute comparison. From a cold start, the Fandyfire had to be turned off after 8 minutes to prevent it from overheating. After it warmed up, it overheated much more quickly. Advantage —-> Trustfire.
Ceiling bounce test in lux
TR-J20
Initial – 147.7
30 sec – 147.6
180 sec – 147.4
9XT6
Initial – 179.2
30 sec – 163.2
180 sec – 137.9
On long high-mode runs, the Chunky Monkey just hangs in there and keeps on going without any appreciable thermal or voltage sag. The combination of Trustfire's excellent 32650's combined with an over built thermal path, great heat sinking and moderately driven emitters, produce a light built for sustained high mode use.
Final thoughts:
While this light is certainly at the top of its price range for a budget light, the build quality and attention to detail bodes well for the asking price. Possible future mods might include sanding or replacing the emitter spacer rings to seat the emitters deeper into the reflector and a driver resistor mod. The emitters are glued to the floor plate with fujik. The floor plate does not have reliefs fly-cut into it to index the MCPCB's in their positions. This eases mod options for other emitter configurations. 6 x MT-G2? If both channels of the driver can run in parallel, then 6A to 3 MT-G2 emitters should be possible after a resistor mod. No guarantees, but there appears to be enough room to tri-bore the battery tube to accommodate 9 × 18650's, but the threaded ends would be slightly castellated. Because of the thick treads, I dont think this would pose a problem to threading the head and tail cap, as long as care is taken to align the initial thread engagement before twisting it together.
If you have the money and use for a big flood light that can run in sustained high mode, this is definitley one worth strong consideration.
FlashPilot Approved :bigsmile: