GROUP BUY CANCELED AGAIN.
The group buy has been canceled again.
Blackshadow is refusing to supply wallbuys now because they saw this thread has become active again.
I am retiring from this thread. If wallbuys wants to restart the group buy, they can do so themselves.
Hi Blf
I am going to email wallbuys the evening about the possibility of a group buy for this light.
http://wallbuys.com/Product/BLACKSHADOW-TERMINATOR-T70-4xCREE-XM-L2-LED-...
Its basically the blackshadow terminator version 2.
Black Shadow has some good news for you
:
We release TWO upgraded versions of Terminator today, T70 and T80.

T70 is similar with T80, the difference on structure is quantity of emitters.

I will introduce you T70 in this post, please check this link for information of T80:
http://www.cpfmarketplace.com/mp/sho...92#post4829692

Some changes on T70 compared with old version Terminator:
1. Emitter :Four pieces newest CREE XM-L2 LED.
2. PWM:We rise the frequency of the original PWM, it's not visible now.
3. Handle: Removable.
4. Functions of Switch:
4.1. Slightly click the switch to access to Momentary-light-on function
4.2. Long-press the switch to turn on/ off the light,light is automatically locked on High mode after being turned on.
4.3. Single-click the switch to change different brightness modes, High-Middle-Low.
4.4. Double-click the switch to access to hidden Strobe mode.
Description of Terminator T80:

Dimensions: 69mm(HD)×132mm(L)×93mm(H)
Material: Aluminum alloy
Color: Dark gray
Weight: 440g(Without battery)
Emitter: 4×CREE XM-L2 LED, CW
Battery: 4/18650
Circuit: Digital CC circuit, with Low-voltage alarming system and Power indicating system
Mode : High-Mid-Low, hidden Strobe.
Dimming: Smart button switch
Lumens: High 3500Lums - Mid 1500lums - Low 400lums - Strobe 3000lums
Runtime(4*2200mah 18650 batteries): High 1h10min - Mid 2h40min - Low11h25min - Strobe 1h40min
Lens: Impact-resistant optical lens with AR coating
Reflector: Metal reflector
Head & Tail: Stainless steel bezel ring, tailstanding tailcap
Waterproof: IPX-8, unable to support dive use.
Accessories: Tactical parachute-cord, Attacking cone, Spare O-ring, User manual and Warranty card.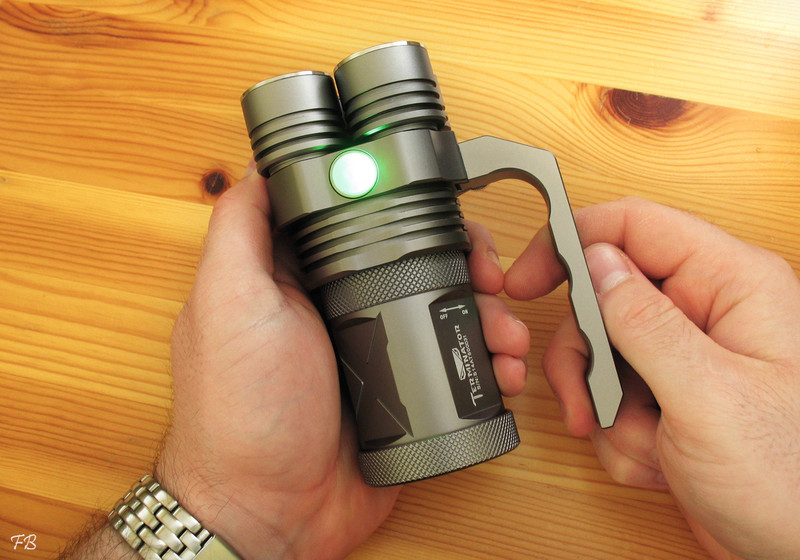 THE PRICE WILL ONLY BE DISCUSSED VIA PM.
Update June 5 2014
response from WB
battery details:
SF US 18650GR (capacity unknown random color)
NCR 18650  MH12210 (capacity unknown)
Samsung ICR 18650 -22B 
UltraFire 3.7V 2400mAh LC 18650
UltraFire 3.7V 2800mAh BRC 18650
etc.
we randomly choose the batteries
I have to say that the batteries are inventory of our warehouse. some of them are disassembled from storage batteries, all of them are in good condition, but I cannot promise they are the same as the new.
Besides, if you don't want the batteries, it is OK
To be fair , the price will be $2 less than the quoted price per one without batteries.
In my honest opinion the batteries sound like old stock and could be junk. If they are samsung icr they might be ok. But ultrafire batteries are garbage.
Also there is the possible issue of buying li-ion batteries and shipping them internationally and having the parcel get seized by local customs.
Please buy the batteries with caution and at your own risk. Are they worth the extra $2? Maybe, but that is for each member to decide.
We have enough pieces already to go forward with the group buy - I will ask them for payment instructions and then post them here for all to see. You will be most likely sending a paypal payment for a light with or without batteries to wallbuys directly and then they will provide tracking and support from there.
Original interest list
1. jmpaul320
2. CalvinIS
3. Racer86
4. Daylighter
5. harry218
6. ziziouuu
7. Optntdr13
8. Pilchman
9. pok (maybe)
10. Infinitusequitas (maybe)
11. windup (maybe)
12. Ramblings
13. myst999
14. qandeel
15. gouldy
16. andyz
17. Troisanh
18. daveam
19. my9221 (maybe)
20. Doslyn

21. Kurt_norway
22. baldo21
23. Seenthelight
24. lionheart_2281
25 soulcraves
26. miguel_79
27. flomotion
28. syesilova
29. antiparanoico
30. magnet
31. mike 72
32. bgyen
33. Pouet
—
Would you mind keeping the wrong flashlight?
Best wish, May
Tmart service team

 

PLEASE HELP ME GEARBEsT! IM LITERALLY CRYING!