XTAR's WK42 Sirius CR EDC High Performance Flashlight:
First the manufacturer's specs:
LED = CREE XM-LU2, Main Body and Head = anodized 6N01 aluminum alloy with super hard type III finish, Switch = single clicky switch, Size = 23mm Head Dia./19.8mm Body Dia./21mm Tail Dia./76mm Length, Weight = 35g without battery, Battery = either one CR123A 3.0V or one 16340 3.7V, Working Voltage = 0.9-4.2 volts, Package Contents with WK42 = stainless steel clip, lanyard, o-ring, manual, and warranty card.  Waterproof to IPX8 standards.  Impact resistant from 1.5 meters.  Gold plated positive plate.
Luminance Settings and Runtimes between CR123A (1400mAh) and 16340 (600mAh):
CR123A = 3Lm/200hrs, 30Lm/50hrs, 60Lm/6hrs, 190Lm/2.3hrs, Strobe = 190Lm, Signal = 60Lm, SOS = 60Lm.
16340 = 3Lm/90hrs, 30Lm/20hrs, 190Lm/1hr & 15min, 300Lm/1hr & 10min, Strobe = 300Lm, Signal = 190Lm, SOS = 90Lm.
Manufacturer's Note;  "When using the fully charged 3.6V/3.7V 16340 lithium (did they mean Li-ion?) batteries, the WK42 automatically switches from Turbo mode to High mode after five minutes of normal use, so, the runtime is the accumulating time."
Max Light Intensity and Beam Throw between CR123A and 16340:
CR123A = 1060cd and reaches 65 meters.
16340 = 2500cd and reaches 100 meters.
Working Voltage = 0.9-4.2V
Moving on:The box was very nice, almost presentation style, with the front flap secured magnetically -
Inside the box everything was very secure and to my surprise there was also a keychain LED light included -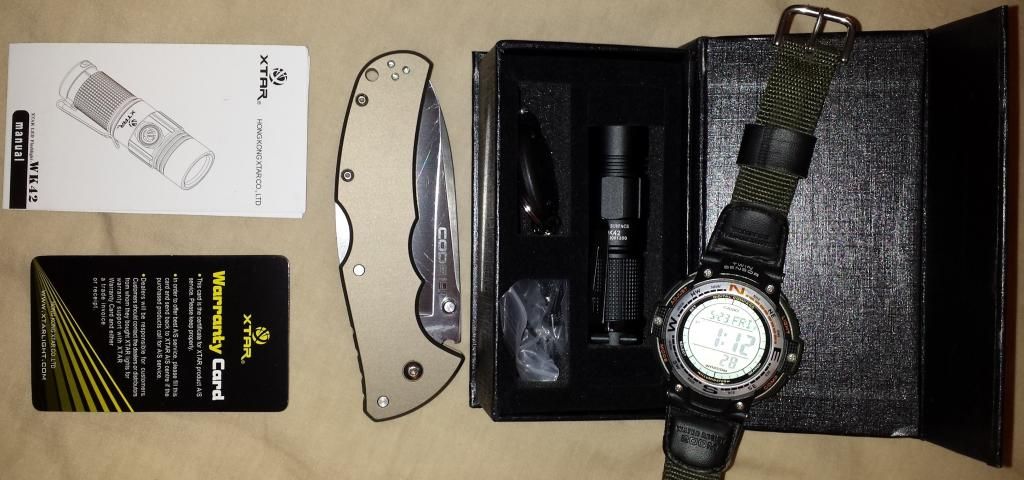 I can't believe how little it is!!!  Perfect for having on one's self all the time and not even noticing it.
Some general pics starting with the tail end -
Orange-peel Reflector,.....even though you can't really tell in my off center pic, I don't believe the LED is truly perfectly centered, still, very close IF not.
Side Views -

Threads (I don't know what you call the thread design) -
Bottom Spring in Tail End (I can't believe how Heavy Duty it is!  Almost thought it looked heavy enough to be used as a suspension component on a vehicle.  LOL  Plus my pic lacks showing how tall it really stands.) -
Positive contact plate inside head end -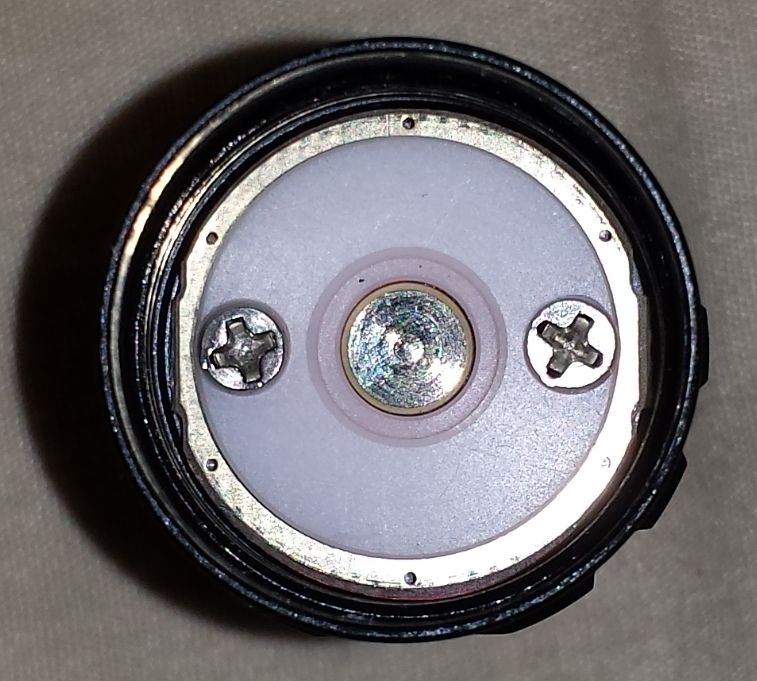 General Pic next to wrist watch.  I will add that the battery (Duracell Ultra Photo 123) is in as far as it will go without compressing the spring. -
2 pics next to my Coleman MAX (manufacturer rated for 120 lumens) flashlight I've been lugging around the last few years (hey, don't laugh, I don't yet own any other "cool flashaholic-style" flashlights to compare it to) -
No outside beam pics yet (YES, I'm very very sorry.).   In a few weeks when I get a 16340 3.7V battery I will make a point to come back and post some. Following are a few basic pics limited to using a Duracell Ultra Photo 123 Lithium battery compared against my Coleman MAX (which may be fairly accurately rated at 120 lumens).  All pics taken exactly 1 foot (12 inches) from the white (egg-shell white, matte finish) wall. -
Coleman MAX @ 120 Lumens  /  XTAR WK42 @ 3 Lumens -
Coleman MAX @ 120 Lumens  /  XTAR WK42 @ 30 Lumens -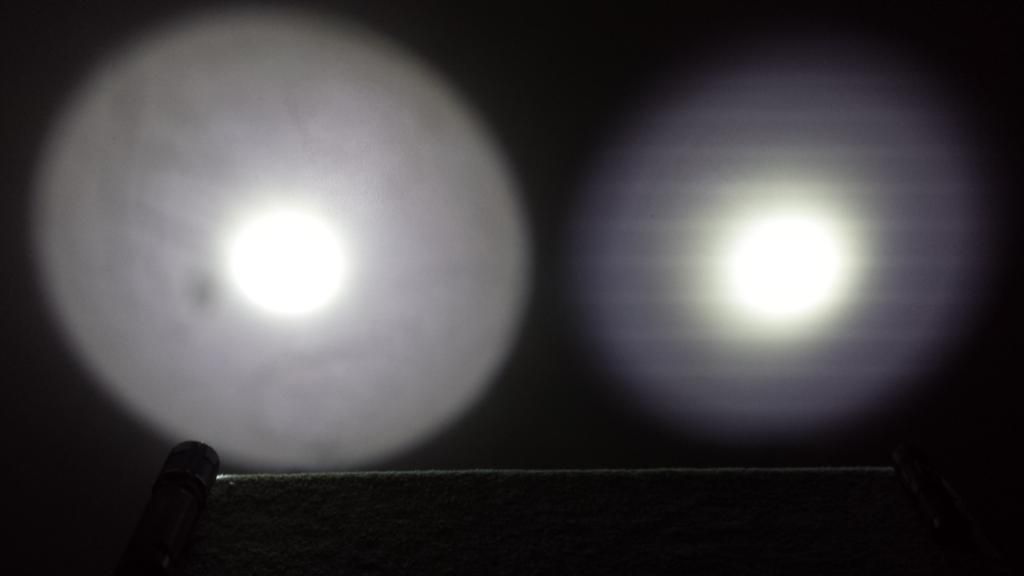 Coleman MAX @ 120 Lumens  /  XTAR WK42 @ 60 Lumens -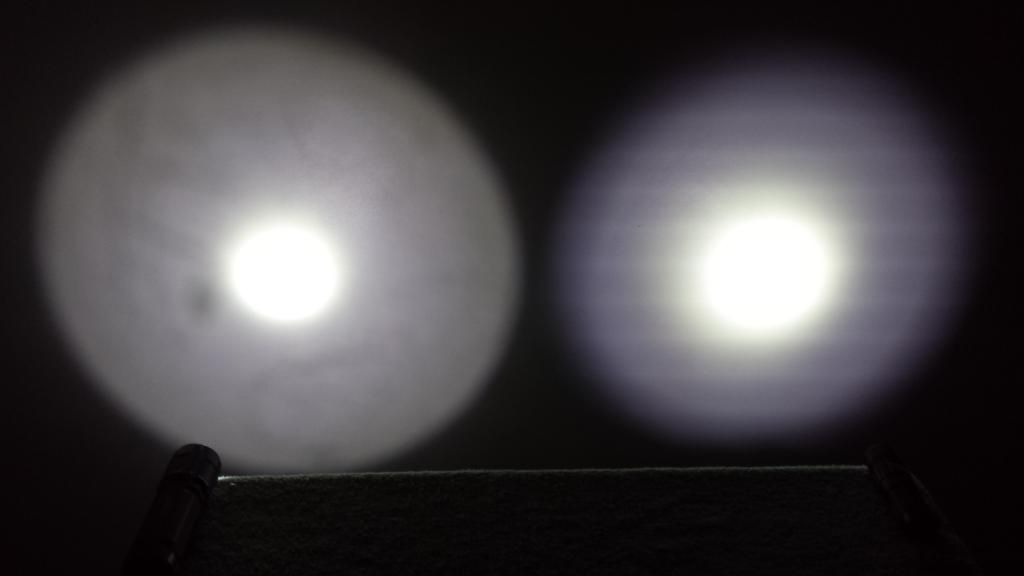 Coleman MAX @ 120 Lumens  /  XTAR WK42 @ 190 Lumens -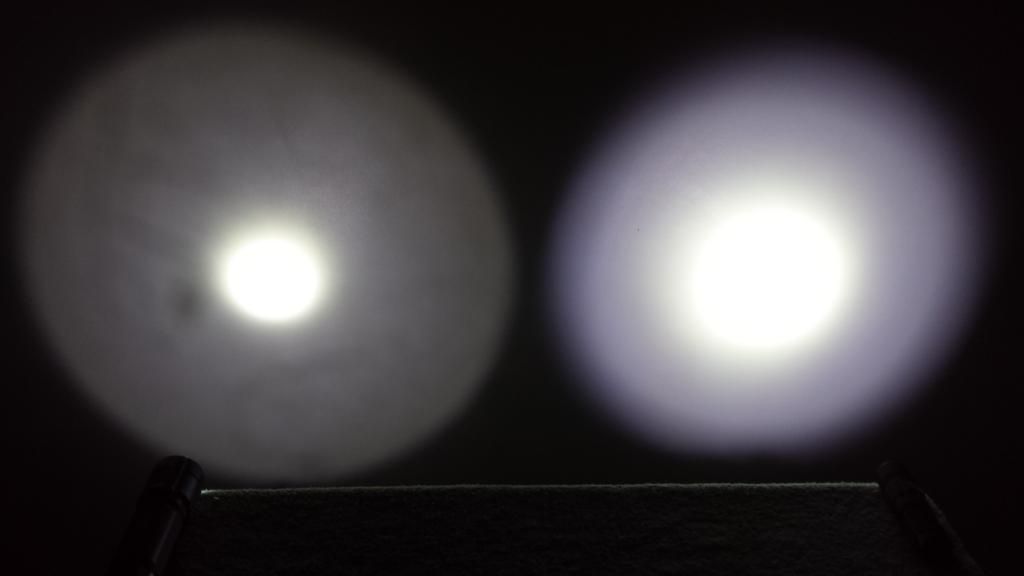 My thoughts on the beam pattern and brightness settings;  First, the beam patterns are actually round.  My phone's camera distorted them.  The pics don't show much difference between 30Lm and 60Lm, but to the naked eye there is a somewhat clear difference.  That said, I do wish the 60Lm setting was actually maybe a 90Lm setting after doing some toying around with it outside after dark.  Still, not a deal breaker IMO, but the two settings are relatively close.
I love the 3Lm setting.  The 3Lm is low enough to not draw attention, yet softly lights up what's in front of you out to maybe 3 or 4 meters depending on how much other light exists around you at the time.  I live in the heart of a small town with a minimal amount of street lights.  Don't know the property lot size, but on either the 30Lm or 60 Lm settings I can clearly see what's going on anywhere in the backyard at night from the back edge of the house, and a bit beyond.  At 190Lm I'm lighting everything up in everyone elses yards and a bit beyond.  I would say XTAR's 65 meter beam distance rating on 190Lm is pretty darn accurate.  Plus it is doing it with a fairly large spot beam and, to my delight, actually useable spill, which my Coleman MAX has never had at any distance. 
Overall I'm VERY happy with the lumen output in all levels, except for the 60Lm setting which I do really think should be more like a 90Lm setting.  I can't imagine the beam this tiny little flashlight is going to throw using a 3.7V 16340 battery on the 300Lm setting.  And of course, when using a 3.7V 16340, the 60Lm setting is nonexistent.  I expect to be ordering some NITECORE NL166 RCR123A batteries and a XTAR VP2 charger in the next few weeks.  Once I get them I will update this thread with outdoor beam shots, and, using my real camera to do so, as opposed to my cell phone camera I used for all pics above in this review.
Anybody wondering about street price?  Don't know what it costs in other countries, but I felt like I got a very fair deal.  Not to mention I wasn't expecting the keychain light thrown in unannounced and more or less free of charge.  I'll let the next pic speak to that -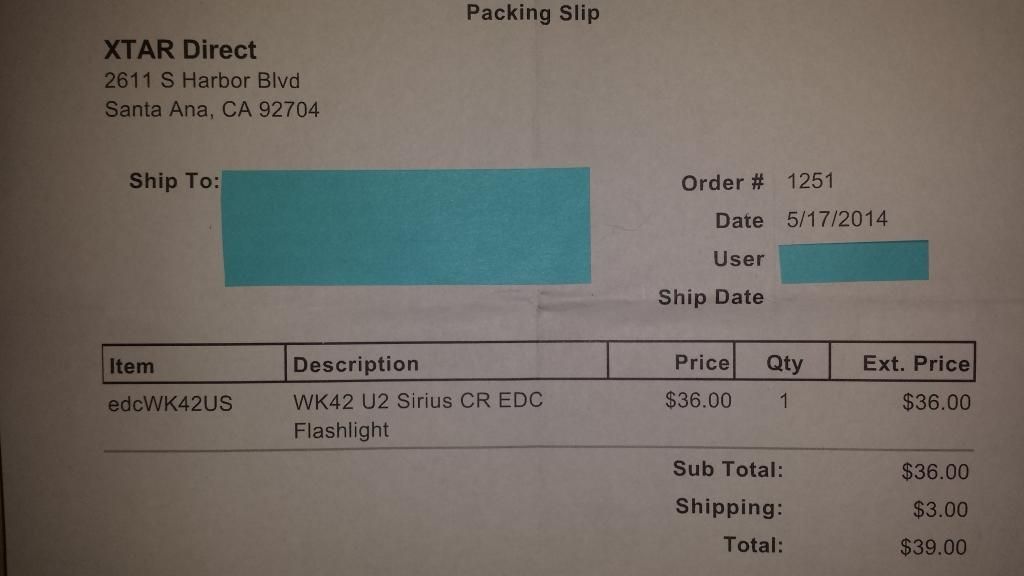 Other features not mentioned above:
Underneath the firm opaque-white rubberish clicky switch is a red LED used as a low power indicator.  When a well charged battery is being used the red light stays off.  When the battery capacity falls below 25% it lights and stays on.  When battery capacity falls below 5% it blinks continuously, at which time it is recommended by XTAR to change the batteries immediately (when battery capacity is very low, the WK42 may flash according to XTAR).  In the hidden modes (Strobe, Signal, and SOS) the low power indicator is disabled.
When starting out with fully charged (at or above 3.5V) 3.6V/3.7V Li-ion rechargeable batteries (16340/RCR123A/...) the WK42 enables over-discharge protection in two ways.  One is that in Turbo Mode (300Lm) it will step down to High Mode (190Lm) after 5 minutes.  The second is that when battery voltage falls below 2.75V the WK42 turns off automatically.  But keep in mind;  If you start out with a partially drained rechargeable battery under 3.5V, the WK42 will think you are using a standard nonrechargeable CR123A battery and NOT enable over-discharge protection.  And obviously anytime a CR123A (3.0V Lithium nonrechargeable) battery is used, over-discharge protection is disabled.
WK42 Memory Feature;  Which ever of the 4 standard brightness settings you last turned off the WK42 from, will be the same settings it turns on with the next time you turn it on.  None of the 3 hidden modes (Strobe, Signal, and SOS) work with the memory feature.
XTAR says;  "...use protected Li-ion batteries..., remove batteries when flashlight will not be used for a prolonged period of time, clean electrical contacts regularly..."
Clicky Swich Operation;  A single click turns the flashlight on in one of the standard brightness settings.  Additional single clicks take you through the rest of the standard brightness settings.  A quick double click takes you to the hidden modes (Strobe, Signal (signal in nothing more than a very slow flashing stobe), and SOS).  Additional double clicks take you though the rest of the hidden modes.  When doing a single click after being in any of the hidden modes, the WK42 always goes to the 3Lm standard brightness setting.  To turn the WK42 off, press and hold the clicky switch for 1.5 seconds.
Other Thoughts and General Observation (IMO);
The clicky switch takes a firm press to activate.  What I like about that is it can't easily be activated if not meant to be.  The clicky switch is flat with the rest of the surrounding surface around it.  The clicky switch produces an audible click with each press and feels very solid overall.
The lanyard is relatively small, soft and supple.  Take that to mean secure and comfortable on the wrist.  Not wirey and excessively sloppy like some I've had experience with.
The pocket clip is good overall, but IMO it comes off the flashlight easier than I'ld prefer.  Still decent and strong in itself though.
Tail standing is rock solid (no imperfections allowing it to wobble on a level surface).
Grip is great anywhere you want to grab or hold it from.  The pocket clip only enhances grip further.
The main body and head thread together very firmly and solidly.  There is no slop whatsoever while threading them together.  When the head and tail lock together there is a very solid stop, and shortly before reaching the stopping point you actually feel the rubber o-ring engage for waterproofness.
The lens is glass and appears crystal clear to the naked eye.  Looking at the lens through my Belomo 10x Triplet it still appears crystal clear without the slightest hint of a hairline scratch or any other imperfection for that matter.
Overall I originally started out wanting a very small flashlight with a very specific feature set.  For me, the XTAR WK42 is the only one that met that feature set.  Maybe it will be to your liking too.  If you have any questions, post below and I'll answer to the best of my ability.
Everyone take care and enjoy those torches!  I hope my review helps others, even though I wasn't any help in terms of actual runtimes and outdoor pics and all that, at least for now.  If there are other basic pics you would like to see, let me know and I'll post them.  I'll tell ya another thing, pics don't do this flashlight justice.  It looks much better in real life, and way smaller too!  Even seeing it with my own eyes it is hard to believe it throws so much light from such a little platform!