I recommend considering this FET+1 driver instead of the one discussed in this thread.
This driver functions fine, but requires many important firmware and flashing considerations. All versions of the driver in this thread requires extra special firmwares, NOT a plain version of STAR or a DrJones firmware. The original version and most other versions of the driver in this thread area also one-time-flash drivers for most users: without high-voltage programming equipment it's not possible to reflash them!  Reading through the thread should answer any questions you have relating to this subject.
This thread's driver offers relatively limited benefits over the newer FET+1 driver discussed in this other thread of mine:
[WIP] 17mm DD+single-7135 driver / single sided / Dual-PWM 
OK guys, here's a good reason to curse my name.  I present... a driver which you cannot physically assemble and which has no firmware available:
This is a combination 6*7135 and FET driver.  On top you have the ATtiny13A, all support components, and the FET.  On the bottom you have 7135 chips.  

This driver will accept either an LFPAK56 FET or a DPAK (TO-252) FET.

I used Eagle's normal [giant] 0805 pads, so there is actually a lot more space than there looks like.  A 0805 resistor is less than 2/3 as long as the overall length of the pads.  Much closer to 1/2 the length actually.

I just couldn't quite squeeze in a Zener diode.  I did leave enough space to replace D1 with a resistor, so stacking the Zener diode on C1 is still possible I guess.

Components have names following the convention Mattaus established with BLF17DD.
The voltage divider for LVP bypasses D1, so new values are required.  Stock Nanjg 105c values will not give correct results for low voltage protection.
I maintained 0.5mm of keepout around the edges on both sides of the board.  

This driver will require a special firmware.

 It uses 4 pins on the ATtiny13A to control these things separately:
A. 1*7135
B. 2*7135
C. 3*7135
D. the FET

 

This driver will be very difficult to assemble.
The way I imagine the [non-existent] firmware to generate modes is like so:
Moonlight (unregulated w/ PWM on FET)
1*7135
2*7135
3*7135
3+1*7135
3+2*7135
3+2+1*7135 (6 total)
Turbo (FET 100% duty cycle [wide open])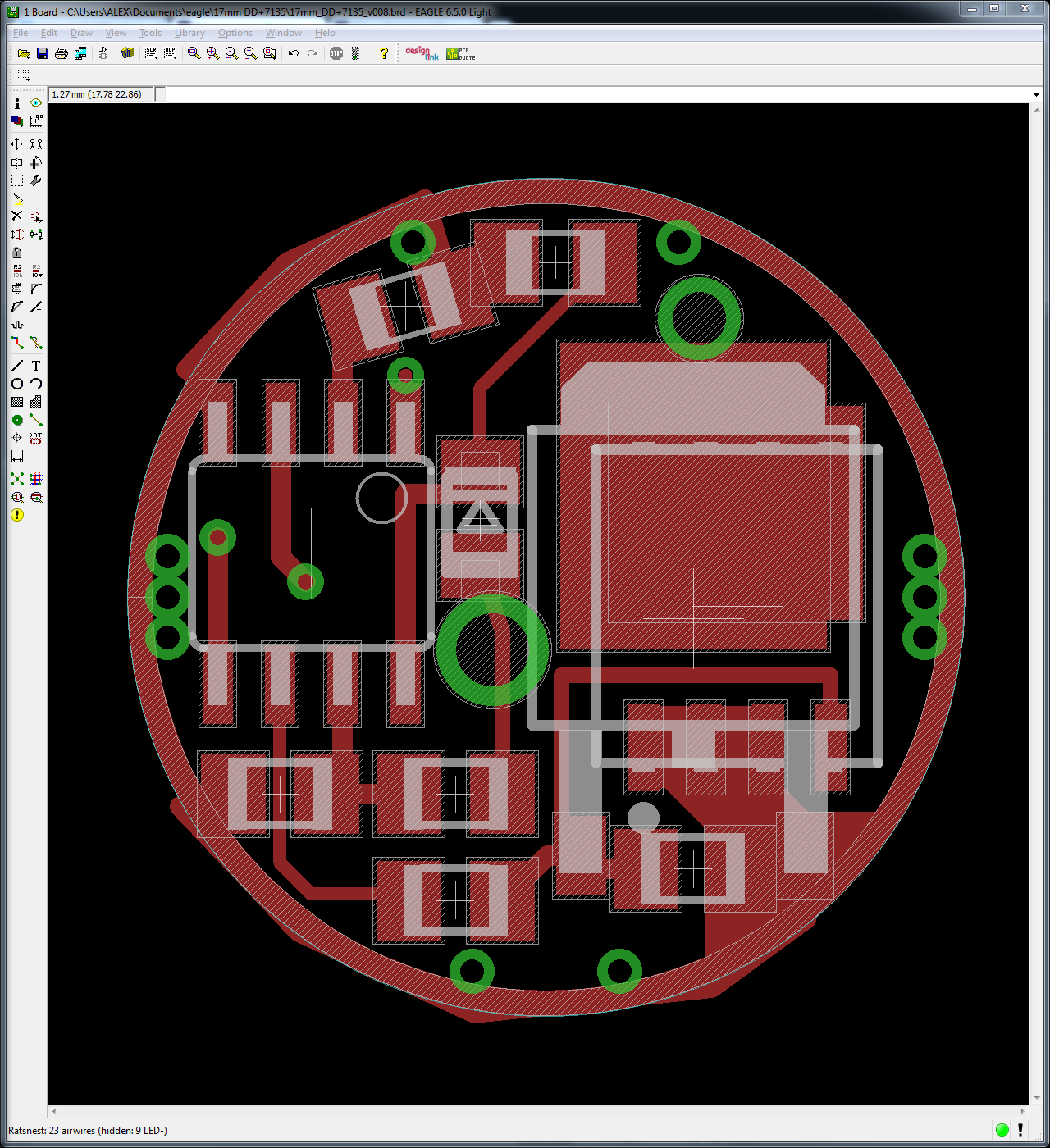 Shoutout to Chloe for her post #14 in this thread explaining how to set images to 100% in the Advanced Post Editor.
—
Still fine, still on a break. One day I'll catch up with you folks! previous wight catchup

list of my drivers & variants (A17DD, FET+1 stuff, WIP stuff, etc)