How often do you put on a light that makes you laugh due to its massive output?
Just happened to me, and Im well used to to having a ton of lumens..
About 10 months ago I made a tint mixed 100W+ 9 XM-L light. Thread. That was pretty retarded in terms of brightness and heat. 100W really needs a fan..
I obviously forgot about the heat issues and decided to make an even brighter light. J)  With better tint, better efficiency, more runtime (more batteries), better UI, more compact (shorter), not much heavier and with more throw.
I used the OEM 12 XM-L light as a host. Pictured all the way to the right. (BTU left, TK61 middle).
You can probably find the same flashlight labeled kinfire, ultrafire etc..
Stock: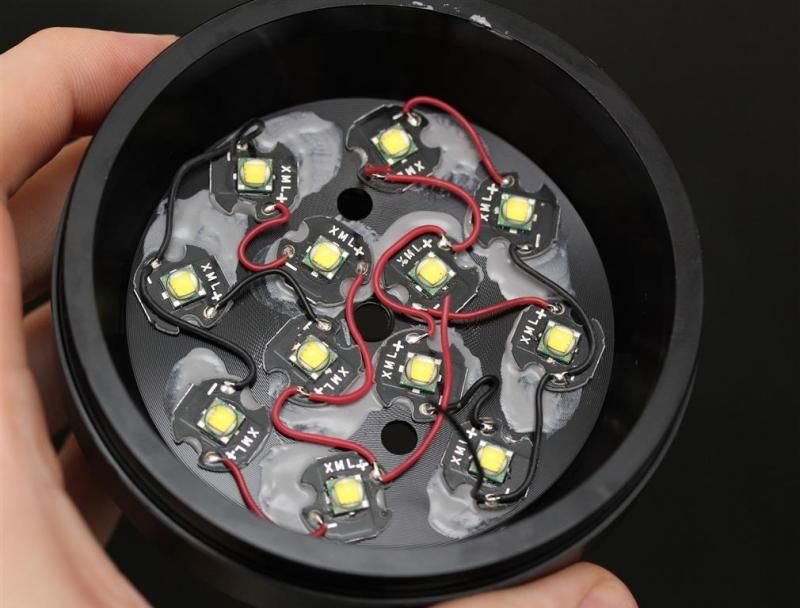 Emitter setup:
4x XM-L2 U2 2C
4x XM-L2 U2 1A dedomed
4x XM-L2 U2 7D4 in the middle
Some Noctigons got some excessive cutting, due to bad planning. I drilled two more holes for the emitter wires.
Work in progress...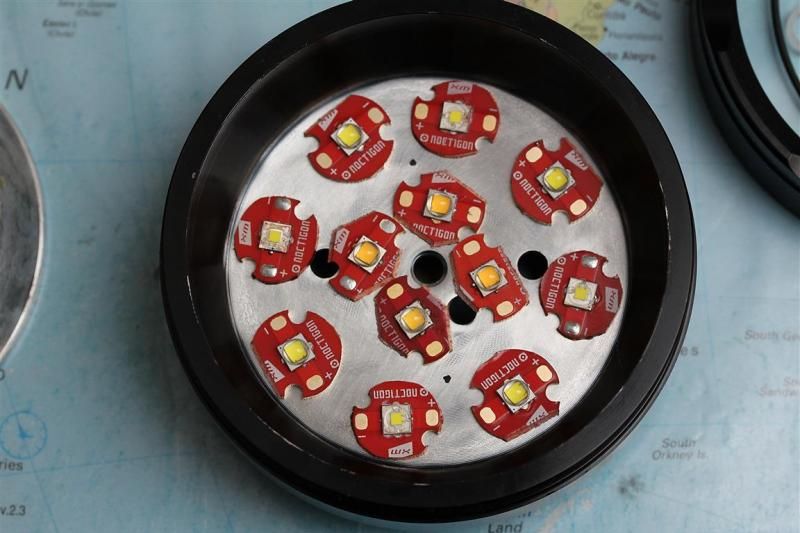 The heart of all this madness is a little 17mm zener modded BLF FET driver that I put together with one extra FET.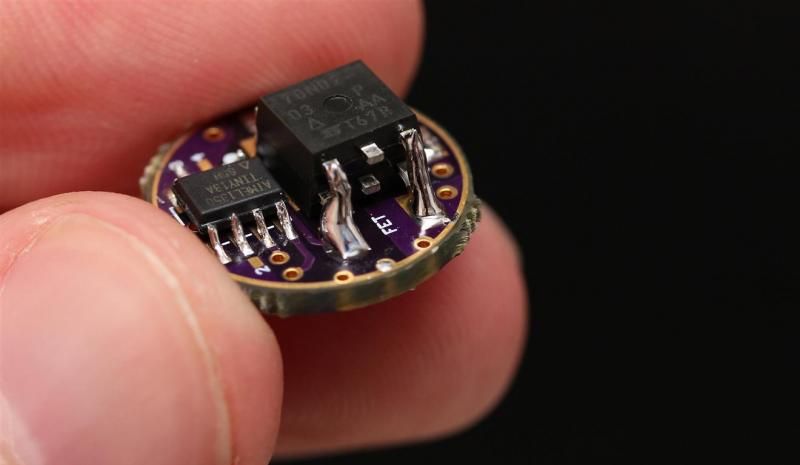 With 6 batteries and 12 emitters in direct drive. I was expecting some serious amps. So I needed a serious switch. I decided on a "twisty switch".
Early design before things was put together.
O-ring on the brushed aluminium plate makes it waterproof.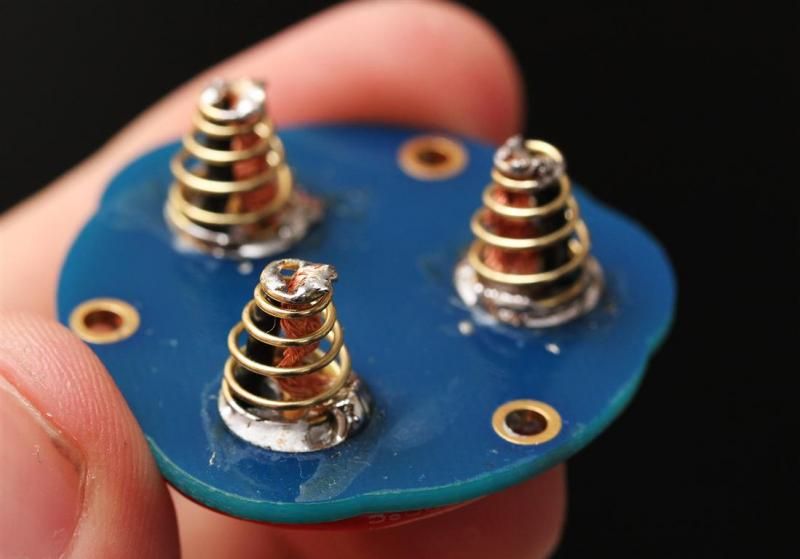 The longer this stayed on my desk, the more I kept adding.
lol..  On the positive side, looks kinda artistic, and can carry lots of amps.
Copper plates in the middle.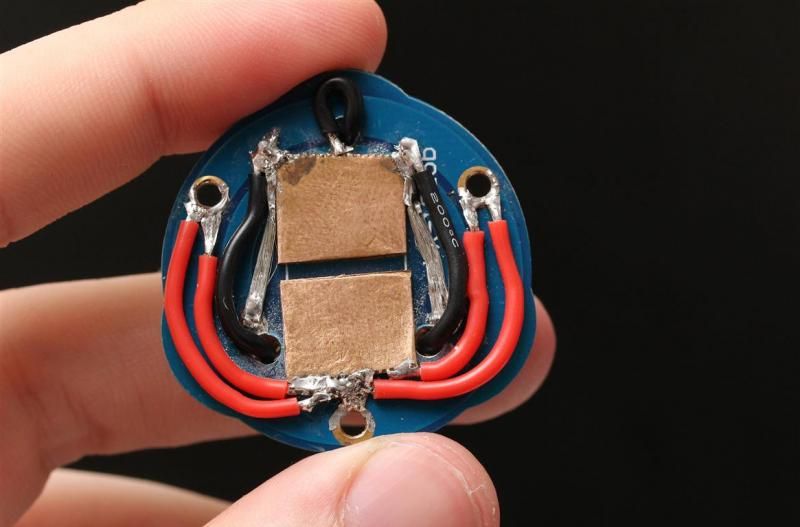 Wired up the emittes with 22awg wires (two and two in series until all twelve were done). All those wires then connected with some 18 awg wires.
Made a contact plate.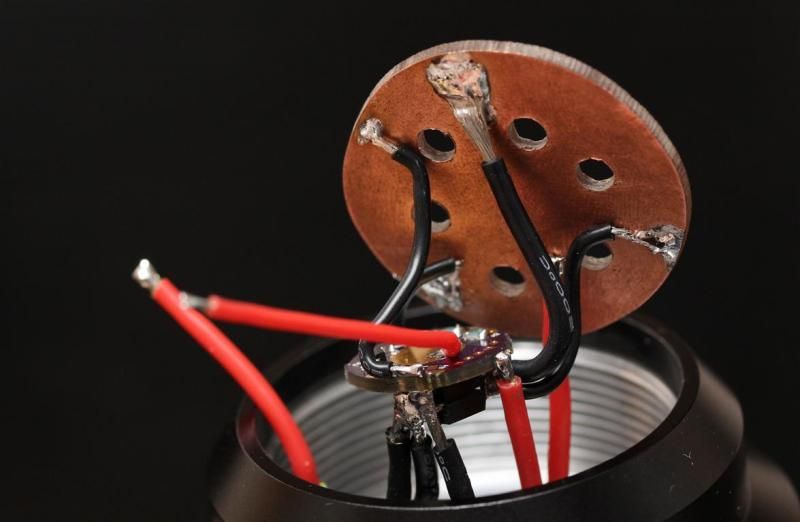 Brass bit on top of it.
This will then be connected to the brass plate where the batteries touch.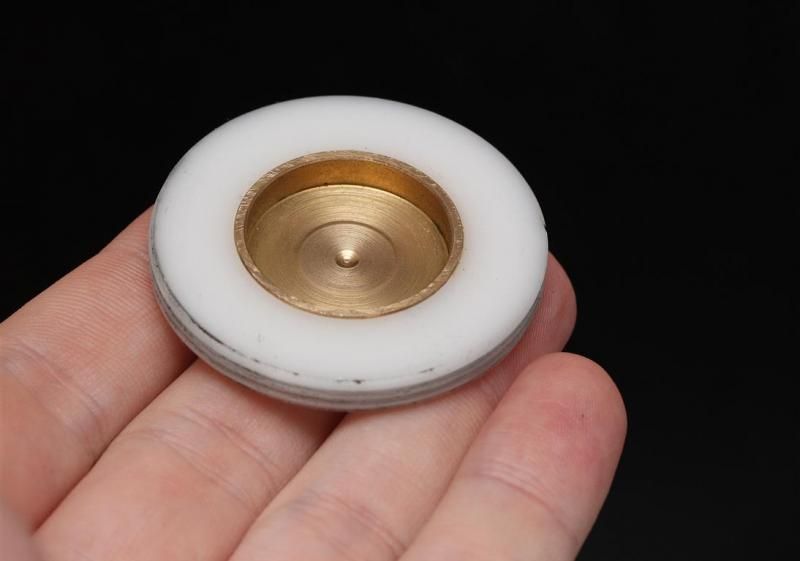 Done, looks just like stock..
My centering of the XM-L2s turned out quite bad. I used Artic silver 5 in the middle of them, and fujick on the sides in order to make them sit tight when doing the emitter wiring. They were nicely centered when I attached them, but not when I was done putting the head together after the wiring. hmmh.. Not sure If ill bother to redo the emitters. Not a big deal in a 12 emitter light. If loosen up the reflector a little bit I should be able to improve it by twising the reflector half a millimeter.  Put kapton tape on the backside of the reflector. Did not use stock centering rings due to some fitment issues. Also, I like seeing red Noctigon clearly visible peeking through.
As you can see. Nice head size on this light compared to a typical 9 XM-L light. Many 12 XM-L lights are closer to the 9 XM-L in size as far as I know...
Switch on the toilet plunger. Twisty tail cap on the "shorty".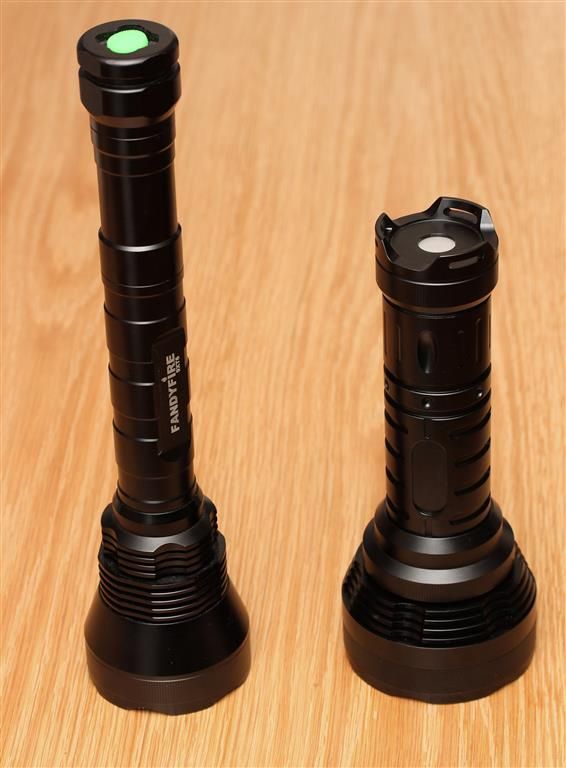 At the moment I don't have modes. Maybe because I decided to move the FETs a bit too much to the side (in order to easily reprogram the MCU in the future)? I did something wrong after it was tested or in the wiring process.  I knew I did not have modes before I fired the light up with batteries, but could not care. I have to take out the driver in the future to reprogram with a more suitable UI than the whiny phase correct STAR firmware. This light really needs Turbo that goes down below 50% in about 60 seconds. I just wanted to see how it worked now.
The 9 XM-L light is 916g with 3 x26650batteries.
The 12 XM-L weight 1197g with 6x18650 batteries.
Not bad considering all the advantages I have with the 12 XM-L light.
Some (peak) numbers:
Tailcap amps: 30A (measured at the copper bits on the "twisty switch" maybe a bit more if measured with clamp meter and thick wire)
Emitter amps:  5amp to each of the 12 emitters (5Ax12emitters=60 amp if you like to look at it that way)
Watt: Should mean its about 220W.
Lumens at start: About 14300 and sinking fast below 13000 (others might measure 15000+. Remember, this is NW light with some de-domed emitters. The emitter setup is not even made for max lumens. Its more oriented towards tint and a bit increase in throw. No AR lens either.)
About 227kcd after 20-30seconds. ! Wait what? 227 kcd in a "flooder". Yupp. Easily outthrows a stock TK61. Actually, It can play with a "stage 1" resistor modified TK61.
Heat: No way im letting it run on high for more than 2 min. The heat it makes in just 60 seconds. Its ridiculous. Certainly just a dangerous show toy when used on high/turbo/max with high discharge cells. A very fun toy I must add!
Cells used: Either 6x Samsung 20R@ or 6x LG HE2
---
Where are the beamshots?
Might take some in the autumn when I have some other interesting lights to compare it with.
---
Did I say this makes me laugh and smile just by turning it on....
Giggles like a little schoolgirl...
The light output and heat is quite retarded when its on full power.