Tearing down the TK75 is basically like the TK61.
That means, that the bezel can be unscrewed quite easily with strap wrenches. The green contact board can pried out out with a small screwdriver or two. My TK75 is an XM-L2 version. Not sure if that makes a difference to how easy it is to open and such. I wonder if my driver is 4th generation driver (V4) since its labeled like that. Date says 2012.11.26.
Ill try to share a fair amount of pictures in this thread, but I did not take pictures of everything. Its a fairly long time since I did the teardown and resistor mod, so I may be off on a few details.
TEARDOWN
Unlike the TK61, the resistor to play with are on the backside. So you need to get in from the front of the light as well in order to get the driver wires off the mcpcb.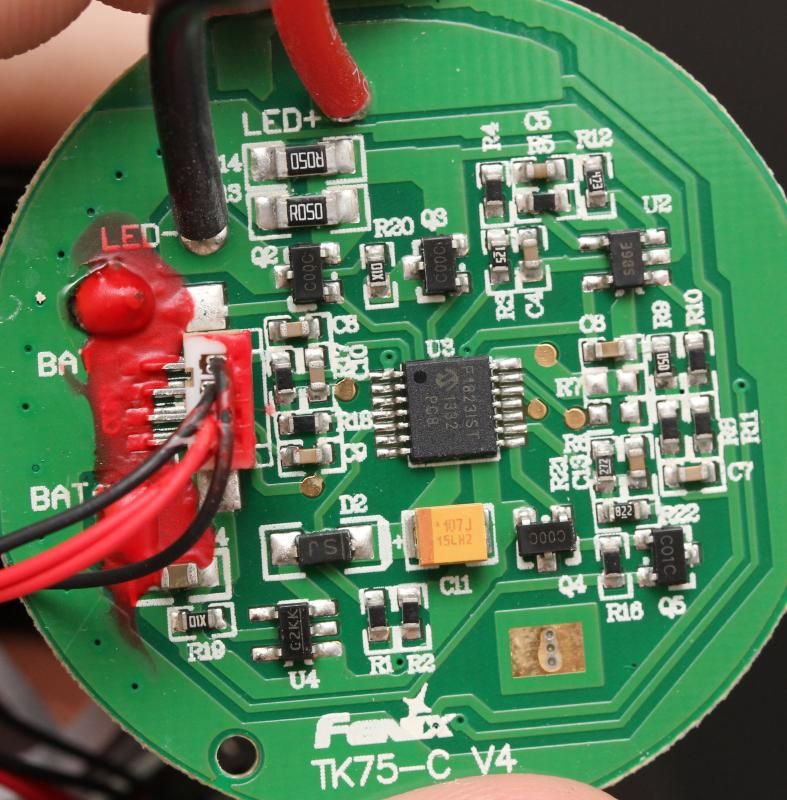 Unihead: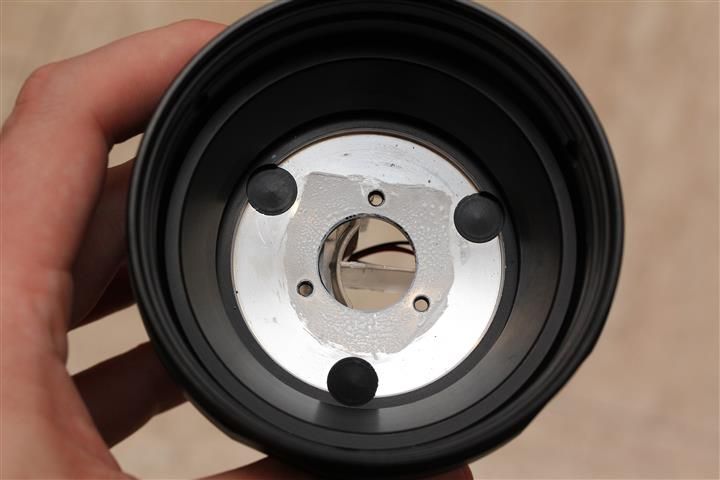 Nicely sized direct thermal path copper mcpcb attached with screws. The plastic reflector centers to the edges of it, so I would recommend sticking with the stock XM-L2`s and that mcpcb.
Like in the TK61, there are two plastic pieces below the driver. Drag one out in order to get the other one out. Its a tight squeeze.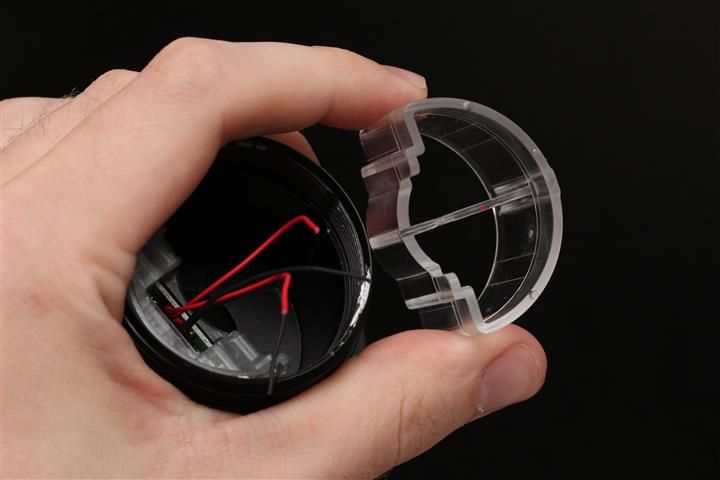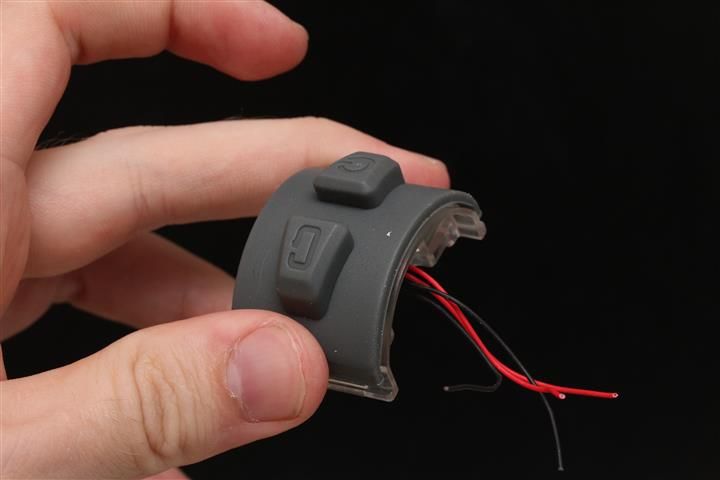 Red wires goes to the power switch. Black wires to mod button.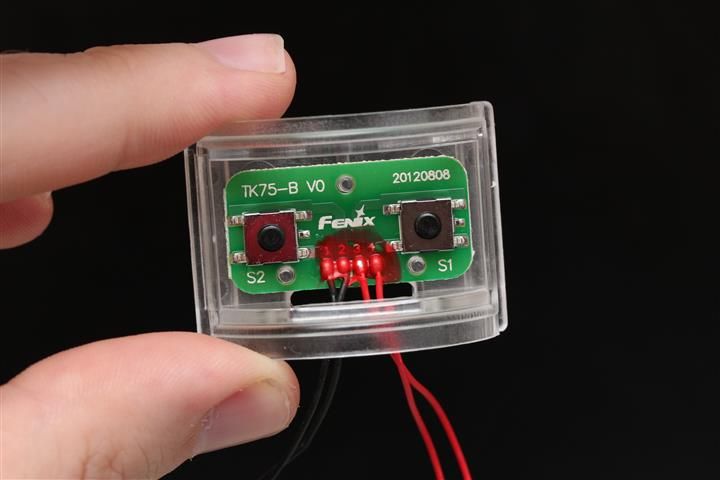 All the plastic parts.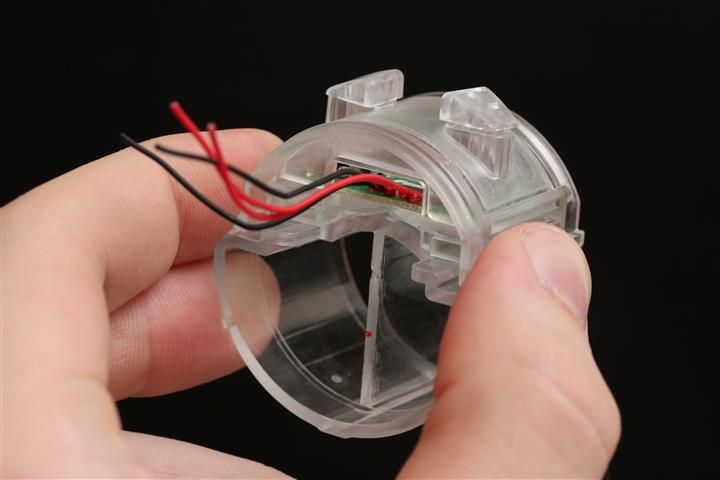 Battery carrier "naked" without the plastic case. Two diodes for battery reverse safety I believe.
Resistor mod
Ill just share my personal notes. I played around with some resistors and numbers. Dont expect presision on the % numbers and such. Some of them are taken from a power supply with analog readout.
Short story. Stock emitter amps were about 2,9A (2,88A in the table above). Turbo is regulated down to 6,5V input.
I believe I had read a post about someone using an R030 so I threw one on top the stock resistors without doing any calculations. Turbo increased with 26%. The lower modes increased with 82%. That is not good, so I swapped the R30 for an R100. Still a 26% increase on Turbo. Slightly higher on the lower modes. My notes say 3,65A to the emitter, but depending on flashlight temperature and how long it was on, I could be looking at numbers as low as 3,35A or 3,5A. 3,65A is just what I consider peak. Another thing I noted was that input amps seemed to have increased slghtly more on Turbo compared to the other modes.
Therefore I tried an R120 instead. 3,5A on high.
Conclusion resistor mod
On my driver (marked TK75-V4), I would say that if you are only doing a resistor mod, R100 or R120 on top of the stock resistors is the way to go. It will increase output on Turbo with about 21-27%, and not mess up the mod spacing. But, I was not that happy with such a low increase.
1. On the stock light, output on Turbo is properly regulated. After resistor mod, it was not based on what I remember from my driver. Basically, it then looked like it was dependent on high discharge cells in order to stay in regulation. Meaning, that with regular cells run used for some time, there would be no increase over stock. 
2. The mod did not increase output that much, and with possible reliability issues due to more heat, not so sure if its worth it. Especially considered that the increased output did not seem to be well regulated.
3. Playing with transistors or who knows what may make that exact driver do more, or just having a different TK75 driver might give higher output. I know others have resistor modded their drivers beyond 4A. Actually, my attempt is the lowest increase I have heard of...   But, I also know that two lights that have been modded harder have failed due to heat issues when used too long on highest setting without adequate cooling.
4. Im no fan of possible reliability issues or output increases that are only for a limited time.
5. Need more powah!! Check out next post for more details for my idea of the ultimate TK75. It seems names are imporant. So ill just call it the TK75 R86 edition.