EnerPower 18500 1700mAh (Gray) BT 2015
Official specifications:
Typical capacity: 1700mAh
Minimum capacity: 1600mAh
Nonimal voltage: 3.7V
Internal impedance: Energy: 6.29Wh
Charging method: Constant current with limited voltage.
Standard charge: 4.20V, 340mA, 51mA cut-off, 25°C
Quick Charging: 4.20V, 1190mA, 17mA cut-off, 25°C
Charging Voltage: Max.4.25V
Standard Discharging: 340mA (0.2C) (constant current, 3.0V cut-off,25°C)
Max. Pulse Discharge Current: Discharge Cut-off Voltage: 3.0V
Battery Weight: 41g or less
Operating standard discharging: -20 to 60°C, 45 to 85%RH
Operating quick discharging: 10 to 45°C, 45 to 85%RH
Storage 1 week: -20 to 50°C, 45 to 85%RH
Storage 1 month: -20 to 45°C, 45 to 85%RH
Storage 6 months: -20 to 40°C, 45 to 85%RH
Storage 1 year: -20 to 35°C, 45 to 85%RH
Shelf life: 1 year (Typical value from ship state)
This is a low power protected 18
500
battery, but with fairly good capacity.
The battery does fine up to 2A, but above that the cells do not behave the same and above 3A it starts loosing capacity. I cannot really complain about it, the battery is only rated for 1.7A.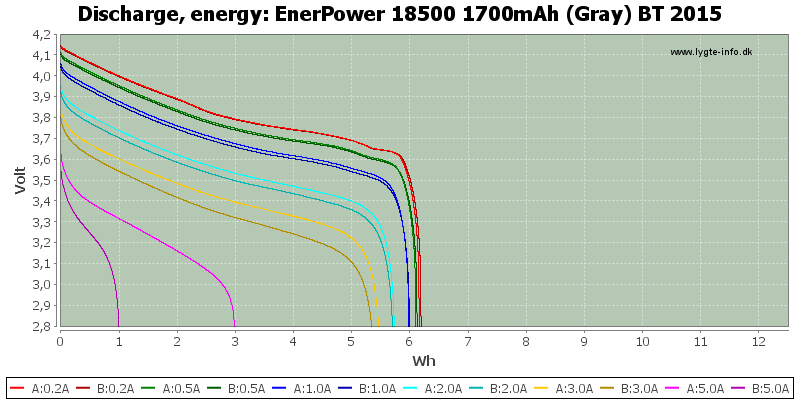 Conclusion
This battery is not for high current applications, but works fairly well when current is within specifications. Being protected it can also be used in series.
Notes and links
The batteries was supplied by ENERDan for review.
How is the test done and how to read the charts
How is a protected LiIon battery constructed
More about button top and flat top batteries
Compare to 18650 and other batteries