Got the new C8 from GearBest.  8*7135, 4C.
I'm always happy with Convoy products, very budget and good durability. There are several DIY Brand in China,Convoy is usually the cheapest one, but their quality is never depressed. They also provide an excellent after-sale service. 
GB'S Spec:
General
Brand: Convoy 
Model: C8 
Emitter Type: Cree XM-L2 
Total Emitter: 1 x Cree XM-L2 
Lumens: 960 Lumens 
Color temperature: 6500-7000K 
Function: Night Riding, Hunting, Exploring, Camping, Household Use, Hiking, Seeking Survival, Walking 
Battery Type: 18650 
Battery Quantity: 1 x 18650 battery (not included) 
Mode: Two Kind of Mode (1.three modes:low 5%-mid 50%-high100%; 2.five modes:low 5%-mid 50%-high100%-Strobe-SOS) 
Mode Memory: No 
Adjustable Focus: No 
Rechargeable: No
Specification
Power Source: Battery 
Reflector: Aluminum Smooth Reflector 
Lens: Glass Lens 
Impact Resistance: 1.5m 
Body Material: Aluminium Alloy 
Available Light Color: White 
Available Color: Black
Dimension and Weight
Product weight: 0.175 kg 
Package weight: 0.24 kg 
Product size (L x W x H) 15.2 x 4.5 x 2.5 cm / 5.98 x 1.77 x 0.98 inches 
Package size (L x W x H) 17 x 6 x 4 cm
Package Contents
Package Contents: 1 x LED Flashlight
First Impression:
Very good anodizing and quality. It feels good in hand. 
More pictures: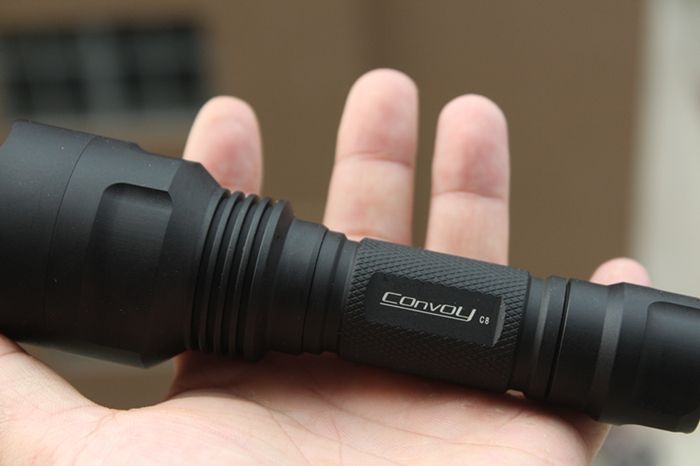 There is a gap between the tube and tail cap.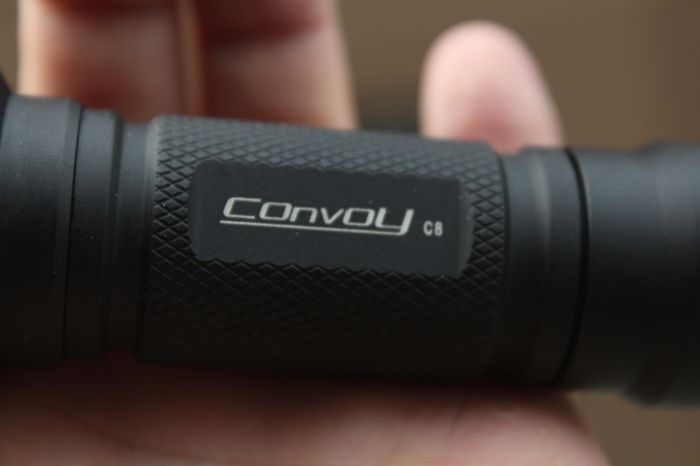 Very nice knurling. The engraved logo looks good too. 
Here is the head and fins.  I hope it could be deeper. 
Tail cap.  Sharp edges are machined well. 
Integrated pill. There are 2 screws to fix the star.
It's a little too deep, hard to solder. but good for modding a copper pill plus optic.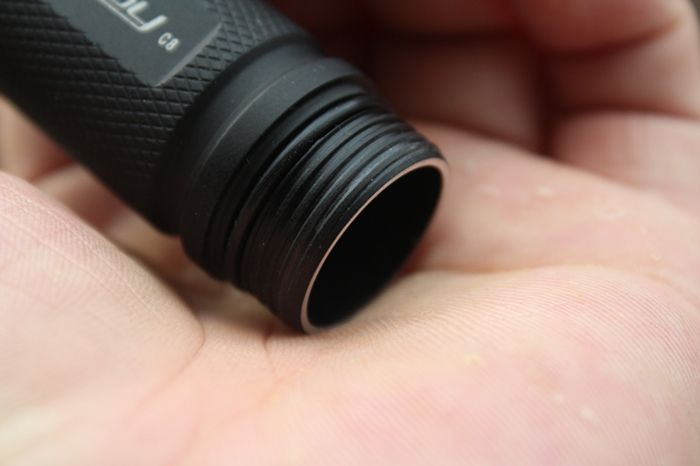 (tube-in tail) Very smooth square threads and lubed. 
(tube-in head) Same good threads. but un-anodized. Well, there might be a lot of discussion on the threads type.
Un-anodized might get crack or abrasion easily. But have better connection.
I personally prefer anodized one. I like the lock-out "function" to prevent any unexpected turn-on.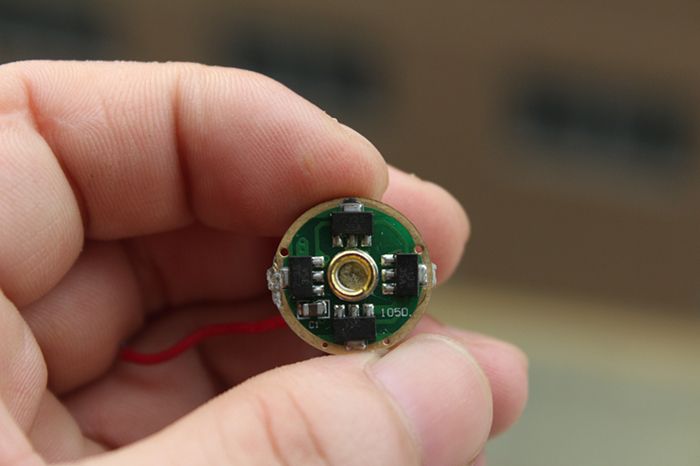 A close look of the driver.
Sorry I did not shoot the reflector and glass. I'm kinda OCD,can't stand the dust,so I sealed them.
I hate the retainer, stuck in the cap.
 I checked with Convoy that it is normal threads (not reversed)
Why not use a brass ring like the other models do?
The same thing happens in the driver retainer. Easy to crack.
--END--
Fair enough light, I'm happy with it. I'd be happier if  some improvements are done.
Night pictures and more experience will be coming. 
Please post freely if you have any question or suggestion.