9-30-2015
I know the official deadline has passed and the Zombie Slayinator was built before the deadline, but I wanted to post my grand finale. It was filmed before the deadline, but due to family time I was unable to edit and upload it before the deadline. Unfortunately, I could not get the steel wool trick to catch on fire after multiple attempts. This was deeply upsetting as I accomplished it earlier today on the first try. Oh well, we had a blast filming it. Enjoy.

9-30-2015
Well, it's finished. This has truly been a learning experience and a series of firsts for me. Keep in mind, I've only been a member here for about 11 months and have been building/modifying flashlights for only about 6-8 months. With my build I set out to go above and beyond while adding some fun to it, resulting in the Zombie Slayinator. It is technically 6 individual lights in one build. The main light is a CXB3590 behind a 200mm aspherical lens and a hand made recycling lens. It is mounted to a copper disc acting as a heatsink as well. Passive cooling was not going to be enough for the huge LED, so a Zalman computer fan mounted on a large finned copper heatsink was used. The fan is powered by 4x protected EVVA 18650's. The head is made from 8" PVC pipe with a removable pill that holds the copper heatsink. The LED is powered by 2× 18V Ryobi batteries. Ryobi battery connections attach to the batteries, and they are wired in series for 36V. They are attached to a boost driver from EBay. From the driver, the wires are attached to a volt/amp meter also purchased from eBay. I'm All of that is enclosed in a copper pipe cage covered in 1/4 plywood. There are access doors for the main batteries and the fan batteries. An old Chinese Mosin Nagant rifle stock was cut down and fit to the cage and head. Behind the rifle stock is a piece of wood with foam padding that sits on top of the shoulder. A DPST power switch is attached to the trigger area of the stock. It turns on the power to the fan on one pole and goes to a momentary switch that powers the CXB3590 on the other pole.
4 lights were made out of 3/4" copper pipe and adapters. Each of the 4 lights is powered by a 1.4A driver connected to a slave board of 7135's. A triple noctigon under a SS Ledil lens wounds the Each light is running 3 XP-E2 red LED's. I also built a single green XP-E2 LED using a Ledil lens. It is running off a 1.4A driver. The copper lights were then sanded, polished, and cerakoted clear so they should not tarnish on the outside. All 4 red lights and the green light are hooked to switches, but can easily be converted with regular switched I already have made. The Reds are connected to a 4pst switch and the Green to a SPST. I also attached a rail to the very front of the stock for mounting a bayonet. Some of the Swedes on the forum should recognize the bayonet.
As for firsts for me, it was my first time to build a light from scratch, use a COB LED, make a recycling lens, solder slave 7135 boards, make switch boards, solder this much copper pipe, use a boost driver, and there is so much more. 90% of this build was a first for me!
Thank y'all for the compliments throughout the build. I had my doubts about how this would turn out. I can't even begin to count the money I spent, amount of sleep I lost, and the number of hours invested into this project. I know I have at least 10-12 hours in EACH copper light. I had to cut corners on some items to keep the expense from getting out of hand. Since I cerakote, I would have loved to have been able to cerakote the entire project, but the cerakote alone would have added another $100 in cost. As you can probably tell, I have ADD. I kept getting my interest diverted and just kept adding more and more stuff. This thing is obscene. Overall I think I accomplished what I set out to do, something fun and unique. I didn't just use a LED, I used a CXB3590 which hardly anybody has used in a flashlight. I didn't just hand mak a copper flashlight, I made 5 of them. I didn't just use an aspherical lens, I used a 200mm lens. I didn't just make a light bazooka, I made a Zombie Slayinator!!!
Huge thanks to my flashlight drug dealer Richard (RMM) at Mountain Electronics for supporting my flashlight addiction. Thanks to Newark, Cutter Electronics, and Mouser for supplying me a lot of parts. I especially want to thank Henry (KKW) for letting me bounce ideas and problems off him. Big thanks to Dale and to everybody else that has helped me and supported me when I hit roadblocks in this build. The biggest thanks of all goes to BLF. It is truly a family here, and I wouldn't be building or modifying anything if it weren't for the forums here.
On to the pictures.

Now for some testing. At 30 feet, it's throwing 402kcd!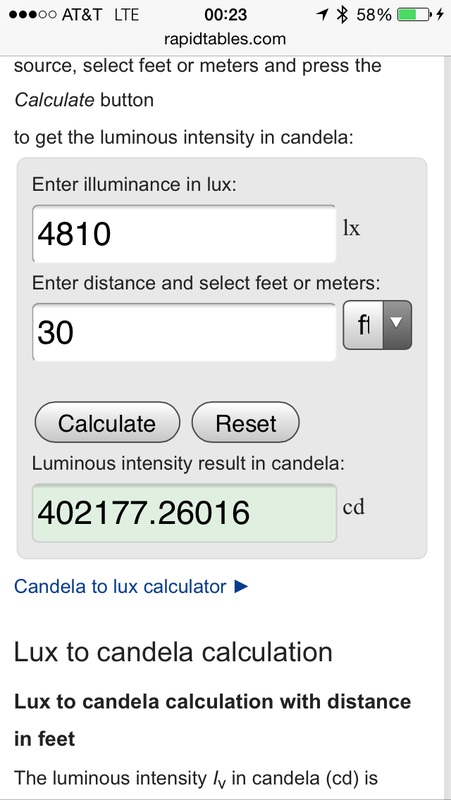 Repeat beamshots I took. The first is a control shot. The tree is 240 meters away.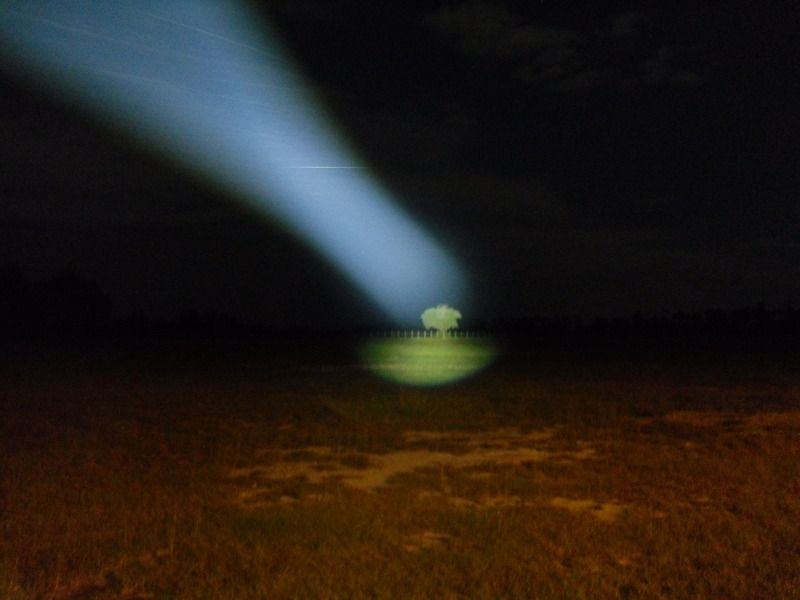 9-29-2015
I posted a craigslist ad for zombies and I had these 3 victims, I mean subjects, apply to test the effectiveness of the Zombie Slayinator. I call them Larry, Moe, and Curly. By the way, zombies have really bad breath. They also have bad attitudes, like they have a stick up their butt. Tomorrow night, the slaying begins!!!
9-28-2015
Here a little video done in house

Green beamshot outside

Red beamshots outside

White beamshots outside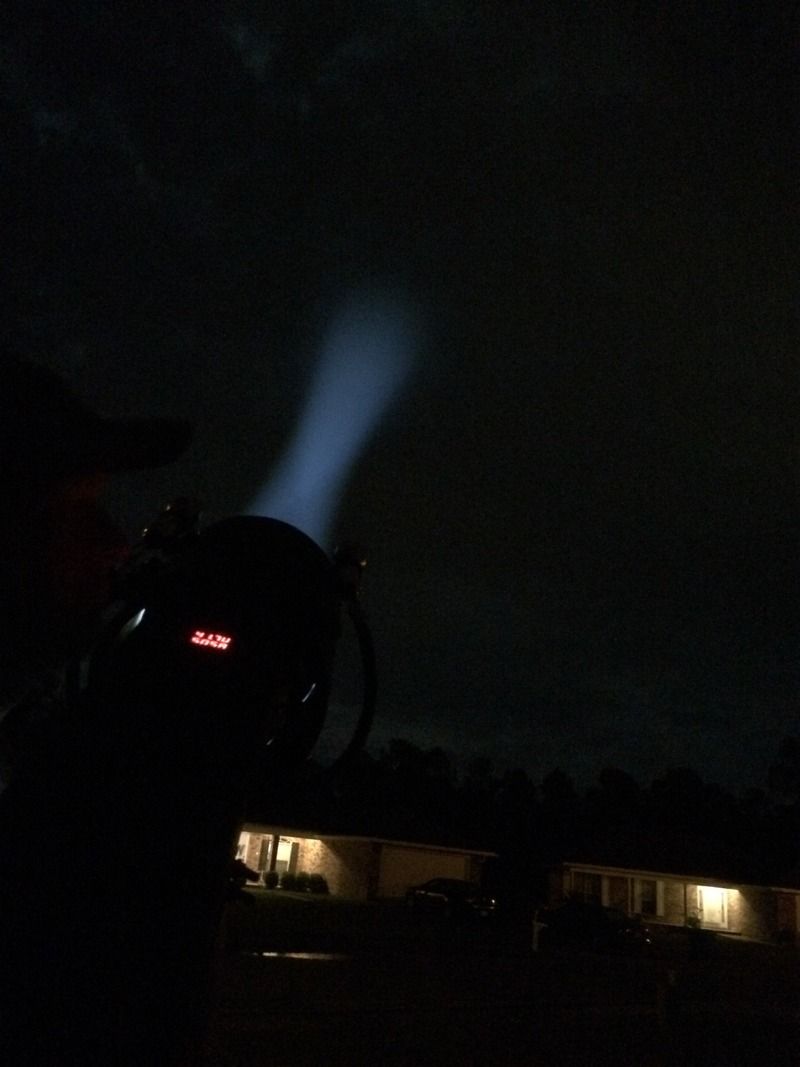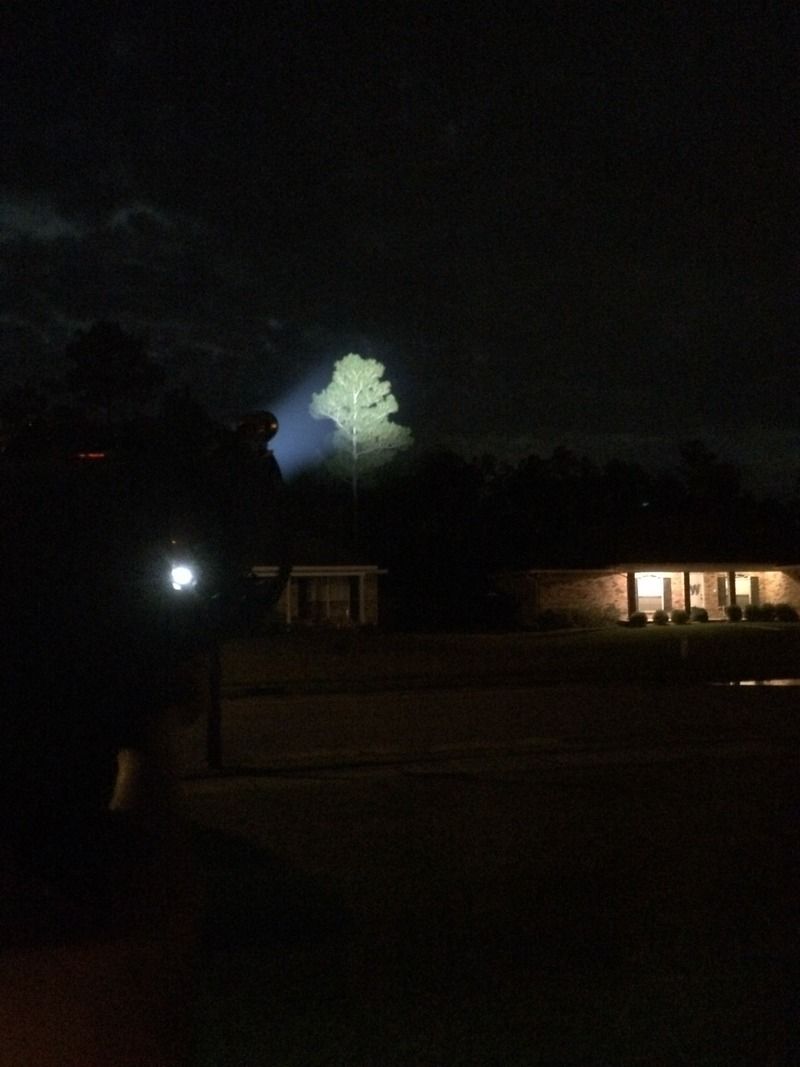 9-27-2015
All the lights are working. I will wire them to the switches tomorrow.
Scope ring mounts screwed into PVC

I thought I had an extra 1" scope ring but I couldn't find it. Oh well, 30mm ring and some painter's tape will suffice.

Working on the drivers

Potted driver

9-23-2015
I'm behind schedule due to being ill. Damn flu shot drained me. Anyway, apparently I can polish turds. I sanded these on the drill press up to 1200 grit sandpaper.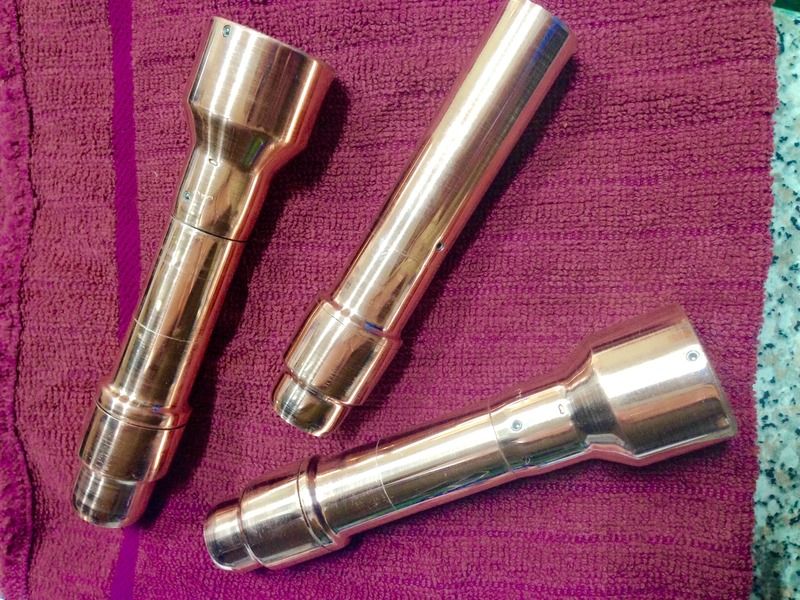 Then I polished them on the grinder with a buffing pads. I used stitched for black and brown polishing wax then used an unstitched for the white polish. Turned out pretty good. Now I'm about to break them down to Cerakote gloss clear so they won't tarnish.

9-20-2015
Making progress. I took a 3/8" threaded rod, some flat washers and fender washers, and some rubber stoppers to make a jig for the drill press. I also bought some emery cloth in coarse, medium, and fine. I'm running it through the emery cloth stages then on to 500, 1200, and 2000 grit. Then I will polish them and coat them. This method is showing promise so far. The pictures below went through the emery cloth grits and I started (haven't finished yet) with 500 grit. Unfortunately, there are some nicks that are to deep to feasibly remove.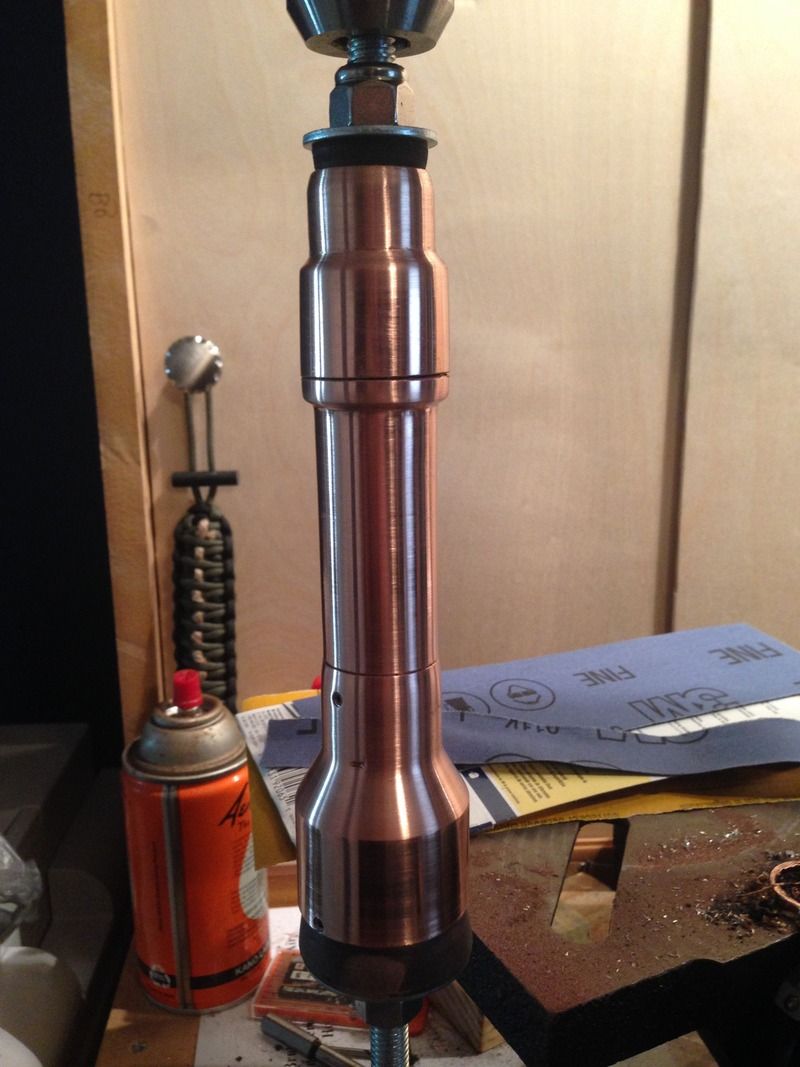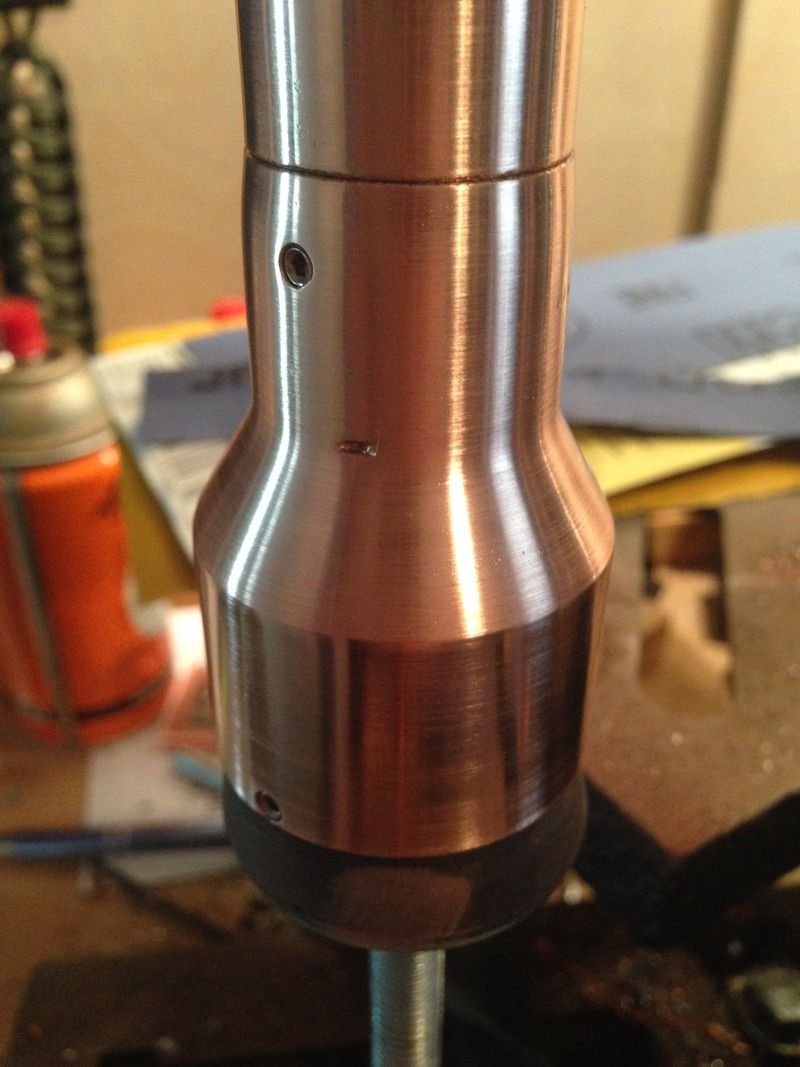 9-16-3015
I've finished making all the red triples. They just need to be polished and coated. Hoping that won't take longer than a day once I find out the best way to get rid of the scratches. Any suggestions? The pink light is from using my blast cabinet.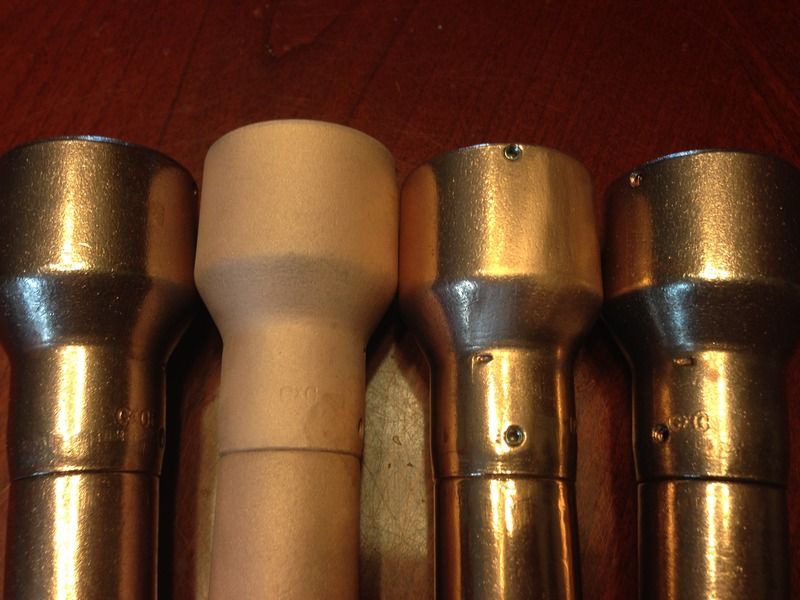 9-10-2015
See post here for the update. I measured 376kcd this morning.
9-7-2015
I've been working on a light recycler/reflector because I'm not calling it by the common name for legal reasons. I haven't polished it or tried it yet. I did some redneck measurements and math to figure out how wide to make the hole. It's close, not perfect by any means. Do you all think that there would be a problem using the big black reflector on the outside of the recycler? There is a gap between the pill and the head that I need to cover. It can be seen in the second picture. I already have this black reflector, so I tried it over the recycler and it looks like it'll work but I'm not sure how it will affect the beam since I'm using a recycler.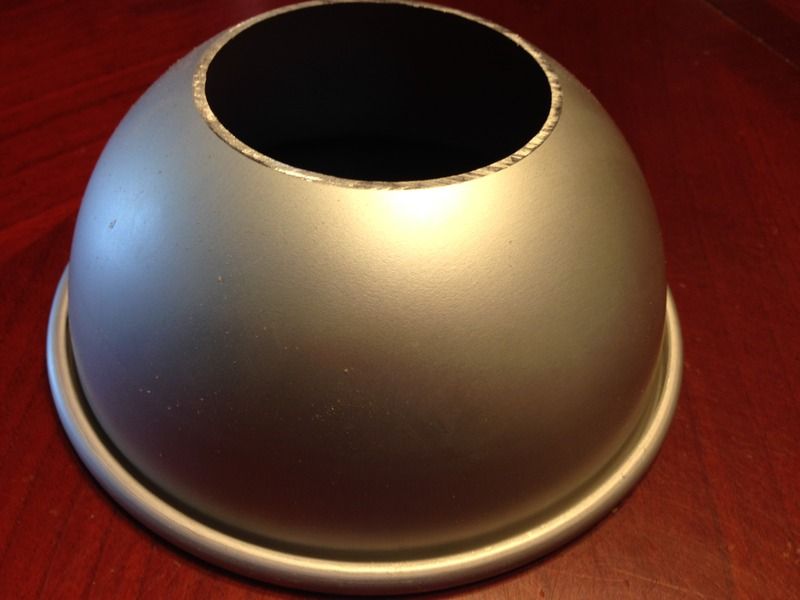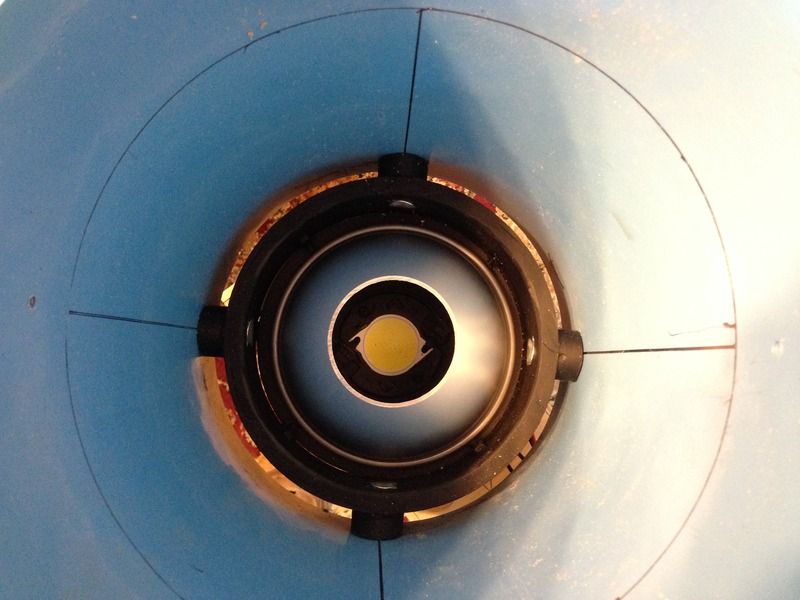 9-5-2015
No pictures this time. The light is wired up and working. When I flip the yellow switch the fan automatically turns on. When I press the momentary switch the CXB3590 lights up. The voltage/amp meter is installed. I put a screw down in for the door to the battery compartment. I'll post up pics once I have finished the cosmetic stuff like painting everything black, putting looming on the wires, and some other touch up stuff. After that I will start working on the reflector or beam reflecting apparatus. I think I will take one of the hemispheres and put it in my stainless steel rotary tumbler to do the initial polish then follow it with a polishing wheel. By mid week I hope to have the big light totally completed and I can focus my remaining time on the triples.
9-4-2015
I for the most part finished the frame slin this morning. There is a hinged door on it to allow access to the inside for the driver and 2× 18v batteries. I decided to just make a junction box to cover the wire connections. I installed the switches for the red and green lights. Tomorrow, I will wire it.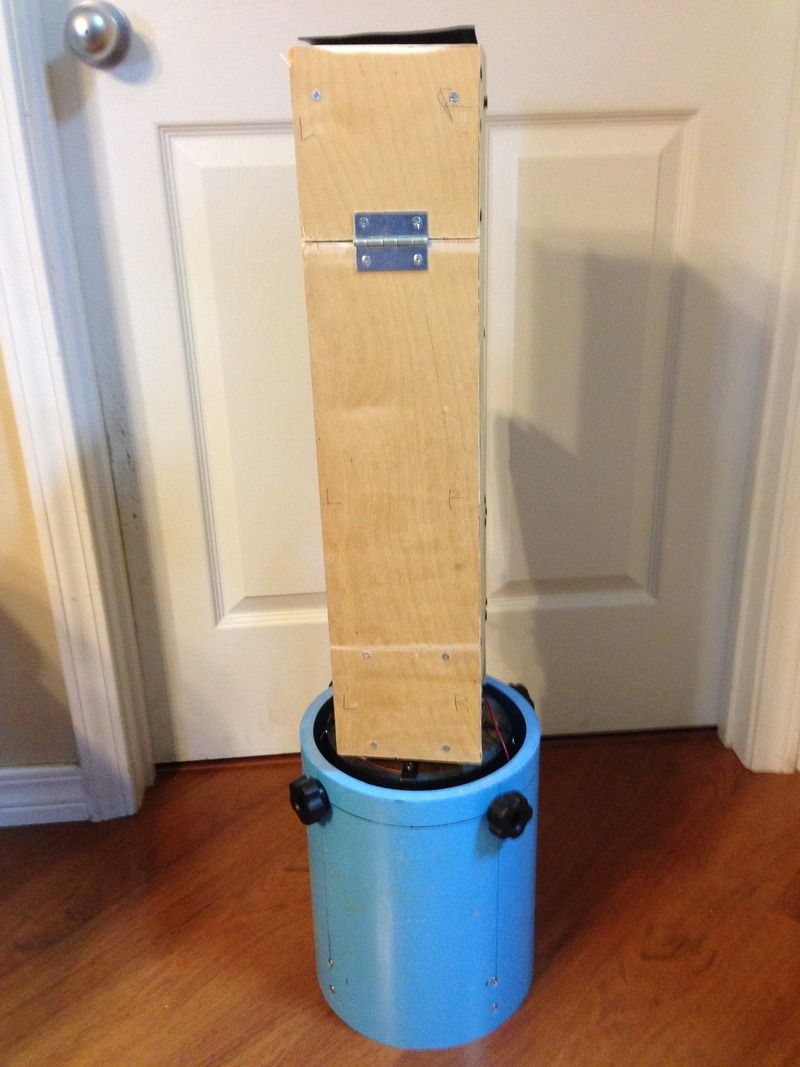 9-3-2015
Well, I didn't get as much accomplished as I wanted, but I got some accomplished. I originally wanted to use kydex to skin the frame, but I didn't like the way it turned out so I used thin plywood. The Velcro ties were used to hold the ryobi batteries in place. Also, on the end of the frame I mounted the tray for 4× 18650 batteries in series to power the fan.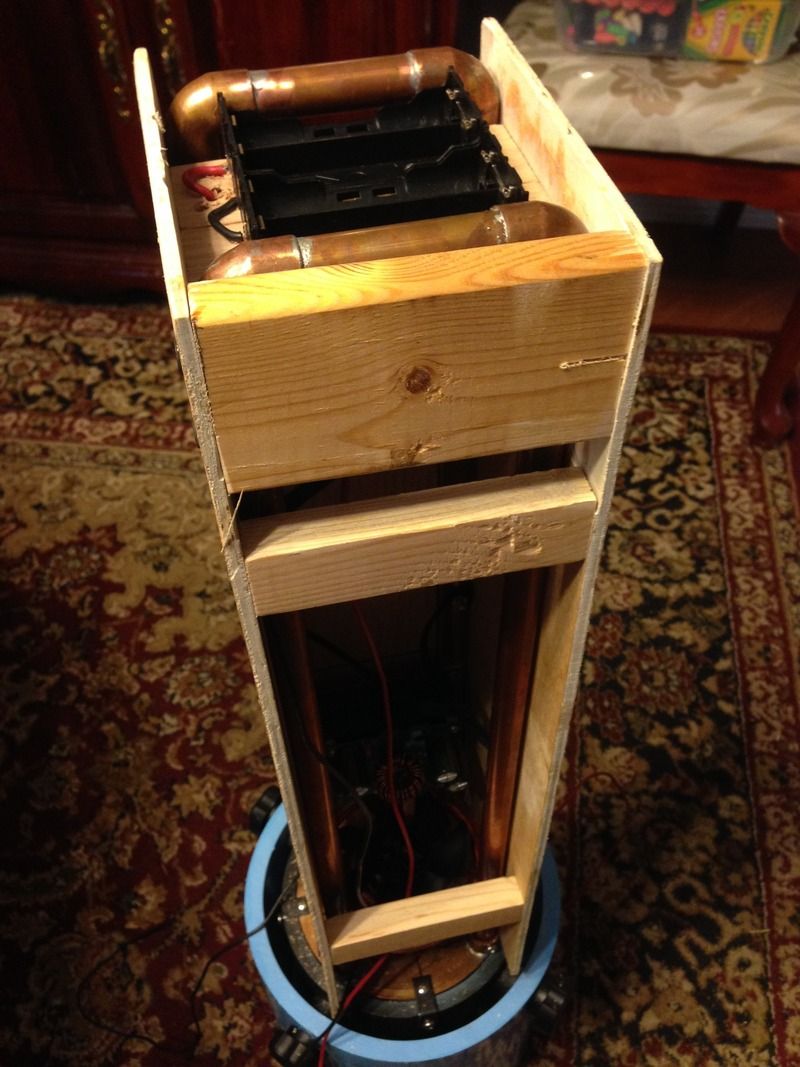 I took the ratty Chinese Mosin stock and cut it to fit. I took a piece of all-thread and ran it through the bottom of the frame through the stock and bolted it up. I also drill and tapped a hole in the PVC and used the front hole in the magazine well for the action screw to tighten the front of the stock to the PVC. I then painted the stock black.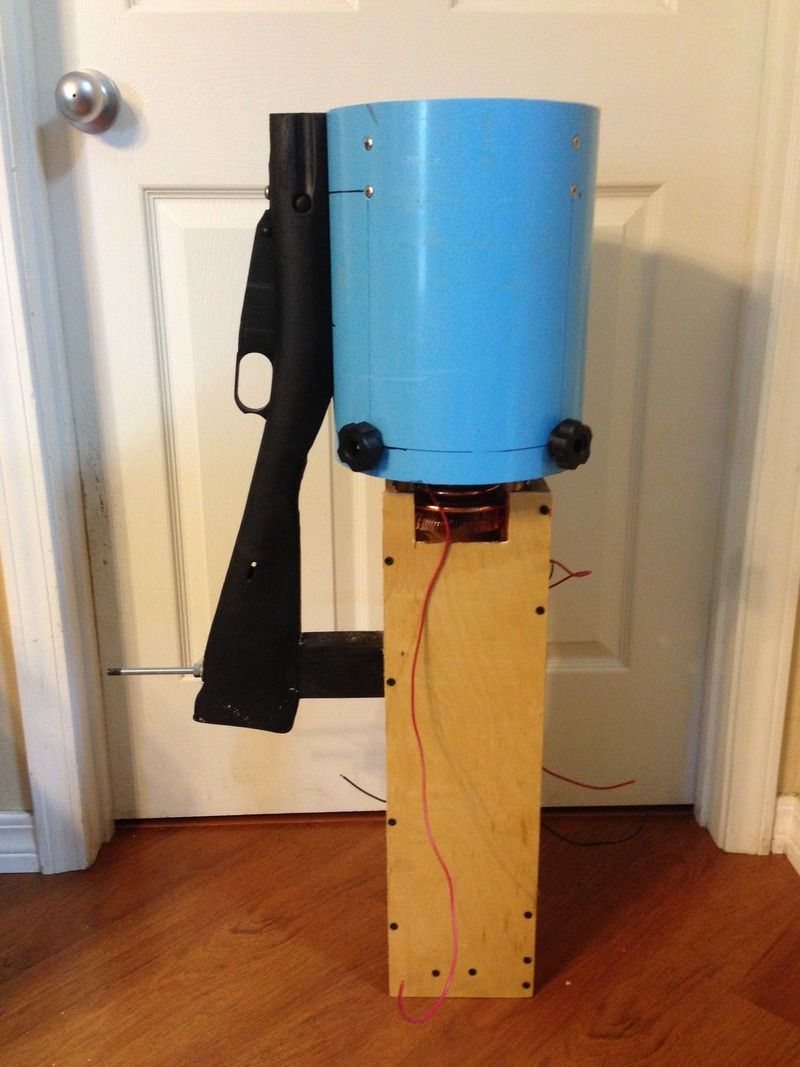 I had to cut the top out of the magazine well so that the switch would go through it. Lots and lots of time to inlet the area so the switch would drop in the trigger area. I also inletted a hole for the momentary switch. Once wired up, the "trigger" will turn on the fan and the power to the big light. The momentary switch will turn the big light on. The momentary switch is attached to a piece of kydex and held in by the rear action screw.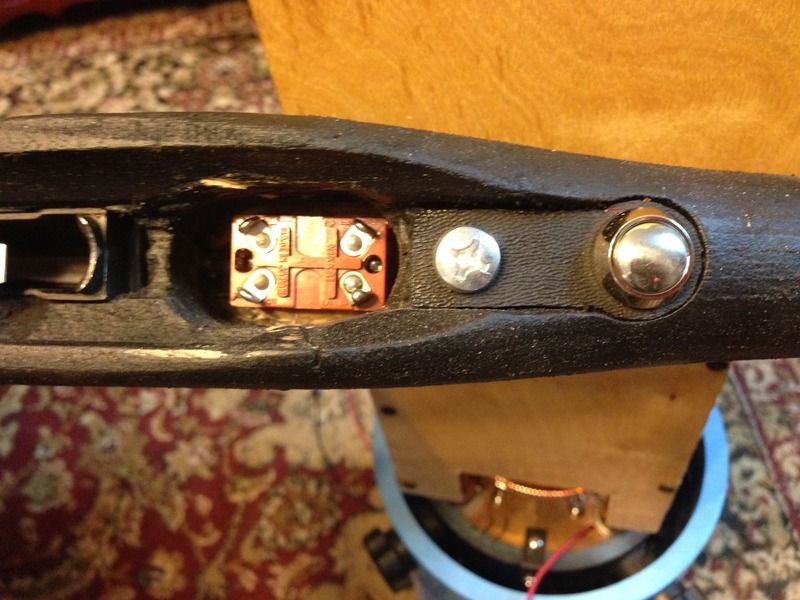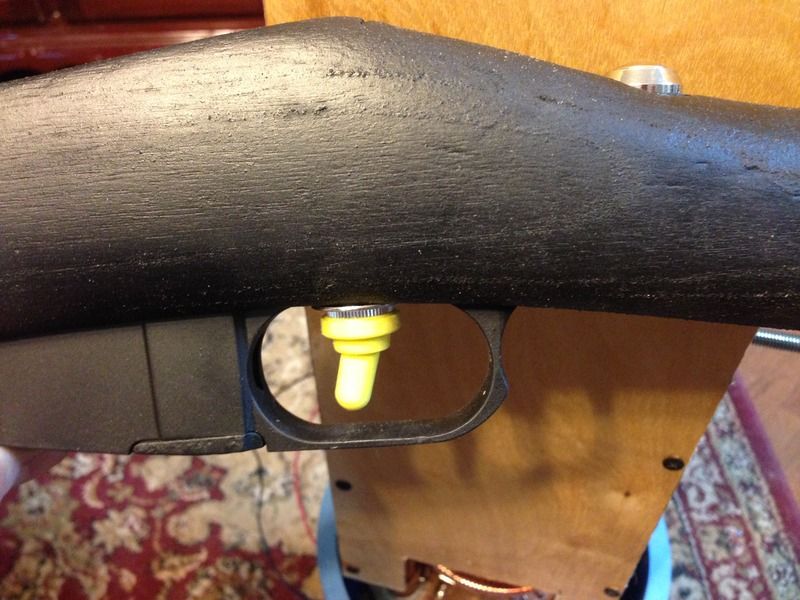 8-31-2015
It's been a busy week and I have not accomplished anything until today. I finished one of the triple red copper lights except for the final polishing and finish. I think it turned out ok. Not perfect but not bad either.
Getting the body measured out to solder.

PCB soldered to the copper pill. The body coupling has been soldered and the parts have been turned on the belt sander. The head had been drilled and tapped to attach to the body.

Final product. A retaining ring was cut and drilled and tapped to stay in place.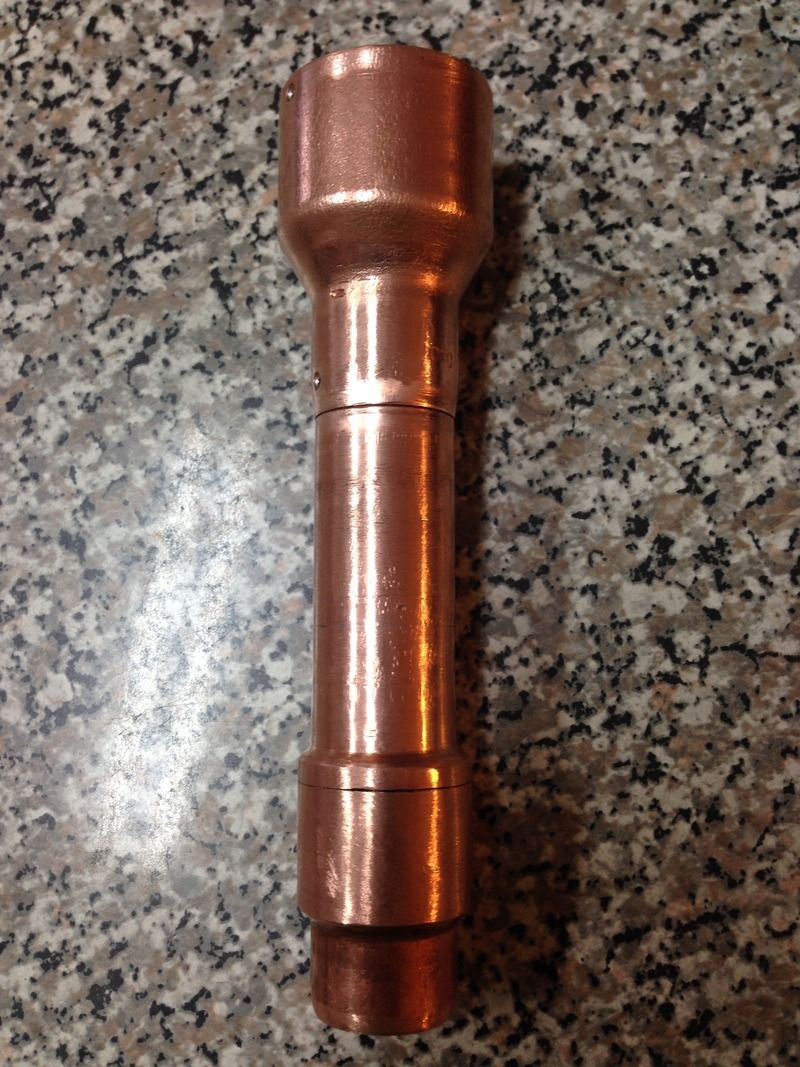 8-24-2015
Today I started on the 4 triple red LED lights. I'm not doing step by step for a lot of it because it's the same as the single LED light I just made.
Some lovely lady parts

About halfway done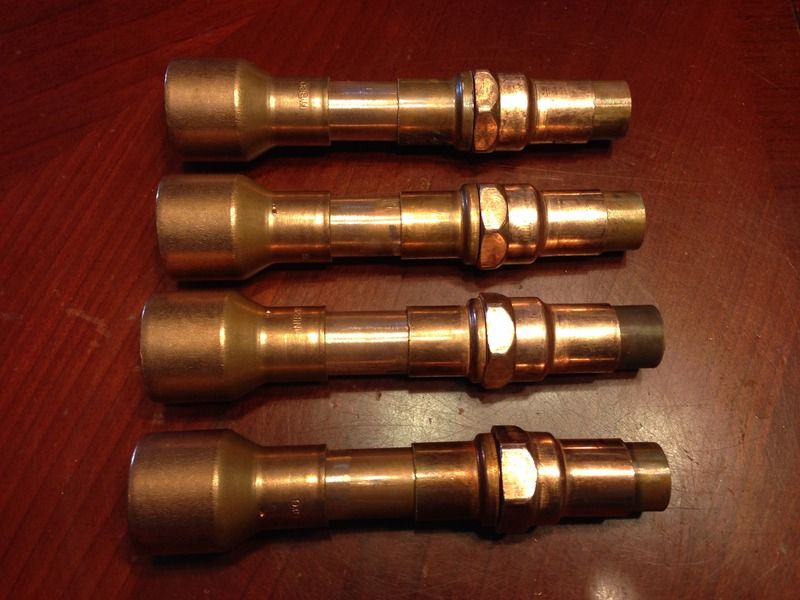 8-22-2015
One of the lights is completed, except for final finishing, polishing, and Cerakoting. It weighs in at 9oz. For this single light, I was having a problem figuring out how I wanted to do the driver and PCB. Finally it hit me, I have a brass pill for I think a Convoy light laying around. I had ordered it by mistake in the past. After checking, it should work with a little modification.

A lot has taken place in this picture. I ground the lip off that surrounds the PCB on the pill, and ground the threads a little to fit. I also didn't like how my tailcap transitioned to the rest of the light, so I took another 3/4" female adapter and cut the threaded part off. I then ground it down on the belt sanded and bench grinder to fit against the tailcap. I cut a piece of 3/4" repair pipe (same ID as a coupling) to slip over the 3/4" battery tube and pill. I also cut small piece of 3/4" pipe to be a retaining ring for the lens that will fit inside of the repair pipe.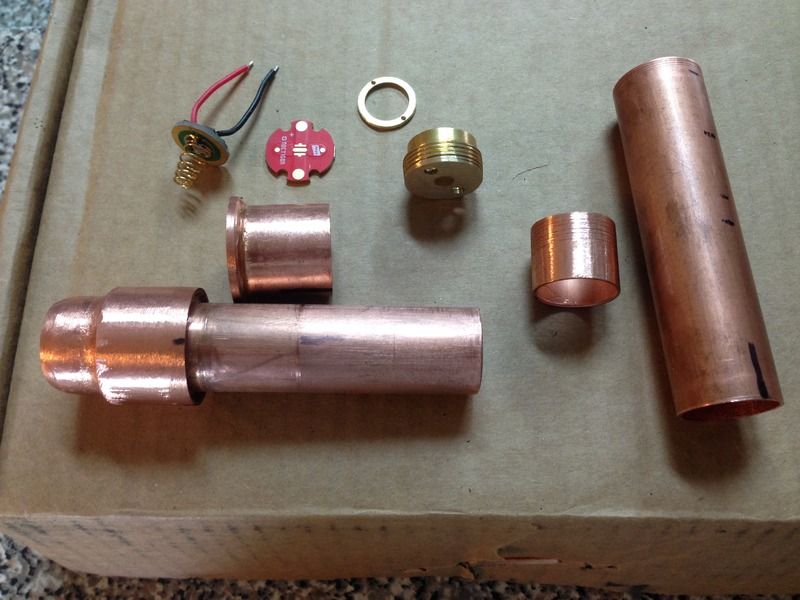 The transition piece is soldered into place against the screwed on tailcap. Also, the picture shows the brass pill in place.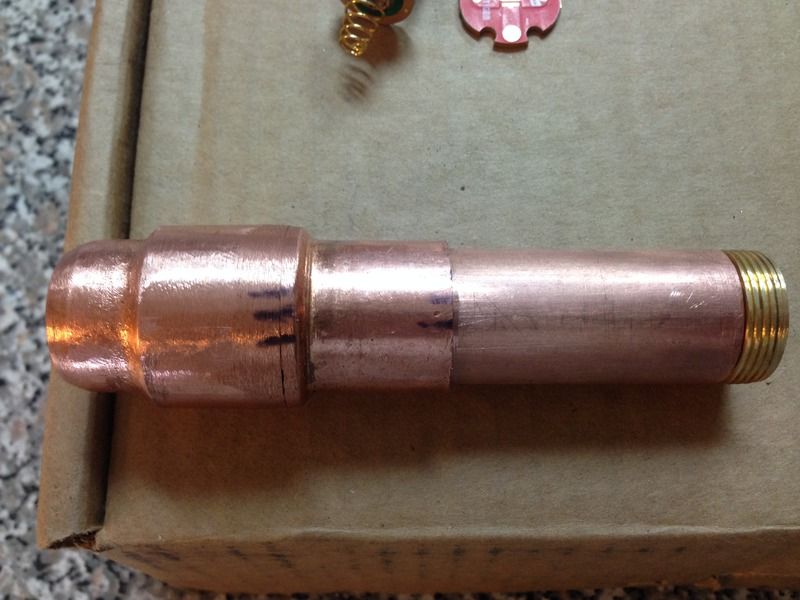 LED is flowed into the Noctigon, driver installed, and LED wired up with some arctic silver between the PCB and the pill. The pill has notches ground into two places to help solder it to the copper battery tube.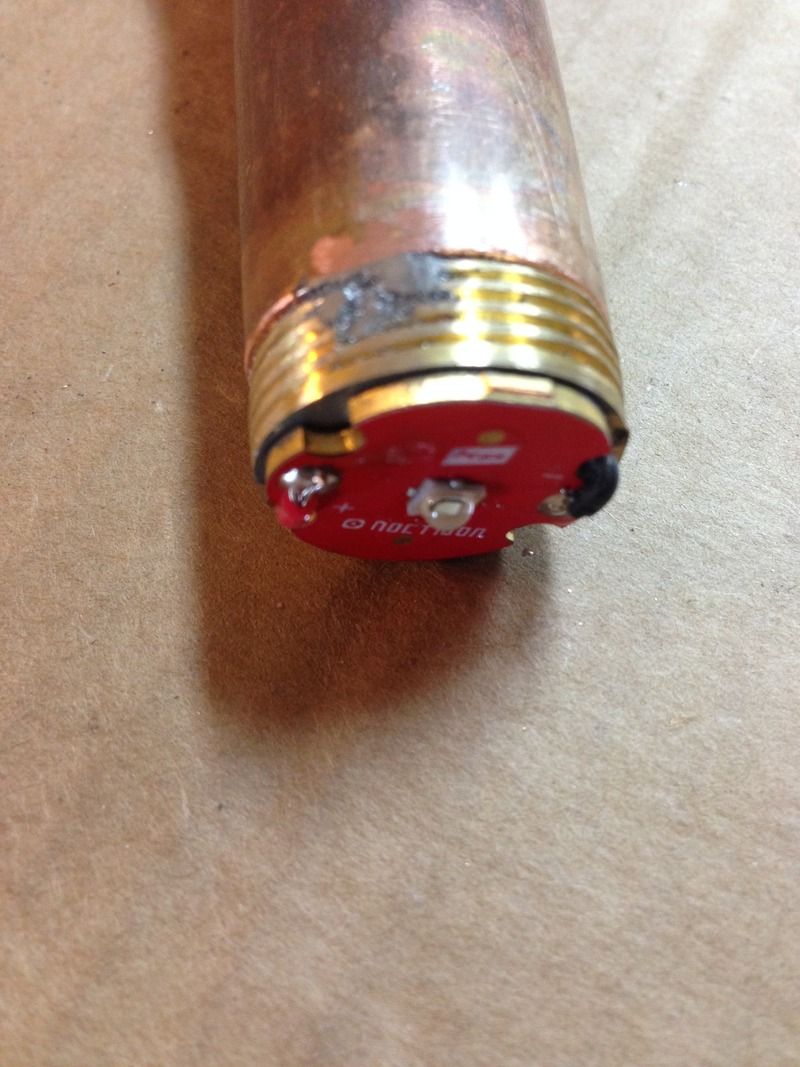 This picture shows the Ledil in place over the PCB and LED. There are holes tapped in this picture. What is not shown is the piece of repair pipe. I slipped it over the lens and pill onto the 3/4" battery tube. I then drilled and tapped it for set screws to hold it in place. Once secured, I put an O-ring over the lens and pushed in the small piece of 3/4" pipe I cut to be a retaining ring. Once I was satisfied it snugged up the O-ring against the lens, I marked it off. I took it out and soldered it to the inside of the repair pipe. I then measured and cut it down some angling the bezel edge a little.

Here you can see the lens retaining ring and O-ring

Looking staring down at the lens

Looking straight down at the tailcap. The switch is temporarily soldered in place. I put an O-ring around the rubber button boot to make sure it stays centered.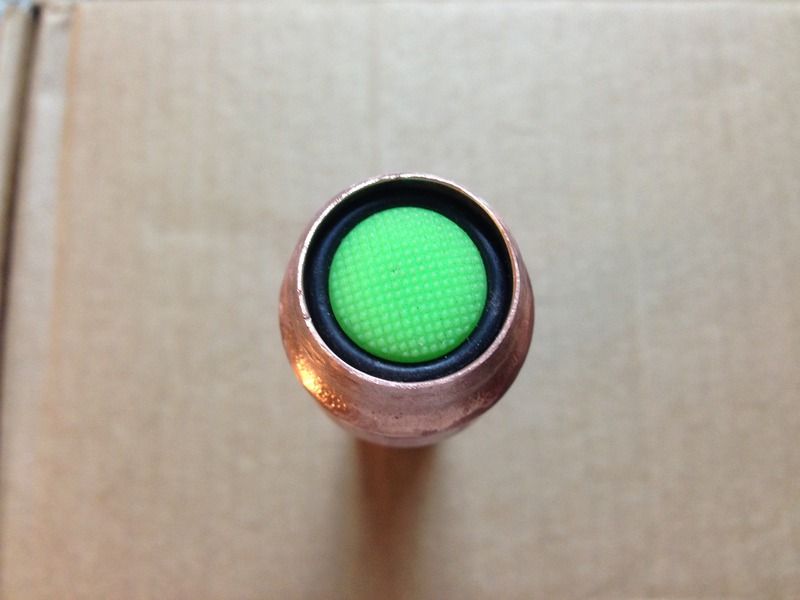 Side view of the completely light. The set screws are a little proud and will have to be ground down some.

Another side view. Lots of final finishing and polishing to do. This light looks funny but is actually quite comfortable to hold.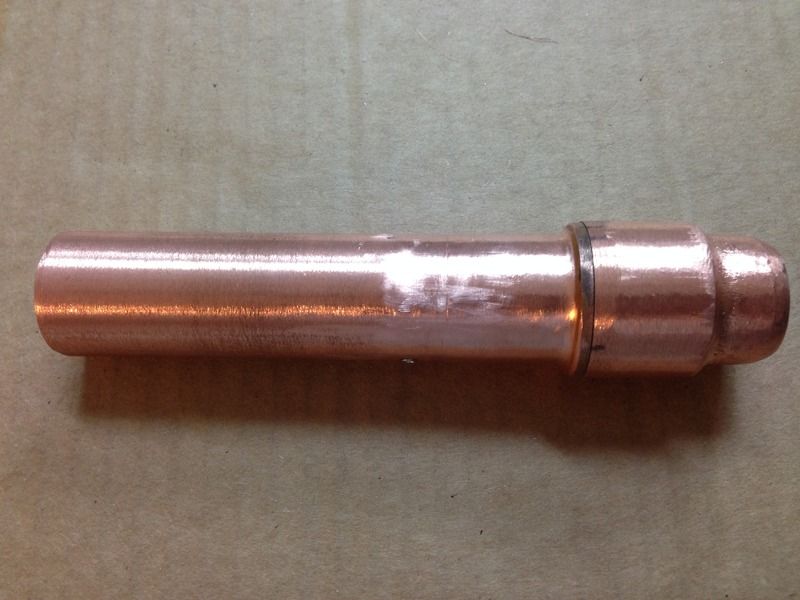 I normally wouldn't have installed everything, but I was too excited not to. This is my first hand made copper flashlight, and it works!!! I will now have to remove the pill and switch, finish grinding to make the light satisfy my OCD, Polish the light, then Cerakote it in gloss clear. Then it can finally be put back together. Here is a little beam shot to shot that it works. Green XP-E2 at 1.4A on a RMM 7135 driver with guppydrv software.

8-21-2015
The making of the switch, this is hard work LOL. I used a copper washer and a partition board. I fabricated a piece of Kydex as an isolator between the partition board and the switch.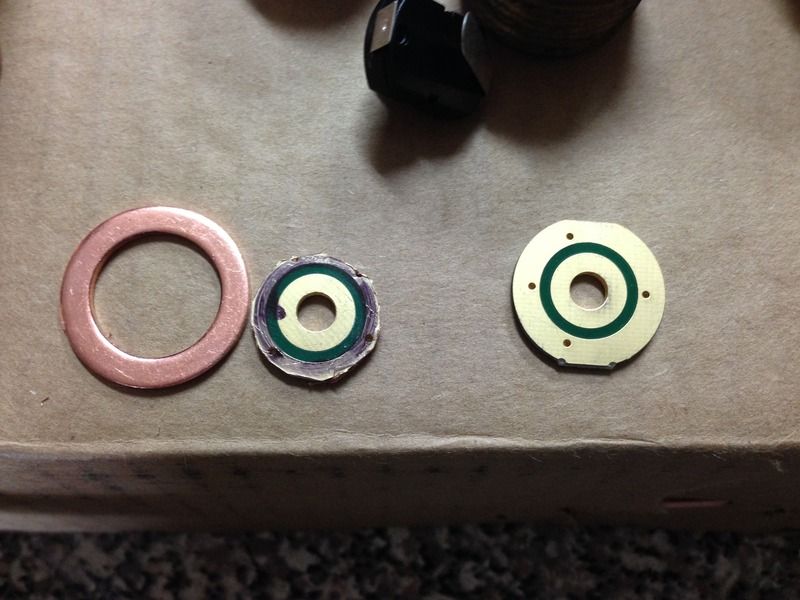 The switch goes into a female adapter. I soldered a piece of pipe and washer together to make a retaining ring.

A picture of the switch and and the tailcap.

I soldered a Marcel Adapter to a piece of 3/4" pipe. The Marvel adapter is basically just brass threads that slip over the pipe. I also used a belt sander and a bench grinder to modify the looks of the tailcap.

8-20-2015
OMG, what was I thinking??? Oh, now I remember I must have been in a drunken state of mind. No, of course a 200mm asperic lens light with a 35mm LED wasn't enough. One light is never enough. So my genius self decided that in addition to a ginormous 200mm lens custom light that is WAY over budget and time consuming, I will also spend an additional $200 and hand make 5 additional lights out of copper plumbing parts. 4 triple red XP-E2's and 1 single green XP-E2. Yeah, I'm an idiot and about $600 poorer after this entire project.
I think all the parts I need are finally here. Huge thanks to Richard at Mountain Electric for a lot of the flashlight supplies. I also got supplies from Mouser, Element14, eBay, and of course the plumbing store. A lot of work still left to be done. Below show my plans for the future, you should be able to see where this is going. Included in the picture is a lot of copper, 3/4" copper pipe and copper repair pipe, Ledil Cute lens, a Ledil single LED lens, XP-E2 colored LED's (red and green), Noctigon 32mm PCB's, 1/4" thick copper heatsinks for the triple lights, copper 17mm-22mm rings, 7135 drivers with guppydrv software, omten switches, partition boards, and zombie green switch boots. Also pictured is aluminum hemispherical devices to become a possible collector, 12g of arctic silver, a 4pst switch, and 2x spst switches. The really fun part is I have to stack 7135's on the single sided drivers to get to 6-7A.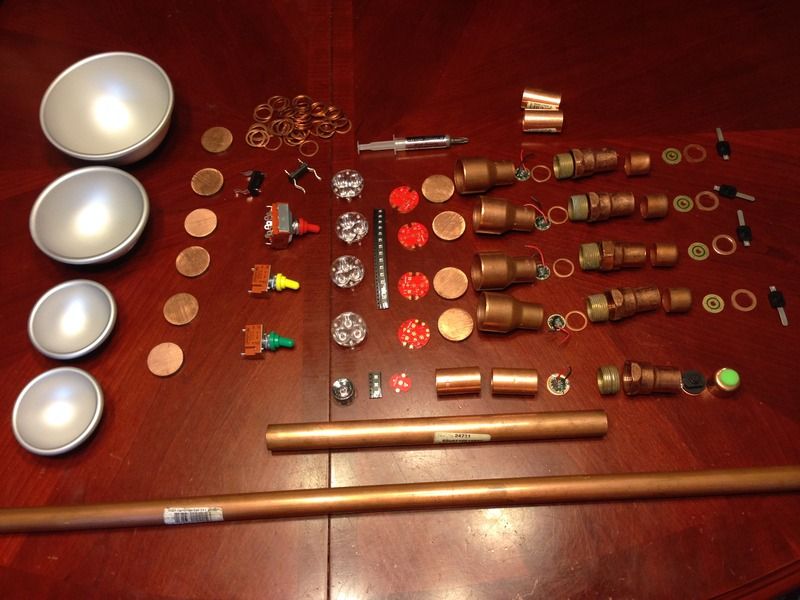 8-13-2015
Well this is basically for yesterday and this morning considering its 3:45am here. Had a long day. Shorted and burned up a Ryobi battery
oh well, it happens when you are an evil scientist. So let's get started
I sprayed the head flat black. After the fact I realize this was premature and should have been a last step sort of thing, but live and learn.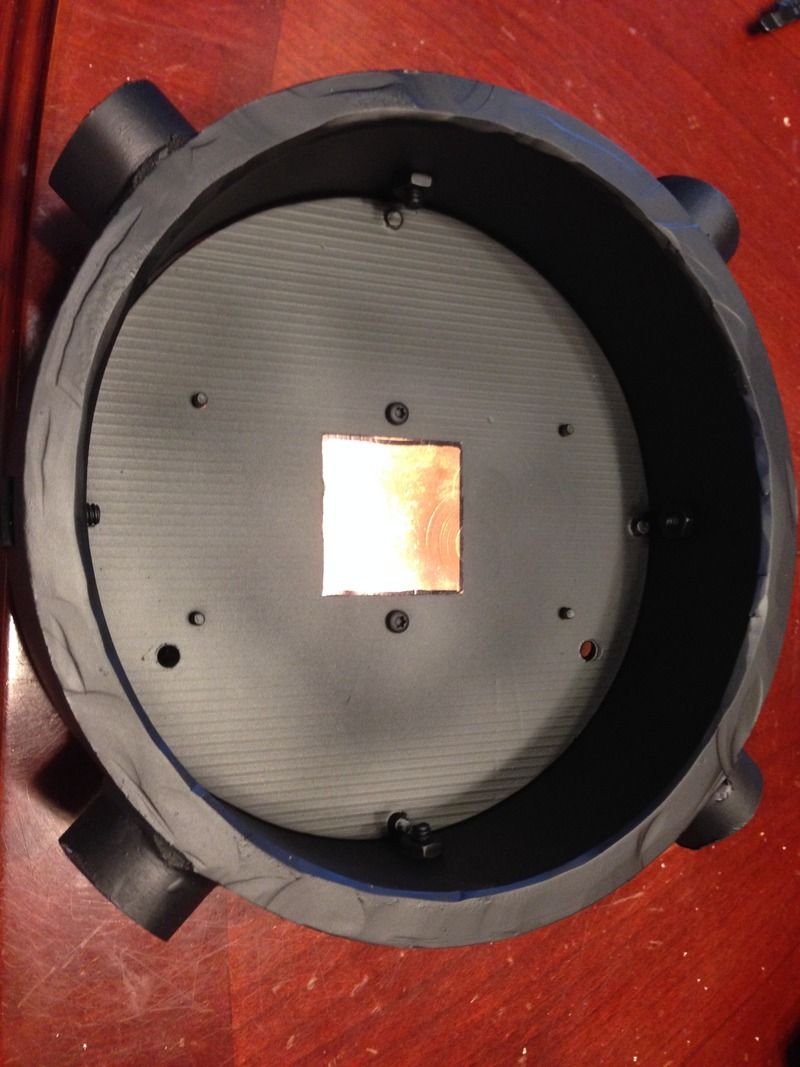 Here it is with the LED installed with a healthy dose of artic silver

So, a lot happened up to the point of the pictures below, it's just hard to tell. I spent the better part of 2 hours focusing the light. For the record, I did not play with current. It's at 38V and 3.8A right now. It'll hopefully be more later. Back to what I did. Once focused, I measured everything out, 3 times to make sure. I then transferred those measurements and made a ring on the outside of the tube. With the head in place, I drilled from the outside of the tube, centering the PVC coupling spacers on the head. I then notched out the inside of the head for curved head bolts. Those went through the holes and the head was tightened down using knobs. This thing is 100% able to be broken down into parts for repair, upgrades, or additions at a later time….and of course now while I'm building it. I also bolted a 1/2" piece of oak board to the bottom of the copper frame. It'll be used later. In the picture, you can see my momentary switch to the top right. It's rated for 36V at 2A but it's doing ok so far. The batteries are crudely wired in series with the wires held in place with clamps. Note to everybody, do not short the batteries. It is an expensive mistake as I now have one battery that doesn't work and I had to cut wire where it fused together. Impressive how much power I'm playing with for this light.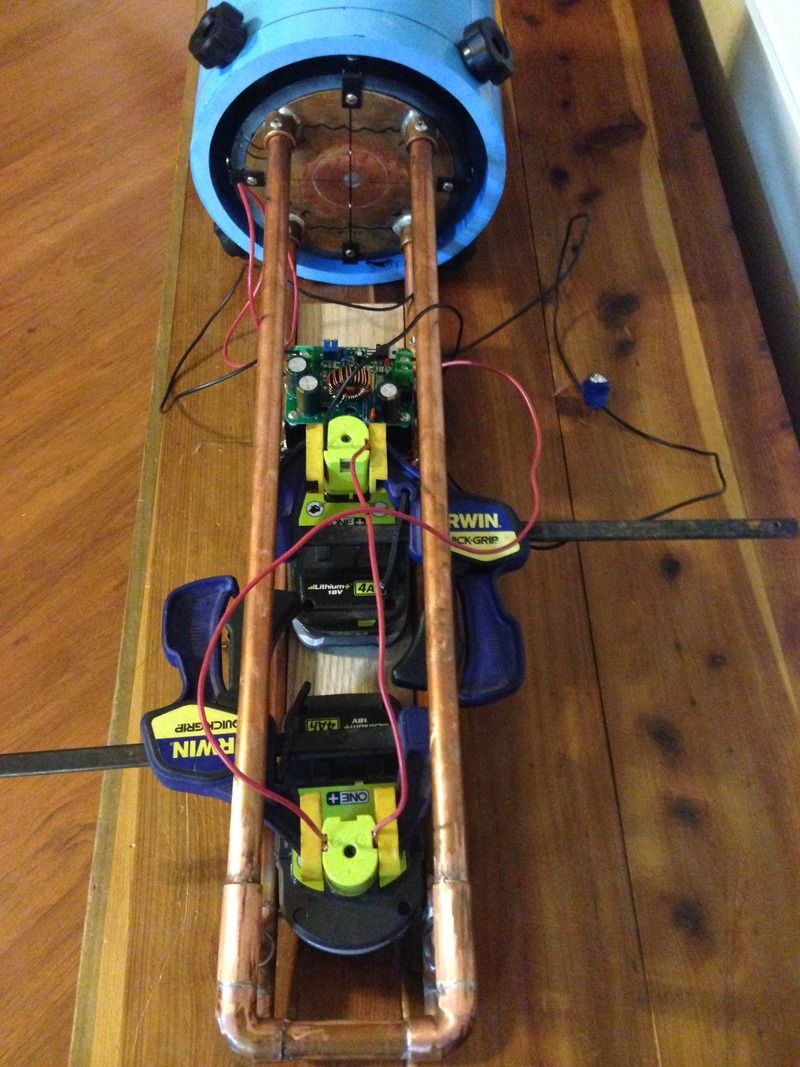 Another view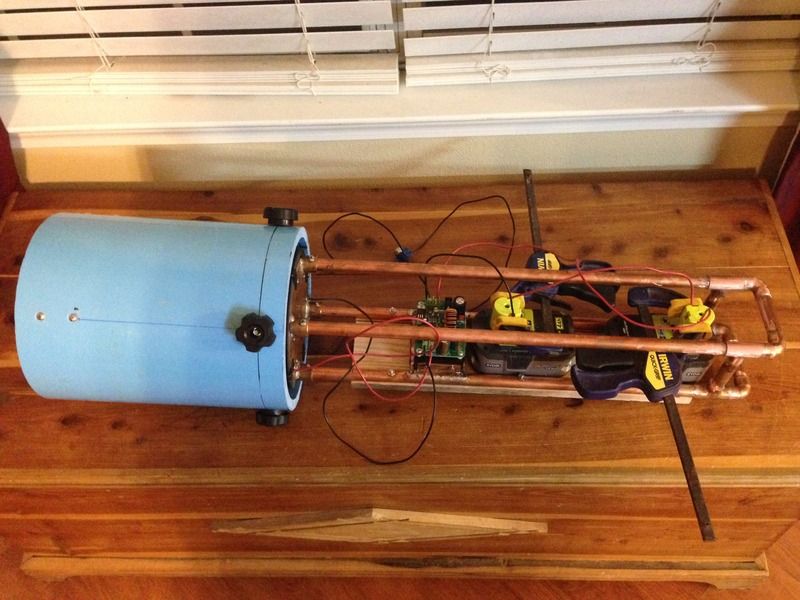 It's alive (followed by my most evil laugh). Sorry for the crappy beam shots. It was hard holding this heavy thing and the momentary switch and my phone to take pictures. BTW, I'm estimating this at about 30 pounds now. It'll be another 10 pounds heavier when I'm done. BTW, there is some spill that won't be there when completed. I did not install the reflector so there is light escaping back toward me between the head and the tube. Also the inside of the tube isn't painted black yet.

8-11-2015
Lots to do today. I'll post up pics as I accomplish stages
Centering the LED on the copper disc

Drilling holes for the LED retaining bracket

The copper disc had a recess on the fan side. I decided to cut a copper piece and solder it in place. There is a raised area in the middle of the recess so I'll have to make a hole in the copper plug to allow for this.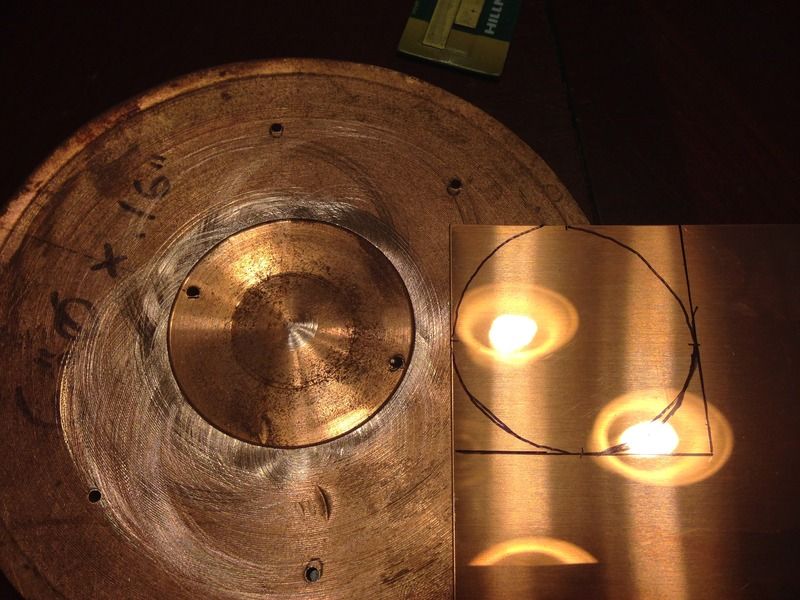 Rough cut out. Now to grind it to shape

Here is the copper plug in place before soldering it

Plug is in place and solder sanded down. It's not perfect but close enough for government work. Now to tap the holes for 3.5mm screws.

LED in place

Fan in place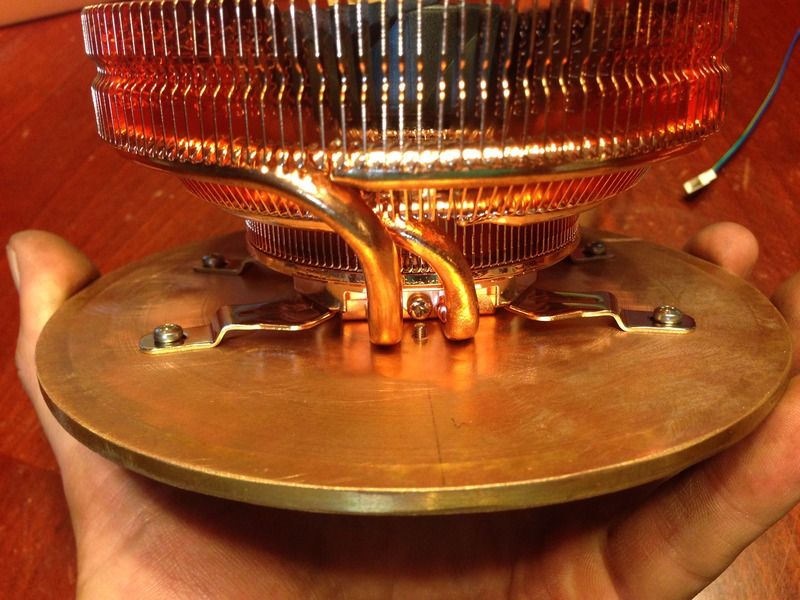 Marking spots for my frame support. They have to overlap the side of the copper disc in order to allow room for the heatsink.

Cutting some 1/2" copper pipe for my frame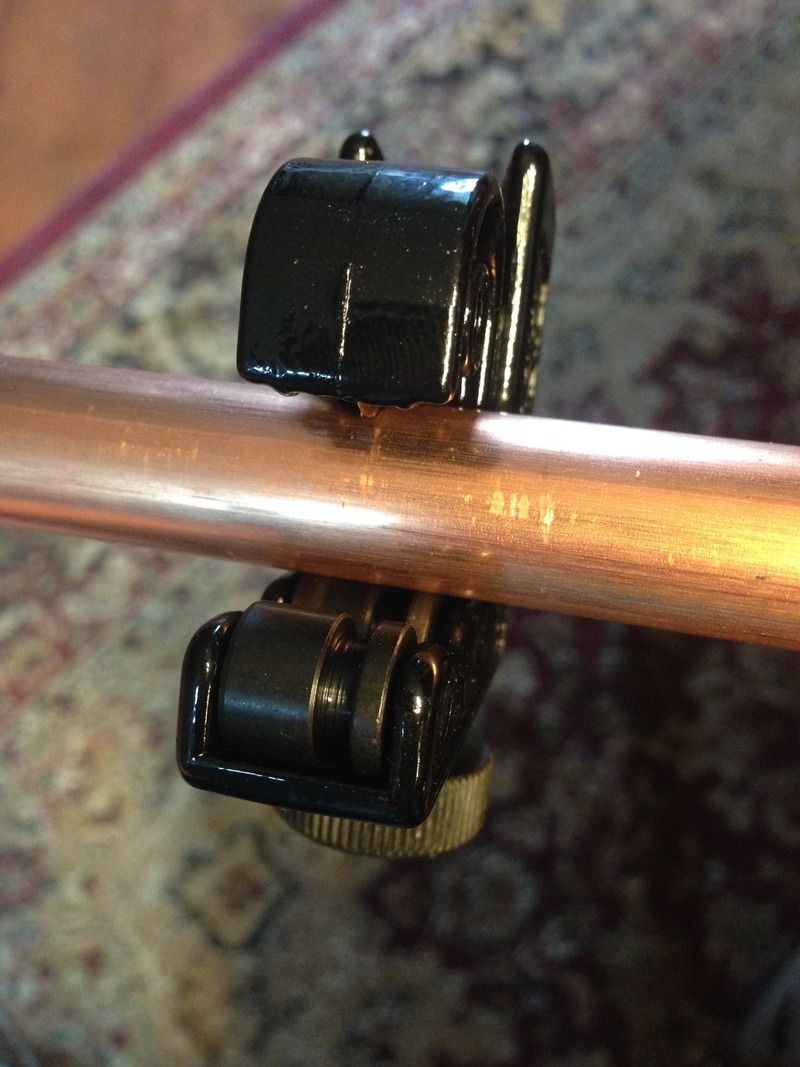 Supports for frame are soldered into place. It isn't pretty but it's functional. To be able to remove the frame if needed, I drilled and tapped holes through the fittings and pipe.

Here is a mockup of the frame. I still need to solder the parts at the end away from the copper disc.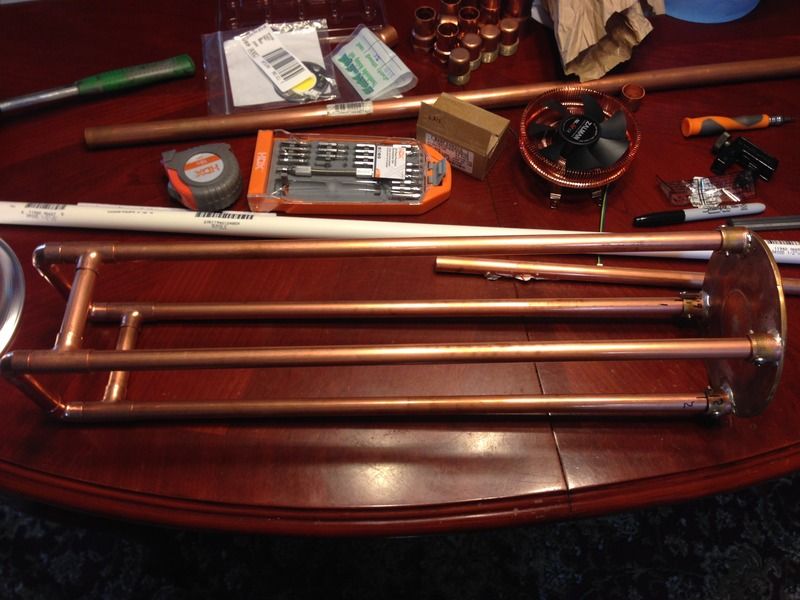 Frame is soldered. Disc in 6" pipe that is going to be the new head for the light.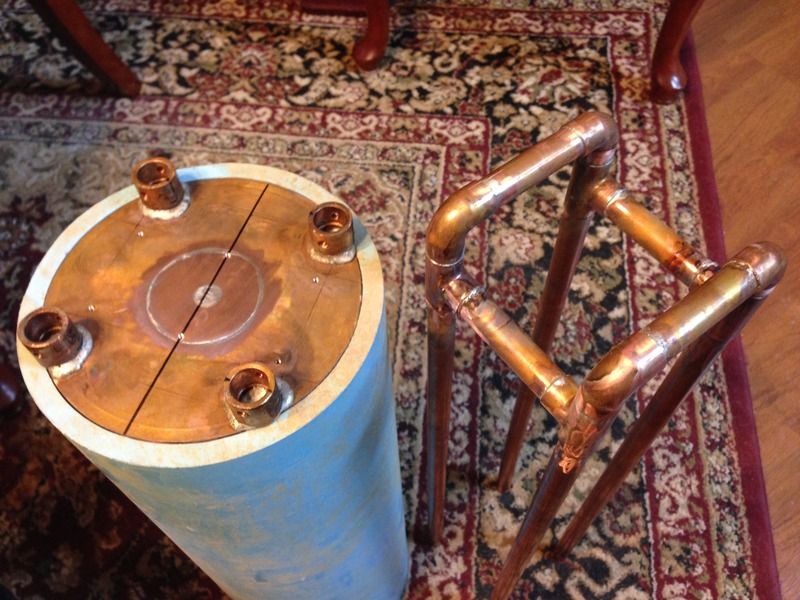 Bracket I made out of a copper sheet to house the driver.

I forgot to take pictures while I was making this. I took the 6" pipe and cut it to my desired length. I then drilled and tapped holes to mount the copper disc securely to the PVC with 90 degree angle brackets. In order to fit in the 8" PVC, I cut and sanded 1/2" PVC couplings to make spacers to fit between the 6" PVC head and the 8" tube. For now, they are just epoxied in place.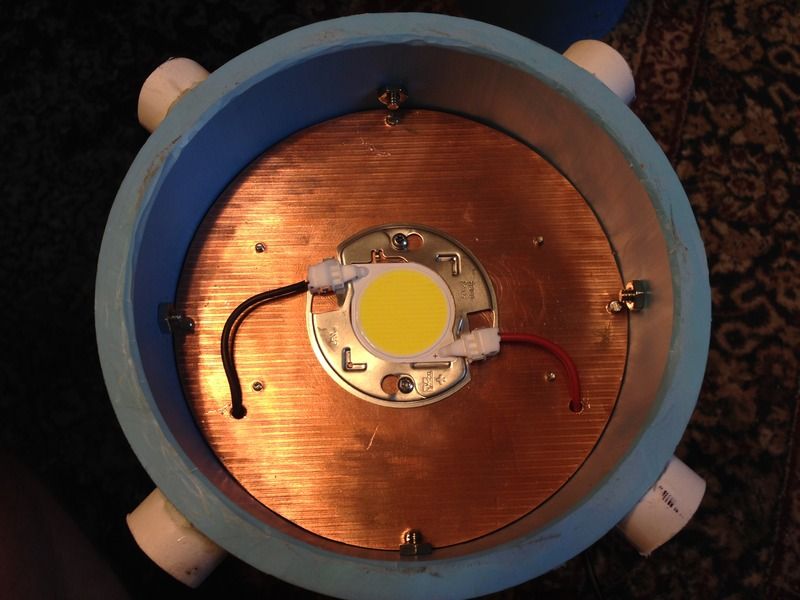 Clamp on flood light 8 1/2" reflector is doomed to go in my light tube.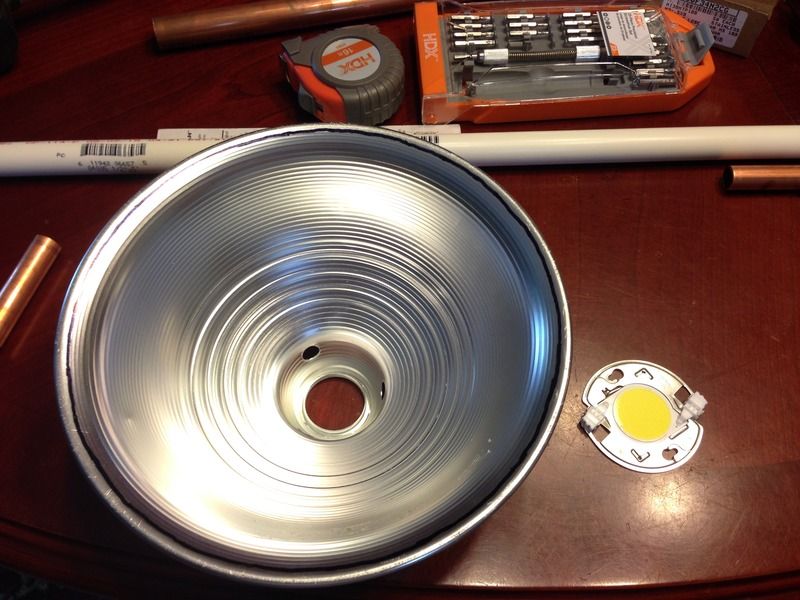 The reflector has been cut with a dremel cut off wheel. It was ground down to fit inside the 8" PVC. I also cut the bottom off and trimmed to fit around the LED. Next it was spray painted flat black

Where I am at so far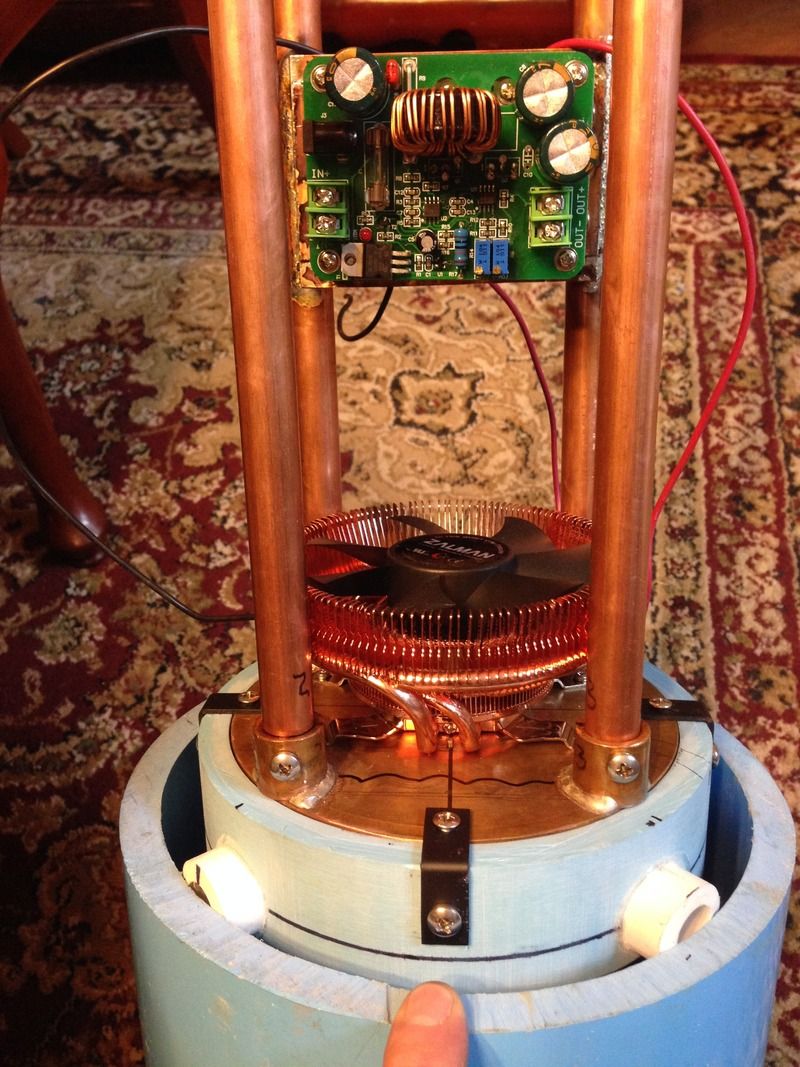 8-10-2015
Hell, forget gold, I need to invest in copper! It's expensive. Lots of copper here, but I'm not saying what for yet! That is 10 feet of 1/2" and 5' of 3/4"

8-5-2015
Fan works! 4× 18650's in series. Just a quick check. More to come later

8-3-2015
I mounted the lens this morning when I got off work. I decided to use a different piece of 8" pipe than I have been planning to use and showing in the pictures. More on that later, but it has to do with how I'm mounting the LED head. There is currently about 11" or 280mm from the back of the lens to the end of the pipe. I recessed the lens some so if the light is dropped, the lens won't hit the ground. Now it's time to go to bed. I have to be back at work in the ER tonight.
Fit the lens base in the tube. I measured the distance from the edge of the tube to the ring and marked it all the way around so I had a reference point.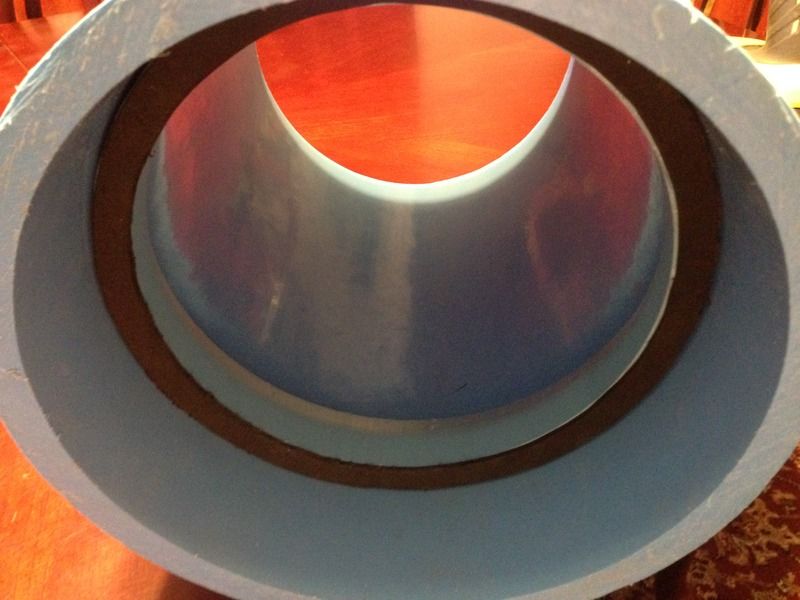 I drilled holes through the tube and lens base

I tapped the holes for some stainless screws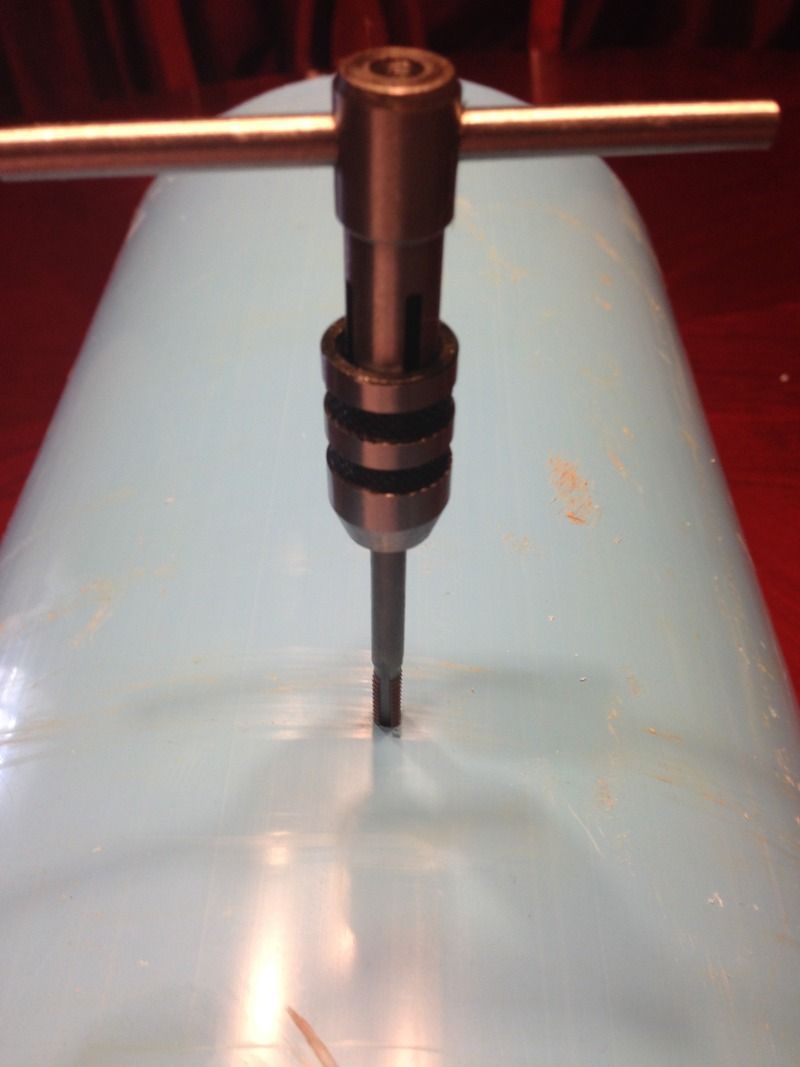 Ugh, the screw head is raised. I have to fix that. Time for the countersink bit

Much better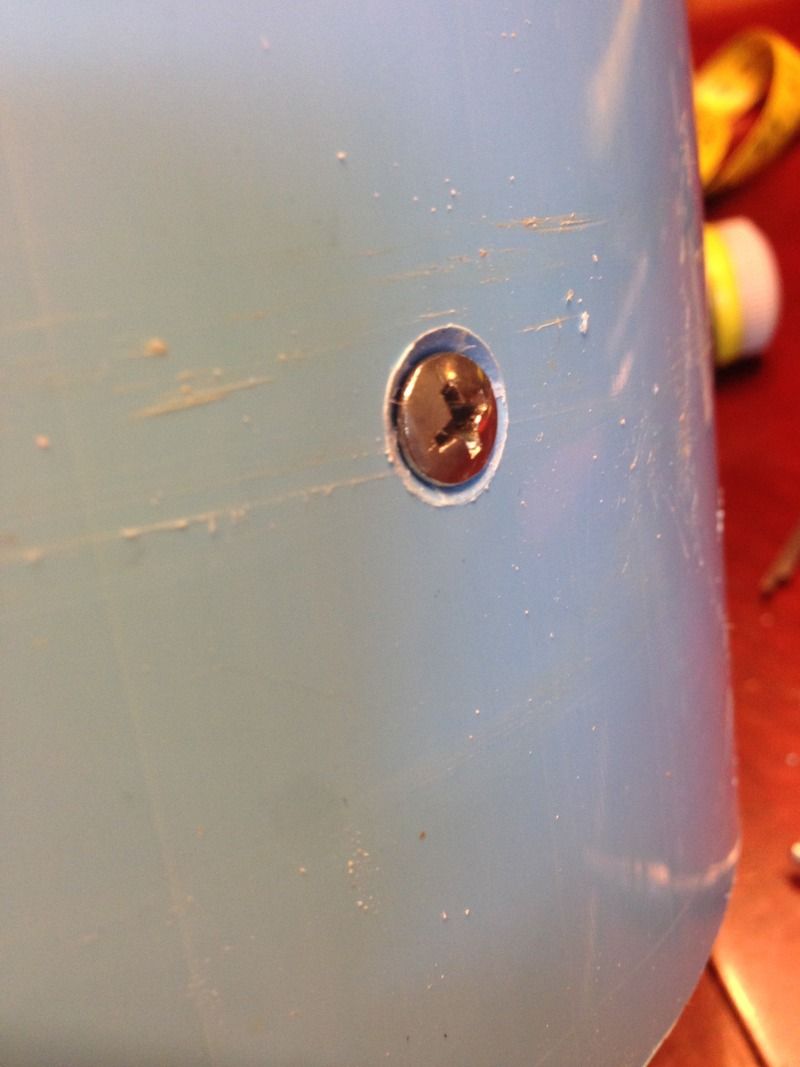 The lens in place on the base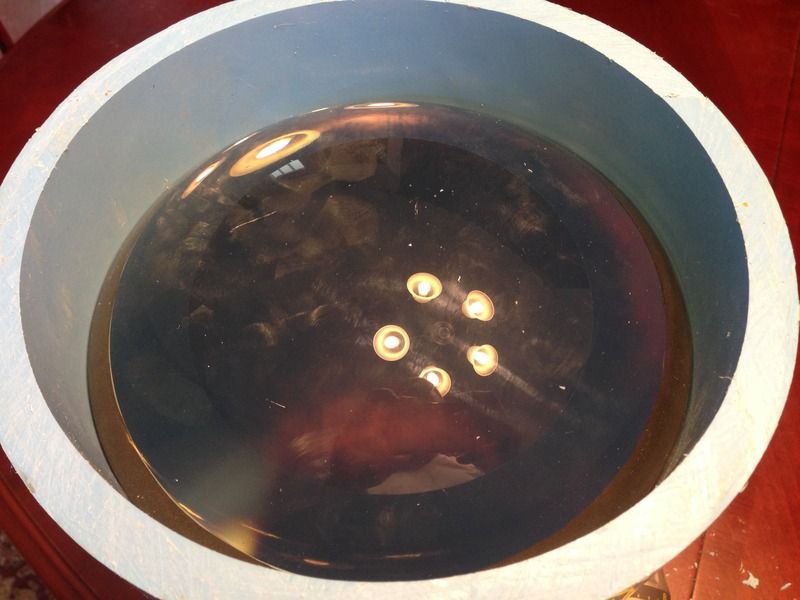 The retaining ring doesn't fit. There is a gap.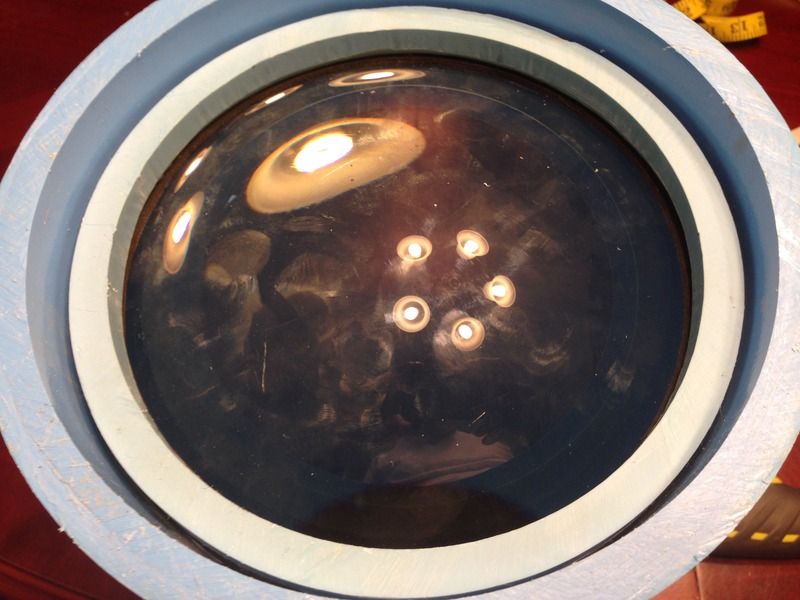 I have a fix for that. More foam and epoxy. Fits like a champ now.

Drilling and tapping holes for the retaining ring

All done. The lens is officially mounted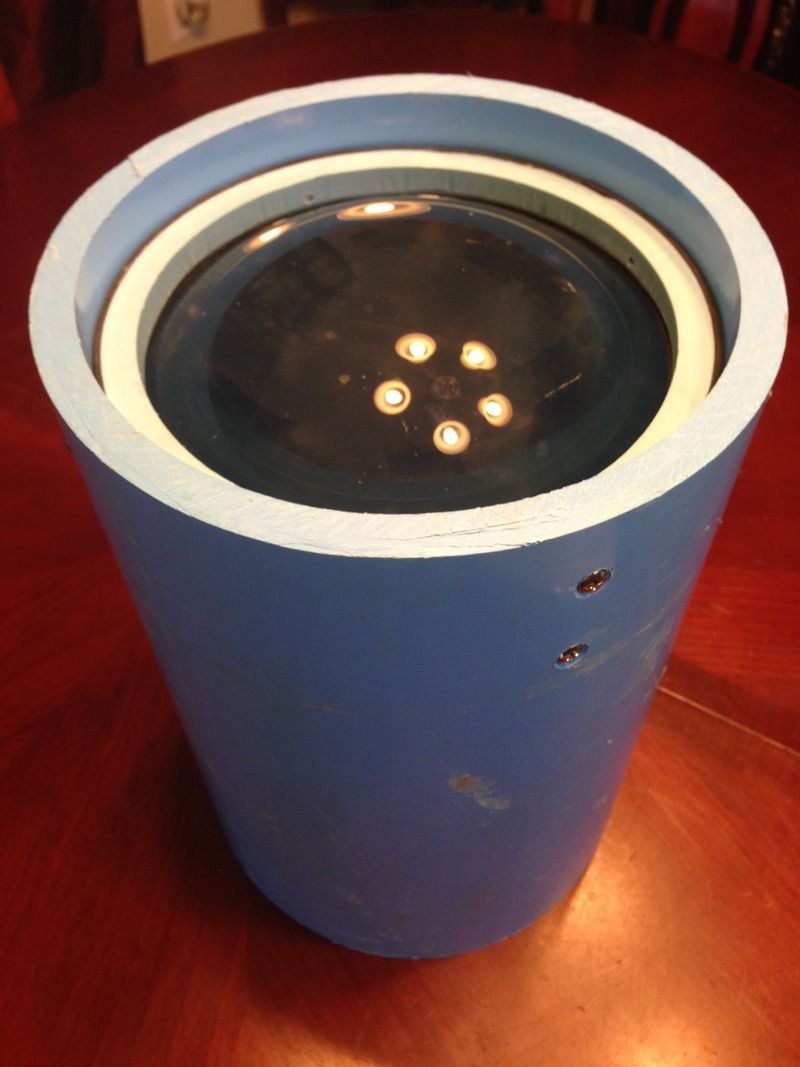 8-2-2015
Only a small update. I cut the large pipe in half to make it more manageable to work on until I figure out the length I really need it to be. I also made foam gaskets to sit on the lens retaining rings. I glued the foam to the rings with epoxy. I went to Lowe's and bought a new drill and tap set for securing the retaining rings to the main tube. In addition, I bought some additional supplies for an idea. I'm going to TRY to see if I can make the light somewhat of a zoomie. I obviously won't be able to fully zoom in an out, but it should make it where I can change it to flood some……if my plan works. If not, it will at least make it easier to focus the LED.
Ring on the foam

Gaskets cut out

How it all fits on the lens

7-31-2015
I got a fair amount accomplished this morning. I hope to have more done over the next few days.
Pictures of my 8" pipe and 6" coupler.

The coupler is just a tad too big to fit in the pipe. The end of the pipe also has a slight taper to it that I had to sand.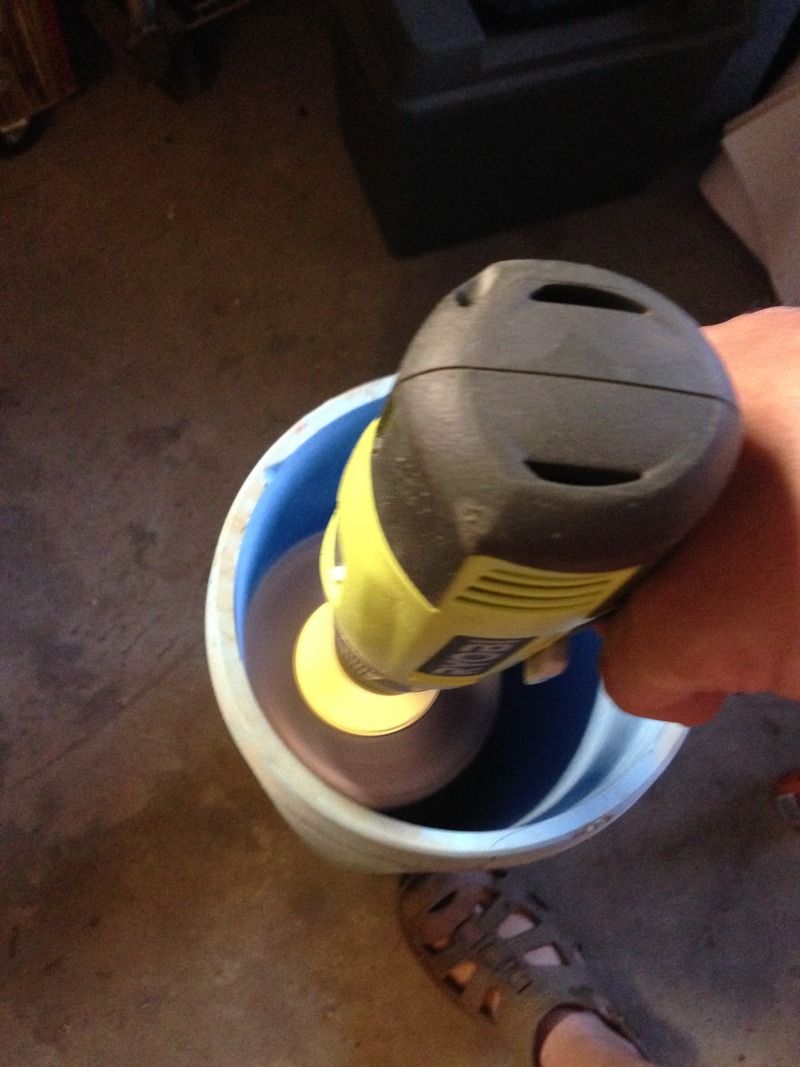 Once I was able to fit the coupler in the pipe, I measured to a point where I could cut the coupler evenly

I wanted the coupler to drop into the pipe more so I had to sand some. Eventually, it dropped in where I could make my cut line.

I measured all the way around to ensure I had it level in the pipe

Then I flipped the coupler and measured for another cut.

I used a dremel to score my cut line

Now for some manual labor

Welcome to the future head to my flashlight

But, it is uneven on one end from where the construction workers cut it. Time to fix that

That's better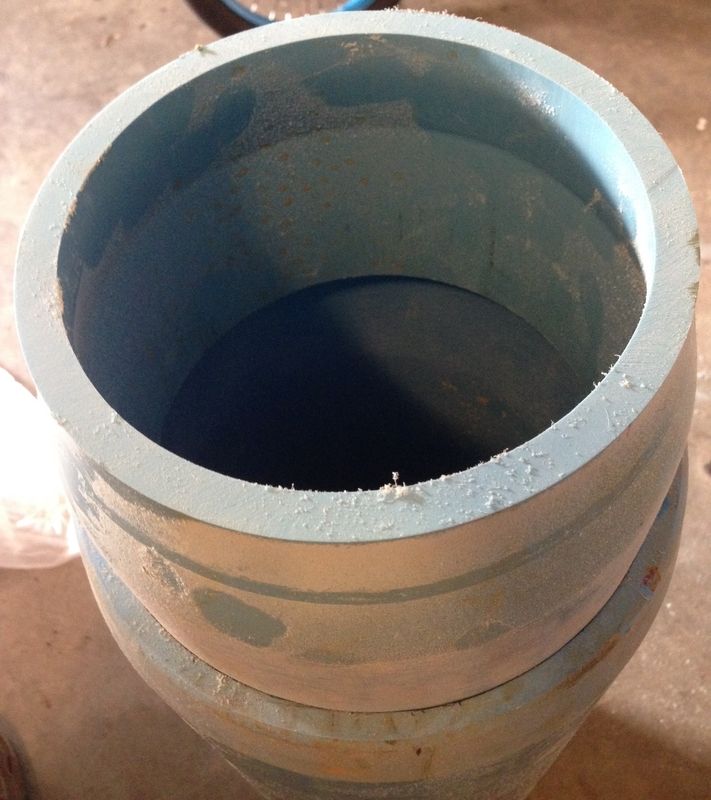 Back to the rest of the coupler I cut off. I need some retaining rings.

I scored them and cut them with the saw just like before. The picture below is freshly cut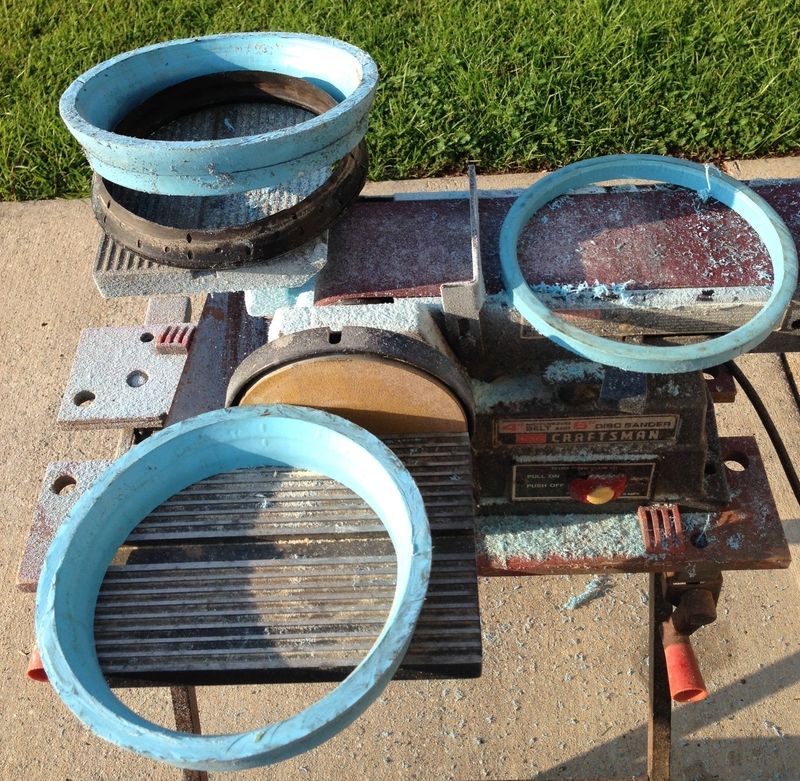 Time to do some sanding

Look, PVC snow!!! All the rings are sanded. Two of the pieces have a bevel to the inside part

Looking into the pipe with the bevel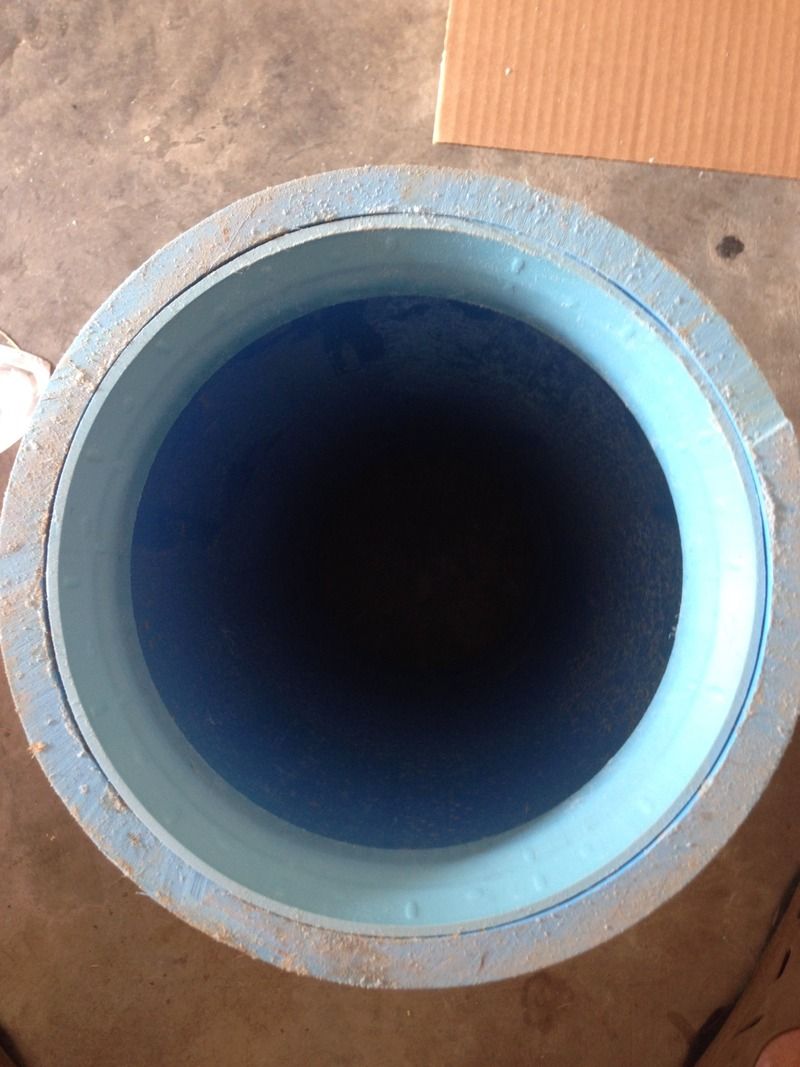 The LED copper plate fits perfectly into the flashlight head from the coupler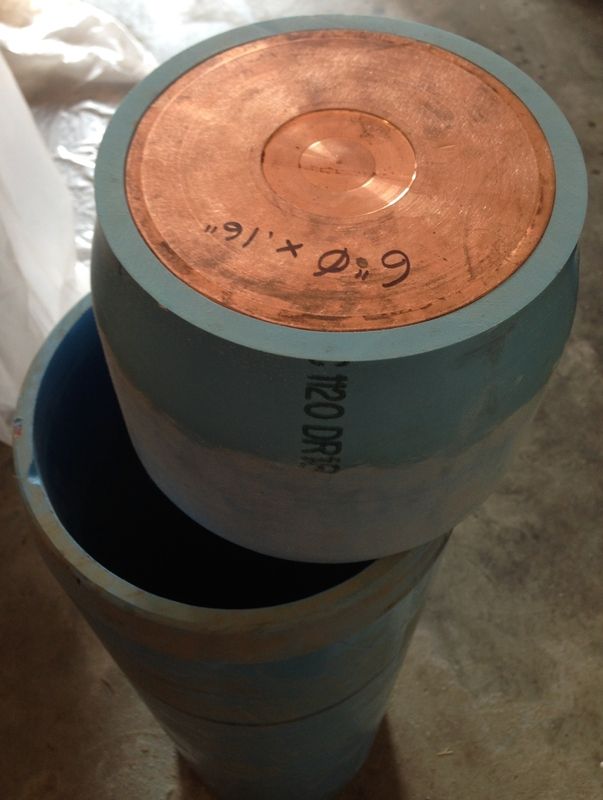 One of the rings cut off the coupler will provide a bezel from the flashlight head to the inside of the pipe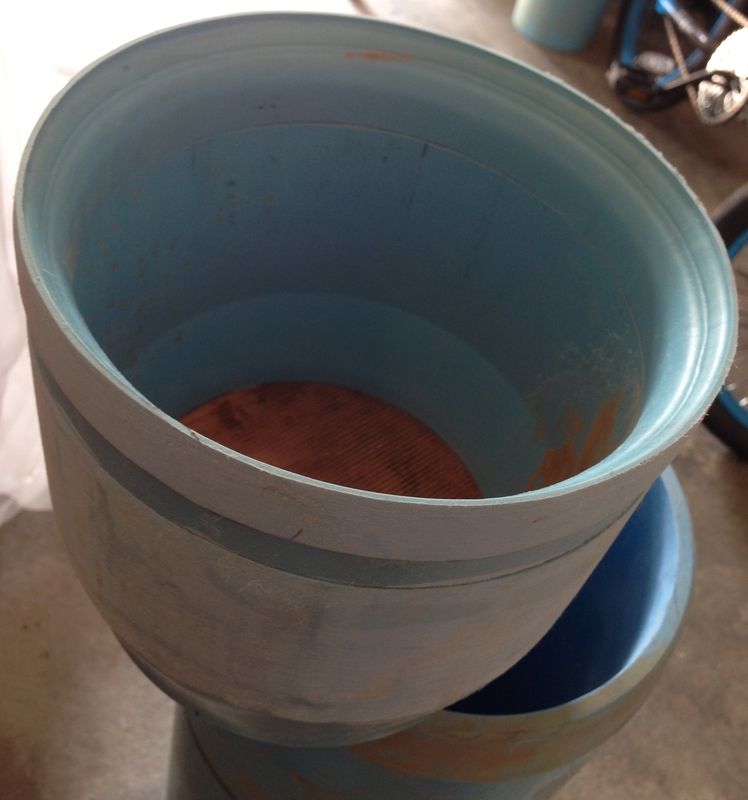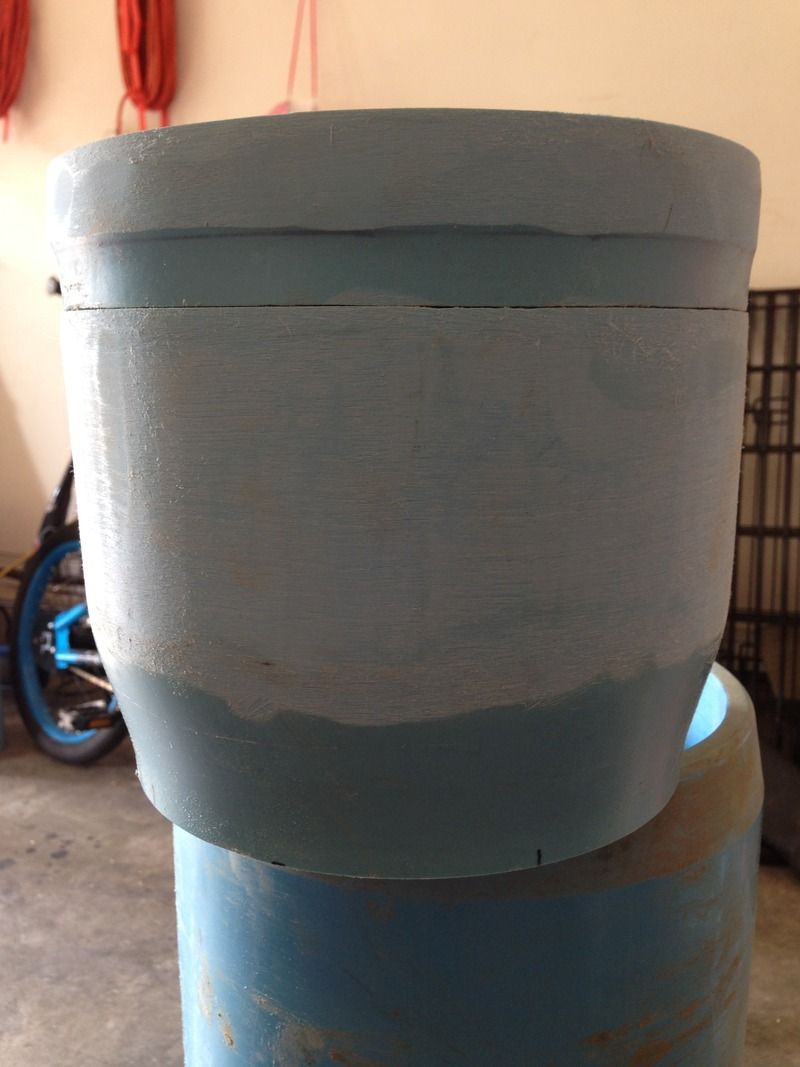 The Bezel has to be secured to the flashlight head. I chose to do some plastic welding. Its not pretty until it is sanded down.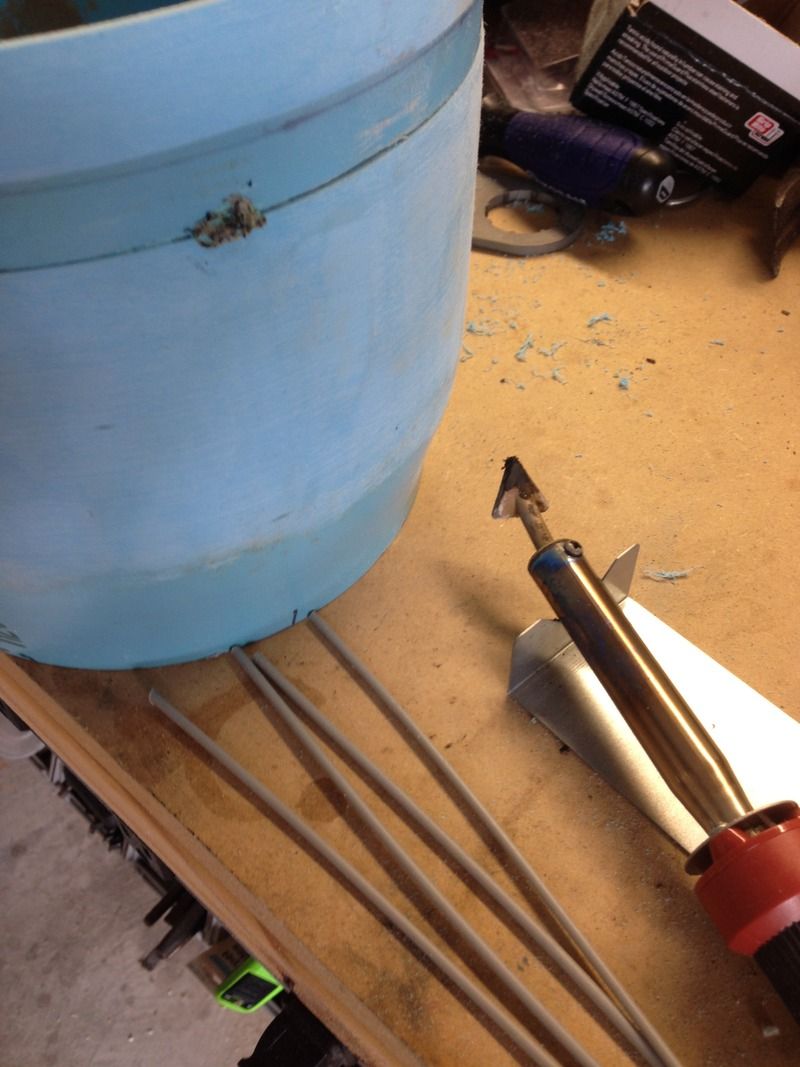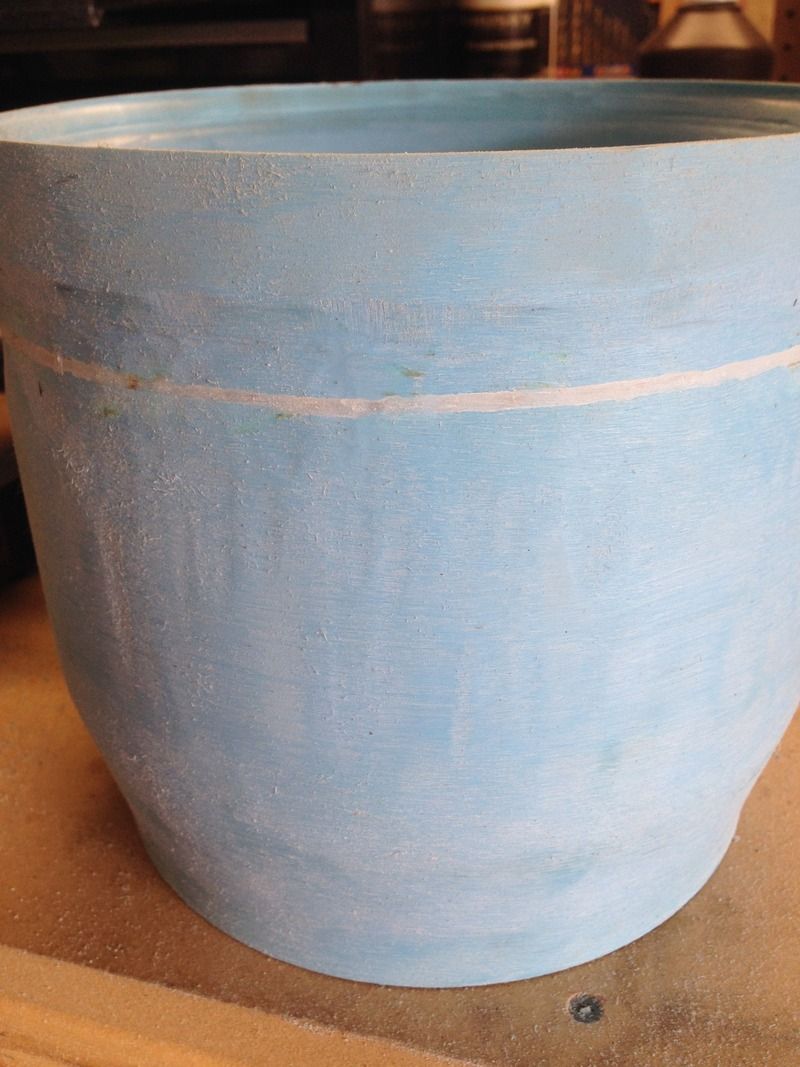 I then bevel the seam on the inside with a dremel bit to plastic weld together.

I'm using black plastic this time.

DAMMIT!!! I broke my plastic welder before I was finished. I will have to go back later and finish with JB Weld to epoxy

Here is where I am at now. Picture below show the head of the flashlight in the pipe.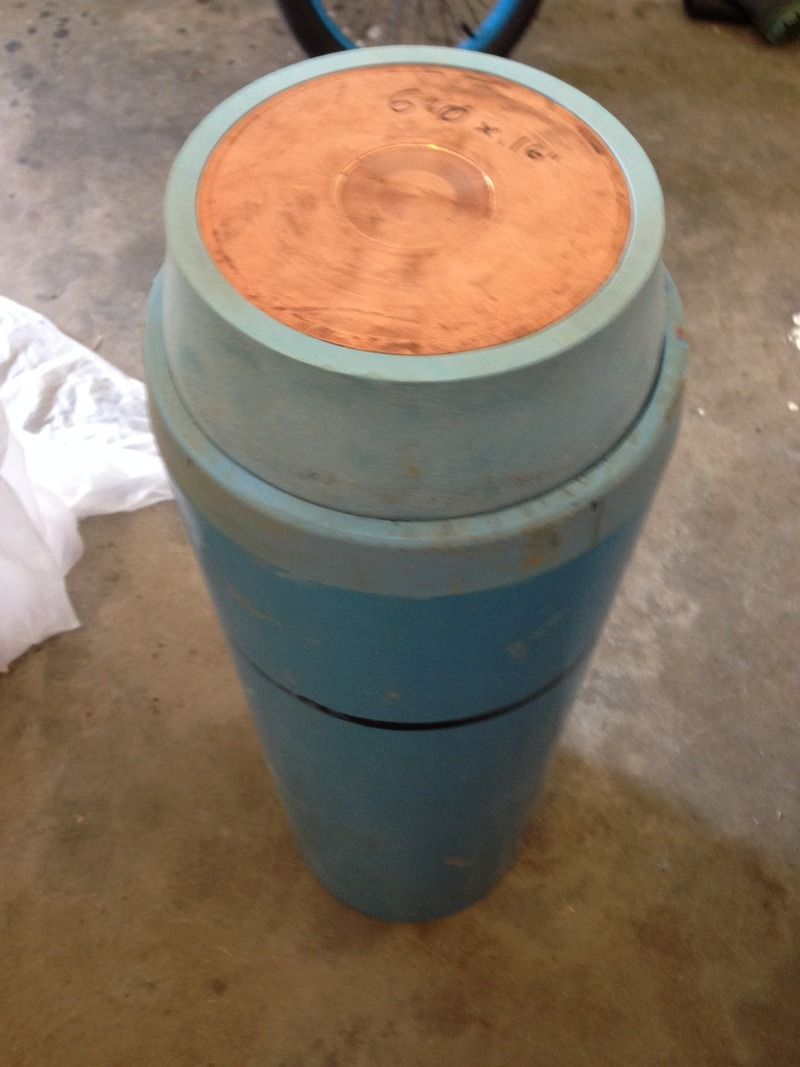 Looking down the pipe at the head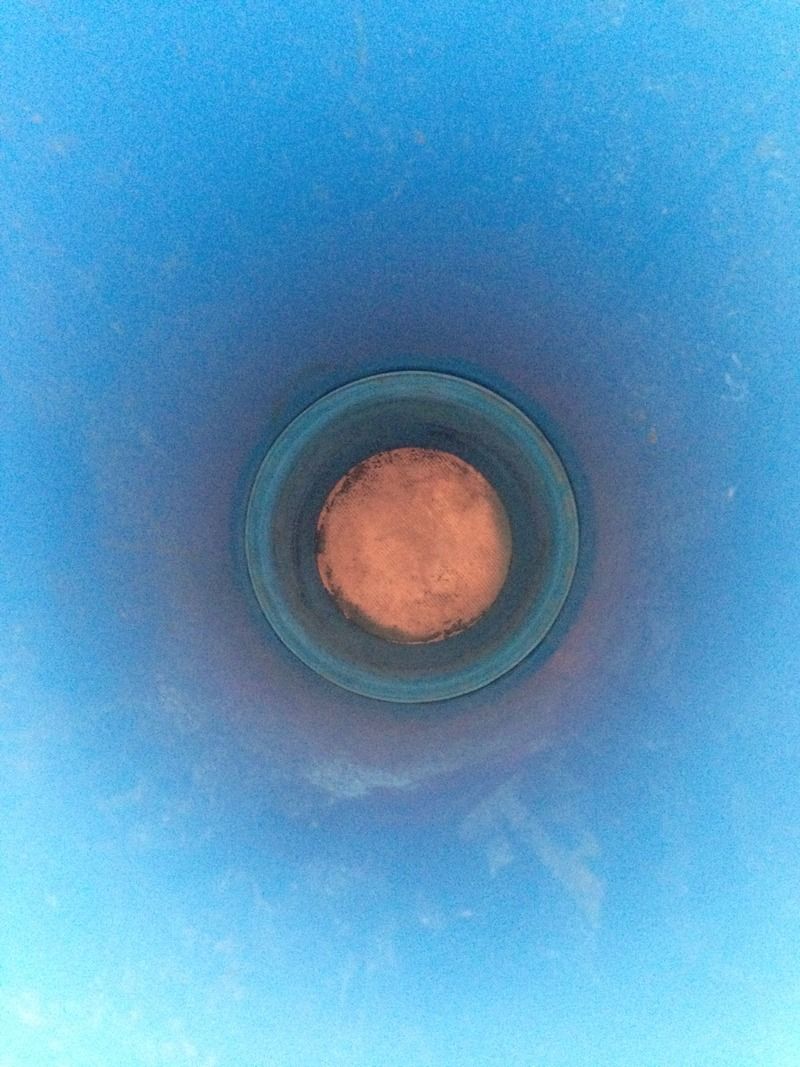 What I did with the other rings that I cut. They will secure the lens inside of the pipe.

7-23-2015
It's been slow lately. The heat index in the 120's has a lot to do with it and my garage isn't AC'd. Got my LED holder in today.

7-17-2015
A company doing a neighborhood next to me were nice enough to give me this. Here is a section of heavy as hell 8" PVC pipe with the lens on top. Ignore the lens, as there is condensation on it from bringing out of my house to my inferno of a garage for the picture. I just need to inlet the pipe for the lens to drop in. I still need to figure out a way to secure the lens, but I can make it happen.
7-10-2015
I got my lens today. It is yellowed, has some scratches, very small bubbles, and some swirling. I believe it used to be in a theater light. It is approx 204mm by 50mm. Focal length is about 270mm. It weighs 3-4 pounds. All I can say is WOW
Picture of lens on a 8.5×11" piece of paper and over my hand

Picture with an Eagle Eye X6

Picture with next to a Uniquefire 1504 with a 67mm lens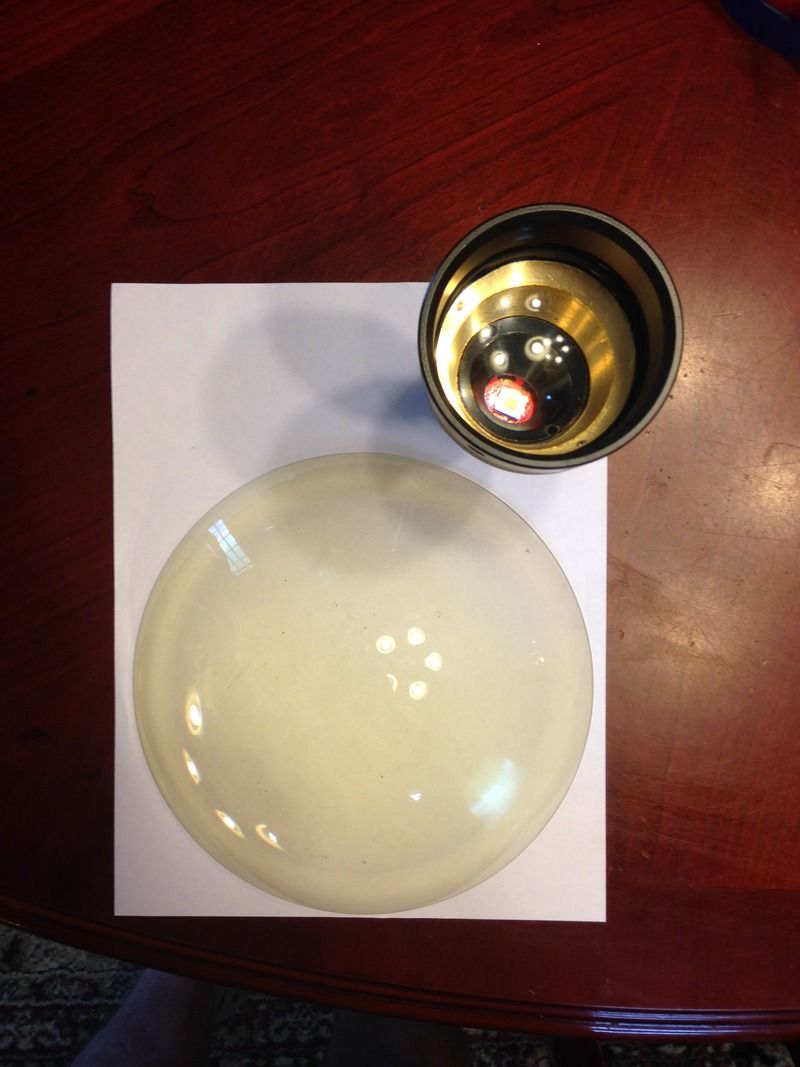 7-9-2015
Received my 6" copper disc, heatsink, driver, and amp/volt meter today
The driver is huge

3 pennies thick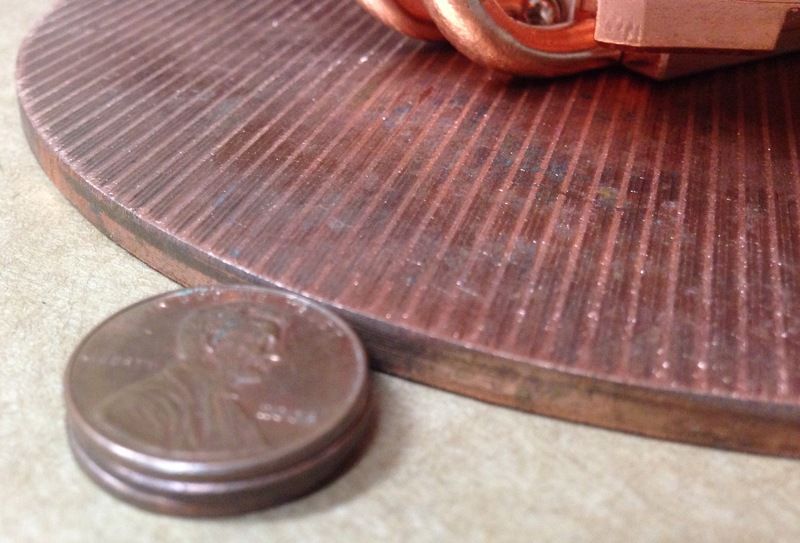 Had to include my new 50 cal bullet pen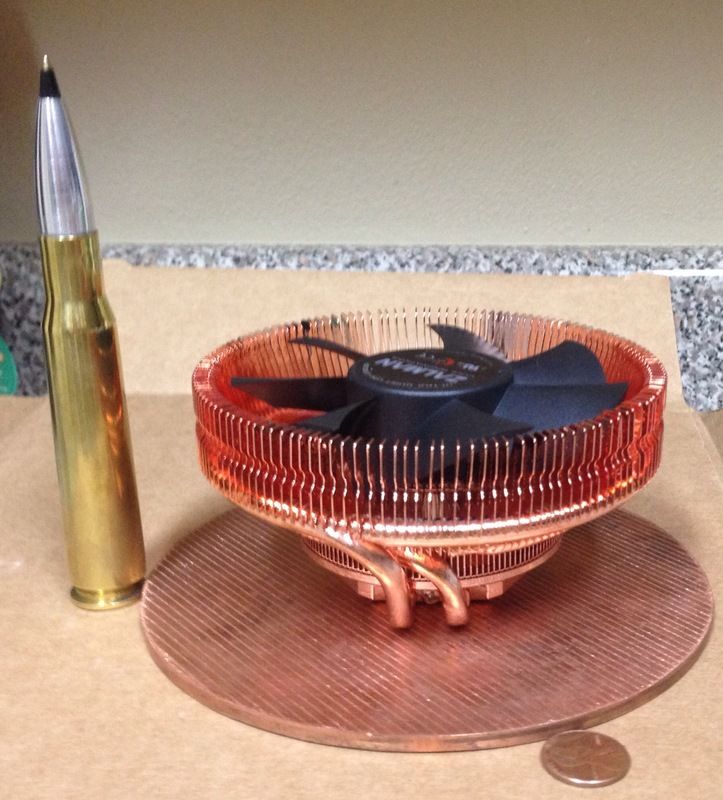 Top of heatsink over the 6" disc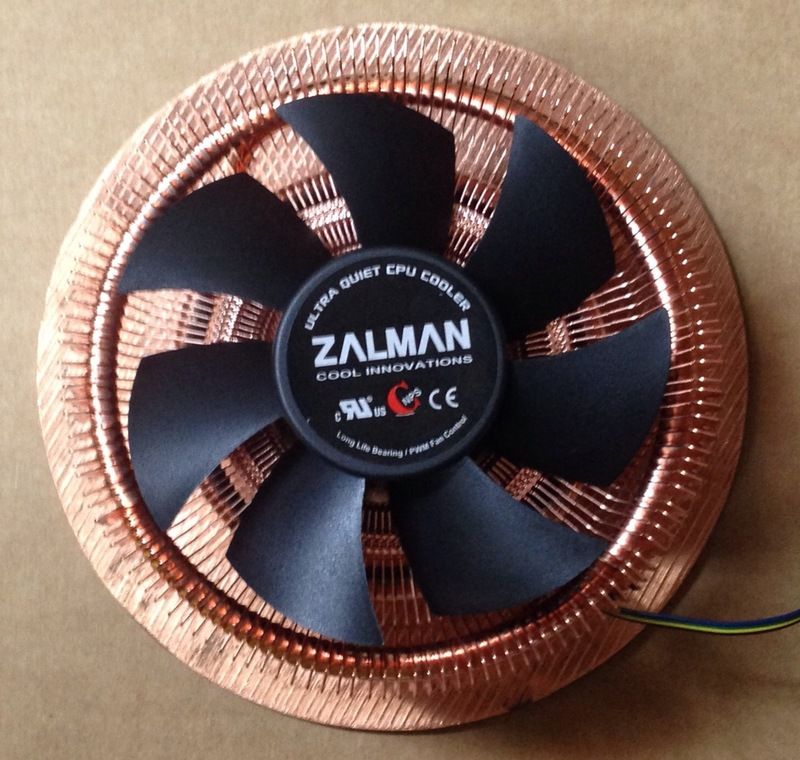 Bottom of heatsink over the 6" disc

7-7-2015
Ordered CXB3590 LED. I also ordered a Ledil Seanna but I don't know if I will incorporate it into this build.
I also bought 4 used Ryobi 18V power tools for $20 today. I already have a fair amount of Ryobi stuff and I plan to use the 18V batteries for this build. I plan on tearing down a couple of the tools so that I can use the base where the battery connects to use on my build. I want to be able to just snap on the batteries just like it was a drill.
July 5, 2015
No turning back now!!! The following have been ordered!
Boost DC-DC Converter Power Supply Step-up Module 12V-60V to 12V-80V 600W 10A
DC 10V~90V 20A Dual LED Digital Voltmeter Ammeter Voltage AMP Power Meter
6" × 0.16" copper (99.9%) disc/plate. Not the thickest, but with the additional heatsink and fan it should work.
8" × 1 7/8" Aspheric Lens. It's not perfect by any means but I got it for less than $50
Zalman CPNS8900 Copper heatsink and fan
7-4-2105 Happy 4th of July
OK. I will go ahead and spill the beans on my design, just so I have it out there. I initially wanted to throw a dedomed XP-G2 behind the 200mm aspheric lens. I may still do it just to get a lux reading to figure out how many kid I can get on a direct driven LED. However, somebody mentioned a CXA3590 behind it. I initially wrote it off, but once I decided to do the bazooka project, an itty bitty laser beam XP-G2 just didn't seem right. After some research, I decided I wanted to throw as many lumens out in a straight line as possible. This is how I came back to the CXA3590. 15,000 lumens out a 200mm aspheric from a big old LED just seems appropriate. After all, this is to photonically kill zombies (I think I just made up a word….photonically). A little laser beam light would only wound them, maybe cut an arm off or something. I need something that will have a bigger profile and can evaporate a zombie head or torso, and I "think" the CXA3590 may just fit the need. I kind of stole some ideas from Old Lumens thread on his CXA3590 build, which he currently has on hold. The LED is 36V which makes drivers tough. I plan to incorporate the same driver and voltage/current display he used in his build. What he has seems to be working, so why not build off his knowledge and experience. Thank you Old Lumens for the inspiration!
Now power to this thing was going to be a pain. I'd have to build a battery pack, which I have no experience at doing. I could buy one, but 36V battery packs are $$$. I was discussing my idea with a friend at work. He builds and sells flounder lights that use the batteries from power tools. He looked at me like I was an idiot and told me to adhere to the KISS principle. There is nothing KISS about this project so I had to ask what he meant. He told me to just use two 18V power tool batteries. Ding Ding Ding…..we may have a winner. I am not sure how much these batteries can put out or how much I will need for this LED, so I will have to see if I just go 2S or 2P2S. I have ZERO experience with the CXA3590, so I will be going at this solely off the limited information about it that others have posted. I already have Ryobi 18V tools, so I can just use them. I may possibly buy some used chargers so that I can tear them down and use the attachment to snap the batteries in.
I will use some sort of pipe to set the aspheric away from the LED so that it is focused into a powerful Zombie killing photon beam. The LED will be mounted to a copper/brass plate. I will solder a Zalman CNPS8900 to the LED mounting plate. It is a 120mm wide, all copper heatsink with heat pipes with a 110mm 12V fan. I will likely use a Zener modded driver with a single 7135 chip running 3S cells to power the fan. I giggle every time I look at this fan and heatsink!

Past the heatsink, I plan to use aluminum or copper pipe to frame out the rest of the bazooka. I will cover the frame, likely with kydex. The driver will be housed in the frame nearest to the heatsink.
For the sighting device, I plan on using a green XP-E2 focused behind an aspheric lens. I plan to push it at 1.4A with a single mode driver powered by an 18650.
So, I have a way to kill the Zombies and a way to aim the Zombie Slayinator, but how do I spot them without spooking them. Let's assume they are basically like wild animals and not spooked by red lights. If possible, I plan to have multiple red XP-E2's to light up the area so that I can assess the situation and Zombie dangers that lurk about. I haven't decided if I will go with reflectors or aspherics yet. I'm thinking about using them in a ring around the large 200mm aspheric lens. I will probably run these parallel and try to push them at around 1.4-2.1A each. I will use parallel 18650's or 26650's to supply the power to them. I have to sit down and do the math to see what type of driver I can use to do this.
So how am I going to turn this all on? I plan on mounting a pistol grip (probably an AR15 grip) with a trigger guard. The Photon shooting Zombie killing beam with be controlled by a trigger. I will place a contact on the trigger so that when it is pressed, the contact with complete the circuit against another contact, turning the light on. There will be a main On/Off switch to power the fan and another one for the green sighting light. I plan on making my own pressure switch to power the red LED's. The bazooka will be complete with a stock to fit against my shoulder so I can control the recoil from shooting the Slayinator at Zombies.
Whew, this is going to be a project. Go big or go home right?
Oh, I almost forgot. I hope that the Zombie Slayinator isn't all of it. Hopefully, I will have a big surprise for everybody once the Slayinator is built. Stay Tuned!!!!!
7-2-2015
I've pretty much decided that I am building a light bazooka. I hope to be able to employ detachable rechargeable batteries. Hopefully, I can make this happen. If not, I will change plans but for the time being this is what I am going with.
Below is my initial mockup. I decided to make the name a spin off of a cartoon….Phineas and Ferb. It will be called the Zombie Slayinator. It'll be the brightest light in the tri-state area!

—
Three tomatoes are walking down the street- a poppa tomato, a momma tomato, and a little baby tomato. Baby tomato starts lagging behind. Poppa tomato gets angry, goes over to the baby tomato, and smooches him… and says, Catch up.