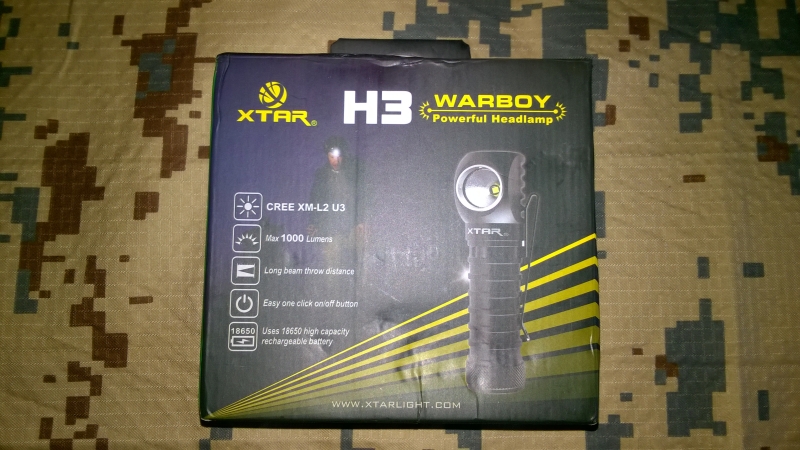 Gearbest had this headlamp on sale for 30.59$ and it was too hard to pass up, especially after mhanlen's
positive video review on it
!
Its 1000 OTF lumens after all, nothing to sneeze at in a headlamp!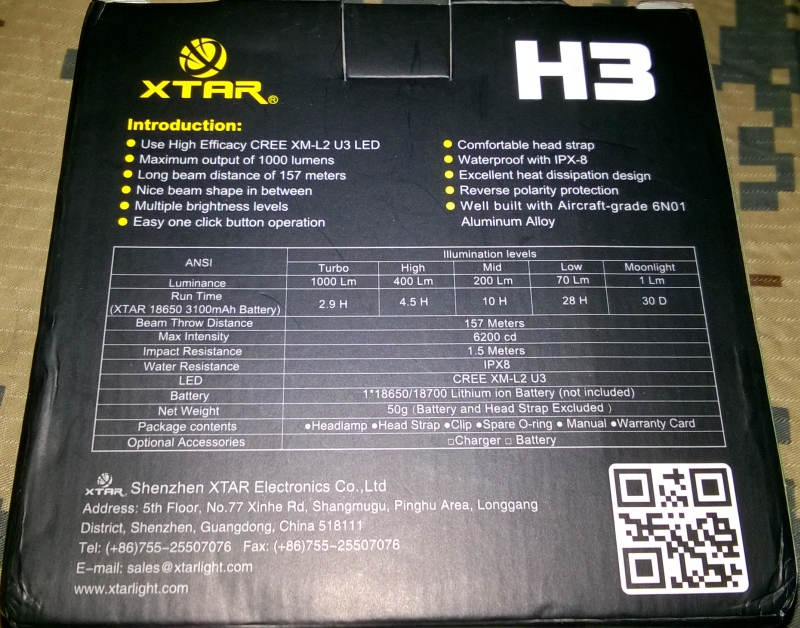 Ordered it together with Jetbeam HC20 which was also on sale, will do separate review on HC20 this week, but mention some pro's of HC20 here as well.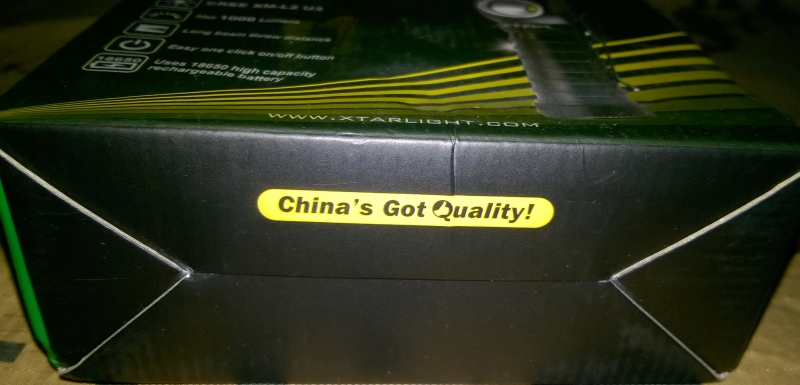 Chinas got quaity! We'll see about that in a moment...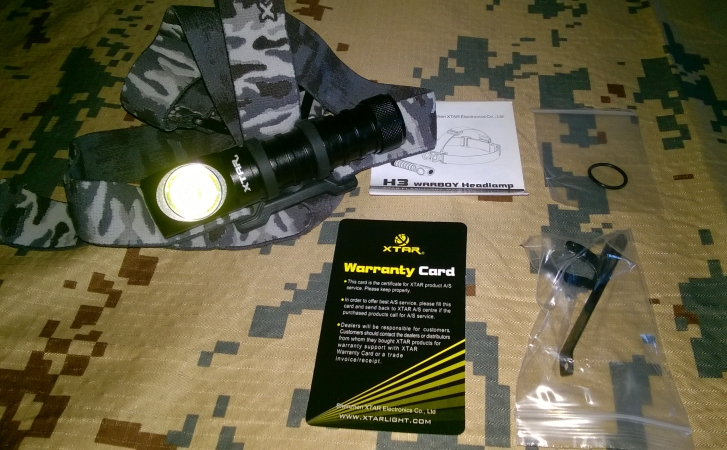 Light, headband, instruction, warranty card, spare o-ring, pocket clip.
Overall both the light and headband appear to built well,
at first.
Headband looks well built, think and big one, some have complained that H3 and H3 come with very short headbands, cant see it not fitting big head. Its thick, looks reliable. 
Headband rubber holder could be wider to ensure maximum comfort in all situations.
Not a complaint, but I do feel more comfortable with Jetbeams HC20 headband, its lighter, easier to adjust, yet thinner and thus in long term might be less reliable.
Also, silicone headlamp holder appears like it spent months somewhere in warehouse, uncovered, because it looks all dirty, its not so visible in pictures.
It also developed slight tear where the round parts joins the base of the headlamp holder, see below.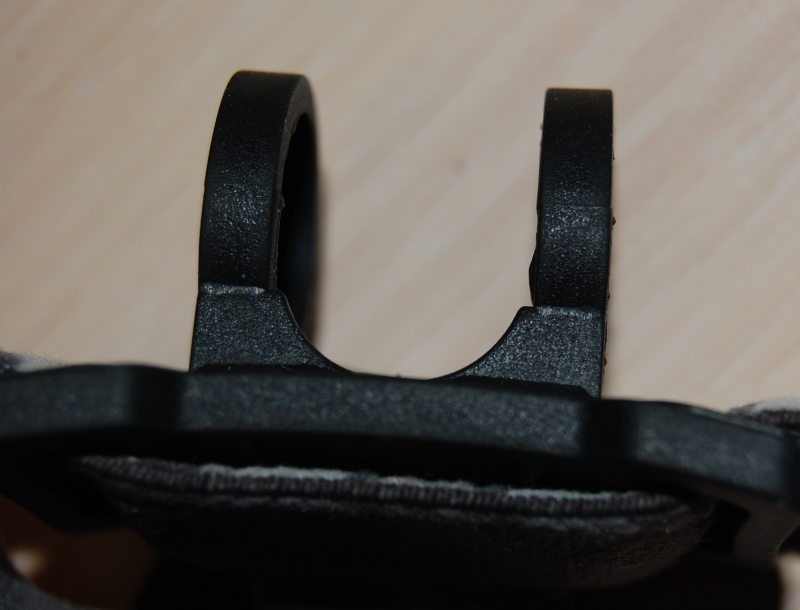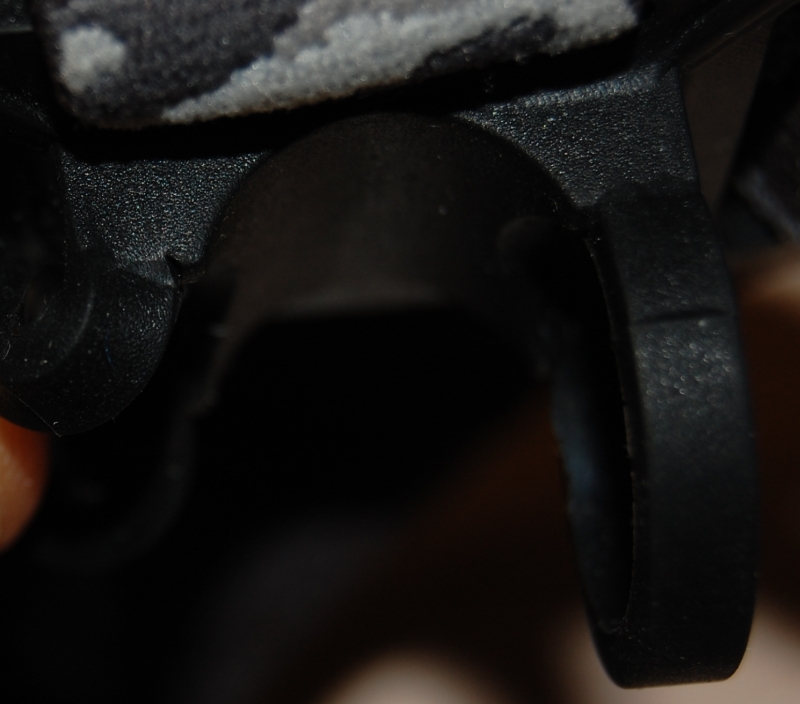 Theres nice steel ring around switch, the switch itself feels rather mushy, first light that I have with such oddly feeling switch, that does not impair user experience though: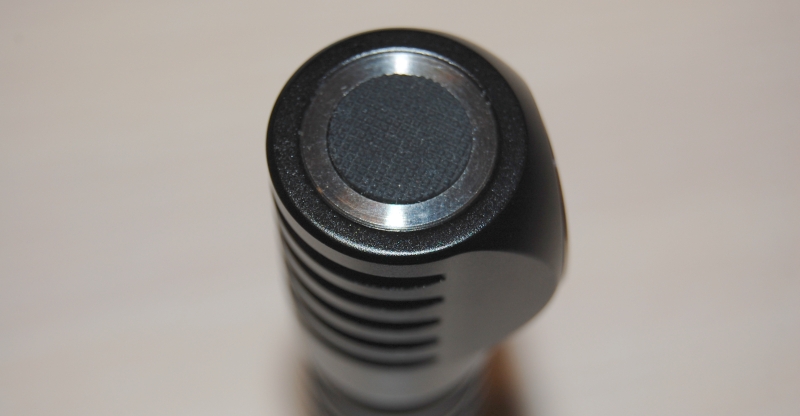 Threads are gritty on both the tube and the tailcap where they start, it becomes especially apparent when using protected battery, its not easy to scew the tailcap back! Also, this way annodization might wear off rather quick with time disabling the mechanical lockout feature that this light has.
Pocket clip is big, yet lightweight: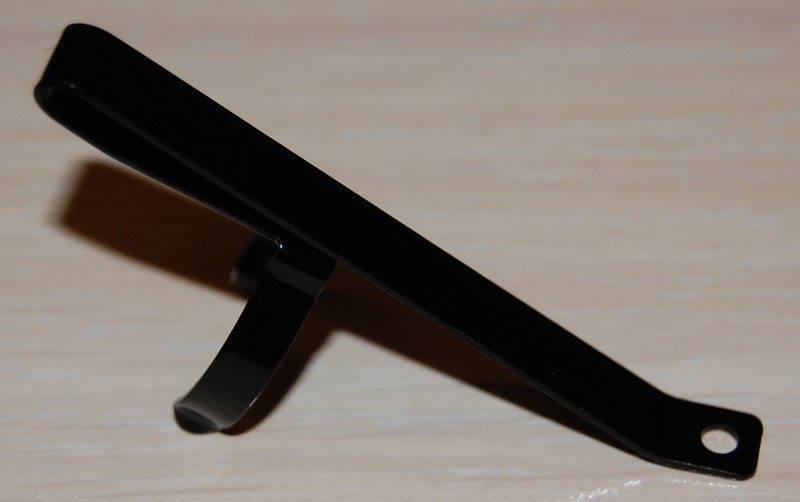 Pocket clip could be of higher quality – seems thin and that glossy paint will wear off reather quick.
However my main gripe is with how un-centered both the LED in reflector was and the fact that LED's dome was not centered well on top of emitting surface itself, it appears as if Xtar used factory seconds for this light, I noticed the same assymetrical bubble over LED on my Jetbeam HC20 as well, thats odd!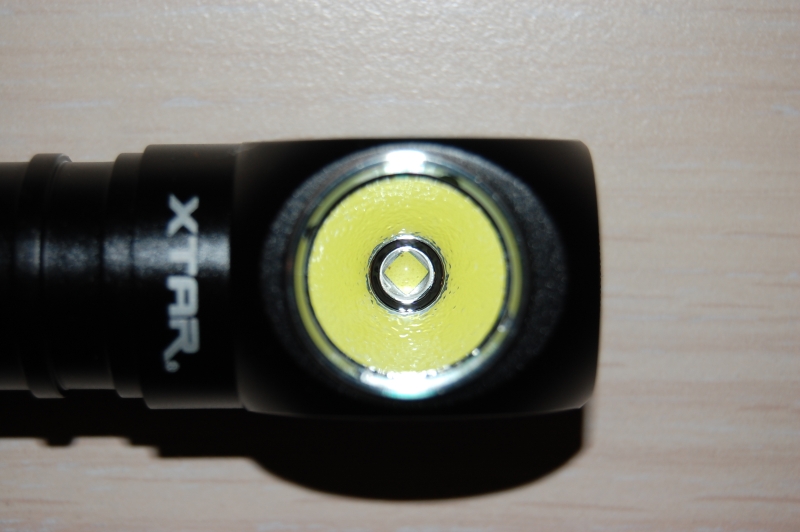 Theres also visible gap between emitter and reflector, as seen in lower right corner: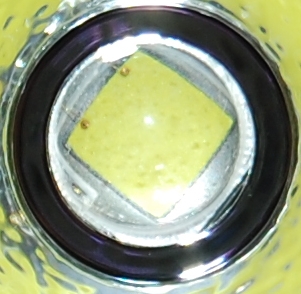 It is more visible in HC20 pictures, probably due to bigger reflector and more room around LED: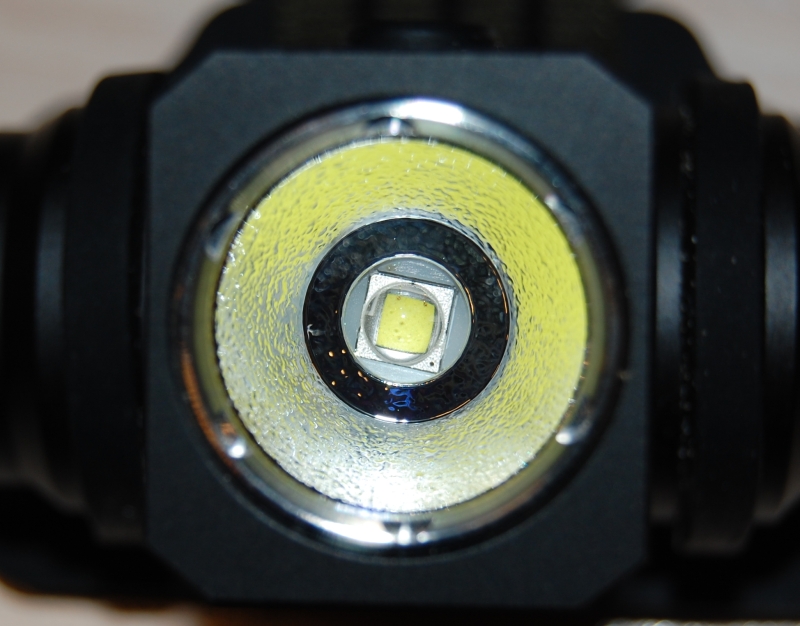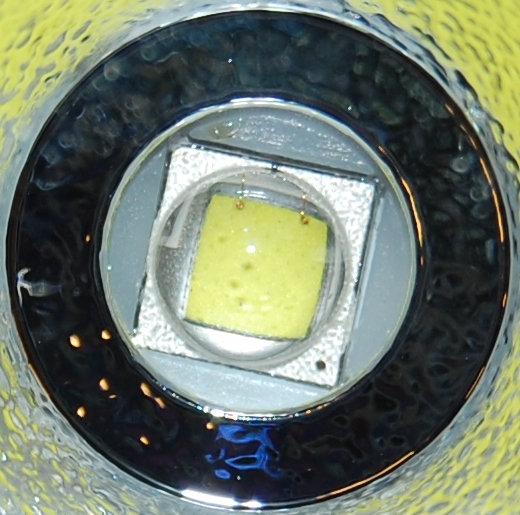 Light itself, doesnt feel large or heavy, slightly taller than Olight S15R(89.4mm vs 105mm) and smaller than Convoy S2+(118mm).
 Visually I like its design and feels good in the hand, despite my criticism.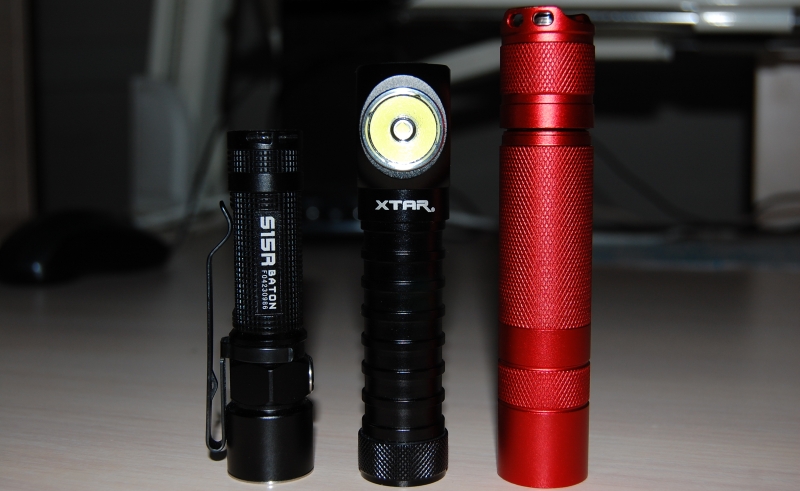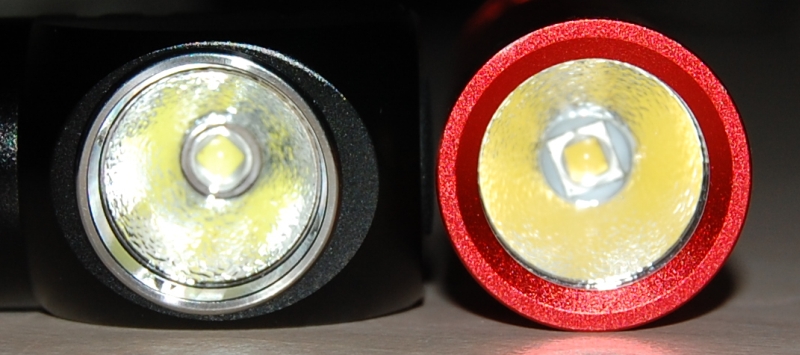 S15R loaded with battery weighs 69 grams, S2+ is 129 grams with 3400mAh battery and H3 is 99 grams with the same battery as S2+.
Couldnt tell much difference when comparing output of H3 and S2+ on their highest mode at some 100-150 meters.
Tried my H3 outdoors during cycling trip and it was plenty useful when it got dark, but I will just dive into my own observatons of yay's and nay's of this light and leave the poetry to someone else :D!
Mode spacing isnt any good, low(not the moonlight) is too close to medium, medium is too close to high thus making these modes look way too similar and useless. Now, between high and turbo there is noticeable difference! Not between the rest(aside from moonlight ofcourse)! Im talking here from perspective of actually using this light outdoors and not comparing white wall beamshots ;)!
Yet it was very convenient to know, that it will run on turbo with auto stepdown to high when too hot and step up back to turbo automatically for hours, so my bases were covered pretty well regarding overall output(despite the lack of throw that situation commanded).
  But d
irect access to turbo would be great.
Light is pretty easy to use and operate - l
ast used mode is accessible from moonlight by simply long-pressing just like when switching between main modes.
Moonlight mode should be in the main mode sequence, ie, it should be included in the mode memory, it is not, there direct acces to it from any state, it doesnt matter if the light is on or off, double click switches to moonlight. It seems like Xtar decided to leave such sequence when they dropped the secondary, red, LED and simply replaced it with moonlight mode.
Beacon mode would be nice addition, either beacon mode or/and police style strobe, however H3 being a headlamp makes sense that one wouldnt want to use any of these modes while light being strapped onto ones forehead, it would most likely annoy as well as blind to some degree.
But using it with supplied pocket clip on backpack for example or front clothing would work great.
One more thing regarding output - for me there was not enough throw when used in real life, so, yeah, there it goes - sometimes headlamp with good throw is a must! My hands were busy carrying my bicycle through thick buses and only way to see something infront of me as well as across the river that I reached when it was already dark and was looking for familiar place on the other side, river was around 30m wide or so and believe it or not, 1000 lumens was not enough :D! However, I do aknowledge that this is my personal preference and might not apply as a general rule.
I tested runtime on its low mode with Panasonic NCR18650B at 4.17V.
Total runtime till the light automatically switched into moonlight mode at 2.89V and with around 1/4 of initial output left(fading gradually from 100% output to ~25%):
27.75h
Xtar claims 28h runtime with their 3100mAh battery, I wonder if its according to ANSI FL1 standart or did they take into account hours that this light is probably capable to run in moonlight mode as well and tested it until it shut off completely?
Other things Xtar should consider:
Magnet in tailcap would be welcome addition for a headlamp vastly improving its usability.
Would love to see this light offered with neutral emitter.
Xtar storage/carrying pouch, just like with their chargers, would be nice. headband takes up pretty much space and things get cluttered.
It looks good, outputs real 1000 lumens out the front, has moonlight mode, feels good in hand, headband appears to be made of thick material, yet rubber/silicone holder that keeps the light in place failed after only couple of removals of light, mode spacing is useless, threads are not smooth, LED is not centered and appears to be factory second.
Would I recommend it for 30.59? If it comes the way mine came then not likely(Im being picky here, Ill admit, after using it for some time now, its very good light for the money), I assume that this has slipped Xtars QC in regards to emitter, headband is poorly designed though. I will be replacing emitter on mine with neutral XP-G2 anyway.
If yours comes with better engineered rubber holder and well centered, symetrical LED without the gap between the emitter and reflector, then given its good looks, good feel in hands and combo of moonlight and turbo modes and wont use other modes much then its definitely good choice to consider.
PS. I contacted Gearbest regarding issues with my light and they offered Gearbest points as compensation, I asked for replacement headband.