Hey everyone,
I'm always on the lookout for cheap 18650 flashlights and for $10.44 you normally cant find much. I really like this little flashlight and I think its a great deal and has a lot of features you would not expect in this price range. The light was purchased on ebay http://www.ebay.com/itm/270684246507?ssPageName=STRK:MEWNX:IT&_trksid=p3984.m1439.l2649#ht_7310wt_1018 and took about 15 days to arrive to the USA from China.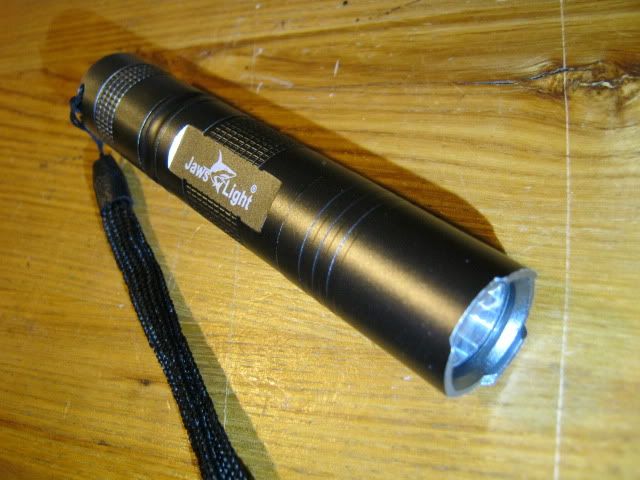 Not only does this light Have a Brass pill but it actually has heatsink compound on the emitter. It also has a glass lens and an aluminum reflector. 
The light is pretty bright considering the small reflector and the cost. The tail cap readings on a x-tar 2600 where 1700mah Hi.... 780mah Med... 150mah low The light does heat up pretty quick as you would expect given the small size and brass pill. The threads where pretty good and greased. It also comes with a glow in the dark switch cap. So far its taken every battery I own, X-tar, CK 3100 protected and un-protected, Hi-max TF Flames ect.
Now for the bad. Not much to really complain about. Its not super bright but with the reflector being so small its got to be expected. Its a 5 mode with no memory ( I prefer no memory since I normally want it to start out in Hi) It was kinda dirty inside but that's par for the course on most budget lights. The checkering is pretty poor and the finish is ok nothing great but its not really bad. It heats up pretty fast and there is wobble on the tail stand. There is also no front gasket on the lens. You could run a small bead of silicone on it if you worried but in all honesty I don't really expect these cheap lights to be waterproof.
For such a small light it has a pretty good throw. I think it would make a great backup light or a great little pocket light. For $10.44 I don't think you can go wrong. It does come in a black version but I kinda like the silver for a change.