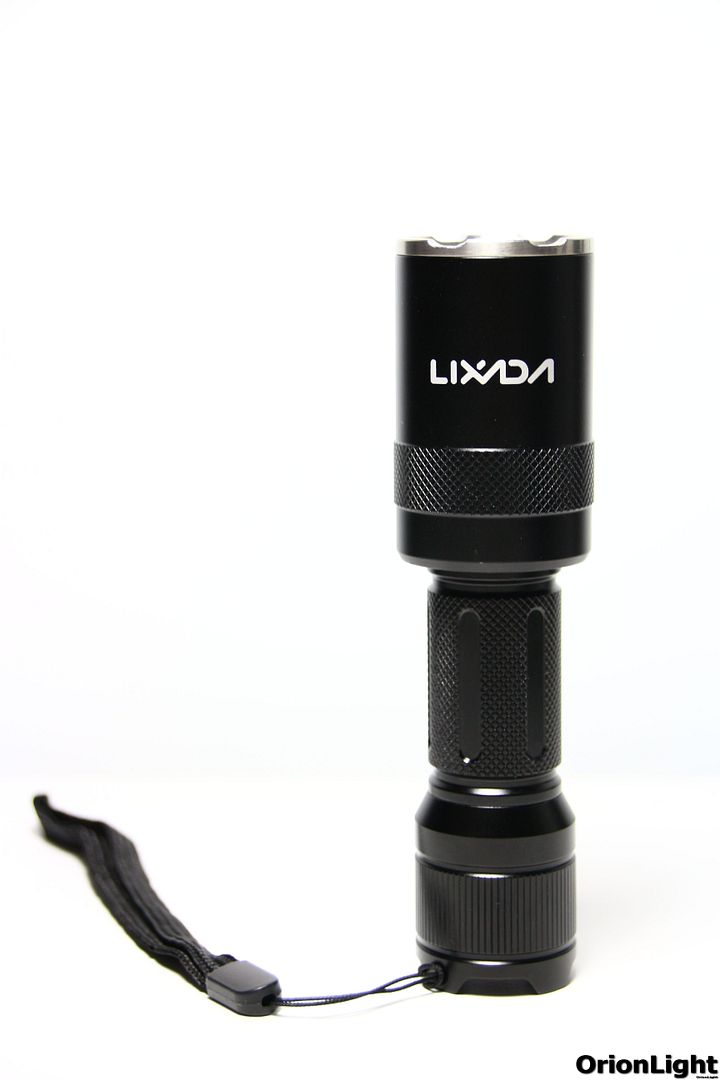 Special thanks to : TOMTOP for providing the light for review (afflink)
SKU:L0625 LIXADA LED Flashlight (afflink)
Manufacturer Specs:
Brand: LIXADA
Color: Black & silver
Material: Aircraft-grade aluminum alloy
Lumen: 2000Lm
Reflector: Convex Lens
Adjustable mode: Stretch the head
Switch type: Single button (On, off and mode select)
Power supply: 1 * 18650 battery (not included)
Waterproof level: Daily life waterproof
Item Size: 13.5 * 3.5 * 3cm / 5.31 * 1.38 * 1.18in (Length * head diameter * bottom diameter)
Item Weight: 165g / 5.8oz
Package Size: 3.7 * 3.6 * 14.5cm / 1.5 * 1.4 * 5.7in
Package Weight: 175g / 6.2oz
Manufacturer Features:
High power flashlight powered by T6 LED, 5-mode design: high, middle, low, strobe, and SOS.
Special reflector design, enhancing light output efficiency.
Durable aluminum alloy crust, avoid damage when it drops off the ground.
Waterproof design, skid-proof and abrasion resistant.
Adjustable focus for meeting different usage, stretching to adjust its focus.
Equipped with a rope and concise design for conveniently carrying around.
Suitable for most indoor use like home maintenance and outdoor activities like camping, fishing, hiking and so on.
__________________________
LIXADA is a brand I had never heard of before, but when I was looking for a zoomie option for an 18650 flashlight, this one certainly caught my eye.  With clean lines and a simple look without looking cheap, I knew I wanted to give this a try.  Let's take a closer look:
The picture at the top of the page is of the flashlight in flood position, while the picture below is in the fully zoomed position.  Notice that the heat sink fins are revealed when in this position.  It's a neat little feature, but also means you won't get very much cooling when it's in a flood mode.  Also, one thing to note is that when the flashlight goes from zoom to flood, there is quite a bit of resistance due to the double o-rings on the body, made to keep the light more water resistant.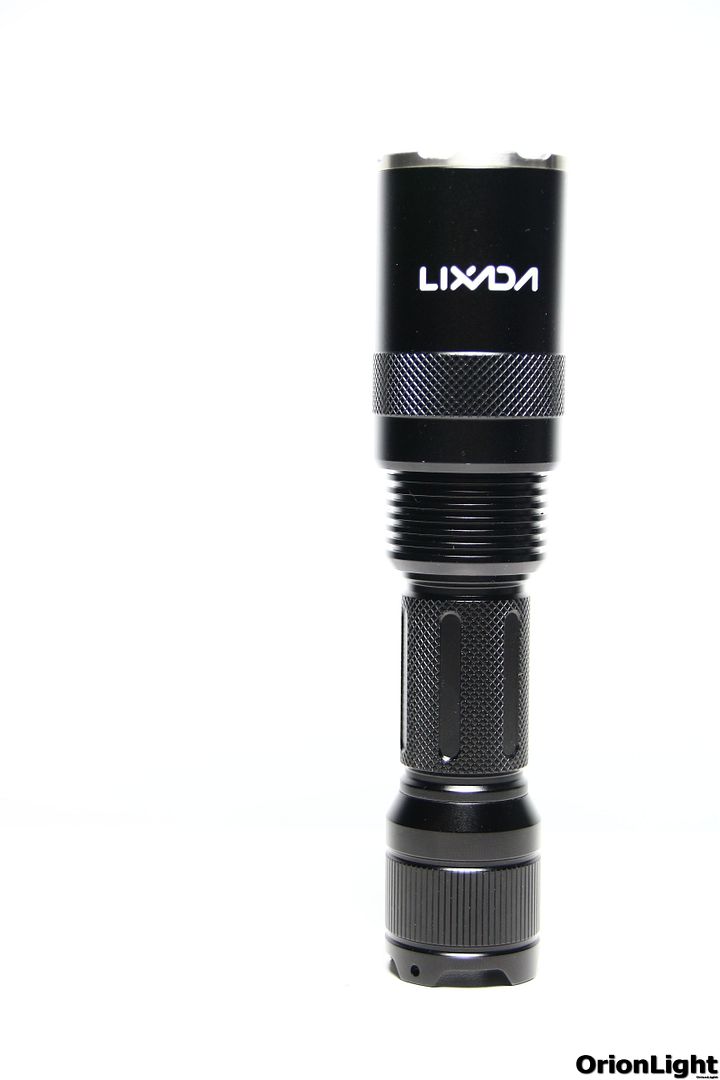 This is the the light partially disassembled with the tail cap and head still relatively together.  The front row of pieces features what looks like a stainless steel, lightly crenulated bezel, a plastic convex lens, and a movable ring that keeps the casing (the piece with logo printed on it) from sliding completely off when transitioning to zoom mode. 
The tail cap further disassembled.  What this picture doesn't show is that although the switch is a solid Omten switch, the spring is steel, not copper.  This is also the first tail cap that I've had with crenulation on it, making it ever so slightly uncomfortable when pressing the switch.  It's fairly sharp edged and could easily be used as a glass breaking tool.  I'm not sure if that was its intention, but it's something to add to it's distinguishing features.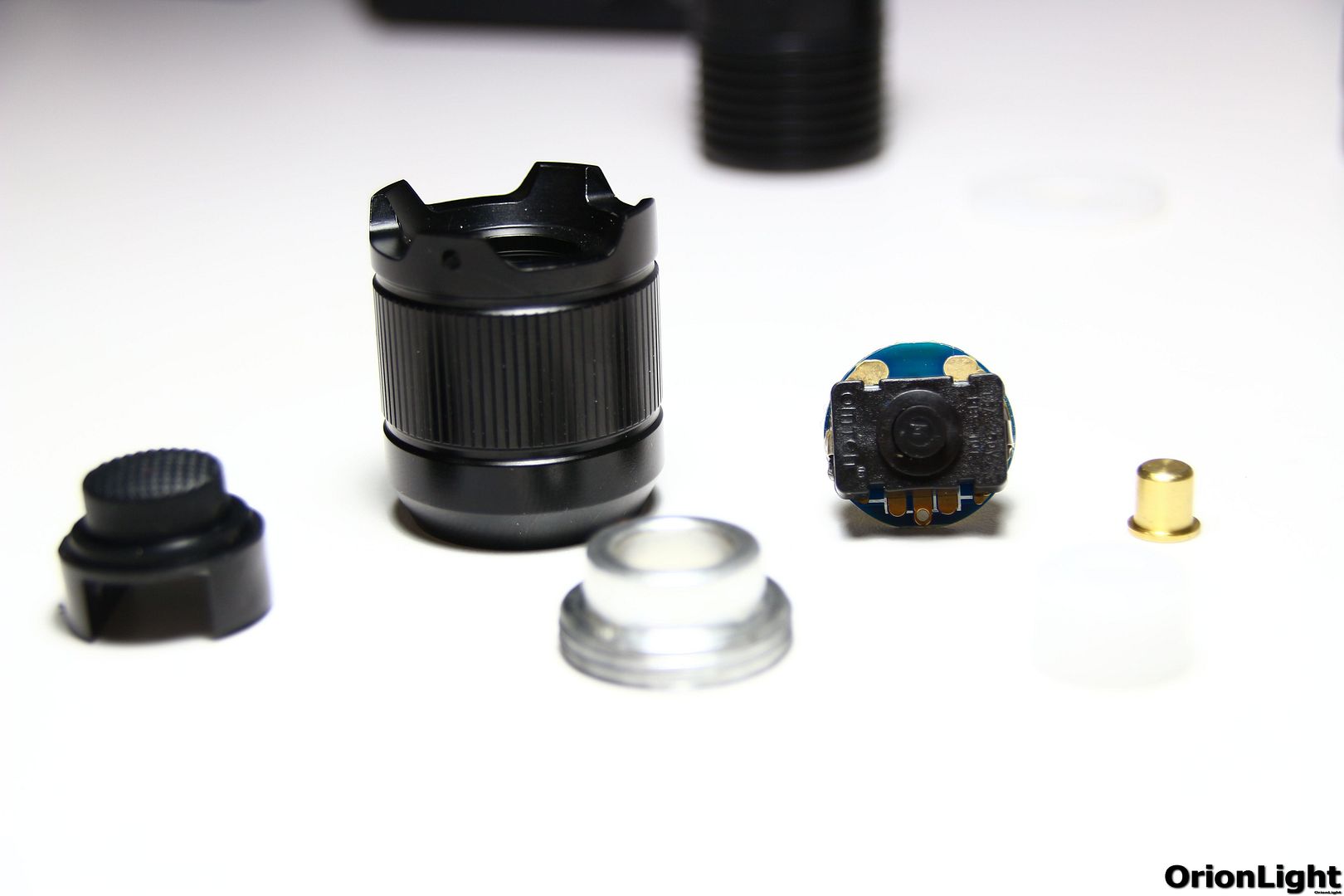 1. Here's a look straight down the head.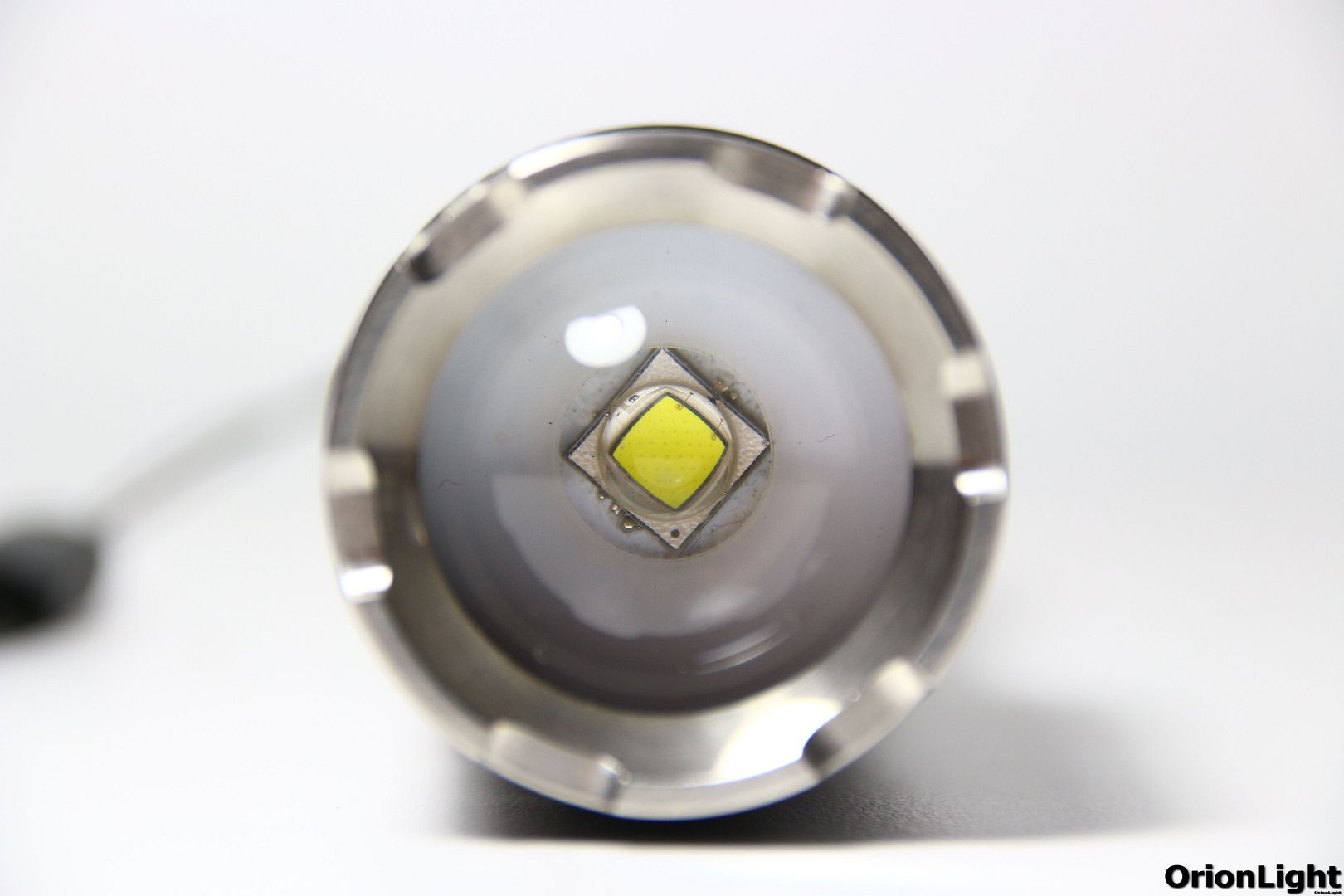 Here with the lens and case off, but with a plastic cover for the star.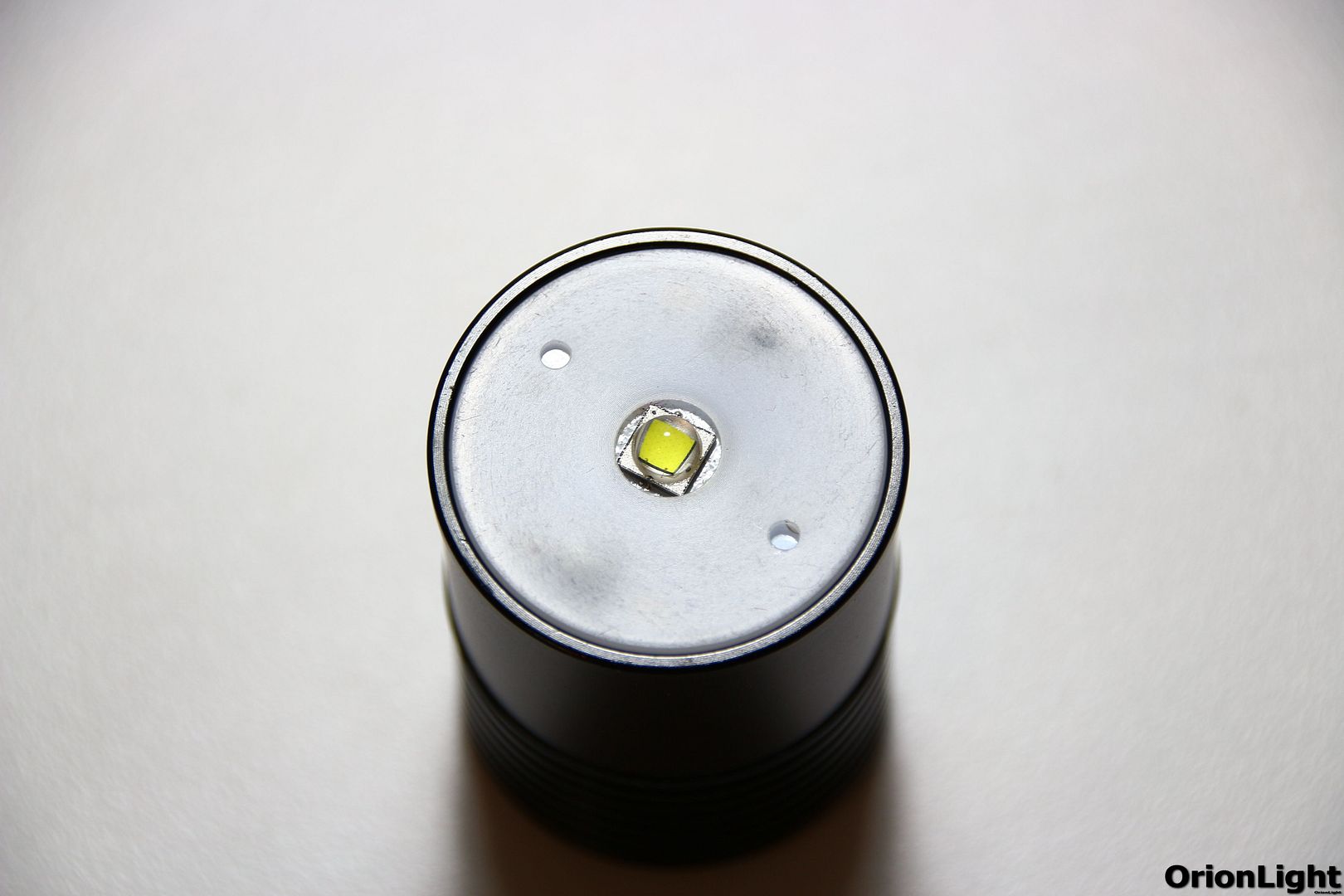 And here with the cover off.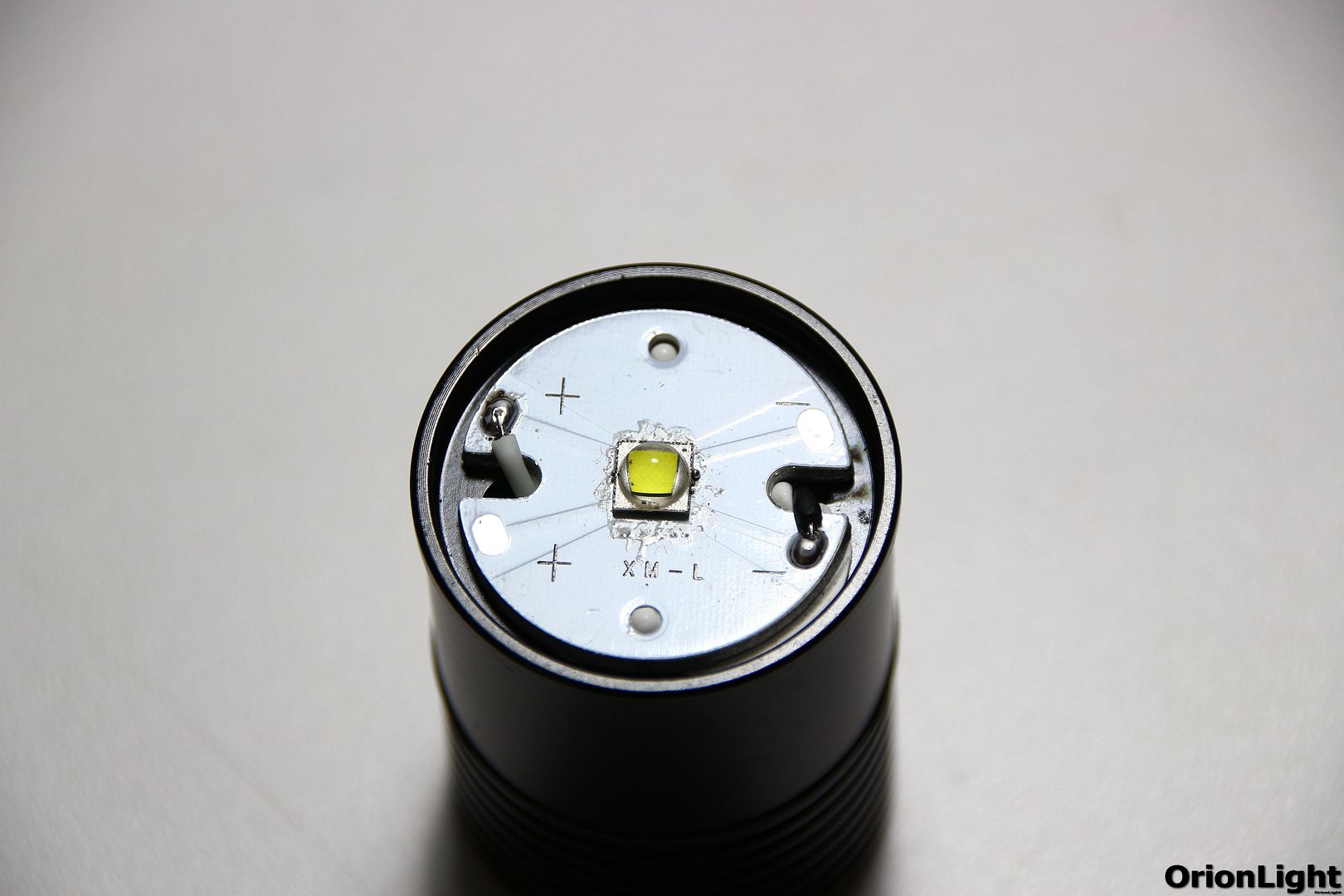 This is the driver side inside the head.  I could not figure out for the life of me how to get this out of the head.  I see what might be a retaining ring, but with no holes to grip, it's impossible to turn.  I didn't want to desolder the star since I don't have any thermal paste to put it back on.  Maybe I'll do it later in another post.  But this is all I could show for now.
Here is a shot of the threads on the tail end of the body tube.  They're not square cut, but still very smooth with no cross threading.  The body pieces came slightly lubed. 
Time for the beam shots.  All pictures are set to 1/6 speed, f/4, ISO 100.  The first series is in flood mode and the second set is in zoom mode.  Control, low, mid, high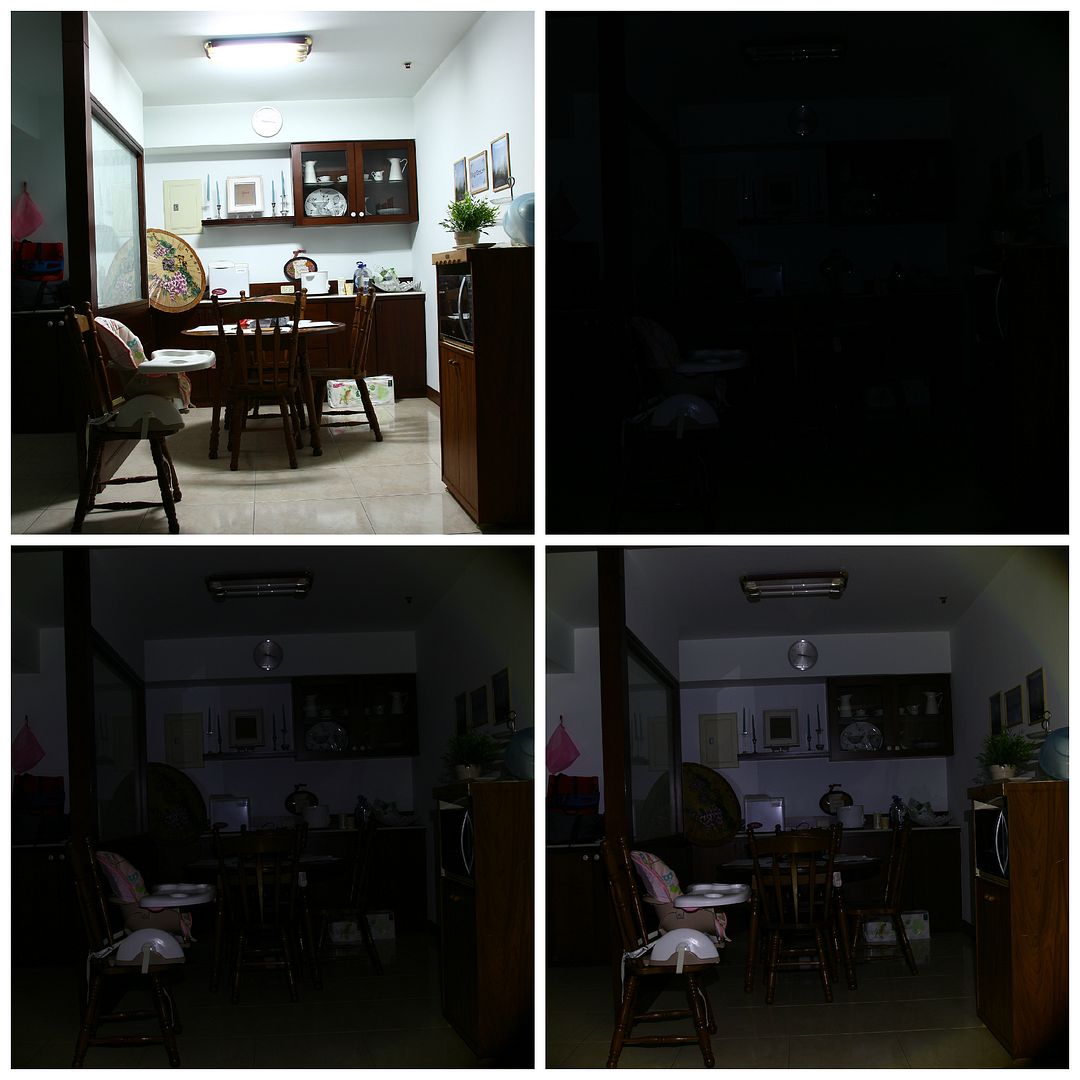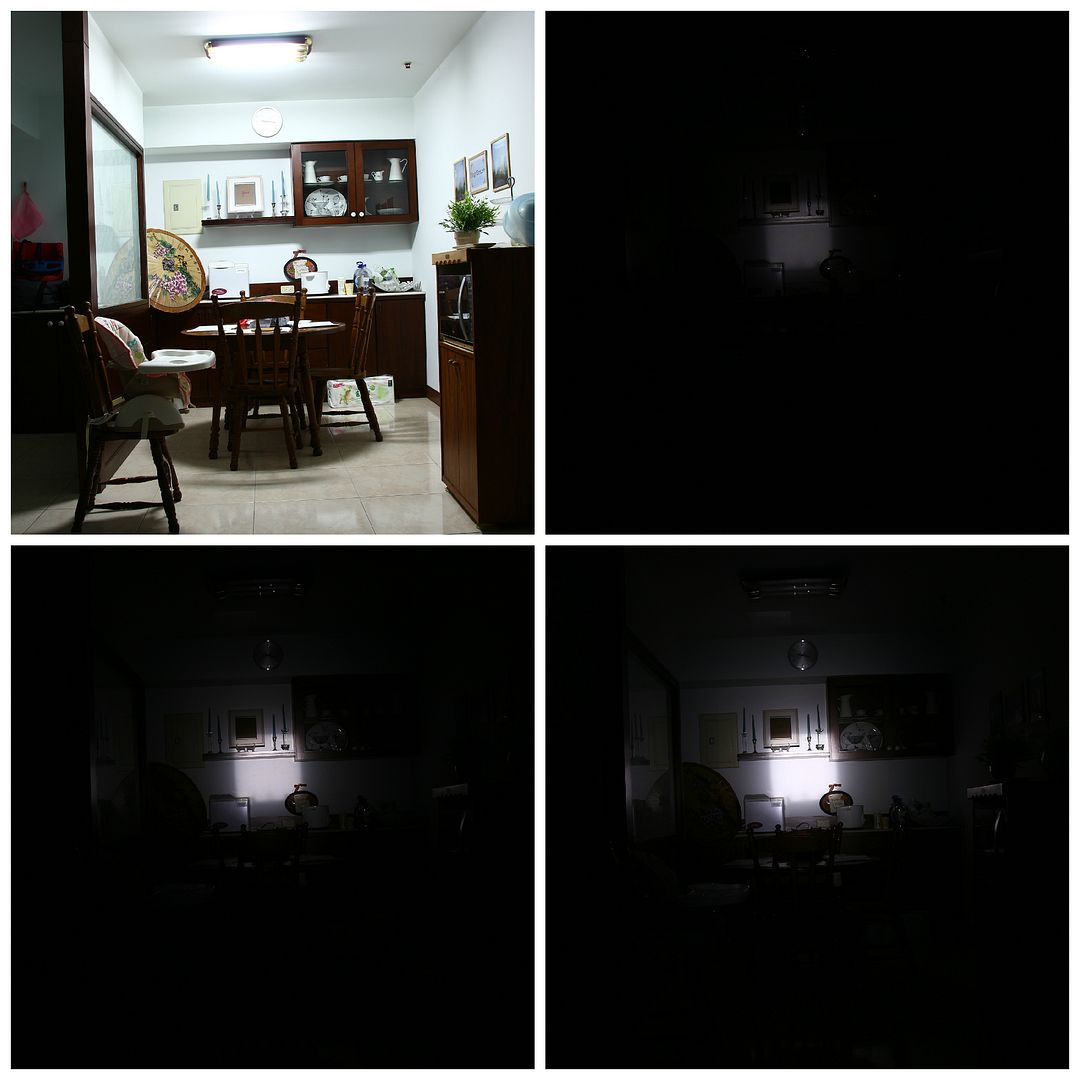 To give you an idea of how bright this really is, I'll compare it to the ever popular Convoy S2+ (2800mA version).  I would say that a good number of people have this flashlight so it can be easy to compare. 
Conclusion
Pros: 
Well built

Smooth anodizing
Firm transition from flood to zoom, unlike some cheaper lights that slide with too much ease

Fairly bright
Uses genuine Cree XM-L (especially considering all the fakes floating around budget lights these days)
Stainless steel bezel
Good water resistance (under showerhead water)
Good value at $10 (under $10 for a limited time)
Cons:
Slighty under-driven.  
Not easily moddable. 
Knurling is a bit too smooth to be effective.
Takeaway:
For a $10 18650 zoomie, you can't really go wrong here.  It doesn't excel at anything, but it doesn't fail at anything either.  For the price, it's hard to beat something that feels so solidly and cleanly built.  If there was an easy way to open it up and mod it, I would say that this is a fantastic light to use as a host.  If it was driven a bit harder, I'd say that this light is unbeatable at the price point.  I don't have any light measuring tools, but compared to my Nitecore EA41 on a ceiling bounce test, the high mode is very much comparable to the 4th mode which is rated at ANSI 580 lumens.  Is it anywhere near the manufacturer specs of 2000 lumens?  No, but 580 is a respectable number for a $10 light. 
So if you're looking for a 18650 zoomie that won't break the bank that delivers above average performance, I would strongly recommend considering this light.