This is brief review of the , available from here.
The review has been pieced together from another discussion thread on the same subject: http://budgetlightforum.com/node/42911#comment-853959 I condensed the material into a formal review here for easier reference, in case anyone searches for this information in the future.
Each unit comes with an instruction manual, two mounting screws and two plastic anchors. There is one light unit per box, a pair are shown here for measurement purposes only because I had ordered two of them.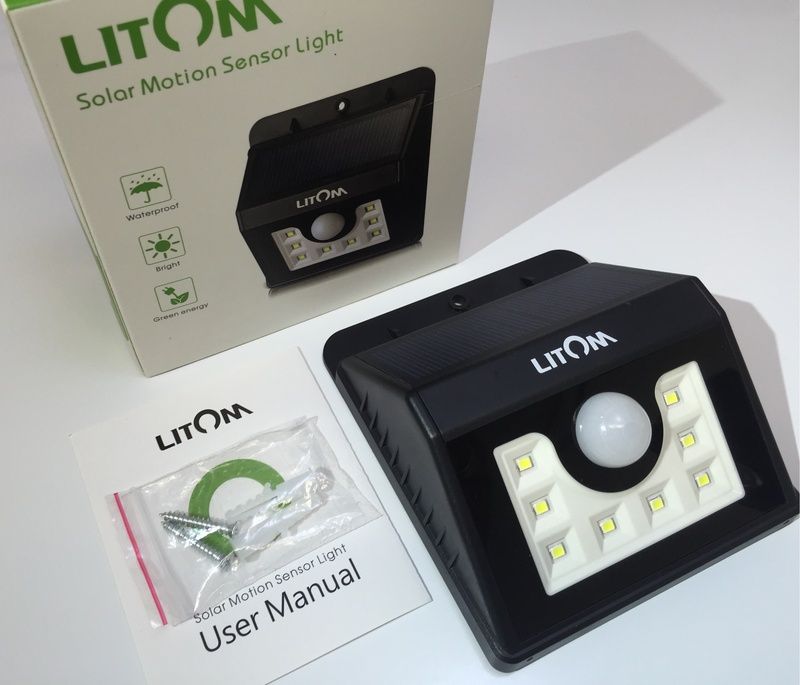 …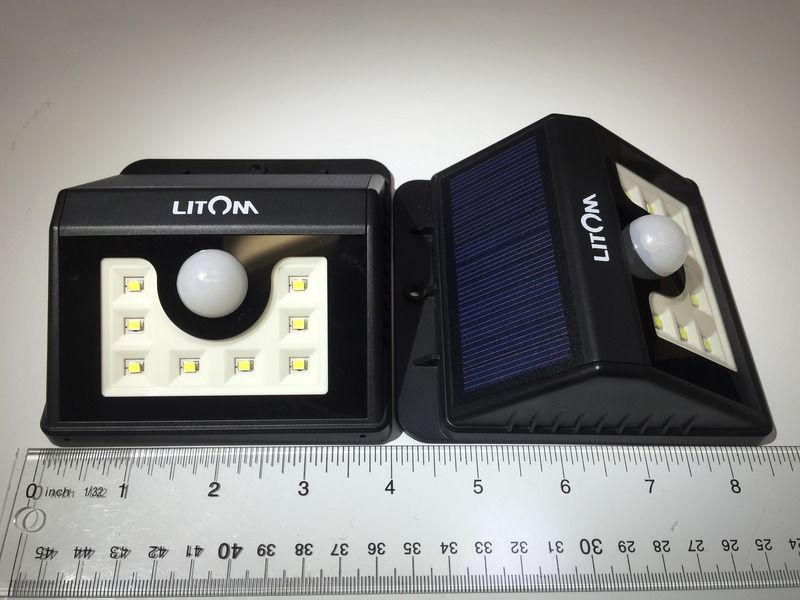 .
Here's the back of the unit before and after removing the cover label and retaining screws.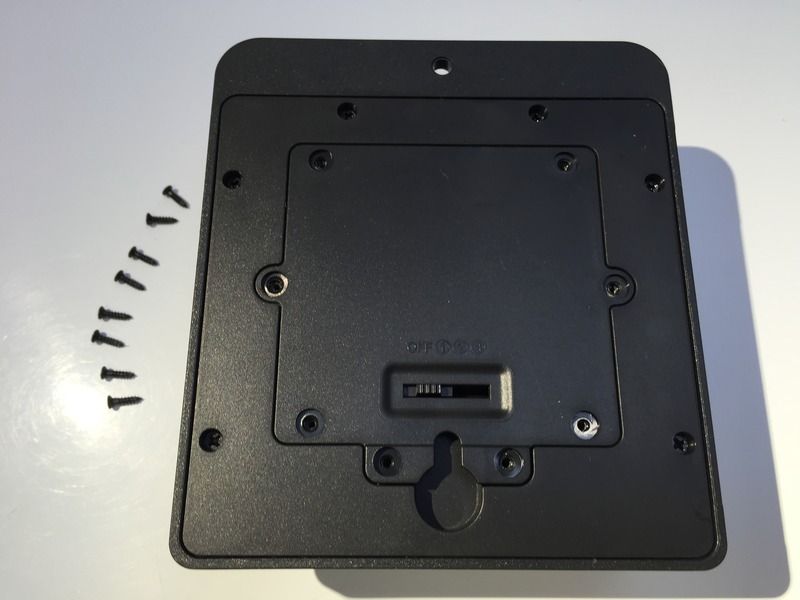 .
Lifting up the battery cover reveals (what else?) the battery. Rotating the back panel opens up the unit.
Note: Slight pressure is required to snap the panel out. Ditto for reinstallation.

.
Picture of the interior (the back side of the back panel/battery housing) and picture of the circuit board housing.

.
Close-up picture of the circuit board. Notice how neat and clean all of the solder points are. Also, note the missing screw at the upper left corner of the board. The board seems adequately affixed by the two existing screws. Nonetheless, the missing screw is somewhat of a mystery.

.
And here's the 14500 800 mAh button-top battery:

.
The output modes are as follows:

Mode   Output
Off        Off
 1          Constant medium (50-60lm)
 2          Standby Low (10lm) / High (150-170lm)*
 3          Standby Off     /         High (150-170lm)*
* - Motion sensing modes
Mode 1 is a simple on at dusk, off at dawn operation (activated by photocell). It is bright enough to illuminate a footpath or building corner, but not much more.
Mode 2 is a motion-sensing mode. While at rest, it puts out a low beam of about 10 lumens. When activated, it puts out about 150 to 170 lumens. For my purposes, to mark my driveway endposts, this is ideal. Bright enough to see them, but not too bright as to be distracting to the neighbors.
Mode 3 is a motion-sensing mode. While at rest, it is completely dark. When activated, it puts out 150 to 170 lumens. Note: 150 to lumens is bright enough to illuminate a 30' × 30' area with night-adjusted vision, but not bright enough to substitute for patio lighting.
This is a picture of Mode 2 (Standby Low) on my endpost ………….. and this is a reference shot showing the endpost:

. . .
.
Motion-sensing is done by a Passive Infra-Red (PIR) system. It is sensitive to relative changes in infrared (heat) sources, like human bodies. When I tested it, it appeared to be sensitive up to 25 feet and within a cone of about 40 degrees (20 degrees on each side of center). And when activated, the high beam turns on for approximately 11-12 seconds before resuming its standby mode. If I stay motionless, the light remains in standby mode. Only if I move within its range am I detected. So, if I want the high beam to remain on, I have to keep moving.
The tint is a cool white. Not obnoxiously blue like some lights. I'd call it a 1B tint. I personally like neutral to warm tints, but I found the tint of this light to be reasonably good.
The Litom Solar-Powered Motion Sensor Light seems to be well manufactured. Fit and finish details appear to be first-rate. During installation, I accidentally dropped the unit from about 3-1/2 feet and it survived none the worse for wear.
I have not had an opportunity to evaluate how well it performs overnight or during long periods of inclement weather.
Nor have I had a chance to test it for weatherproofing.
And only time will tell about its long term performance and durability.
For those who might be interested in modding the unit by replacing the 14500 battery with an 18650 battery, space can be freed up by sawcutting or dremmeling the battery housing area of the back panel.
I hope this information has been helpful to others who may be in the market for a solar-powered exterior light.
. . .
EDIT: After fully charging the unit in direct sunlight for over 12 hours, I ran it on on Mode 2 for 30 straight hours before terminating the trial. At that time, output was approximately half (say 5+ lumens) of what it had started off at. This was more than bright enough to perform the function of marking my driveway endpost at night. Surprisingly, when the unit detected motion, the high mode still put out over 100 lumens. (I would have expected the high mode to have dropped off considerably more than that!) And I'm not sure how much residual charge was left in the battery, but I thought that 30 hours was more than enough of a test for the Litom Solar-Powered light.
. . .
EDIT2: It's been a couple of weeks and so far, so good. For my purpose, marking the posts on either side of my driveway, they have been working very well. Now, I'm much less worried about visitors hitting the endposts when they reverse their cars at night. I noticed that the Litom lights tended to flicker off and then back on when I drove my car into the driveway at night. That was odd. So, I took one of my BLF A6 flashlights and went out to investigate. As soon as the A6's beam shined upon the Litom unit, the unit went out! LoL! :bigsmile: The photocell (which automatically turned the light on at night) was turning the Litom unit off whenever struck by a bright light, like a car headlight.
—
Rule 1-1 as it applies to life, take it as it comes.