Flashlight Review: TrustFire 500A
Reviewer's Rating:
(note: aid links are for tracking purposes only, no compensatory affiliation)
SKU:H14725: http://bit.ly/1kRcLfs
Special thanks to TOMTOP : http://bit.ly/1HcKjup for providing the light for review.
---
Manufacturer's Features:
Equipped with LXPR-SW65 LED from PHILIPS, dispel darkness around you.
5 modes to get different brightness - High, Medium, Low, Strobe and SOS.
Maximum output brightness can come to be 1150LM.
Housing of aluminum alloy, sturdy and durable.
Delicate and stylish appearance, wise choice for personal use or gift for others.
Suitable for most indoor usage and outdoor activities like caving, camping, fishing, hiking and so on.
Manufacturer's Specifications:
LED type: LXPR-SW65
Light color: White
Lumen: 1150LM
(1)High:1150LM
(2)Medium:580LM
(3)Low:150LM
(4)Strobe:580LM
(5)SOS:1150LM
Power supply: 2 * 18650 (not included)
Material: Aluminum alloy
Item size: Approx.22 * 5.5cm / 8.7 * 2.2in (Length * Head diameter)
Item weight: 284g / 10oz
Package size: 23.5 * 7.5 * 7.5cm / 9.3 * 3 * 3in
Package weight: 340g / 12oz
---
For most flashlight enthusiasts, Cree is regarded as the leader in LED technology.  And while their reputation is highly deserved, other manufacturers aren't far behind in claiming their place as comparable competitors.  This TrustFire 500A is said to have a Philips LXPR-SW65 LED inside.  We'll see how it performs, but first, let's look at the host and its build quality.
Here is the LED sitting in a wide, but shallow orange peel reflector. 
---
Here is a close up of the heat sink fins on the head.  The overall shape of the flashlight is reminiscent of an elongated C8 with a shortened head.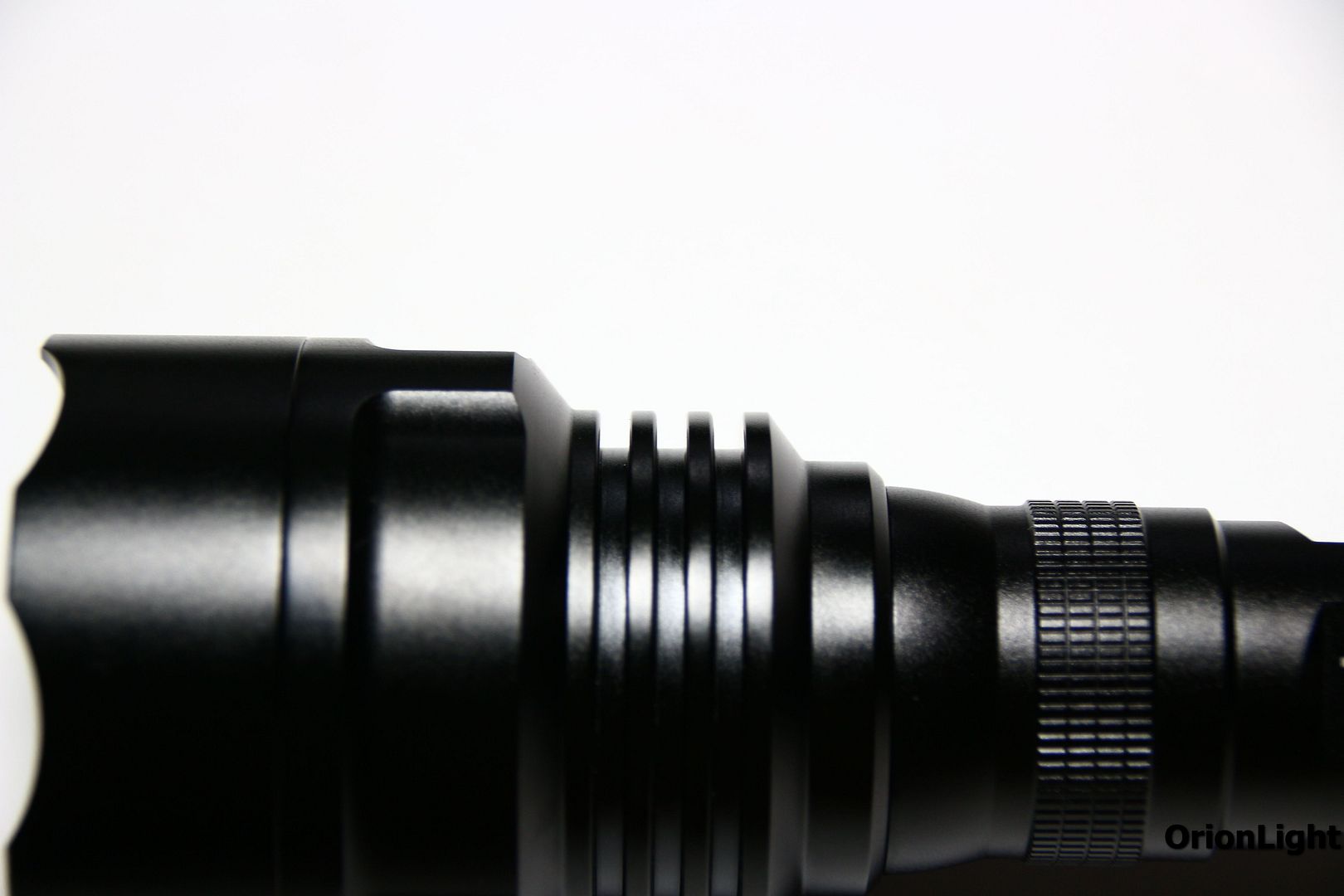 ---
The threads came very well lubed and seem to be triangular in their cut.  They're relatively smooth and I didn't experience any cross threading.  Also notice the double o-rings to help keep everything nicely sealed. 
---
A closer look at the tail cap assembly shows a quality switch inside.  The spring on the right is actually from the head and not the tail cap.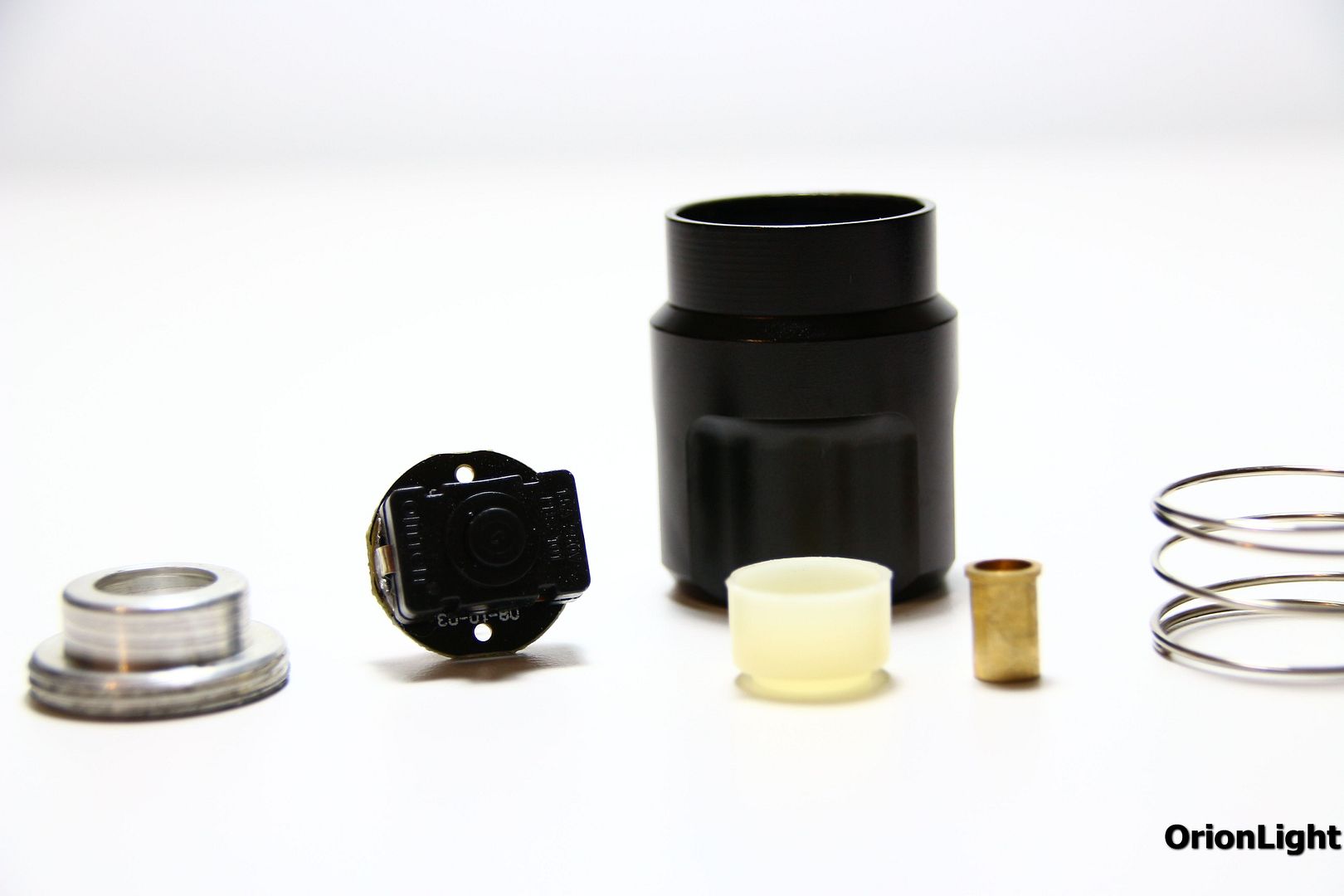 ---
As we make our way into the head of the flashlight, we see that the ring is made to contact the driver board and the flashlight body tube. 
---
A quick disassembly of the head shows something promising…. could it be? 
---
Yes it is.  A solid copper pill.   A solid brass pill. (thanks for pointing that out JM!) But the interesting find is this Cree labeled star.  As the specs showed earlier, it's supposed to be a Philips LED.  I looked online and couldn't find a Philips LED with that model number, and initially thought that this emitter looked very much like the Cree MK-R.  It's still possible that this is the Philips emitter just sitting on a Cree star, but I think it's more likely that it is in fact the MK-R emitter.  A little disappointed, but still a good emitter overall.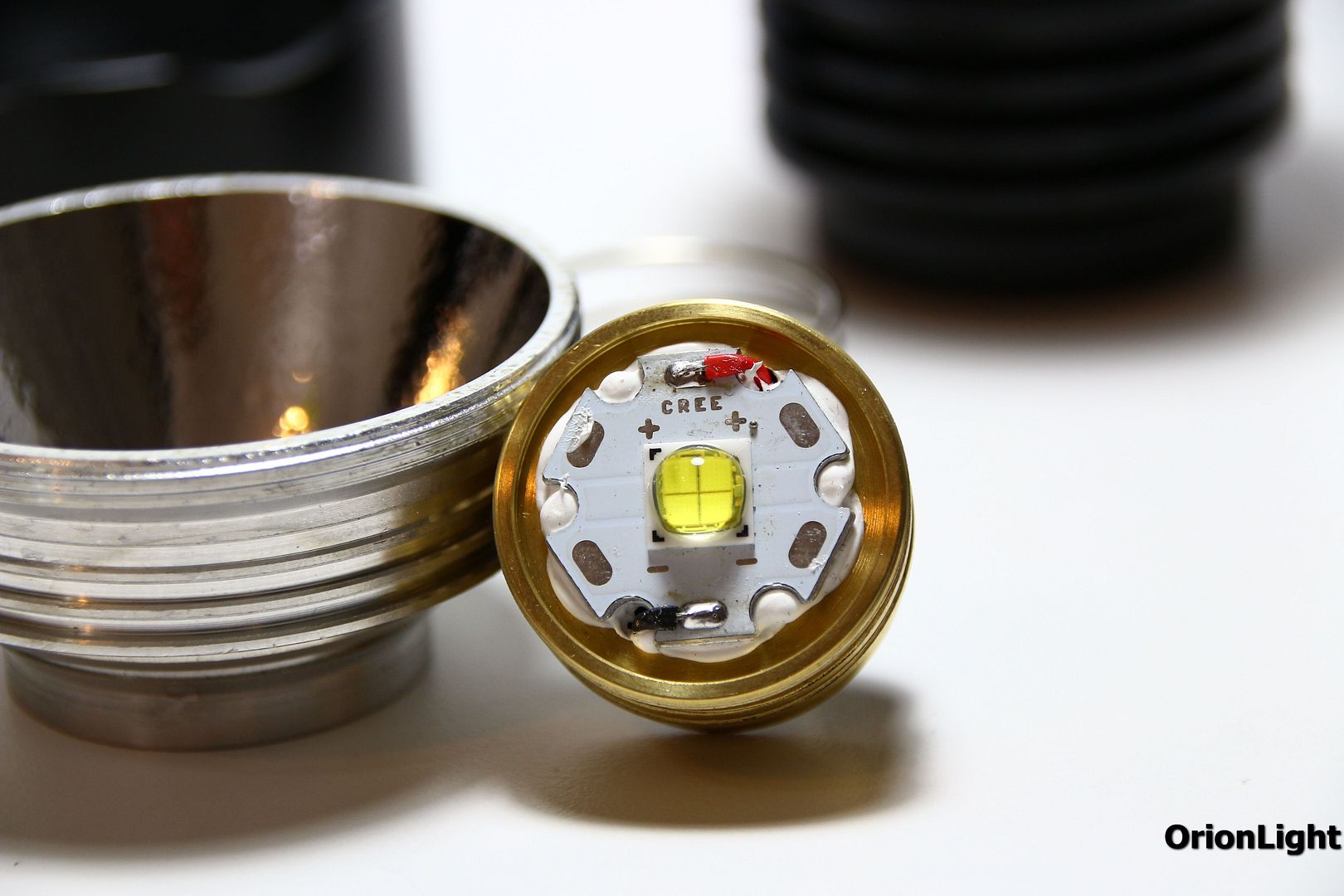 ---
Here's a size comparison of flashlights in the same class and some commonly known flashlights.
---
Let's take a lot at two sets of beam shots.  The first is done in my living room while the second is aimed at a building about 75 meters away.  As you can see from the living room beam shots, the hot spot is tight yet the spill is still fairly wide. 
Pros:
Solid build quality

brass pill
good heat dissipation
reliable, trouble free switch

Can use protected or unprotected batteries
Respectable lumen output
Reflector produces good balance between flood and throw
Great host for modding
Has mode memory
Cons:
Doesn't seem to be a the Philips LED (edit: Djozz suggests it may be a Philips with a different model number)
Tint is a little too green for my liking
Not quite 1200 lumens as the manufacturer claims.  Ceiling bounce tests estimate it closer to 700-800 lumens.
Blinky modes are still annoying
Conclusion:
If you're looking for a reasonable 2*18650 flashlight with a good option to mod, this is a decent choice.  Compared to the Roche in the lineup picture, the reflector opening for the emitter has much better placement and is already bigger to easily accept another emitter with little to no modding.  The only drawback there is that the shallowness of the reflector isn't going to give you the same amount of throw as something like the Roche.  The solid copper brass pill also allows for great heat dissipation to the tube and the head's fins.  At the price point of just under $20, it's a reasonable option for someone who wants a good working flashlight now with an option to upgrade in the future.