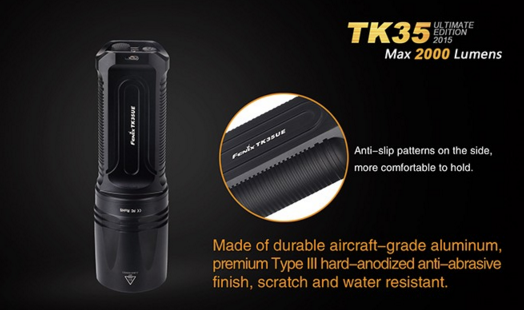 The Fenix TK35 is not a new torch, but it's not old, either.
The TK35UE released in late 2014 sported the MTG2 emitter. It boasted 1,800 lumens of warm-tinted flood. Revitalizing their game for 2015 now is the new NEW release from Fenix—the 2015 Edition.
The first TK35 came with an XM-L T6 emitter. It boasted 820 lumens, and immediately upon release, won a lot of hearts (I wanted one, but wasn't willing to fork over the cash at the time). It was followed by three more releases, each with a slight brightness advantage to the one that came before it. And here we are again! 
The 2015 edition absolutely claws the eyes out of previous versions in output and functionality. It features the XHP-50 emitter, which dishes out power like there's no tomorrow. Since the last two releases, the aggressive new styling (ridges) on the sides are still around for added grip. Basically, this torch makes itself known. And while heavier than it feels like it will look in pics, the feeling of quality is easily absorbed upon first grip.
Claims 
Fenix gives the following specs on this light:
My examination came out as follows:
Turbo: 2001 lumens at start, dropping to 1,916 just before timed step-down some five minutes after activation.
High: 1,049.4 lumens, which stays pretty much constant at this level.
Medium: 371.0 very usable lumens.
Low: 120.0 lumens.
Eco: 19.7 lumens for any cave-dwellers, or campers as the case may be. As I see it, this is low enough for low-light needs. 
Strobe (variable) (arrived at by holding the mode button down) is headache-inducing in seconds! I've never seen anything quite like it!
The two-button interface is intuitive enough, and confusion between them is minimized within an hour of practical use. Fenix has a reputation for being pretty accurate with their lumen claims. And I'd say that bill is paid here.
Pluses: 
 The crazy, cool white-colored output: The TK35UE 2015 screams out 2,000 lumens, which makes it feel like I'm carrying around an LED car headlight.
The throw – although it "only" boasts 25,600 kcd and 320 meters of throw, those numbers are not to be messed with. This light out-throws all my other flooders and somehow feels more like a thrower than a flooder...except when you need it to feel like a flooder...which is the beauty of it. In fact, it is almost more thrower than flooder. I'm a "thrower prefer-er," but I don't miss my throwers when playing with this light, for some strange reason. I can light up the side of a building, or a more narrow alleyway or area—and at the same time, everything around me. A smile goes across my face every time I get to power it up in any low-light areas.  
 The mode versatility (self-explanatory).
Minuses: 
The holster: Even before we get to the light, the holster that is included with the light needed some rethinking. It is neither practical, nor well-conceived since getting the light in and out without both hands is a chore. But I still carry it on duty; I've gotten more or less used to it, and if you keep the top strap loose, it can hold it still. It at least needed to have the lower lip not buckle inward when trying to re-insert it. 
 The power button extends beyond the railing at the end, and this prevents the light from tail-standing well. There was simply no reason to allow for this—even if the manufacturer was worried about avoiding confusion between the buttons when trying to activate it in the dark.
Faux Negatives:
These are what are considered negatives, but in fact, are not much or at all negatives.
A slight "+" sign in the beam due to the quad-die emitter.
What became a hated feature of the old MC-E emitter was the plus symbol that was visible in the beam. This cut down on the beam density and was distracting. Although a slight "+" can be spotted in the beam, it is not at all distracting and disappears in practical use. Somehow, this emitter seems to be more of a thrower than its big brother, the XHP-70. 
The timed step-down.
The step-down is so slight that in both runtime tests I put it through, I wasn't initially able to spot the step-down. Fenix says the light will drop into high mode after 5 minutes, but a slight click will take it back into a scorching 2,000 lumens. After several night walks and on-the-job use, I discovered how mindful this made me of how much power I was using when counting on it for full output, as well as how I simply didn't need as much light as I was using. My runtime test (with two Panasonic Orbtronic 3100 mAh batteries) gave 39 minutes of total use before needing to be recharged (this was when clicking it back up to turbo immediately after step-down). And the good thing is that you don't need to do that on most lighting applications. The 3+ hour runtime on high will yield nice functionality and enough brightness. 
Surprises
Overall, using the new TK35UE 2015 was shocking—not just for the output, but for the reach (although that wasn't what I got it for)! I can just see everything so well with it! What the Chinese have come to call "marching power" is an interesting way to describe the impression that the light makes. It puts out like a big, galavanting circle of light that becomes a thrown wall of illumination (it's hard to describe). As I was able to put a softly emerging wall of light on buildings about 275 meters away, my confidence in its functionality continued to build. 
The charisma of the body of the light is manifest at merely a glance, but its uses are what will grow on you. I've always wanted the light, and as no more clones are available, I went for the real deal--and am damn glad I did! Yes, I am really happy with the purchase. Budget enthusiasts should pass right by these increasingly more common budget offerings with the XHP-50 and go for the properly driven and much prettier TK35UE 2015. Honestly, the "total package" aspect of it - not to mention the regulated and better output - make it worth the cost. 
This one gets a strong Rusty Recommend!