Unique copy-paste company brings us more interesting stuff:
Well it seems this will mean game over for some brand aspherical flashlight manufacturers: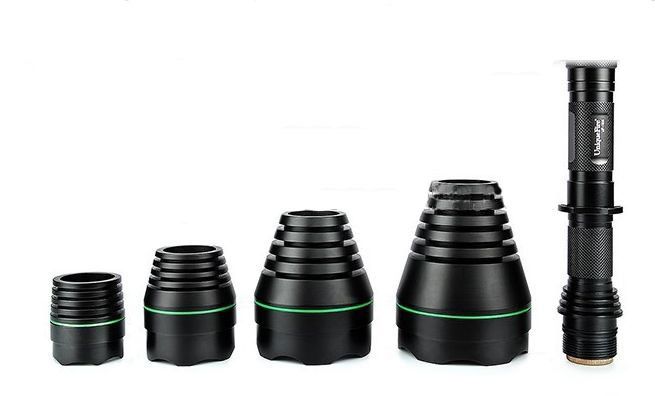 38, 50, 67 & 75mm lenses,
Easy pill swapp with fingers.
Additional 18650 tube extension if someone wants to run in 2×18650 mode.
This set can cover all hunting situations and every other situations where we use flashlight + it covers all LED needs (green, red,white,IR,UV, Blue, yellow pills)
Imagine all this in fancy case and this really becomes more than just a flashlight.
Price unknown.
It will be hard not to buy this set even if you are hardcore reflector flashlight fan.
19.12. Edit: Guys I see that you are not familiar with this design so I will talk about this:
This is Dereelight focusing system. They copy-pasted Dereelight which is pretty expensive aspherical flashlight.
But they did not only copy pasted they also improved it.
- So now you have mono main tube without redundant parts (Bibihang from this forum is well familiar with redudant parts dereelight uses Smile ),
- Finger swappable brass pill
I don't know yet… But if they managed to get Dereelight lenses vendor; lenses should have at least 20% more throw than older 15.. series(1503, 1504 etc.)
Derellight has much better lenses than Uniquefire and now we got to see if they use same lenses as in 15.. series or new better one.
Edit: More about focusing system: This focusing system does not have stop for fully focused beam like 15.. series have. It is normal to go in overfocus or underfocus with this system if you want. But in my experience if they really use Dereelight lenses it will probably not have very good defocus mode(flood mode). So maybe it will not be as good as real zoomie flashlight. We yet have to see that.
15.. Series of flashlights have much better flood mode + they have focus stop and faster focusing action than my Dereelight flashlights.
But anyway I would chose this dereelight system over 15.. system anytime.
Cheers!
N10Sivern bought it: