Hello, after S1 Copper, S2 and i3e Keychain Flashlight, there comes another giveaway.
The first giveaway for 2016!
Olight S30R Javelot
http://www.amazon.com/dp/B016PZ7FOW
Key Features
Illumination: 900 lumens
Beam distance: 264 meters (866 ft)
Waterproof: IPX 8
Modes: 6
Power Source: 18650 Battery
Package: flashlight + 18650 battery + Micro-USB Cable + charging dock
Giveaway Rule
Leave a comment saying that you want to be in for this light.
Two winners will be chosen through Random.org.
Closing Date
Jan 13, 2016
PS. You can also say something that you wish for 2016.
The number put in the generator is the post number.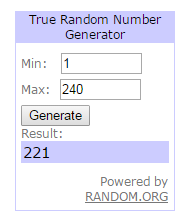 Congrats to the winners!
Winners: gyros-pita + blueb8llz
Note: Sorry, at first I was wrong about the number. "gyros-pita" was no.229 and "blueb8llz" should be the right winner… But I can give both of you the prize.
I have PMed both of you. Please reply and I will arrange sending out the prizes.
—
Olight Direct Store: bit.ly/olight-store