What a light! Hope you guys enjoy!
Manufacturers Specs:
Specification:
Model: ThruNite TN15 Flashlight
CREE XM-L LED with a lifespan of 20+ years of run time
Runs on: 1x or 2× 18650 ( 3400MAH) (No Included)
Working Voltage: 2.7-12V
Output mode/Runtime*: Strobe(975 lumens/226 minutes), Turbo(975 lumens/126 minutes), High(652 lumens/199minutes), Medium(266 lumens/9.7 hrs), Low(19 lumens/177 hrs), Firefly(0.29 lumens/62 days)
Peak Beam Intensity: 66560cd
Max beam distance: 515m
Impact resistant: 2 meters
Waterproof to IPX-8 Standard (1.5meters)
Weight: 294.5g without battery
Dimensions: 250mm in length, 58.5mm in bezel diameter
Accessories: remote switch x1,
Lanyard x1,
Spare O ring x3,
Spare Inner Switch Cap x1,
Spare Switch Cap x2,Battery Carrier x1 (inside the flashlight)
Note:There is some vacancy in the package box,but the flashlight and all accessories are included. Thank you for your understanding.
Operation:
Turn On /Off
Press the tail cap halfway to momentarily activate the light. Click the tail switch to turn the light on and off.
Change modes
When the light is on, single press the side switch to change among Firefly, Low, Medium, High and Turbo.
When the light is on, long press the side switch to turn to Strobe.
Memory Function
The light will turn on in the last mode accessed, except for strobe.
Applied to A Gun:
TN15 is designed with a body diameter of one inch, which is appropriate for any standard mount.
Battery Replacement
Take off the tail cap, insert the batteries with the anode (+) toward the LED assembly (head of the light), screw the tail on and tighten it all the way to operate the light.
My youtube review:

Construction:
This light utilizes 2x body tubes so that you can use 1 or 2 18650 batteries. You can also use any combination of CR123, 16340 or 18350 batteries. It has a smooth reflector, large head with ample fins for heat sinking. There are springs on both ends of the tube so that you can utilize a wide range of battery lengths. Will use protected and unprotected batteries. Annodizing is good, threads are great, and the switch is excellent.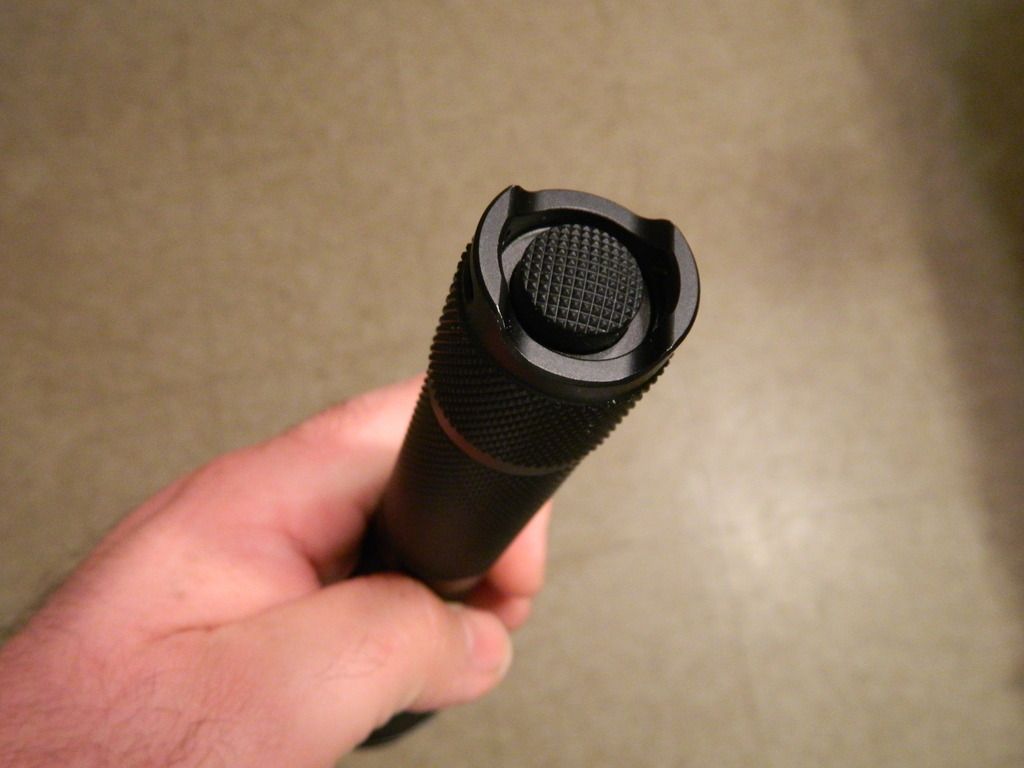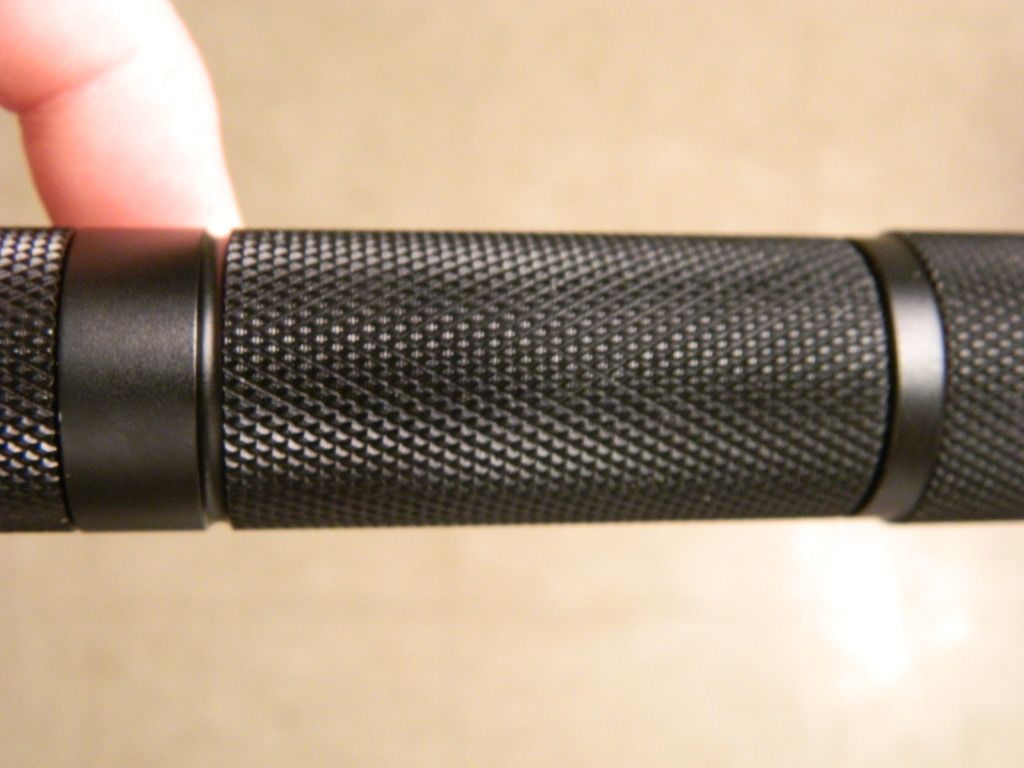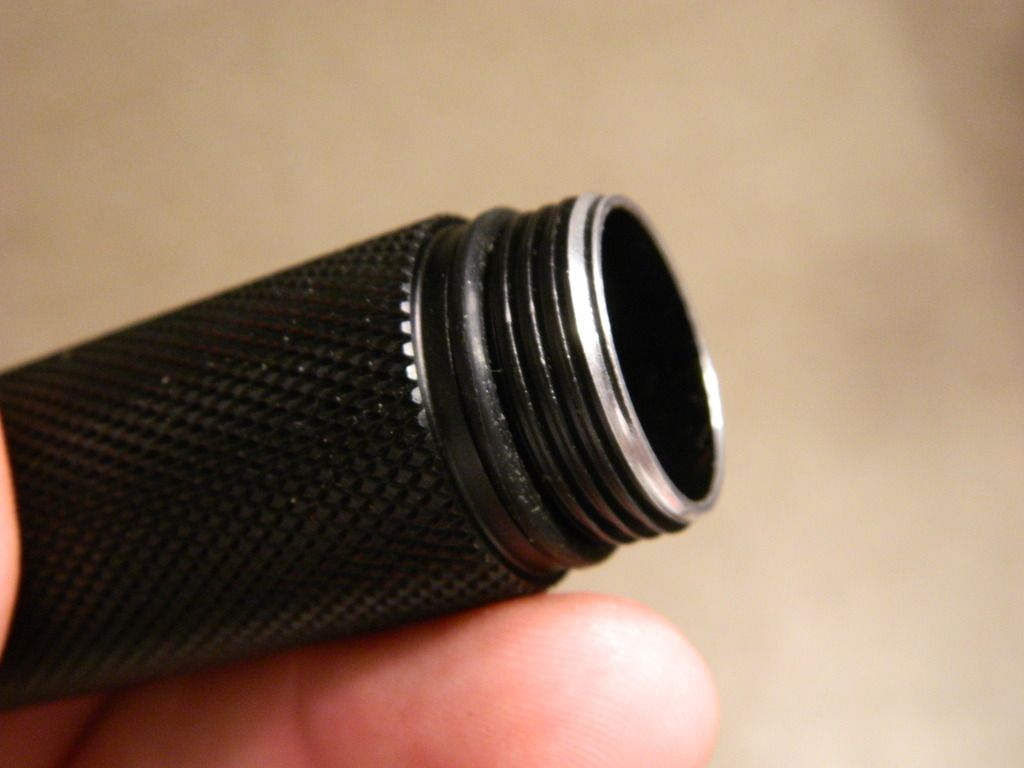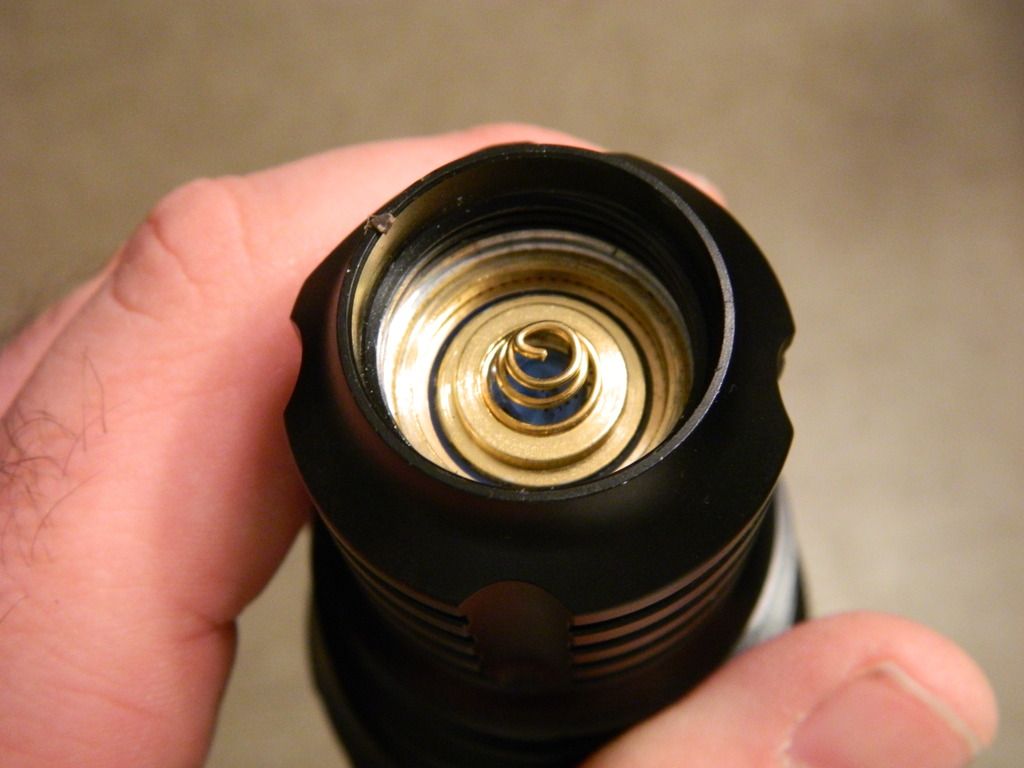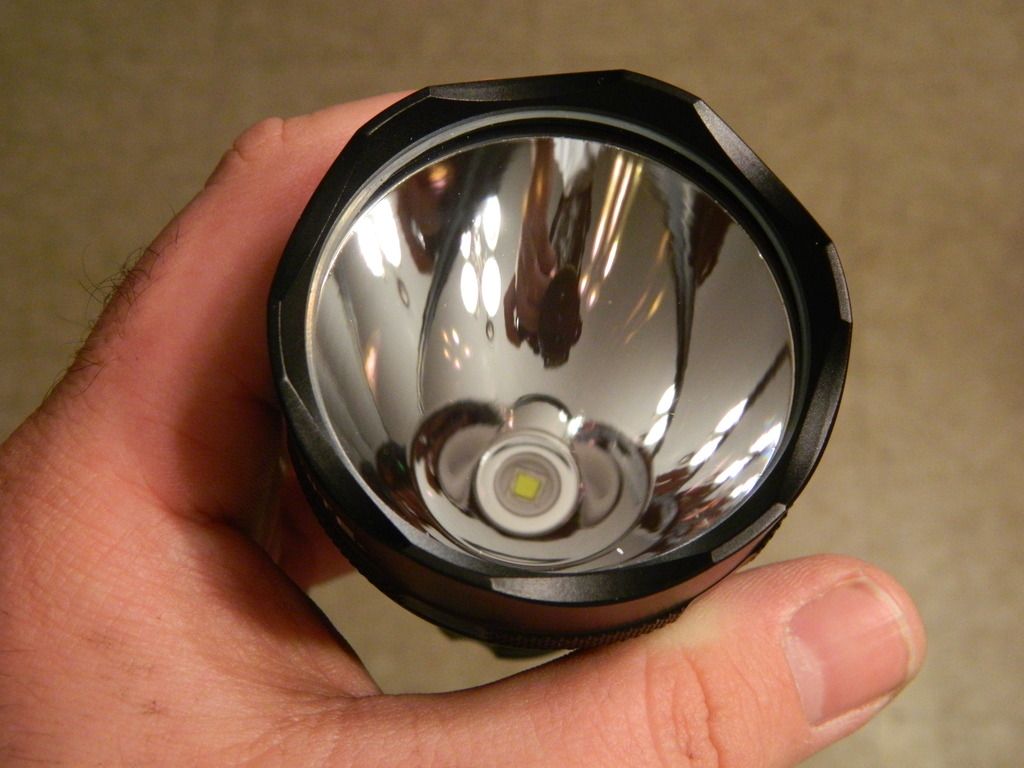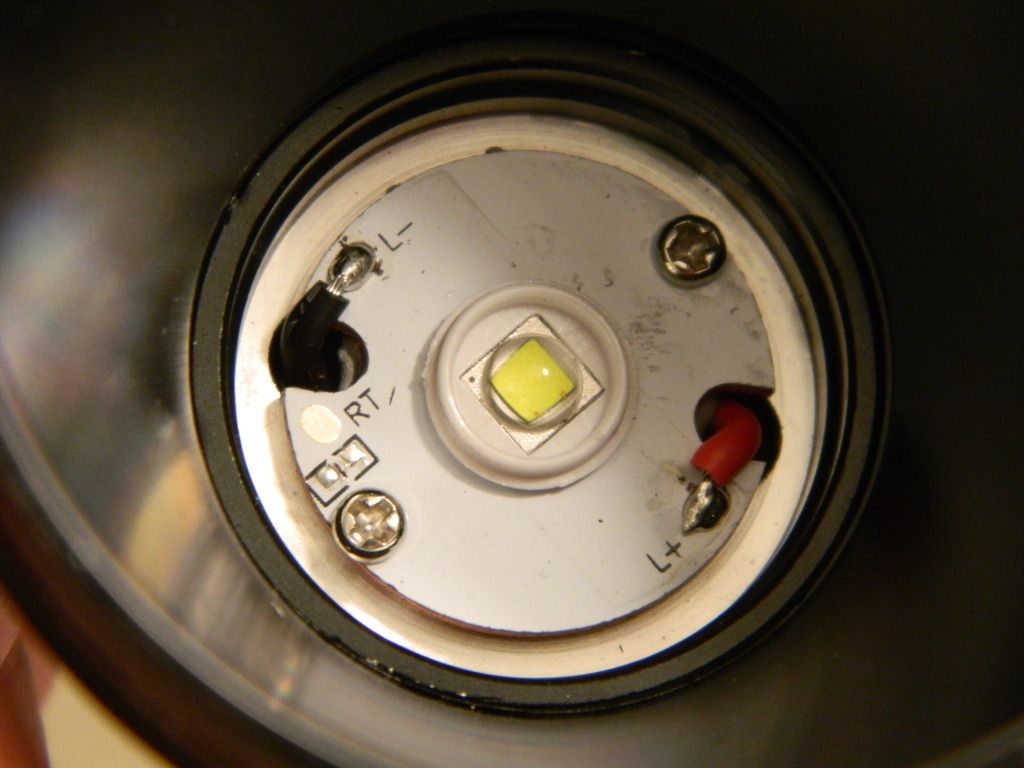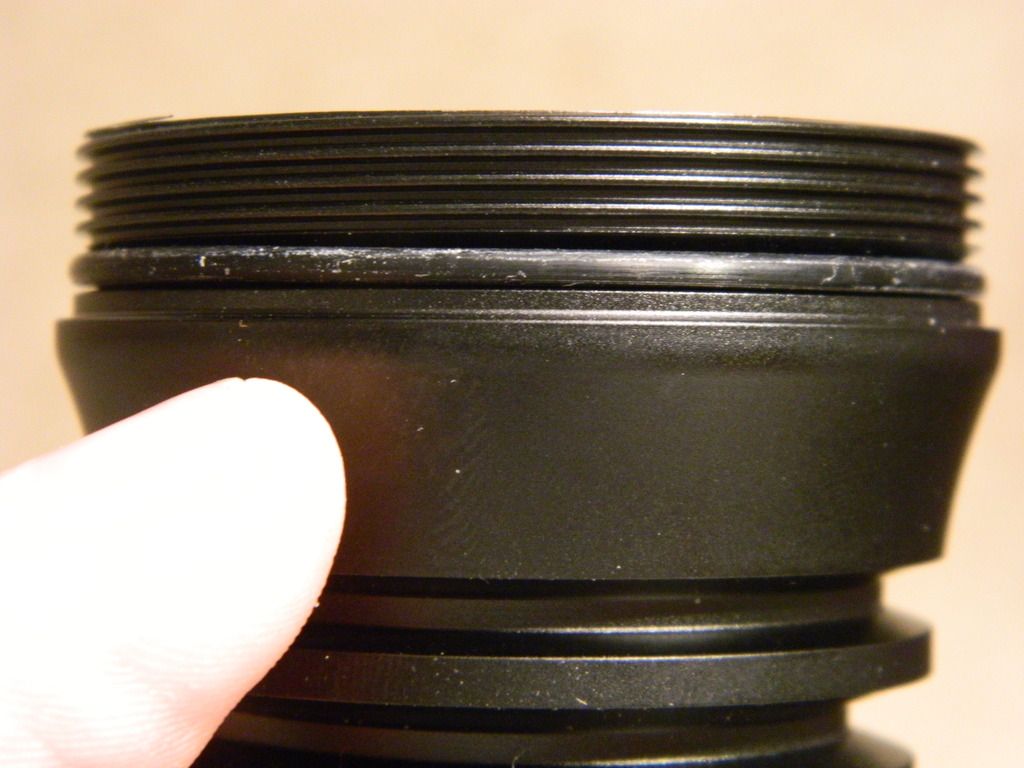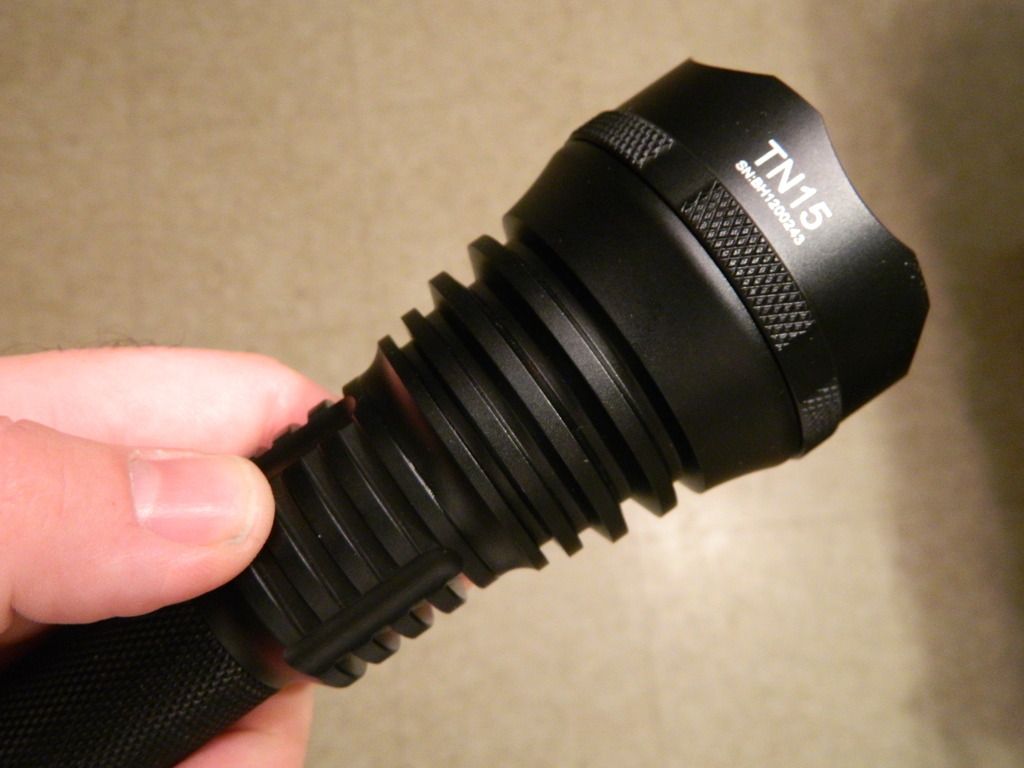 Performance:
Here is a comparison with a number of other single 18650 flashlights.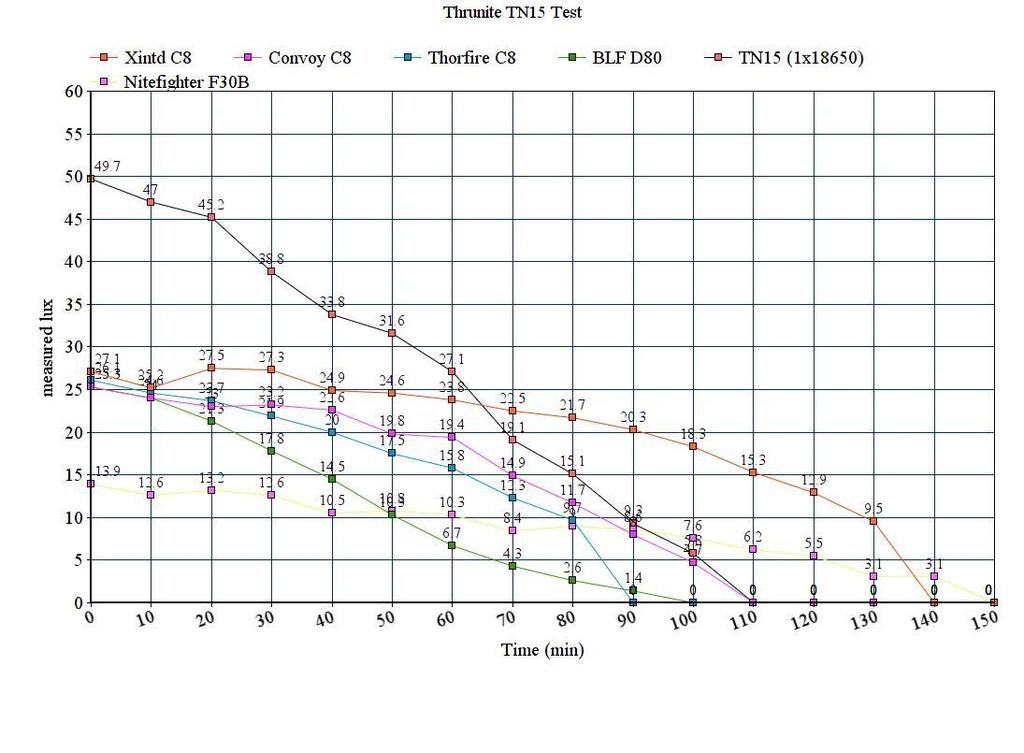 Here is a comparison of runtime and brightness using 1x and 2× 18650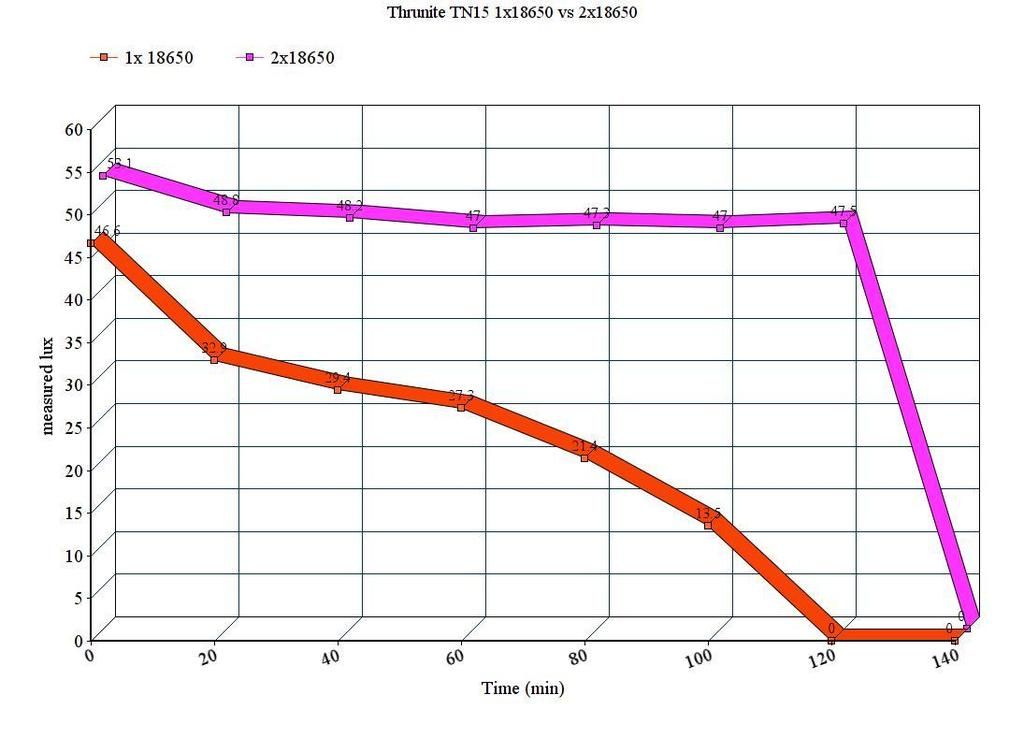 Tailcap readings:
1×18650 – 0.0, 0.3, 0.47, 1.58
2×18650 – 0.0, 0.4, .50, 1.80
these were done with a cheap HF DMM and could be off by a bit. Bit you can see that readings are pretty similar
Runtimes:
1×18650 w/ ncr18650b 3400mah – 115 min
2×18650 w/ ncr18650b 3400mah – 127 min
1×18650 w/ 3000mah efest imr18650 – 102 min
surprisingly you don't get a much longer runtime with 2x batteries, but you can see there is a massive difference in the regulation and how the light runs. You get max lumens for the entire duration using 2x batteries.
Ceiling Bounce test:
set up a ceiling bounce test to compare to the competition. This is done about 24" from a white wall and measured with a lux meter. I only did high mode only for this test. Of course, this is not very scientific… but I was as consistent as possible for the test.
TN15 – 1140 lux
Convoy C8 (with spring bypass ) – 1160 lux
Thrunite TC10 V2 – 952 lux
Olight M21 xl-2 – 941 Lux
Xintd c8 xp-g2 – 941 lux
BLF D80 (with Spring bypass) – 1308 Lux
Thrunite TN12 – 1450 Lux
Nitecore P12 – 1013 Lux
Defiant Super Thrower – 647 Lux
Thorfire VG10 – 910
Oligth S30 Baton – 1119 Lux
BLF 348 – 168 lux
Thrunite TN4a – 973 Lux
Thrunite TI3 – 124 Lux
Beam Shots: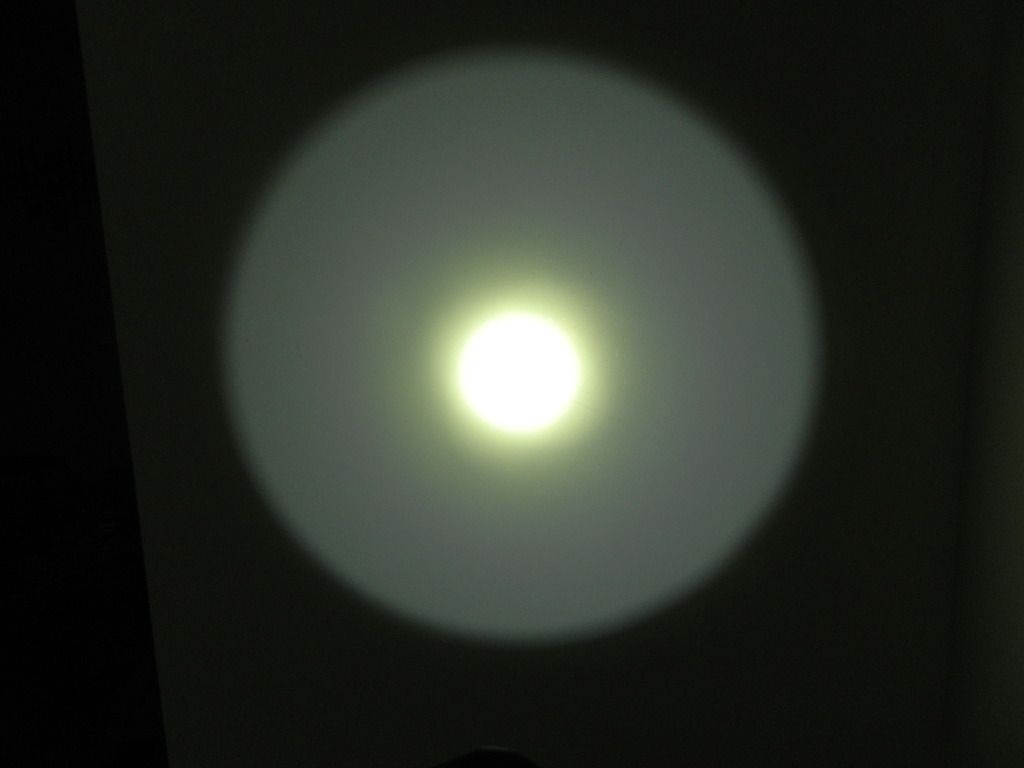 TN15 Vs Olight M21 xl-2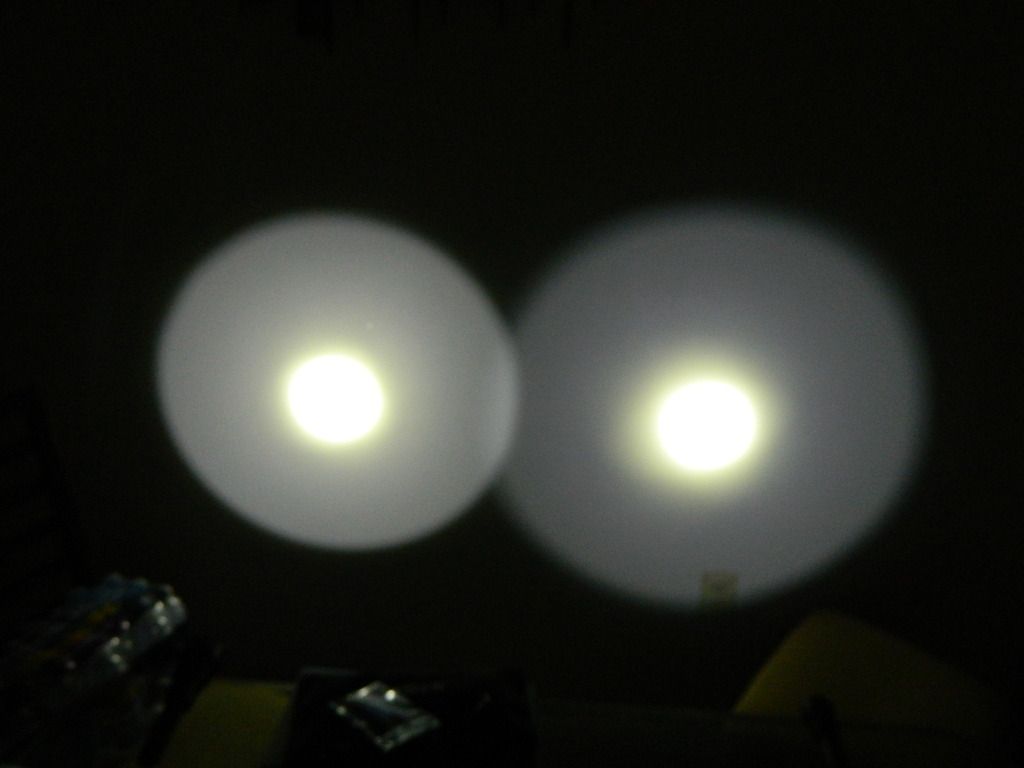 TN15 Vs Thorfire C8 (xpl-hi upgrade)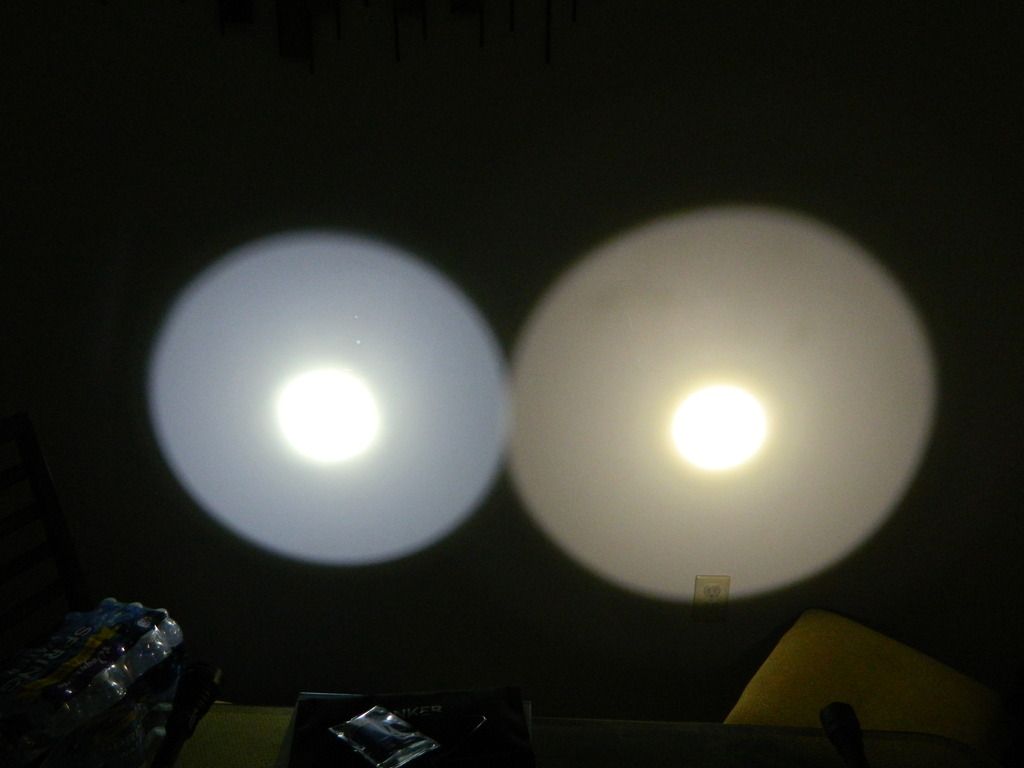 TN15 vs TC10 V2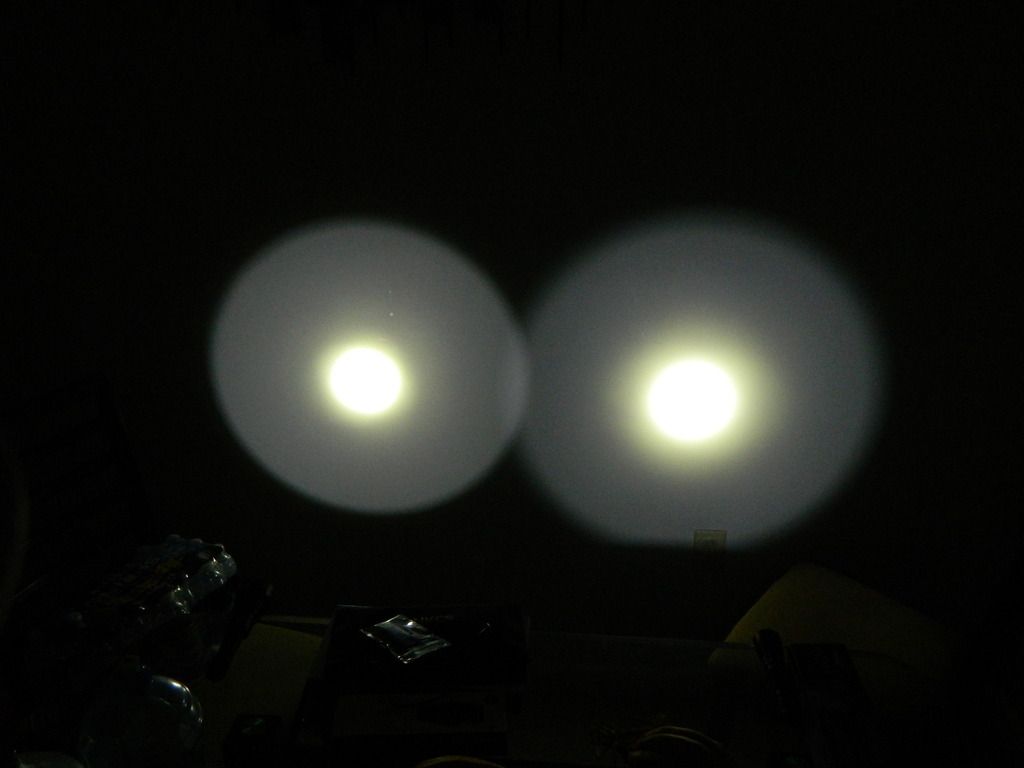 TN15 Vs Thorfire VG10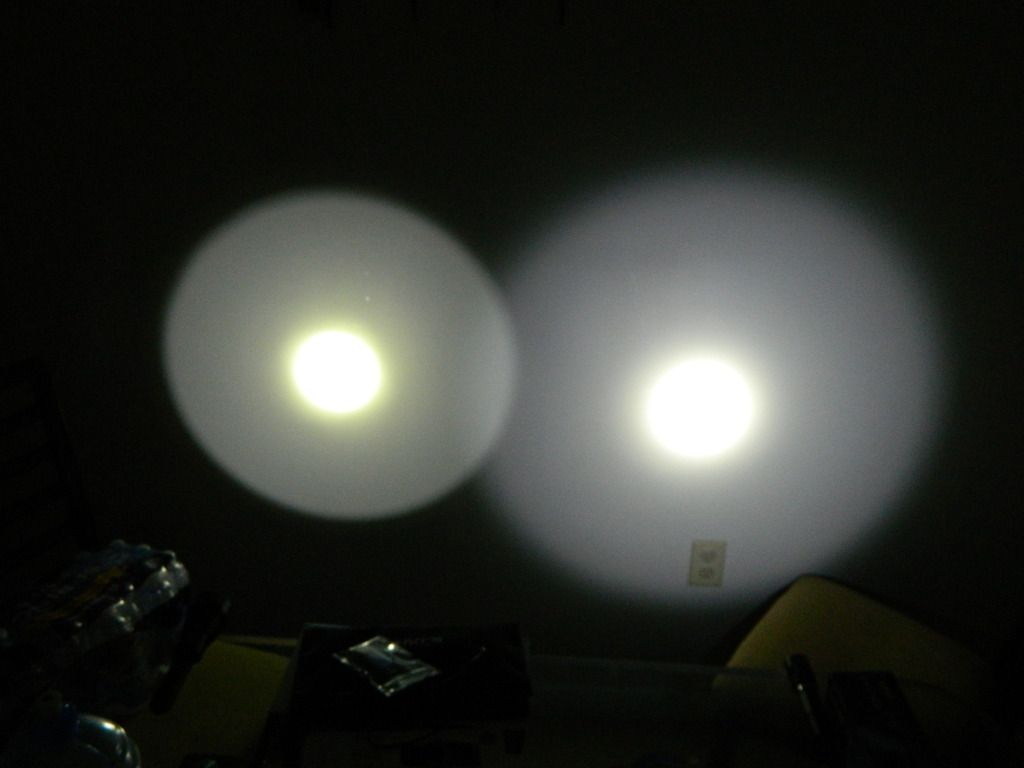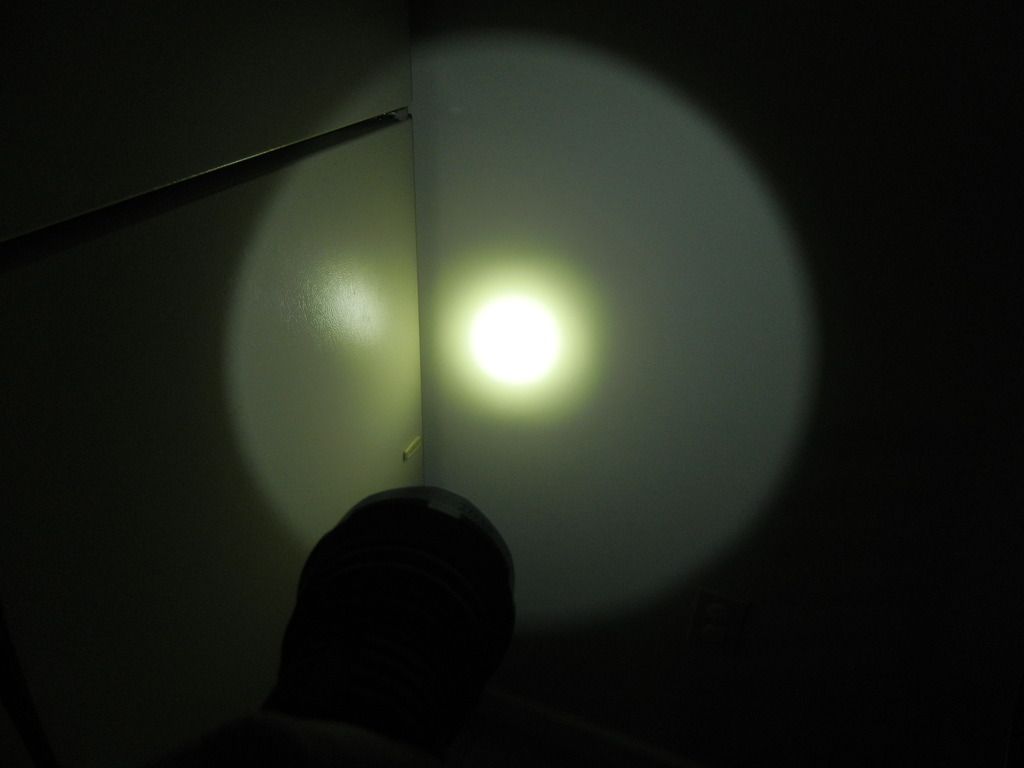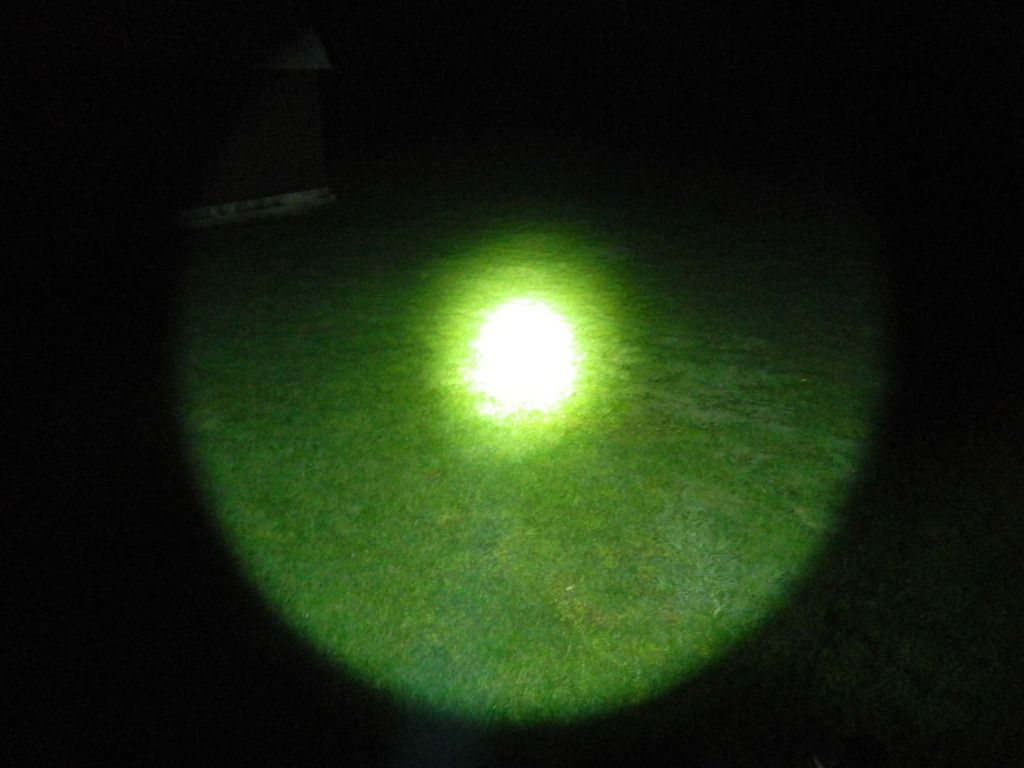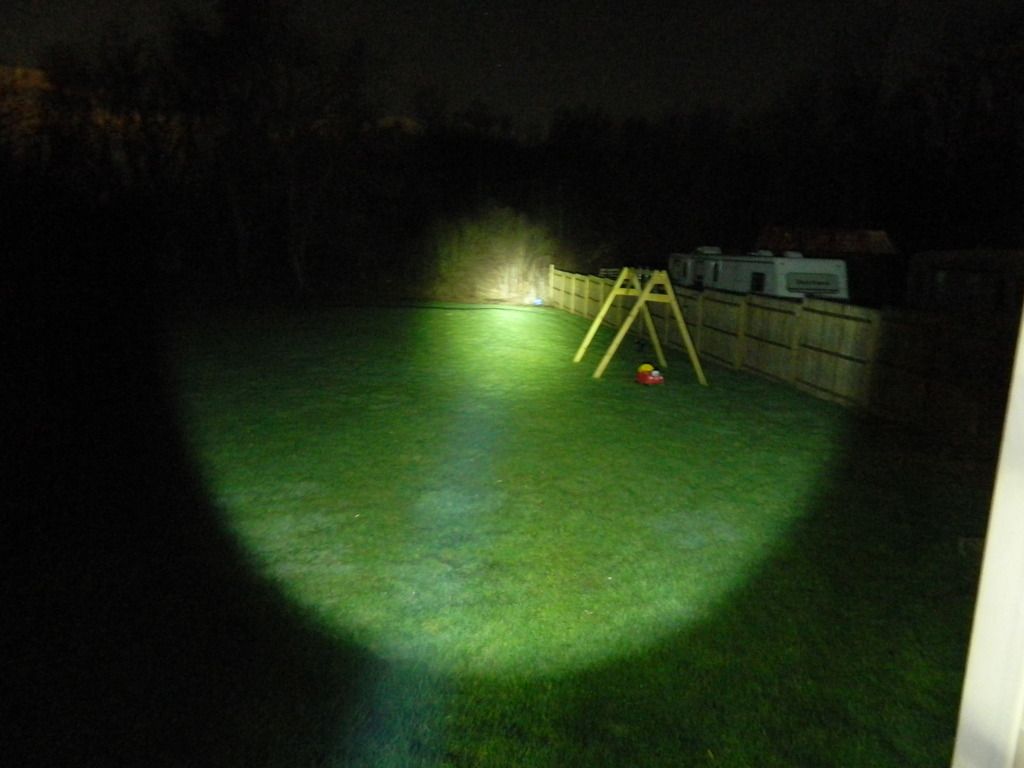 User Interface:
This light uses a simple interface. Tail cap switch turns it on. Side switch changes modes. it has fast access to strobe with a long press when the light is on and a memory mode (minus strobe).
Conclusion:
This is literally my best light! Not only does it have one of the brightest hotspots, a good focused beam, and a super long run time, but it just
outclasses the rest. It can run full blast without overheating, in 1×18650 mode it may not be pocketable, but is very handy for coat pocket, glove box, or out applications like hunting, camping, hiking. The regulation in 2×18650 is fantastic. This light literally runs at 90% brightness for the entire duration of it's 126 minute run. The bad news is that you don't get any warning that this thing is about to switch off. The construction is good, this thing is very easy to mod, and is super tough… and is also rated for use on a weapon. mine came with a pressure pad, and Cutlery lover did a video of his on an AK47.
You have to remember that hotspot check with my lux meter shows this things is almost twice as bright as the convoy c8, and the runtime is almost 20 minutes longer. the fact that this light has so few of reviews, and more people aren't raving about it is a complete and total mystery to me.
This is the light that turned me into a flashlight addict.
I may add some runtime tests in the future with 18350, 16340 and cr123 if I ever get some spare time. Given the long runtime of this flashlight it takes a whole evening to get through something like that.