A collection of 15mm and 17mm boost driver boards based on the PAM2803 boost circuit with a PWM controlled FET and an ATtiny13A microcontroller (MCU) for mode programming.
.
Update Nov 2018
The advent of the Convoy T2 revived my interest and I shared 2 new drivers, the HQB17C and the HQB17D, that are made specifically with the T2 in mind. Both are 17mm drivers.
There a some .
Both drivers feature vias for a programming key, to allow true ISP.
I added a gate resistor (R4) between Pin6 and gate, can't hurt to have one.
All 3 resistors went onto the spring side, that allowed to make the connection between PAM pin5 and LED+ without vias. That way the complete boost circuit is on one side of the board. The BAT+ pad is still 8mm, that's ample space.
The is the 'classic' version, with SOT23 mosfet and up to 4.3mm inductor. There's enough space for a SOIC clamp to program the Attiny.
The is the 'deluxe' version with all the bells and whistles: LFPAK33 mosfet and up to 5.6mm inductor. Together with the BAT60A this should make a very efficient driver. Here, a programming key is imperative.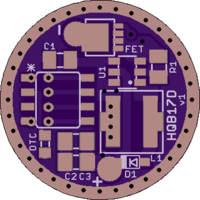 .
——————————————————————————————————————————————————————-
Some time ago @wight spawned the idea of this kind of programmable boost drivers. This led to some development and I thought it might be helpful to consolidate my Oshpark boards and the information about them.
.
Boost Driver
Status
Diode
Inductor
Annotations

15mm

HQB15 v1
skipped
BAT60A
4.3mm
first successful build

HQB15 v2
retired
BAT60A
4.3mm
tweaked and shared

HQB15 v3
shared
BAT60A
4.3mm
more layout improvements

HQB15M
vaporware
BAT60A
4.3mm
ATtiny13a-

MMU

/

NXP

Mosfet

17mm

HQB17 v1
shared
BAT60A
5.8mm
17mm version of HQB15 v2

HQB17B v1
shared
SS24
4.3mm
straight swap of FT boost driver

HQB17B v2
proof of concept
SS24
4.3mm
voltage divider at pin7

HQB17C v1
shared
BAT60A
4.3mm
SOT23

MOSFET

HQB17D v1
shared
BAT60A
5.6mm

LFPAK

33

MOSFET



.