6/7/16
Mods done and updates of specifics in post #10.
Thanks to TomTop for furnishing this light for review Website Here
Link to light here: http://bit.ly/235nD7X Price at time of this review $14.89
I just want to start out by saying , I was not expecting much to be honest when I looked at the light on the website. I was pleasantly surprised the moment I pulled this light from the packaging though. It just did not look or feel like the light weight , cheap built lights you usually get for $10 to $15 and looks good to boot.
I did miss a few points in my video so let me mention those now.
The reflector IS aluminum.
The lens IS glass although I see no AR coating (very light if any)
The light does seem to move heat very well.
The tail threads were well lubed and the rest lightly lubed.
This light should make a very good candidate for modding as everything is easy to take apart and nothing glued as far as threads.
I did not take the driver out (yet) as it is very tight in the shelf and I did not want to damage it before I could get the review done. I will probably end up modding this light later and if so I will update on it then.
If you want to see the teardown and beamshots without watching the whole review , then teardown stills and beamshots start at 3:24 and the shining around outside following that segment.
EDIT: I forgot to do tailcap readings earlier, there is room for improvement there,,,,,,,,,,,,,,
High 2.13 / Medium 0.94 / Low 0.21,,,,,, Taken with the Uni-T clamp meter from GB and used a Rested Efest purple High Drain 2800mAh for the testing……….After spring bypass at both ends tail readings increased to 2.24 in high mode with same cell.
5/30/16
I did a dedome on the factory emitter after the spring bypasses were done and I have a FET driver and Noctigon with U4 on it on the way. I will be fully modding this light with when they get here. For now here is what the improvement looks like with just the springs bypassed and the factory emitter dedomed.
Stock Gate 100yds (high)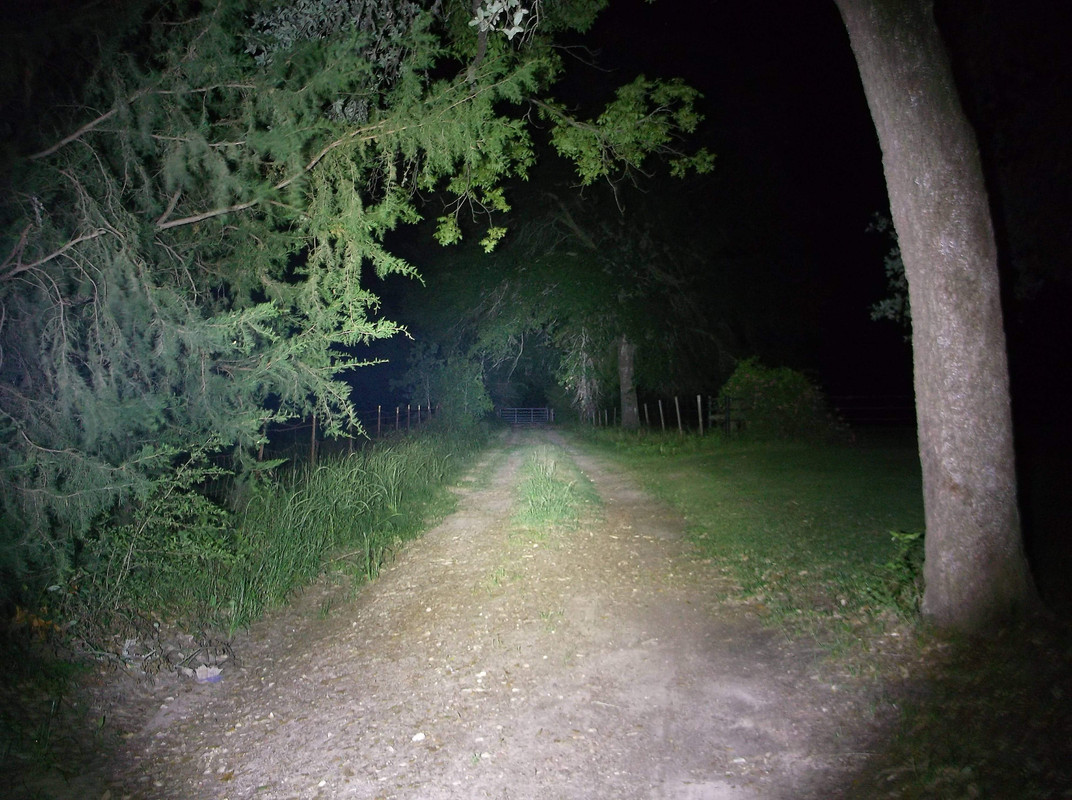 Modded Gate 100yds (high)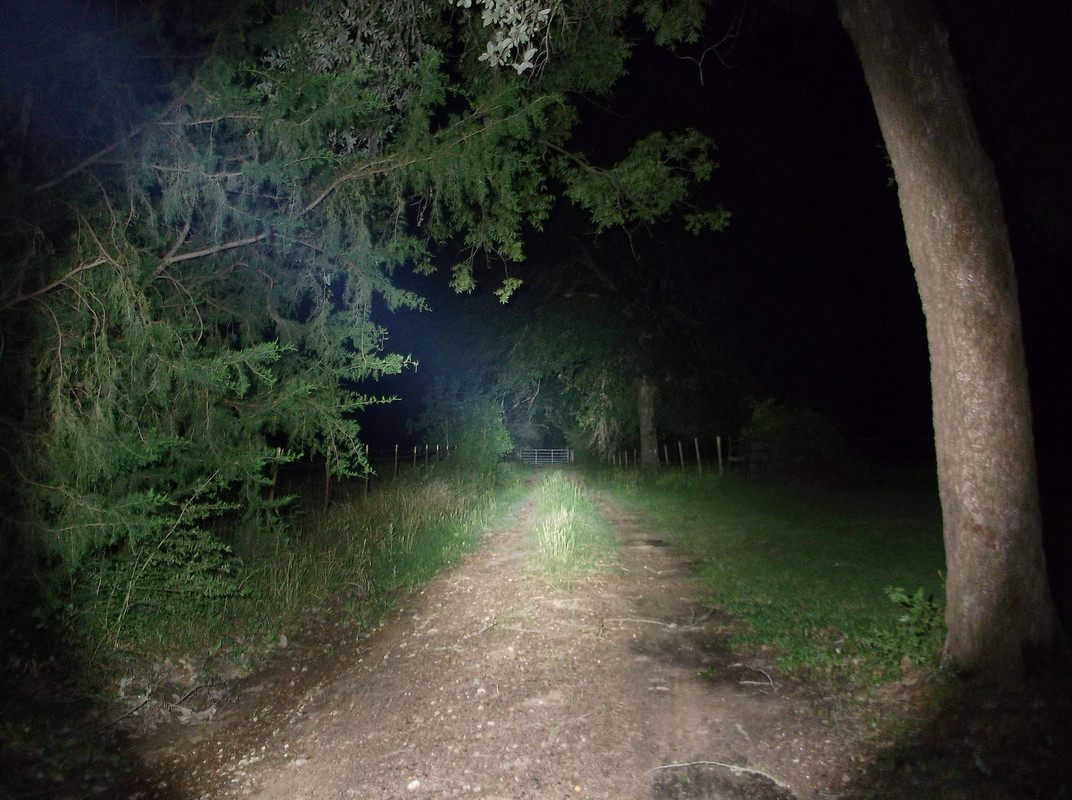 The video and then the listed specs from TomTop site………..
(Usually best if watched in full screen)

Listed description from TomTop site:
Features: With high power XM-L2 U2 LED, outputs maximum 1000 lumens brightness. 5-mode lighting: high, middle, low, strobe and SOS, apply to different situations, converting by pushing the button gently. Special stainless steel head and tail design, help you break the glass in emergency situations. Special skid-proof surface design and anti-abrasive aircraft aluminum shell, very durable and sturdy. Handheld type, portable size, 15cm in length, very convenient to carry around and store. Suitable for camping, backpacking, hiking, emergencies, household use, etc.
Specifications: Brand: LIXADA Item Color: Black Materials: Aircraft Aluminum LED Type: XM-L U2 Light Color: White Lumens: Max.1000lms Power Supply: 1 * 18650 Lithium Battery (not included) Item Size: 15 * 3.5 * 2.7cm / 5.9 * 1.4 * 1.1in (L * Head Dia. * Tail Dia) Item Weight: 156g / 5.5oz Package Size: 17.1 * 5 * 5cm / 6.3 * 2 * 2in Package Weight: 174g / 6.1oz
—
Click any link to see MY REVIEWS:
Maxtoch M24 Sniper / Maxtoch 2X Shooter (2016 factory dedomed) , 2X - XHP 70.2 / Maxtoch Xsword / M1 Archer *** ### ThruNite // Archer 2A V3 / Ti4T / TN4A HI / TH10 / TH20 / C2 Mini / TC12 V2 / T01 /  , neutron 2C V3 , TC20 / Catapult V6 / TC15 / TC15 CE *** ###  Olight // H2R Nova , S10R III / S30R III / H1 Nova / H1 R Nova / X7 Marauder , PL Mini ,  M2R warrior //// Orca T11 / Nitecore EC20 / BLF A6 / Custom Convoy C8 / Lixada Triple 3800LM / Lixada 1000LM / LuxStone X30 / Manker E02 / Manker E14 II /  ### Thorfire /// PF03 , PF04 , Upgraded PF04 , C8 , S-50 ,  VG-10 , VG25 , C8s , BL30 , TK4A  , S1 , VG15 S  , TK 18 //// ##WowTac// A4 , A1 (original) , A2 headlamp , A3 //// Acebeam L16 /// Massdrop (Lumintop) Brass EDC