Lumintop sent me this light for review. I was given the choice of emitters and I chose the Nichia 219B version.
Website: http://www.lumintop.com/ (link is external) (link is external)
Amazon store: http://amzn.to/2421r4t (link is external) (link is external)
20% Discount Code for Lumintop Products
XMKGPGRA
Gearbest link (affiliate)
http://bit.ly/2oJKyKb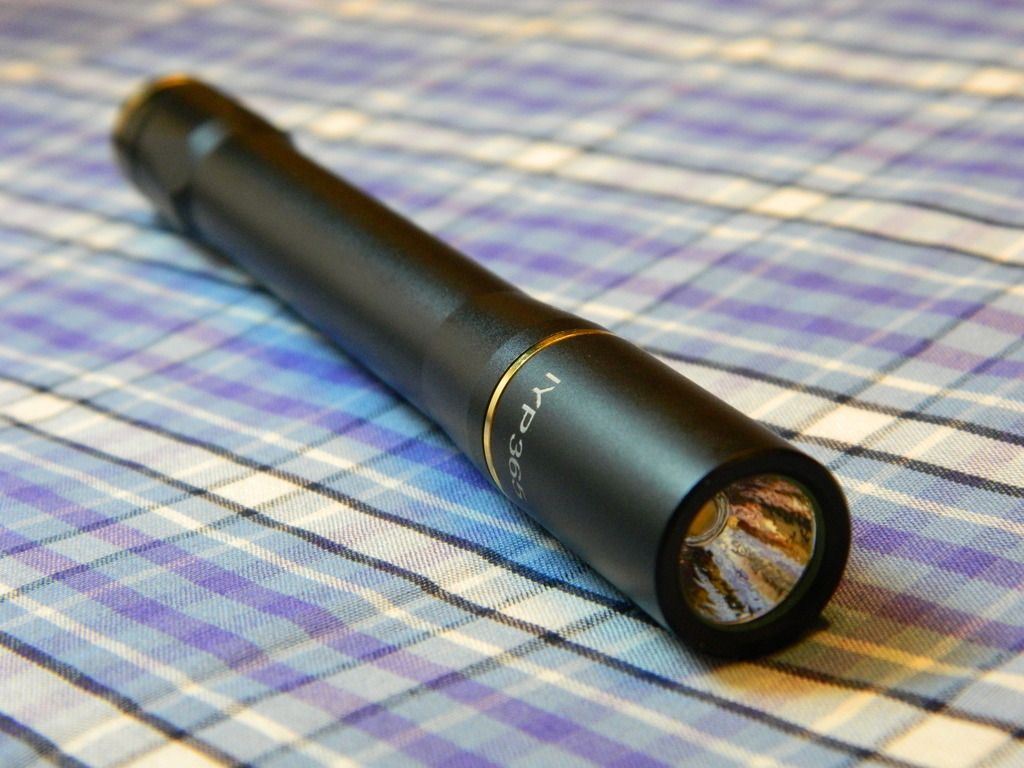 Manufacturers specifications:
Features:
1) Utilizes High CRI Nichia 219BT LED or CREE XP-G2 (R5) LED with 50,000-hour lifetime
2) High-efficiency digitally regulated circuit to maintain a constant brightness as battery life diminishes
3) Glow in the Dark front O-ring around reflector
4) Precision micro-textured reflector creates smooth, optimized beam
5) Double-side AR coated, tempered window resists impact and thermal shock, maximizes light transmission (99% light transmittance)
6) Multi-Function, clicky tail switch provides one-handed operation and easy access to all functions
7) High quality stainless steel clip makes it durable and keeps a firm grip on your pocket
8) Capable of standing up securely on a flat surface to serve as a candle
9) Operation: Click the tail switch to turn on/off; when the light is on, press the switch to select brightness (Mid-Low-High); or tighten/loose the head to change modes
Parameter:
Bulb: Cree XP-G2 R5 LED
Output / runtime:
3 lumens (50 Hours)
40 lumens (25 Hours)
200 lumens (35 Minutes)
Max Beam Intensity: 900cd
Max Beam Distance: 60 Meters
Modes: 3 Modes(Low-Mid(Default)-High)
Size: Length: 5.04" (128mm)
Head Diameter: 0.57" (14.5mm)
Body Diameter: 0.49"(12.5mm)
N.W: 0.81oz(23g)
Working Voltage: 0.9-3V
Battery Type: 2 X AAA (10440 Not Recommend)
Water Resistant: IPX-8 (2 meters)
Impact Resistant: 1.5 meters
Accessories: O-ring
My youtube Review:
Construction: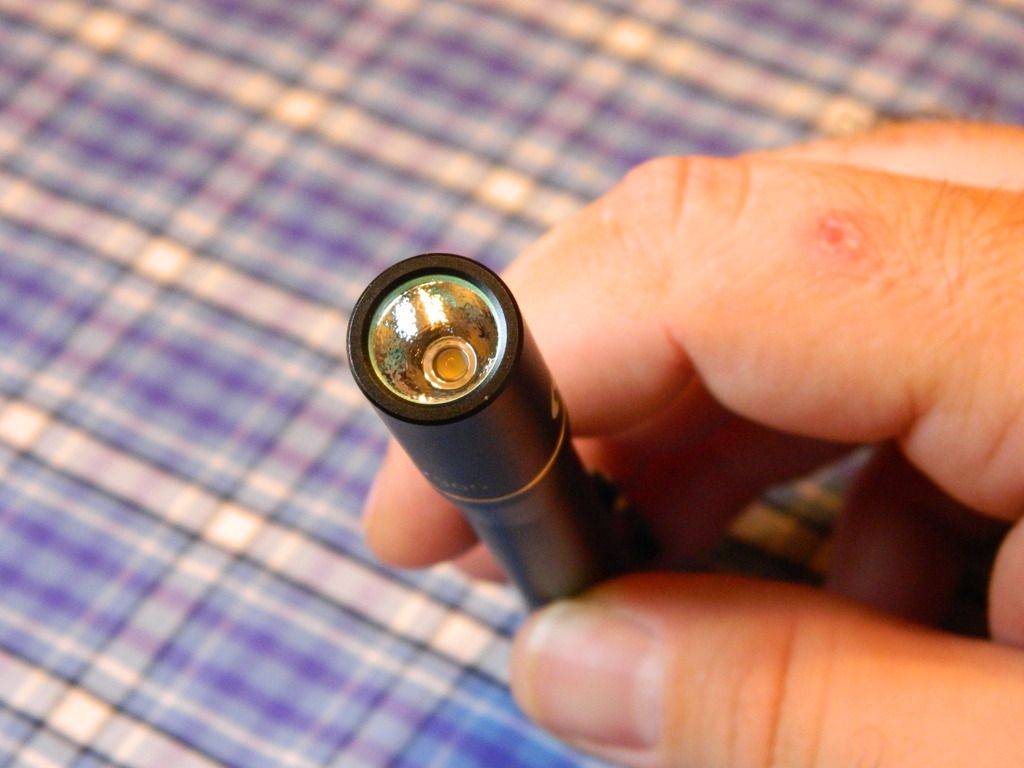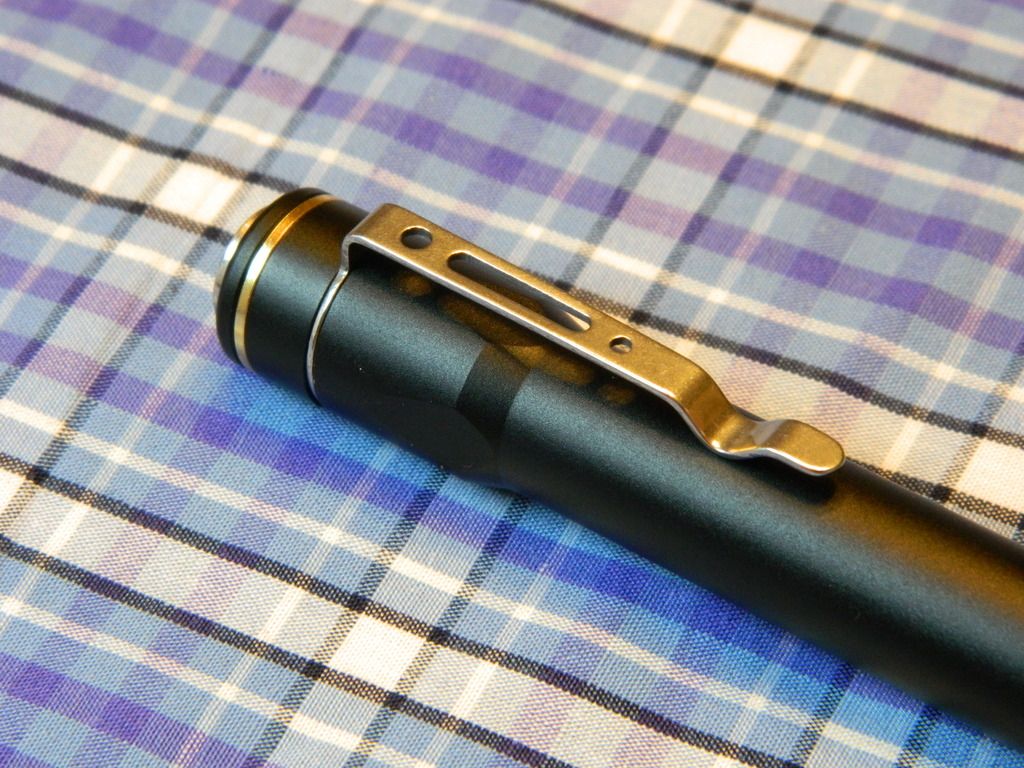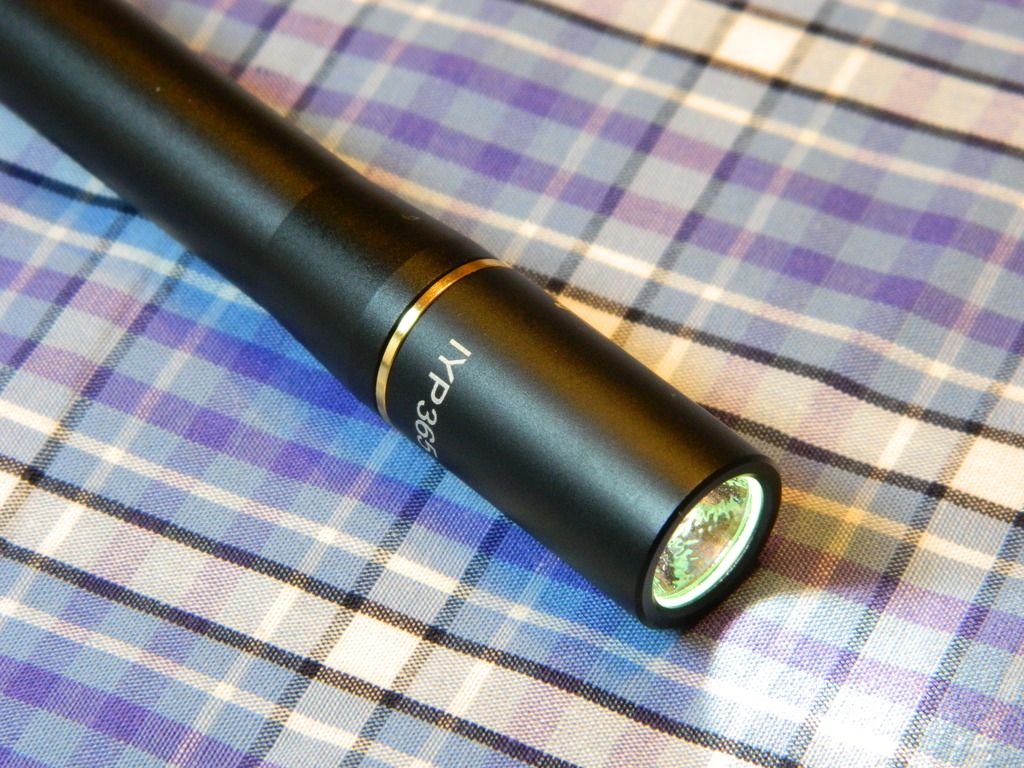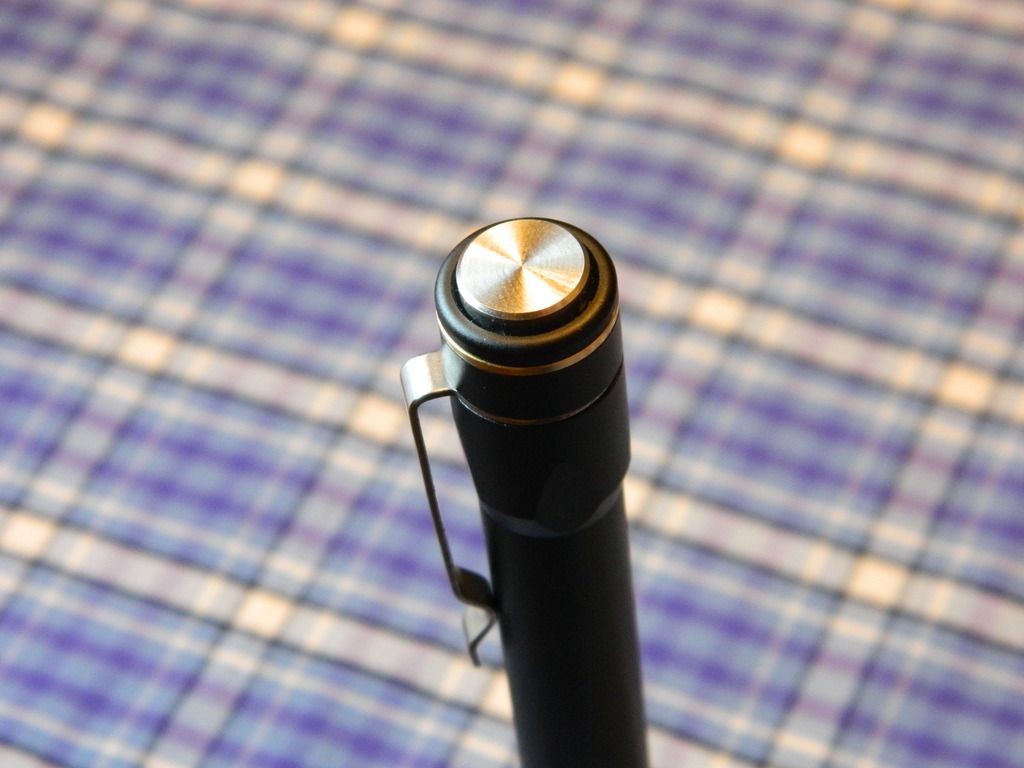 First of all I have to say it's a very attractive light, with really good pocket feel. The fit and finish were perfect, and was packaged well. I really like the reverse clicky tail switch. it's proud, which effects tailstanding, but it also has a great feel to it. I'm a huge fan of metal tail switches so this light really tickled my tail feathers. I've carried this for a little over a week at this point and haven't had the light turn on in my pocket yet. The pocket clip is also done well. It sits firmly in the pocket and doesn't slide around unless your digging in your pockets. It's a little small for really thick work jeans, but is perfect for your normal around the house pants. It also works nicely in a shirt pocket. There is enough tension on the clip to keep it from sliding around in even a thin polyester button down shirt. These are the 2 most important aspects of an EDC penlight to me, so this light received high marks just for that. I think it is a necessity for a pen light to have a good quality switch and a pocket clip that holds like glue.
My only complaint is that there is a little bit of rattle with certain batteries. It was most pronounced with my amazon basic NIMH AAA's. I really didn't even notice it with Alkalines or my Eneloop Pros.
Performance: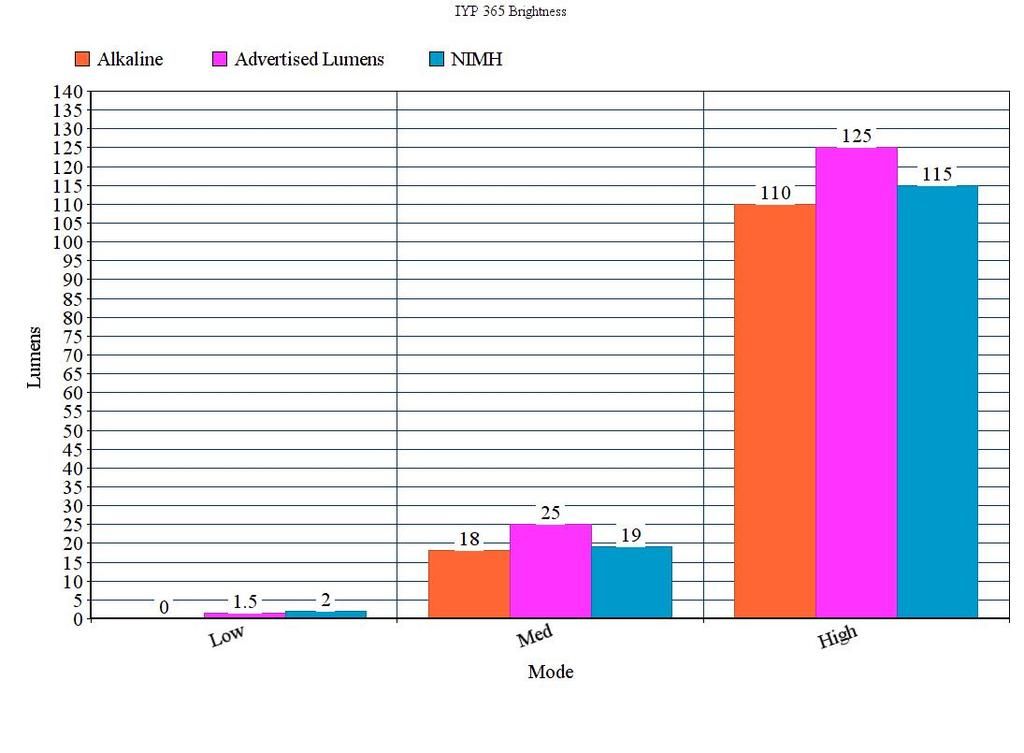 My ceiling bounce tests are definitely within range of the advertised lumens. Also a very similar performance with AAA and NIMH with it comes to lumens.
The IYP is not the brightest flashlight on the market by far. But when you look at the beam shots you can see that this little light has a terrific tint and a very nice and pleasant beam. I guess if your looking for max lumens this isn't going to be the best flashlight choice for you. But if you want a good high CRI emitter with no PWM, then this light is going to be a strong contender.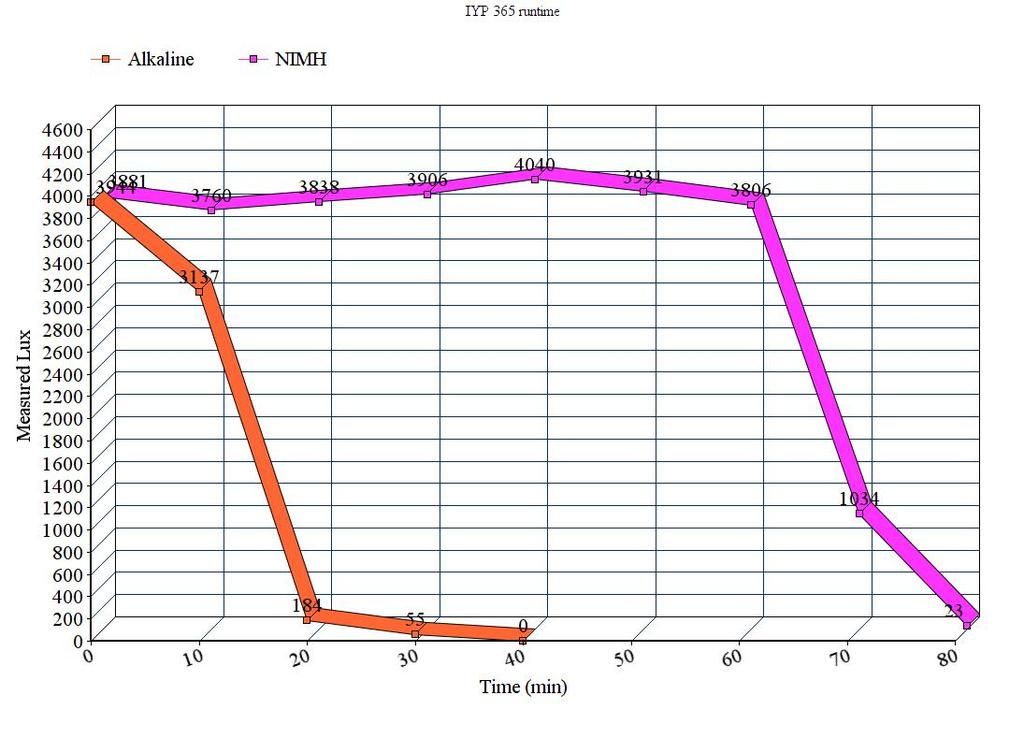 Nothing unexpected here. The alkaline performance is a little on the weak side. It really only got about 15 minutes of good strong light.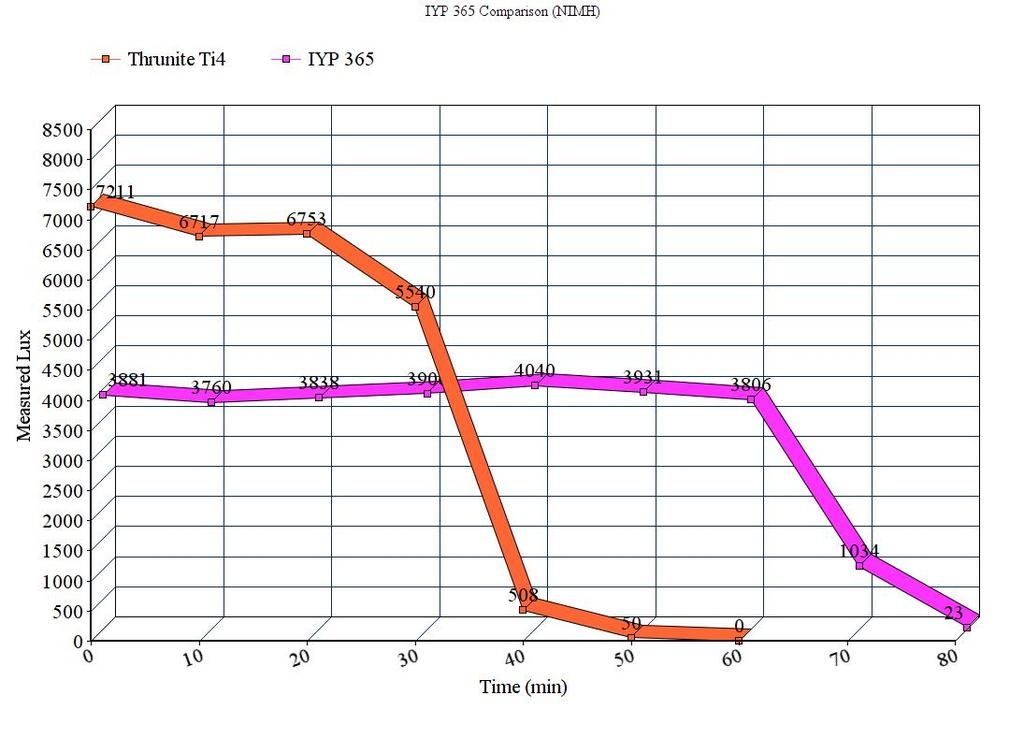 This chart shows alot. Like I said before, if your looking for max lumens this isn't your light. The IYP has a very flat discharge curve and provides a really steady source of light for a good amount of time. The IYP holds full brightness for 60 minutes, compared to the 20 minutes of full brightness with the Ti4
Beam Shots: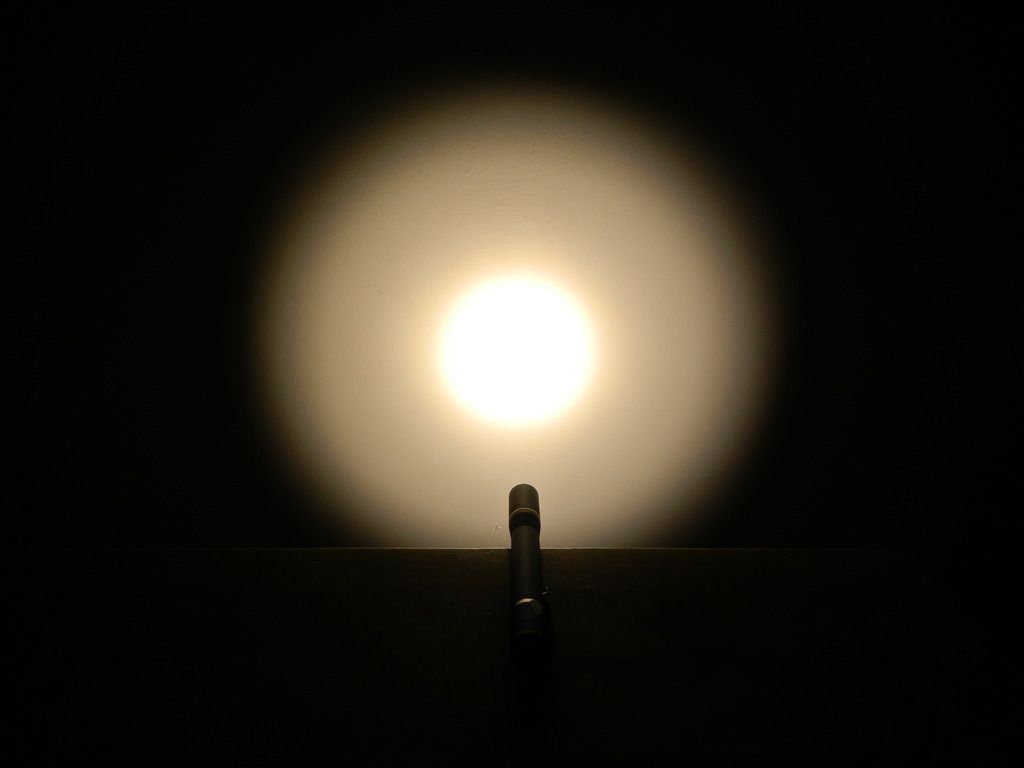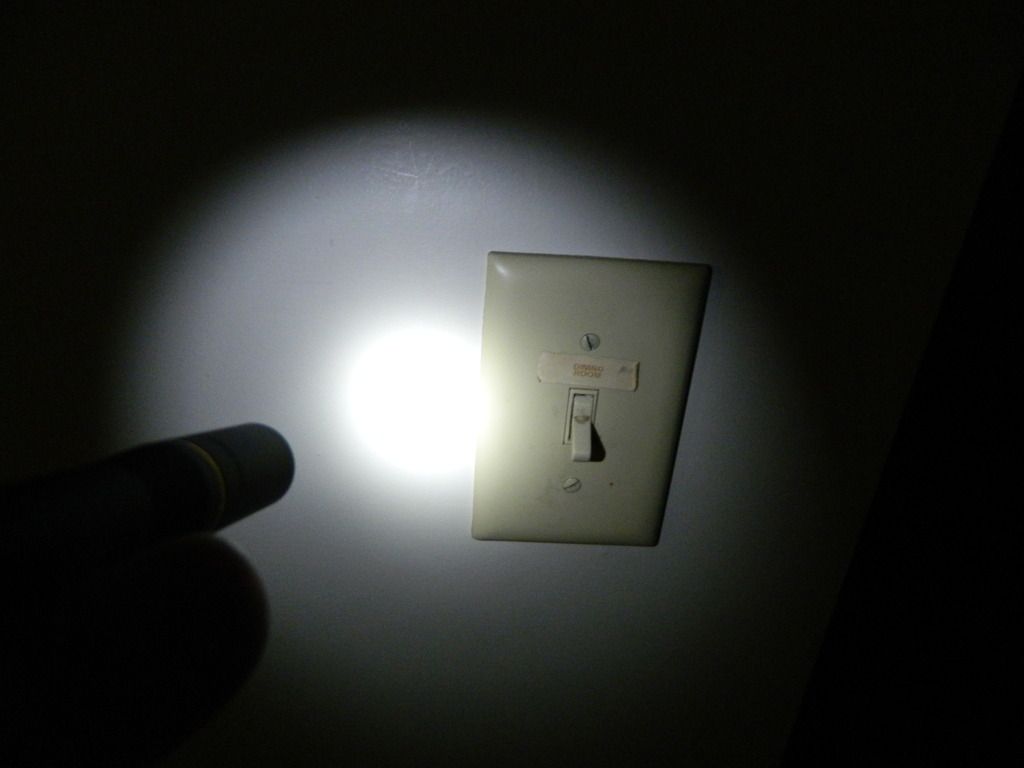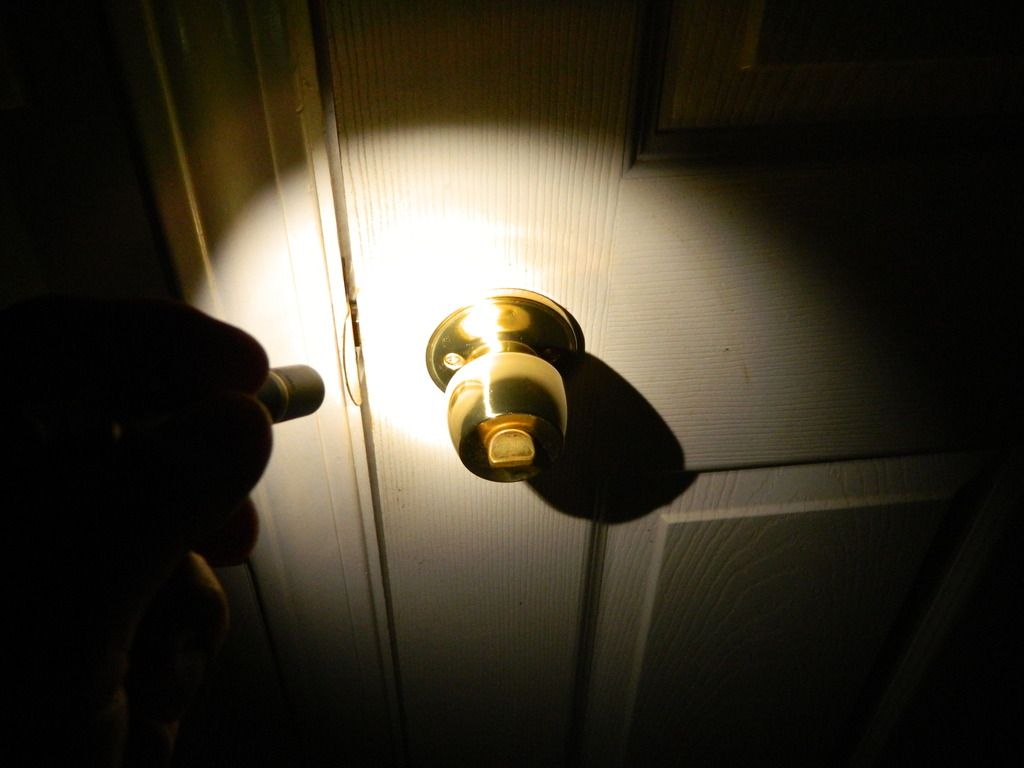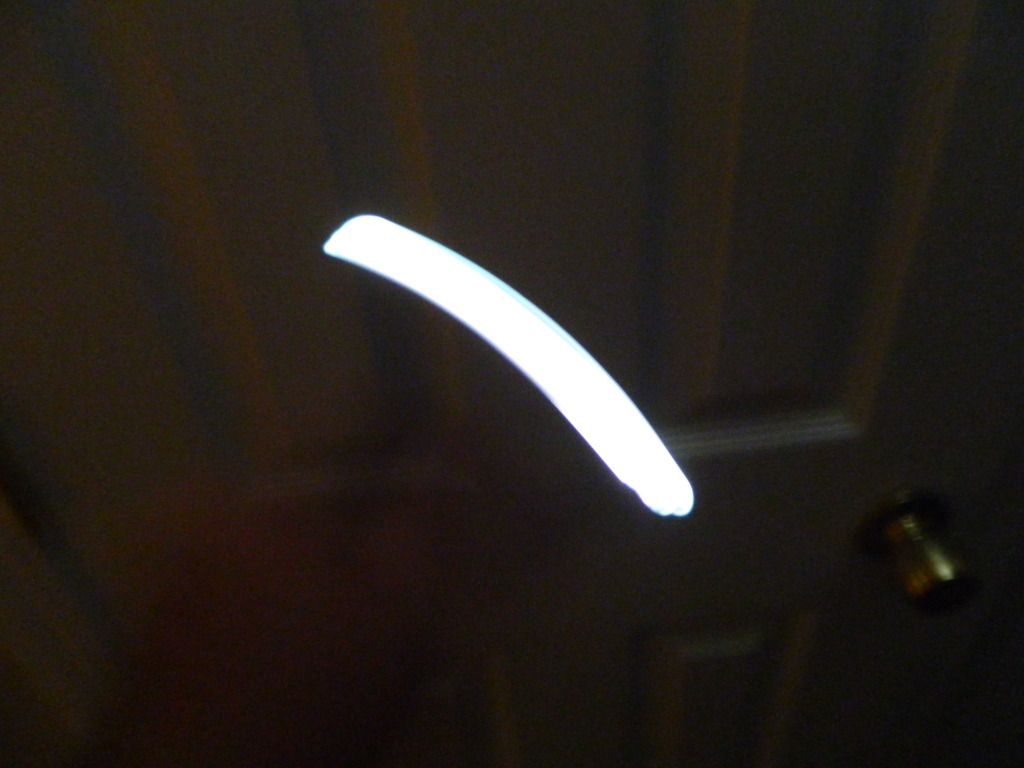 Not seeing any PWM with NIMH
Size Comparison: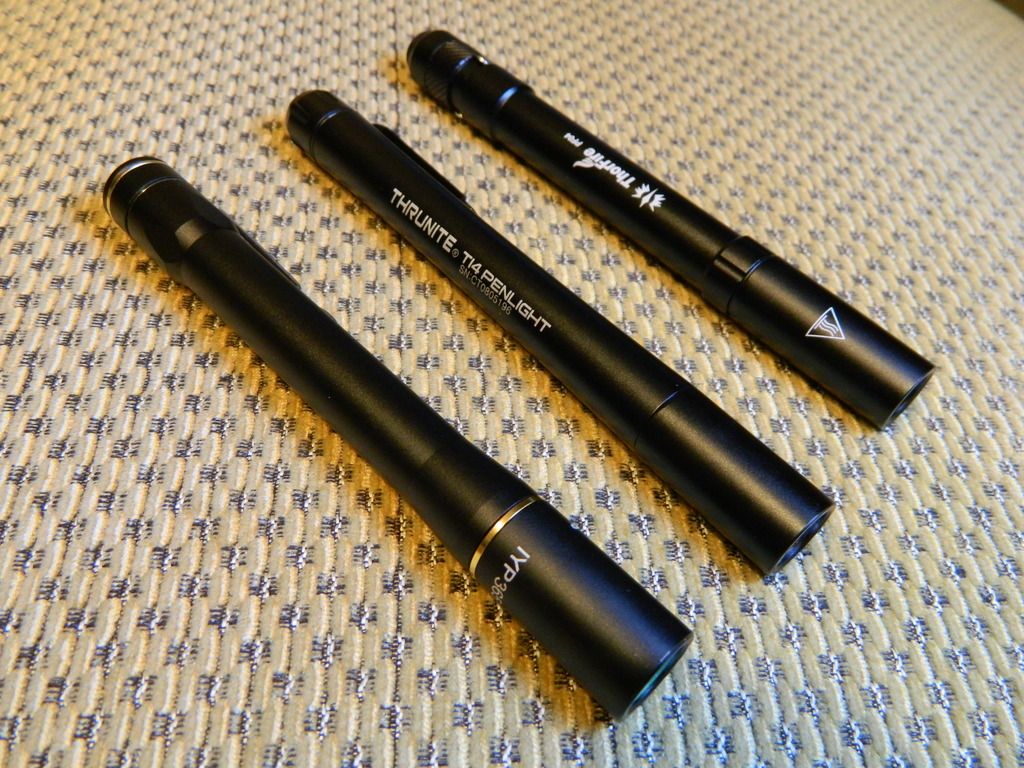 IYP 365 – Thrunite Ti4 – Thorfire PF04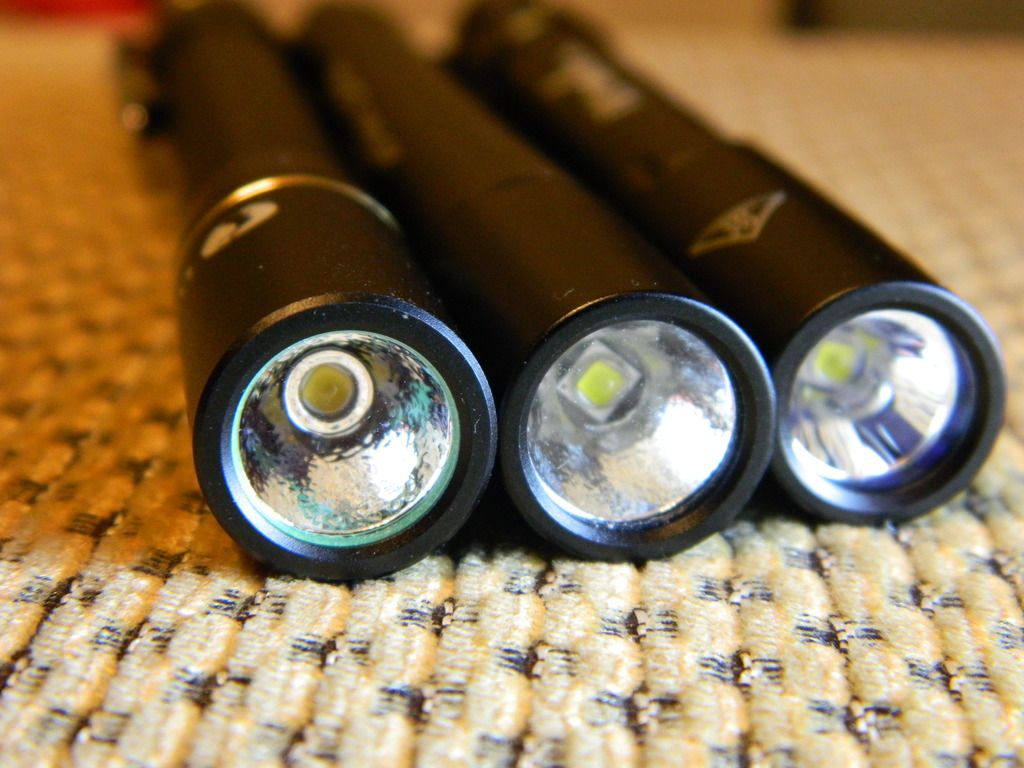 IYP 365 – Thrunite Ti4 – Thorfire PF04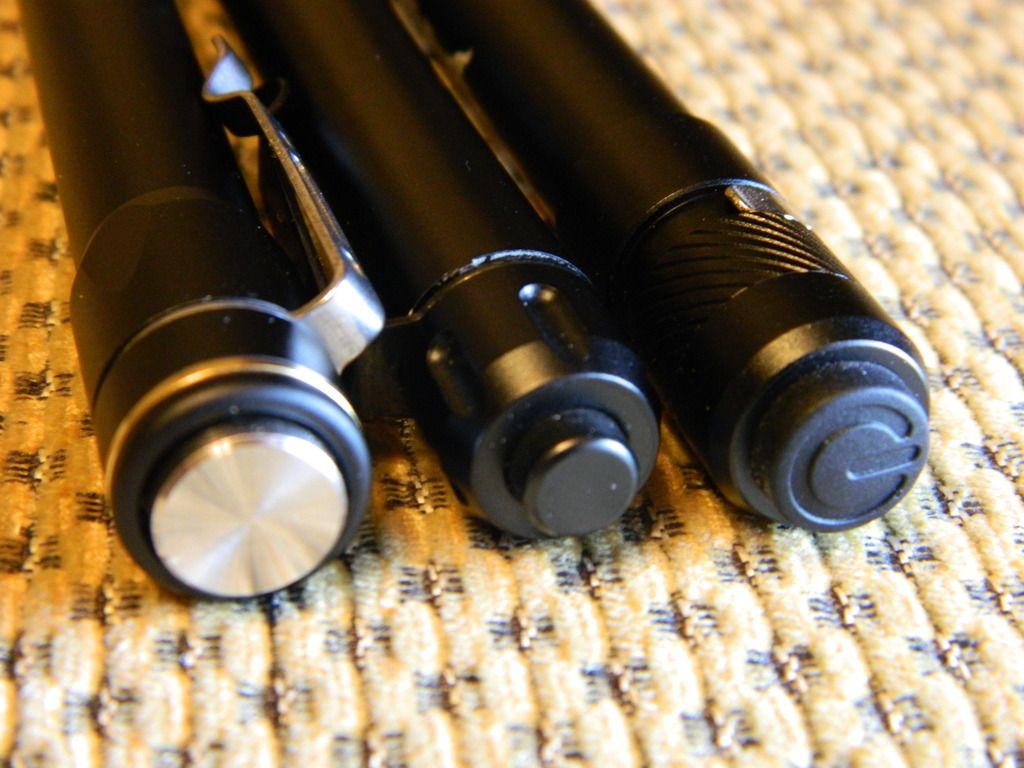 IYP 365 – Thrunite Ti4 – Thorfire PF04
Beamshot Comparison: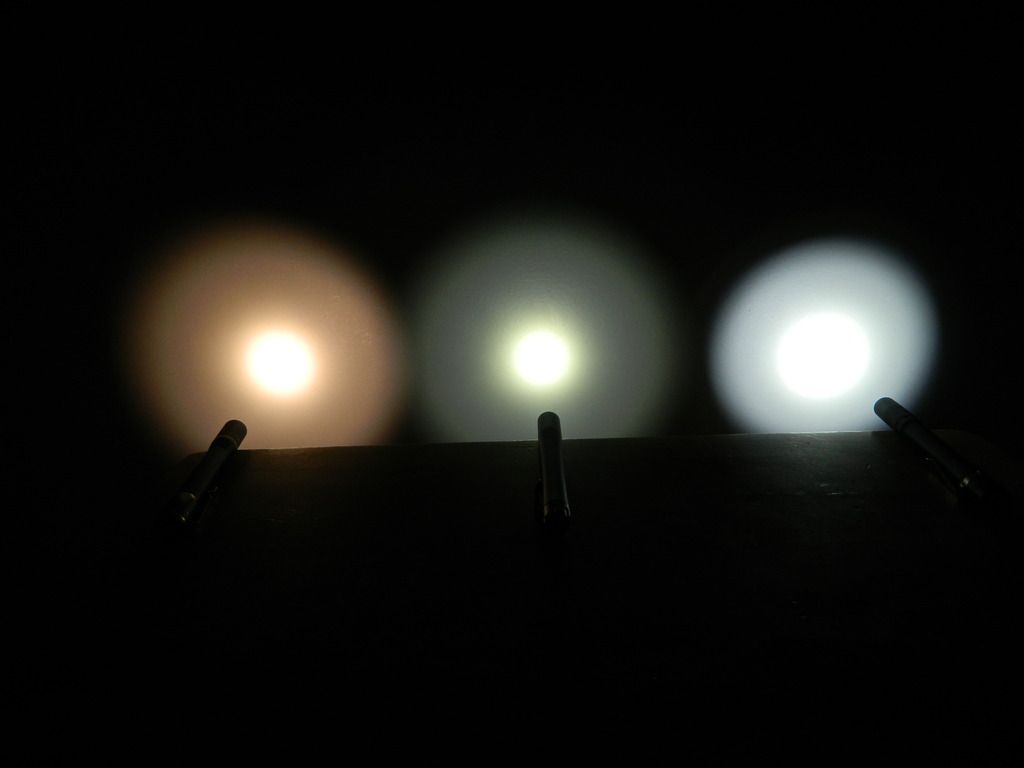 IYP 365 – Thrunite Ti4 – Thorfire PF04
The IYP is definitely the warmest of the group. The Ti4 has a slight yellow/green tint to it, and the PF04 has a blue tint. The IYP is a very pleasant warm tint.
My Thoughts:
I think this light stacks up well against the competition. Where it lacks in lumens it makes up for in the Nichia 219B emitter option. Over this is a nice lights that pockets well, has a nice switch, and has a nice pleasant high CRI beam with no PWM with NIMH. As far as I'm concerned ease of carry is one of the most important aspects of a 2xaaa penlight and this light does a great job with that. The gold accents are nice and it has an elegant look to it rather than a tactical look.
I guess the best way to summarize my feelings about this light is that if I were to lose this light tomorrow, I would definitely buy a new one to replace it. It will be a light that I will carry as part of my EDC flashlight rotation without any reservation.