You're gonna love this! It's a new pride & joy specifically designed for good color rendering in outdoor use:
The Neutralizer.
The more and more I play with neutral tints, the better I like them. Much easier on the eyes and more pleasant to go on night walks with the dogs.
The specs: Mag 4C host, PTS-2 heatsink, AMC 8X 7135 drivers X3 with extra stacked 7135's to make each XML 3.5A on max. Modded original Mag switch so there isn't any mode skipping.
3X high CRI XPG's (3000K) driven with another independent 7135 driver stacked to 4.2A, parallel wired to a second switch so these can be used separately as a light source.
Ledil Booms on the XML's, both these and the 10mm optics on the XPG's came from Digikey. Heatsink from the Sandwich Shoppe. XML's from LED Supply. Best tint I found. Drivers and XP-G's from Illumination Supply. Host from Amazon.
The business end. The bezel is the original Mag bezel filed and sanded by hand and clearcoated. Ultra-clear lens.
Here's the reactor core: (I used to work in defense electronics so wiring was easy for me)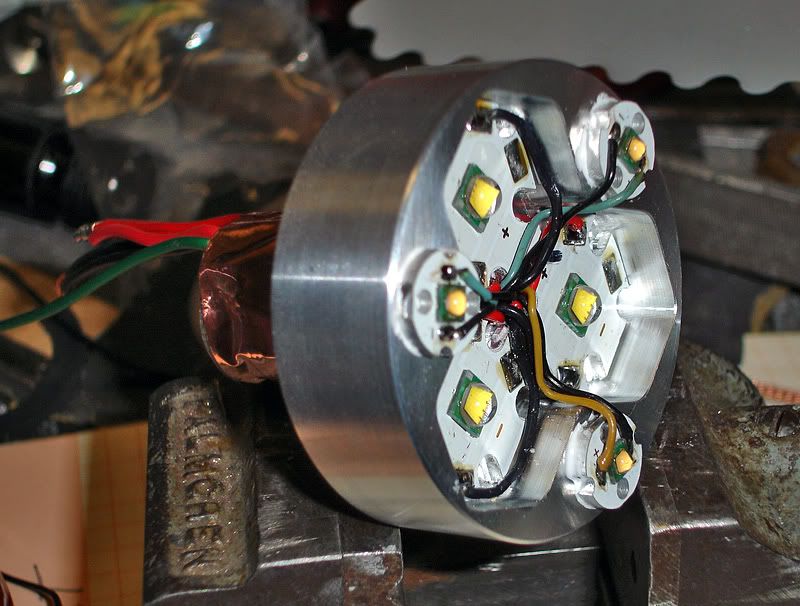 The second switch from a Solarforce donor: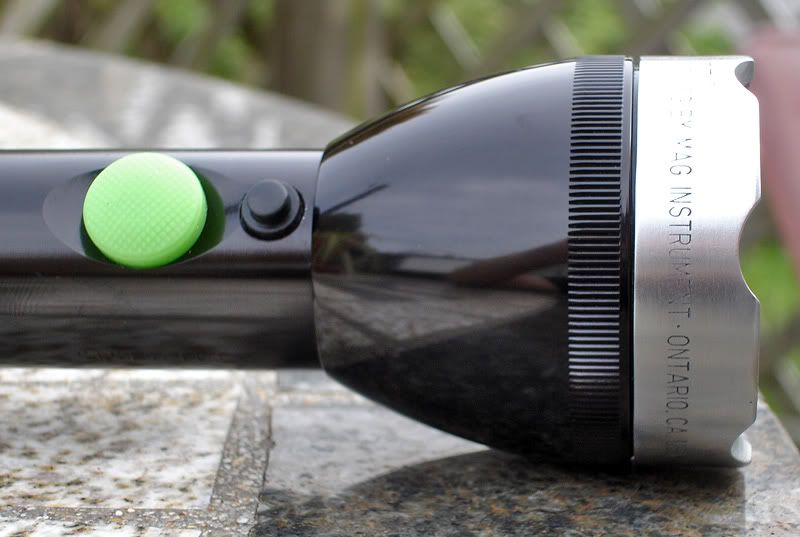 The other business end!
The glass breaker is some piece from an old lamp that I had in the junk box. This clamps to a copper braid which is soldered to the spring to fix resistance.
Custom tailcaps are too expensive, a PIA to get, or turned out to be vaporware/promiseware. Never materialized. So the nice stainless hex screws are my antiroll solution! The grippy on the tailcap is nonskid tape from the hardware store. (with carpal tunnel it gets old fast twisting it off without the nonskid) I added SOLAS tape to the rear so I can be seen from the side at night, plus it looks great! Color of the largest width tape denotes tint.
The whole setup is powered by Tenergy C NIMH cells X4. To put it bluntly, this thing rocks! It wipes out our whole yard and all of the hillside on the other side of our street... the beam is beautiful with those Ledils with a huge hotspot that is not distracting. The XPG's deliver a nice flood that lights up the yard.
Let me know what you think! I'm crazy about the thing and I love the C size-my wrists don't get numb with this size. Took 3-4 nights to build. Not set up to do beamshots though.
Enjoy!
Rich
—
"I am the flashlight king! I can light anything!"