Life for this searchlight started out as a modest (but well constructed) Coleman searchlight. It used a 100 watt quarts halogen H1 bulb that put out a clean tight beam pattern. A Google search revealed that many people in several different forums reported that this model was one of the best for the price.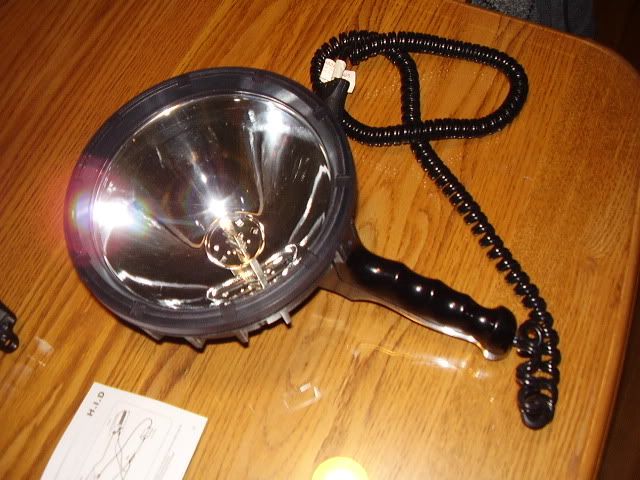 It features a high density heat resistant plastic housing, high quality 7" polished aluminum reflector, glass lens, 14 gauge cord and wiring. The overall build and quality of the components are far better than what is sold in stores today for a comparable price.
This light was made about 15 years ago. I found it locally on the internet and snatched it up for $10. The condition is nearly new and it came in the original box.
After reading 2100's threads about HID lights and after a lot of his advise, I purchased the 100 watt automotive HID kit. After shipping to the US, the total came to about $100US for the complete kit. I was surprised at the high quality and completeness of the kit. It even included a high quality (and properly rated) wiring harness with relay for an automotive installation. I wound up saving the harness and didnt need to chop any connectors from it during my searchlight conversion.
Readying the test bed: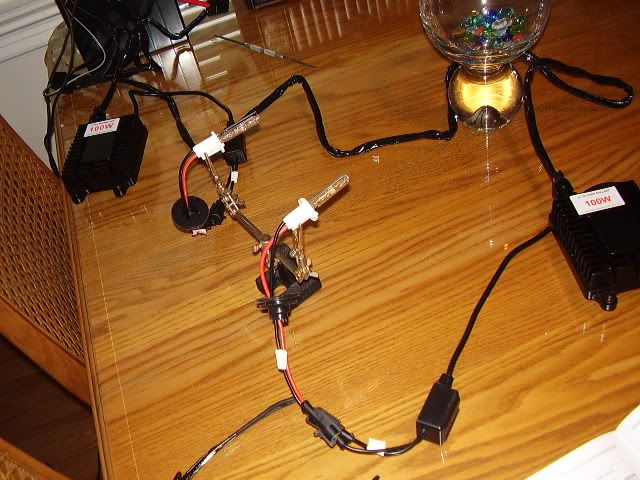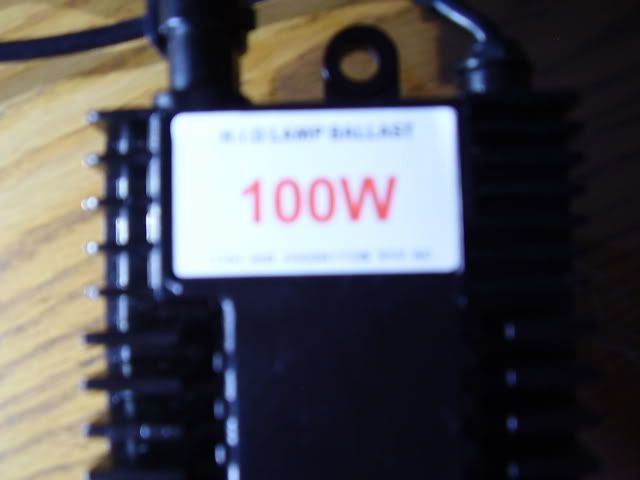 I use one of the best SLA cells available, which is made by Odyssey. The PC680 (about $100) is in all my cars, motorcycles, aircraft and also used in my > 100W searchlights. It weights 15 lbs and has a 16,000 mah capacity and can be recharged with a 6 amp car battery charger. It would take about 23 x 18680 cells (along with the associated tangle of wires, 18650 cell carriers, balance circuit and hobby charger) to provide that type of reserve to fulfill the same voltage and reserve amp requirements.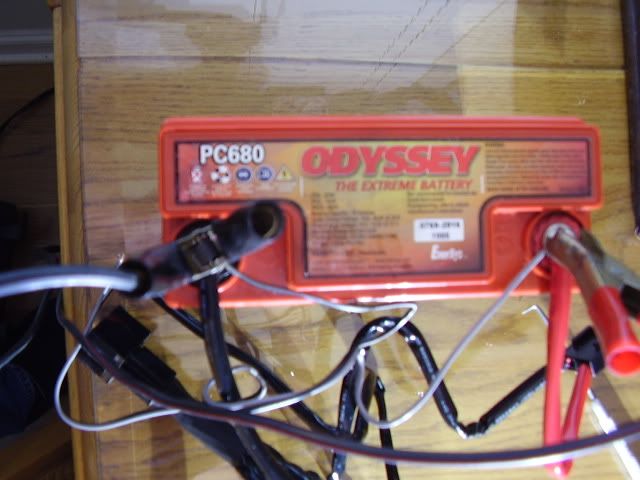 Out of the box, I tested the HID's for a few hours to make sure they wouldnt fail prematurely. I opted for the 4300 degree kelvin light temperature for a warmer color rendition and maximum light output. No "rice" for me thank you. I hate blue tint in high powered lights because it hurts my eyes. The vendor can provide the usual full spectrum of bulb temperatures and mounting types upon request and was very communicative in answering all of my questions. After the purchase through the link, I asked for a paypal transaction invoice, which they were more than happy to provide.
Lights on the test bed:
The blue tint is from the camera. In actuality the bulbs have an almost incandescent tint... very easy on the eyes and renders color well. Blue light blots out color and makes everything look blue. Can you say "rice"? LOL! Not me.
Everything checked out and performed much better than expected. Each ballast requires about 13A to ignite the bulb. That amount of current draw lasts only about 1-2 seconds, then settles down to around 7.5A continuous. Bulbs reach their full brightness in about 30 seconds. The aluminum ballast housings are very large and well heat sinked to exchange the heat from 100W of power (not the usual 35W seen in most automobiles with HID). Remaining static and without any air circulating past them, the ballasts take about 25 minutes to warm up to the point where I can no longer keep my hands on them. Because of that and their size, they would definitely need to be externally mounted so they can exchange heat with the air. With a slight amount of air moving past them (as in using them outdoors) the temperatures become much more manageable. More commentary on the initial test here: http://budgetlightforum.com/node/4803
I didnt take any pics during the mod but I will detail a few highlights. I first removed the reflector, lens and bulb from the searchlight and taped the lens to the reflector to prevent any foreign debris from entering and messing up the nice mirror surface. I then test fitted the HID bulb to the reflector and energized the system. Through a lot of trial and error, I finally discovered that the bulb's optimum focus is about 1mm inboard (toward) the reflector... not away from it (as had been mentioned several times in many other HID searchlight mods).  Luckily, the contact surface between the reflector and bulb was dimpled on the reflector side. The dimples were 1mm tall, so all that was required was a quick removal of the dimples with my dremel tool. The bulb now sits flat on the reflector. Some reshaping of the spring steel wire that retains the bulb was in order but wasnt that difficult... again thanks to the high quality of the coleman light.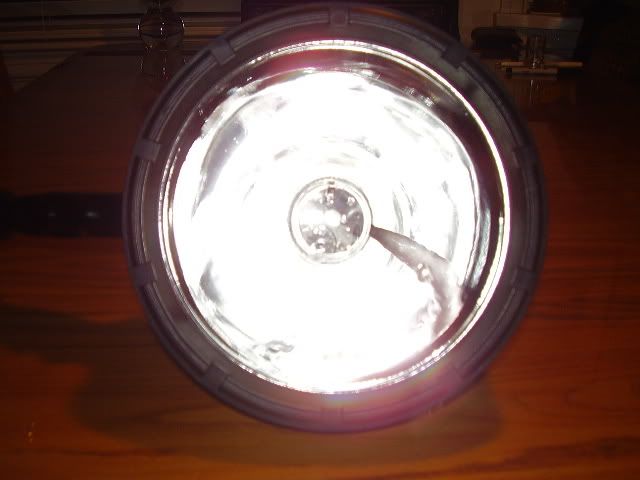 After initial mockup, i discovered that the bulb runs very hot - and accordingly makes the reflector very hot. So hot that I could smell the plastic housing beginning to overheat. I took it apart and drilled several nicely spaced holes with a hole saw. That immediate took care of the overheating issue. I fabricated a ballast mounting plate out of some hardened tempered aircraft aluminum and mounted it to the back of the searchlight. I used a spacer between the mounting plate and ballast to allow more air to circulate and better assist in cooling.
I was thrilled that this all came together and performed as expected. As you can see, the 100W ballast is huge. The whole light probably weighs about 5 pounds so its still manageable. The pistol grip is very comfortable and you dont realize the weight because of it. Its also fairly well balanced.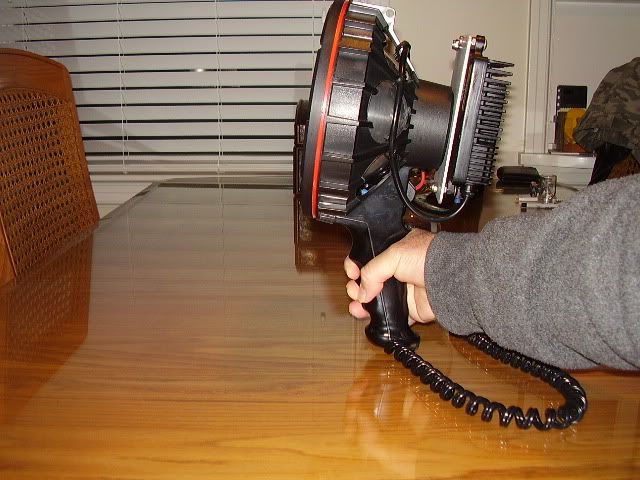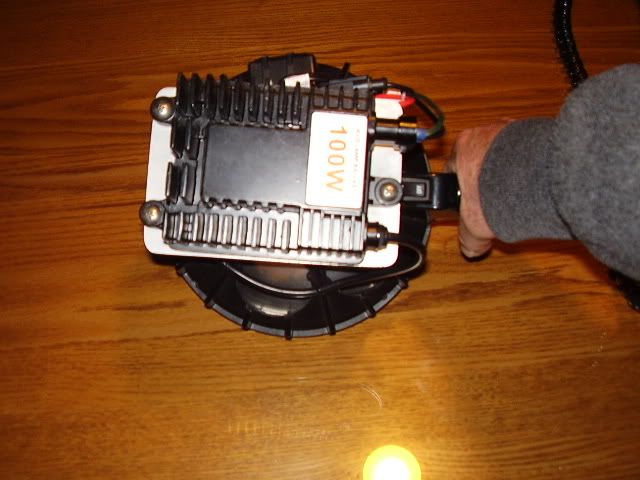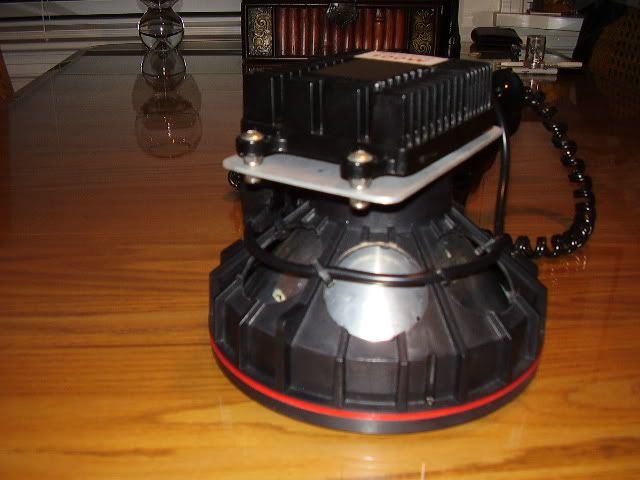 I left the ignitor and connections outside of the body to assist in cooling and help facilitate any maintenance if needed.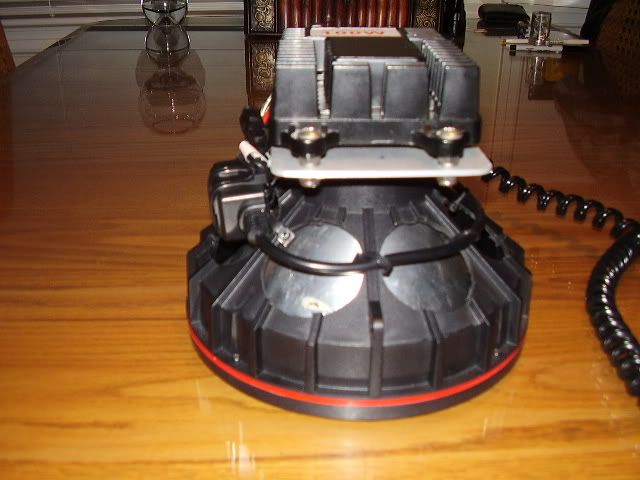 Pics from my cheap cam dont do it justice and it looks much better in real life. AA battery on top of ballast for scale of size.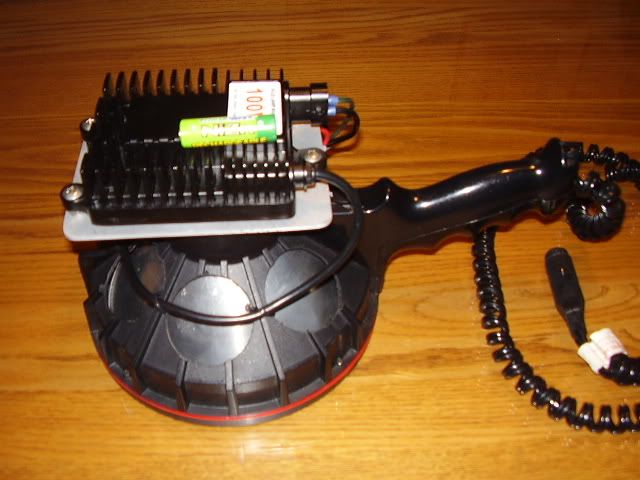 Im more than satisfied with the mod and wish I had done something like this years ago. The 100 watt HID's put out an astonishing amount of light with good range and a wide beam. I think even the 35 watt HID's would impress most people. Of the 4 vehicles Ive tried this light in so far, each of them had no trouble in providing enough current and voltage through their lighter plugs to ignite the light... thanks to the thick cord.
Thanks to BLF member "2100", I now have far more handheld candlepower than I will ever need.
Build list & costs:
1 x 100W HID ballast and bulb - $50
1 x searchlight - $10
Aircraft zip ties, fasteners and aluminum - $30
Total $90
I could have saved $20 if I hadn't used expensive aircraft fasteners, but its what I had on hand at the time. I still have a spare 100W HID for another project... hmm, what to do next?