This is the Olight S30R III Baton sent to me in return for my review with NO other compensation other than the light itself.
Here are the links for the light (NON affiliated)
http://www.olightstore.com/led-flashlights/tactical/olight-s30r-baton-iii
https://www.amazon.com/Olight-Rechargeable-Flashlight-Headheld-Generatio...
As with the other Olight products I have so far , this seems to be a very well built light with nice anodizing , machining and overall nice build quality (with 1 exception) I do need to mention (on my particular sample) the onboard charging does not work. It is shown in the video also , but I think it is just a matter of the little brass contact point not being pushed far enough into the hole where it sits , for the contact on the charger to make a good connection. I think it can be fixed after I get the tailcap apart by simply driving the brass contact deeper into the hole , but I did feel I should mention that about my particular sample.
The cell does charge just fine in an external charger and functions as it should otherwise.
I also forgot to add the size comparison photos in the slide portion of the video so they will be posted just above the video itself.
Other than that , I do believe I have everything else covered in one portion or the other of the video review.
EDIT: As it turns out my suspicions were correct that the brass button was not far enough in the little hole on the tailcap to let the contact make connection. After taking the tailcap apart I found that is was simply a little piece of rubber that had not been punched out all the way on the insulator , that covers the flat part on the inside of the tail cap. I removed the piece and put the tailcap back together and the on board charging is working like it should now.
Here is a chart comparing the three lights in the video portion of the live outdoor footage…………


The Size comparisons in order from left to right are , Nitecore EC20 / BLF A6 /Olight S30R III and Olight S10R III………..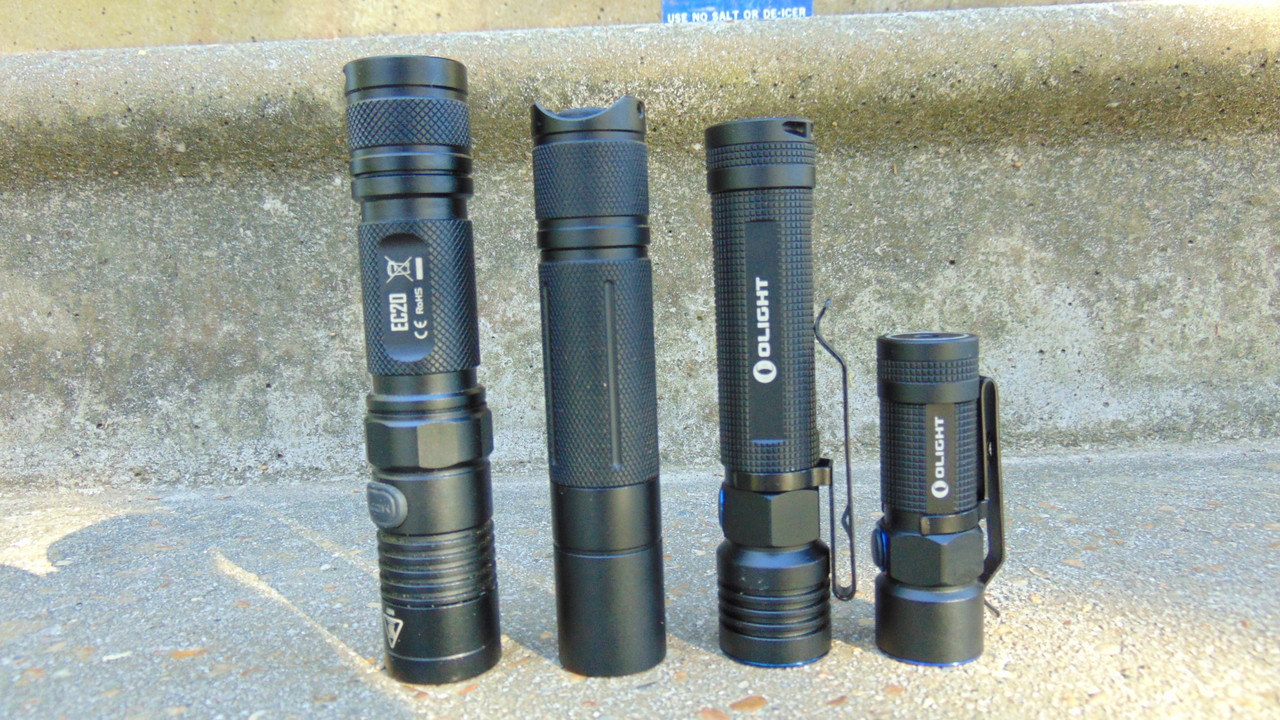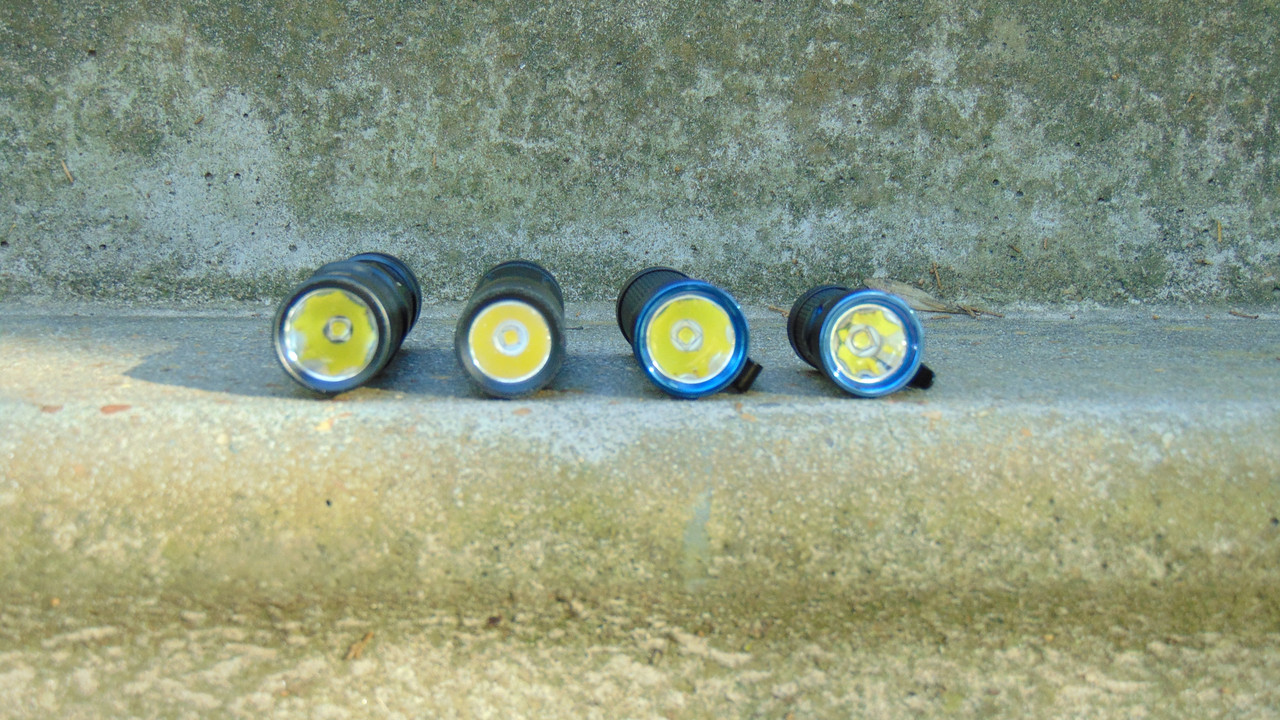 For those who may not want to watch the whole video the still shots and beamshots start at 7:29 and the outdoor footage comparing the 3 lights I used starts at 11:49.
Video followed by listed specs………..

This product has the following specifications (ANSI/NEMA FL1-2009 Standards):
Max Output (lumens)
1050
Low (lumens)
0.5
Max Run Time (hours)
100 days
Beam Distance
188 m
Peak Beam Intensity (candela units)
8,840 cd
Water Resistance
IPX8 (waterproof up to 2 meters)
Impact Resistance
1.5 m / 4.9 ft.
Head Diameter
0.98 in. / 25mm
Length
4.49 in. / 114mm
Battery Type
18650
Weight (oz)
3.8800
pocketclip
yes
—
Click any link to see MY REVIEWS:
Maxtoch M24 Sniper / Maxtoch 2X Shooter (2016 factory dedomed) , 2X - XHP 70.2 / Maxtoch Xsword / M1 Archer *** ### ThruNite // Archer 2A V3 / Ti4T / TN4A HI / TH10 / TH20 / C2 Mini / TC12 V2 / T01 /  , neutron 2C V3 , TC20 / Catapult V6 / TC15 / TC15 CE *** ###  Olight // H2R Nova , S10R III / S30R III / H1 Nova / H1 R Nova / X7 Marauder , PL Mini ,  M2R warrior //// Orca T11 / Nitecore EC20 / BLF A6 / Custom Convoy C8 / Lixada Triple 3800LM / Lixada 1000LM / LuxStone X30 / Manker E02 / Manker E14 II /  ### Thorfire /// PF03 , PF04 , Upgraded PF04 , C8 , S-50 ,  VG-10 , VG25 , C8s , BL30 , TK4A  , S1 , VG15 S  , TK 18 //// ##WowTac// A4 , A1 (original) , A2 headlamp , A3 //// Acebeam L16 /// Massdrop (Lumintop) Brass EDC