I had to crack open my recently-finished EC11 MELD light to fix a switch problem, so I decided to take the opportunity to cross two goals off the list: stop being annoyed by the unused hole in the reflector (from the red LED in the stock setup), and finally add a long-overdue feature – LASER!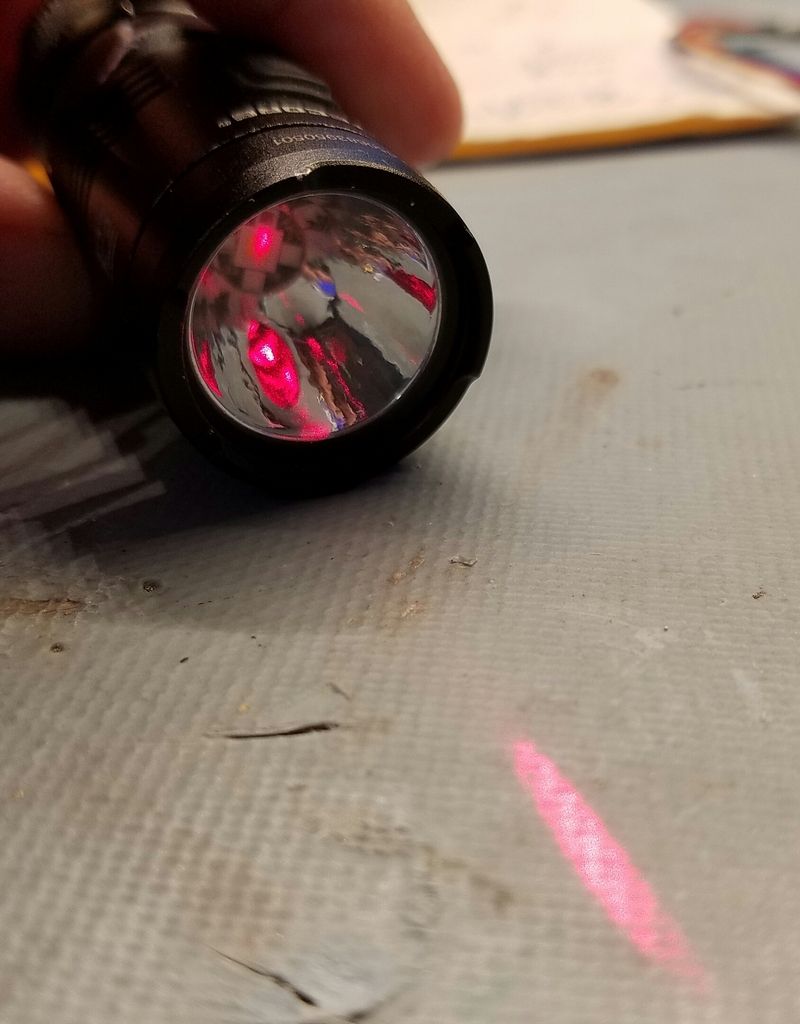 I had been wanting to try and get a laser into one of my MELD lights for a long time to truly make it the ultimate EDC light, but I always got stuck on the issue that the smallest laser assembly I could find was 6mm in diameter, too large to drill out the reflector for it. Finally I realized the hole in the reflector doesn't have to fit the module, just the beam!
Luckily the EC11 has a lot of space in the driver cavity once I replaced the driver with MELD-X, so I could fit this cheap 5mW 6×11mm red laser module down below the LED board. I had to do some surgery on the laser module to isolate the electrical connections from the housing, then I drilled hole in the LED platform for a press fit: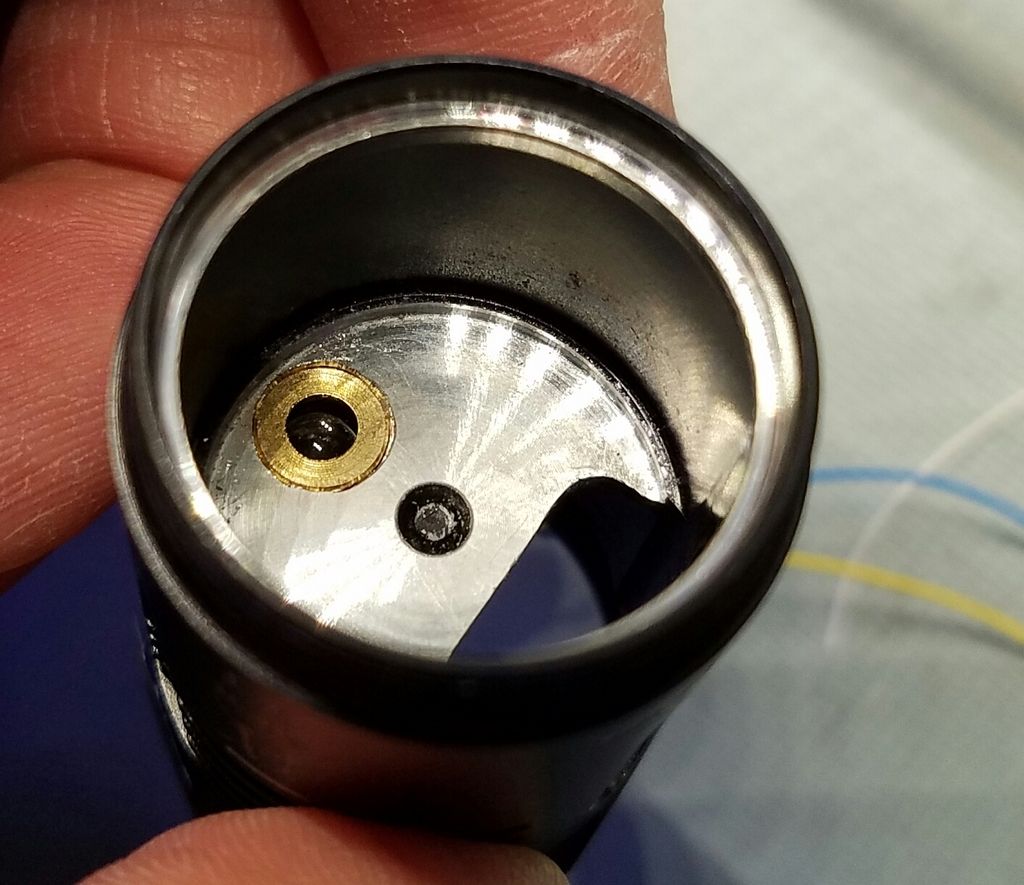 The back of the module just clears the driver when pressed in just below flush with the LED board platform:


MELD-X doesn't have an output set up for this sixth emitter (yet), so I had to tack a small wire to an unused pin on the microcontroller. This pin controls a small FET to turn the laser on and off:


Now there are even more wires connecting the driver to the head – nine of them:


I did a functional test of the laser in situ:


And drilled a small (2.5mm) hole in the LED board to allow the beam to pass through: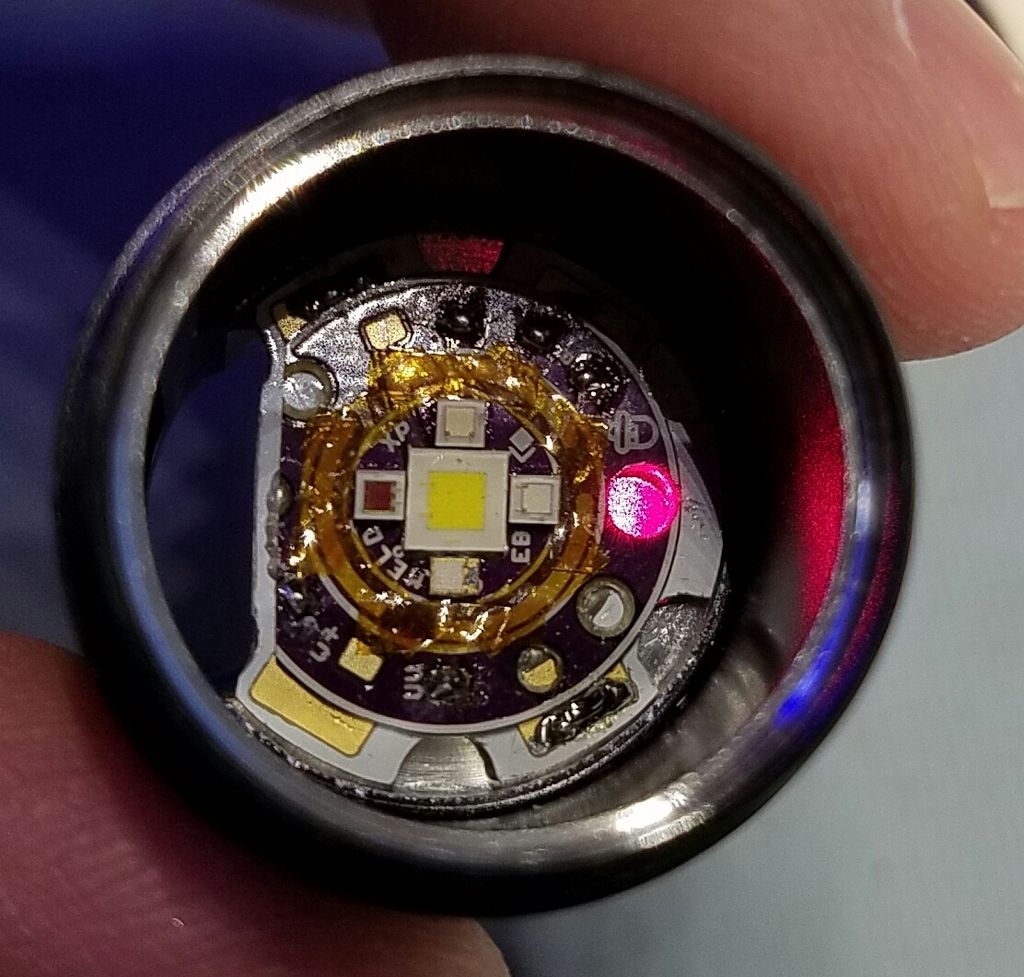 Thermal paste was carefully applied so that it wouldn't get on the laser's lens, and then I reassembled everything as normal, taking extra care to align the reflector with the laser.
I added the laser to the UI by putting in a sort of a mode group with the UV, similar to how I handled the multiple UV wavelenths in project EMERALD. Here's a quick demo of how the laser fits into the UI:

I'm currently looking into fitting a green or high-power blue laser into my next EC11 build…
What do you guys think? Is this worth adding to the standard MELD-X offering? Would anyone else want to build this feature into their multicolor lights?