I am posting a brief review on a knife that I just received from Ali. I do not have any experience with an authentic BM 940 so I am strictly providing this review based on its overall quality in general.
Link to the Ali Store:
http://www.aliexpress.com/item/32782122008/32782122008.html
Blade centering: The knife came with absolute perfect blade centering
Blade-play and lockup: There is minimal blade-play, and lockup is firm. This example of a clone axis lock system is very nice on my sample.
Blade sharpness: This is perhaps the only place that I can scrounge up some sort of criticism. I have a number of knives, ranging from budget to high-ish end, including authentic benchmades. In comparison, this knife definitely did not come 'hair popping sharp'. I usually go straight to a paper cut test, and a shave-test (which is why I constantly have strange bald patches on my arms). I am able to cut paper with relative ease, but the blade is unable to 'pop the hairs off of my arm'. Overall, I can't be too hard on the knife. Perhaps other samples may have that razor edge I was hoping for.
Scales: The carbon fibre scales are ultralight, and very high quality on my sample. It is hard to nit-pick any issues. All edges are smooth, and real carbon fibre is just hotness
Ganzo CF is no comparison compared to this. The knife is capable of left or right hand tip-up carry.
The seller claimed the blade to be authentic S90V steel when I sent them a message. They insisted that I even test, but how many people really test for Rockwell Hardness? Well, I did. This doesn't prove anything really, but I wanted to take them up on their claims of 60HRC.
The results? I measured the blade to be 60.5 HRC. Whether the steel is authentic S90V or not is another story. Take it for what you will, but the blade is made of quite a hard steel. I have a video of the measurement taking place that I may post later.
For now, I will provide you with a number of photos of the knife as well as comparisons to other knives in size and weight.
update: my deep carry authentic benchmade clip works on this clone.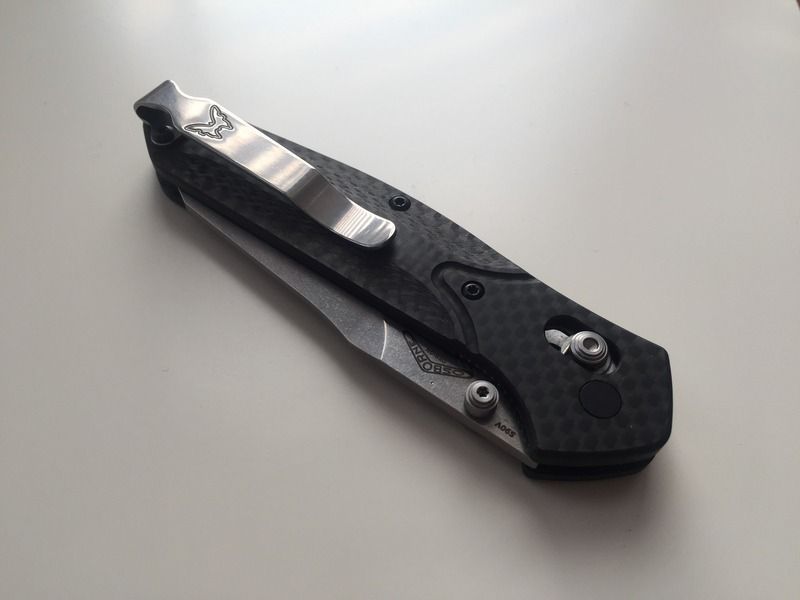 Don't mind the tiny indentation just above the Osborne logo. That is the result of the Rockwell Hardness test.

The threaded inserts in the CF for the pocket clip are a nice touch.

Did I mention that this knife is super light weight?