Klarus Mi7 Ti
Klarus Mi7 Ti XP-L HI V3 700LM AA/14500 Flashlight Review

A new Titanium flashlight has appeared on the market being a titanium variant of the Klarus Mi7. The new model is the Klarus Mi7 Ti. This flashlight is powered by either an AA sized cell or otherwise a 14500 Li ion with a specified output of up to 700 Lumens. Being a compact flashlight that's big output for its small size.
I appreciate wonderfully engineered products and this is no exception, it is a quality product.
Thanks to the team at Banggood who supplied me with a sample to review. Being made of titanium elevates this flashlight into the upper market of the flashlight market. At the time of writing this review the product was priced at $64.95
In this review I'll cover a number of areas including the build quality and performance.
Link (non Affiliate) to the Banggood website is,
Sellers/Manufacturers Specs
Product name:

Klarus Mi7 Ti XP-L HI V3 700LM LED Flashlight

Brand:

Klarus

Model:

Mi7 Ti

Emitter Type:

XP-L HI V3

Material:

Titanium

Total Emitters:

1

Mode:

Moonlight,Low,Hight,Strobe,SOS

Max Lumens:

14500: 700LM
AA: 330LM

Max Runtime:

14500: 67h
AA: 40h

Battery Configurations:

1 x 14500 / AA battery (Included AA)

Switch Type:

Clicky

Switch Location:

Side

Working Voltage:

1.0-4.2V

Peak Beam Intensity:

3025cd

Impact Resistant

1m

Range:

110m

Lens:

Hardened Mineral Glass; AR coating; Scratch resistant

Reflector:

Orange Peel

Waterproof:

IPX-8 

Weight:

40g (Without battery)

Size:

87.2mm(L) x 19mm(Head) x 17.6mm(Body)
Features: 

  1. Uses XP-L HI V3 LED, up to 50,000 hours life
  2. Small and lightweight for everyday carry (40g without battery)
  3. TC4 Titanium alloy body- permanent colour, corrosion & scratch resistant finish
  4. Battery Capacity Indication displays remaining power for easy monitoring
  5. One Touch Access to Moon-light and High output levels
  6. Unique high efficiency circuit with broad voltage range to accommodate both AA (Primary/Rechargeable) and Li-ion 14500 batteries
  7. Constant Current Control with no PWM flash; suitable for photography illumination
  8. Over-Discharge Protection automatically lowers output levels to protect rechargeable batteries
  9. Lock-Out mode specially designed to prevent accidental activation of the flashlight
10. Reverse Polarity Protection for ease of use
11. Exclusive Stainless Steel switch; Elegant, Ergonomic, Easy to use
Package Includes:
 
1 X Klarus Mi7 Ti XP-L HI V3 700LM LED Flashlight

1 X AA Battery

1 X O-ring

1 X Keyring

1 X Lanyard
First Impressions and Unboxing
The flashlight arrived safely and without damage in a small blue box contained in a well padded bag.
 Opening the box reveals the contents. The flashlight is visible but nothing else. The flashlight design is tubular and immediately the titanium body impresses.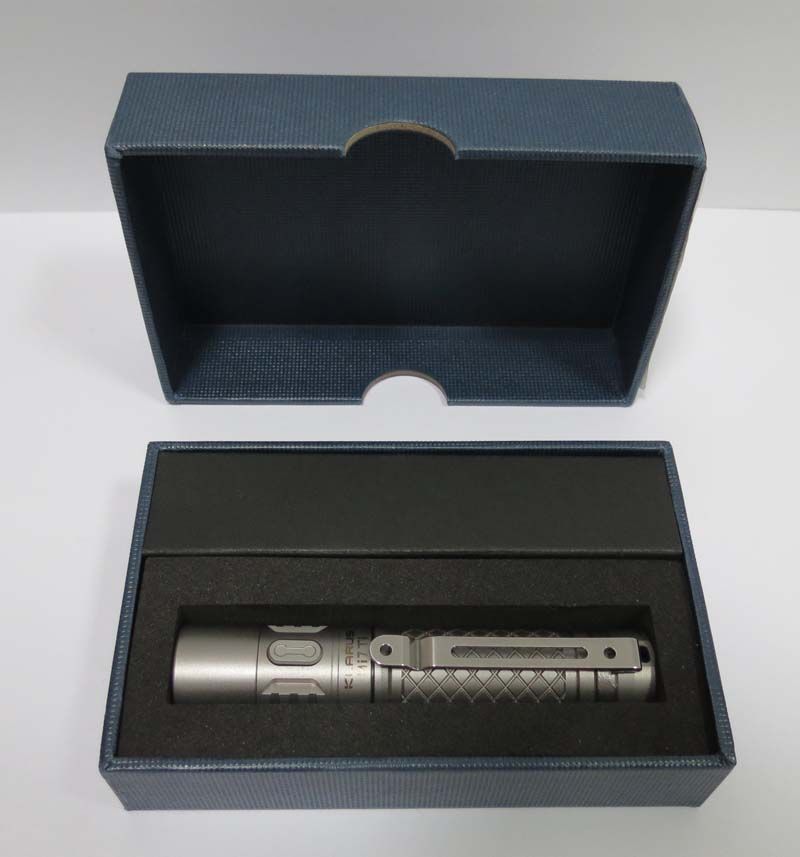 Removing the internal packaging reveals the other included items. The flashlight was surprising heavy for its small size. Knowing that the host was titanium led me to expect a very low weight, but of course the reason is that inside the host was an AA battery which you can see in images that follow. The packaging is very efficient and covers all the needs.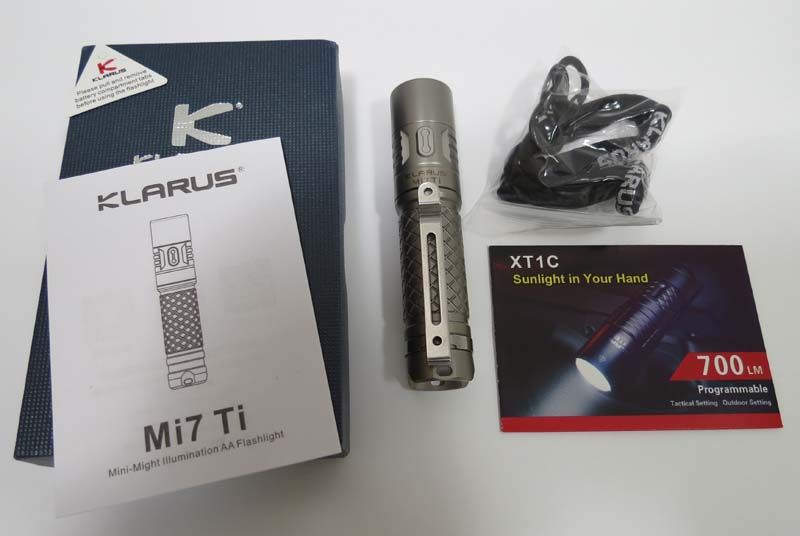 A closer look at the lanyard, spare O ring, Keyring clip and steel ring. All quality components, some flashlights include a very basic plain lanyard not this one.
The flashlight is rather small in size. At only around 87mm in length and with a body tube size of approximately 19mm.
Image below of the flashlight alongside a few other AA models. The Klarus Mi7 Ti is very compact for a AA/14500 flashlight.
The manual consists of a single sheet with details on both sides.
It's very informative providing full detail of the product specifications and usage.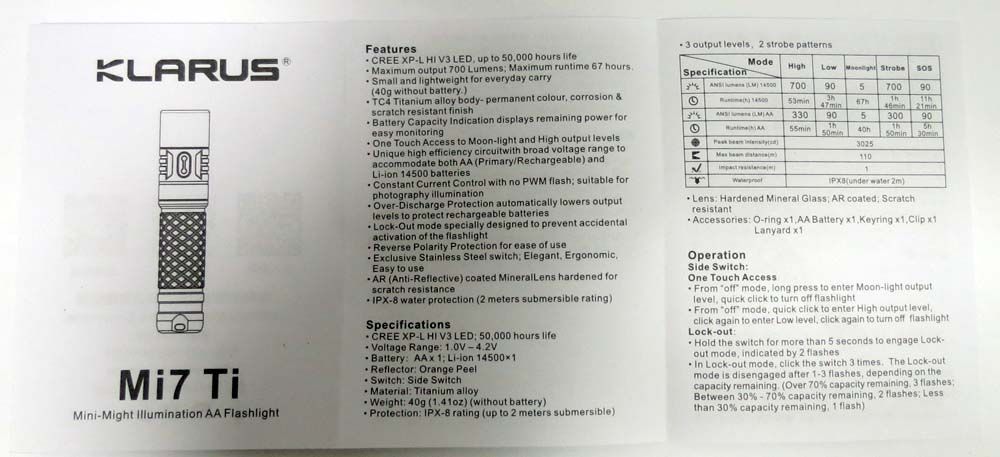 Other side
User Interface
The flashlight has 5 modes, all are accessed via various presses of the side switch,
HIGH - To activate - From OFF mode, selected with one press. To Turn off - Press once to move to low mode, then again to turn off.
LOW - To activate - From HIGH mode, one further press of the side switch to access this mode.To Turn off - Press once to turn off.
Moonlight - To activate - From OFF mode a long (2 second) press of side switch.To Turn off - Press once to turn off.
Strobe - To activate - From OFF mode double press side switch. To Turn off - Press once to turn off.
SOS - To activate - From Strobe Mode double press side switch. To Turn off - Press once to turn off.
It's pleasing to see that some of the modes are somewhat hidden although easily accessed when needed. One omission here is memory mode.
Also included is a lockout feature. This is activated by holding the switch for more than 5 seconds. To re-activate press the button 3 times. This is an interesting way to implement this feature.
Overall the interface is easy to use although a memory mode would be useful for those who prefer to start in another mode.
Flashlight Build and Disassembly
The titanium body of this flashlight is very well finished.
There were no blemishes or damage on the supplied unit.
Included is a stainless steel pocket clip. It complements the grey tone of the body very well. The clip itself is a good design and is effective. It can be rotated or removed.
On one side of the head we see the switch with some printing below. The switch appears to be made out of metal material, possibly titanium. The switch press isn't too firm.
Other side of the flashlight. Again some printed text included. It doesn't detract from the overall look of the flashlight.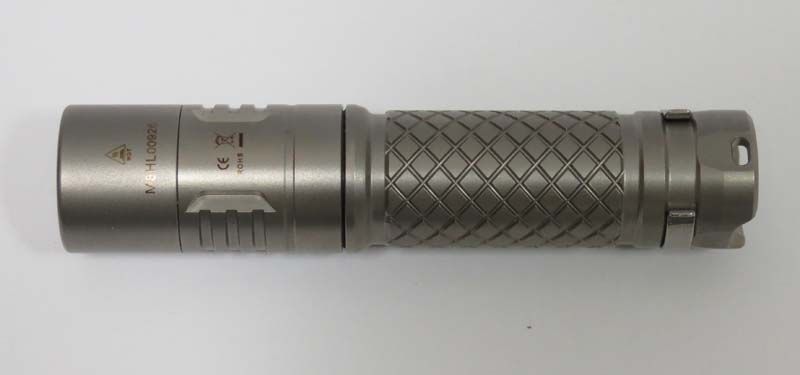 The bottom end of the host. Two holes are available to attach a lanyard. No tail switch here. This design allows for tail standing.
View of the LED and reflector. The LED is well centred. According to the specifications the glass is hardened with an AR coating.  The reflector is shallow and is of the OP type. LED included is a XPL HI V3.
The temperature is on the cool side which I prefer however some would like to see a warmer version.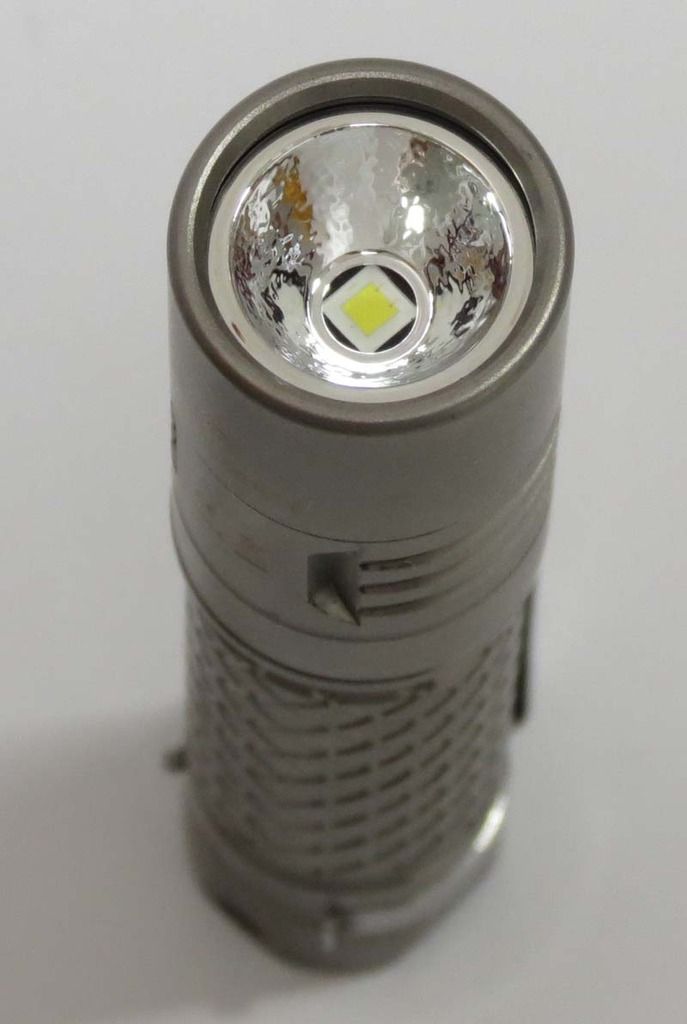 Host below with head section removed. This exposes the included AA Alkaline battery cell and an insulator. The body section of the host has sufficient grip. 
Machining is excellent. The threads on the host are square edged. Threads came lubed.
Inner view of head section in view below. Although the positive terminal here is somewhat flat it can be used with flat top cells. As mentioned earlier in the review the flashlight is small in size.
By way of comparison the standard AA Cell is included in the image to emphasize the compact size of the host.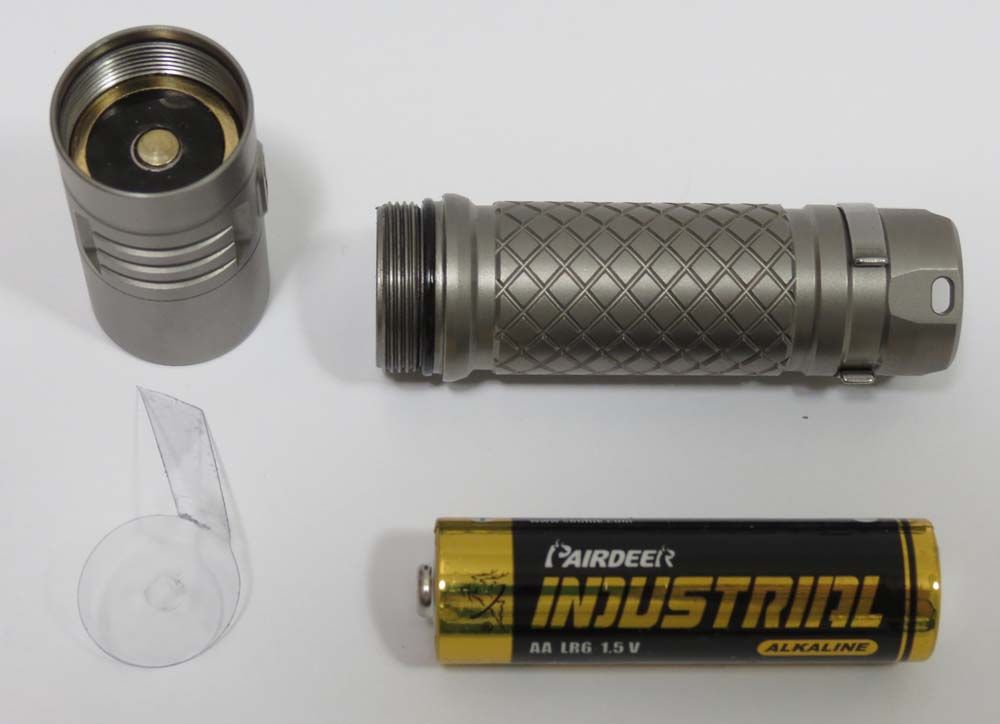 A view of the inside of the host tube. Here we can see what appears to be a brass spring. One issue found in the review was the inability to use all types of 14500 batteries. The problem being a tube diameter of only just over 14mm limits the choices. Examples of batteries which could not be inserted into the host are,
Keppower 14500 800mAH

Olight 14500 750mAH
 No issues found with Alkaline batteries tested.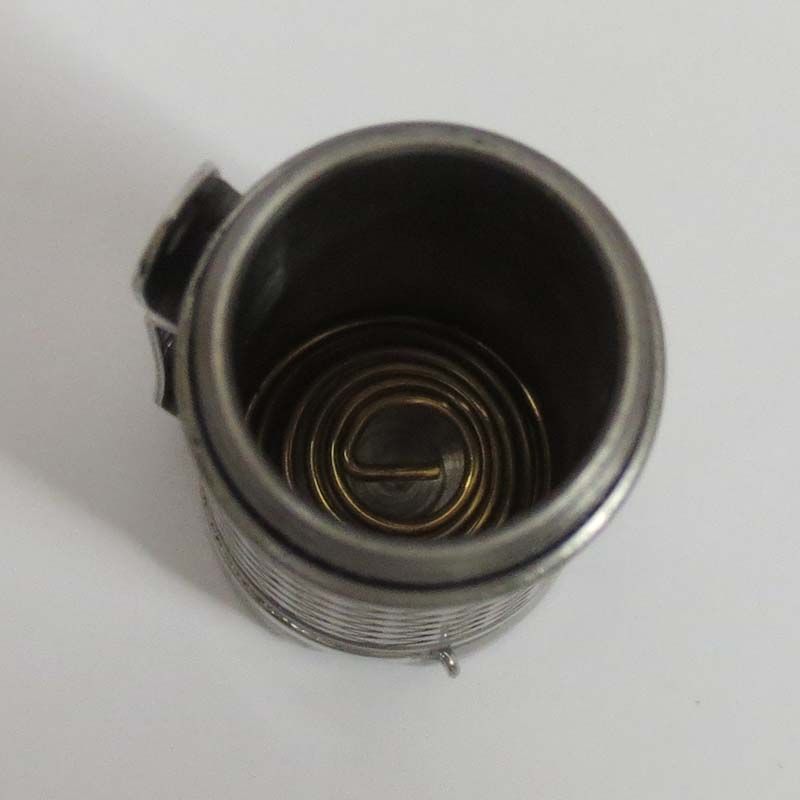 Another view of Head and Body of the Mi7 Ti. The surface appears very scratch resistant.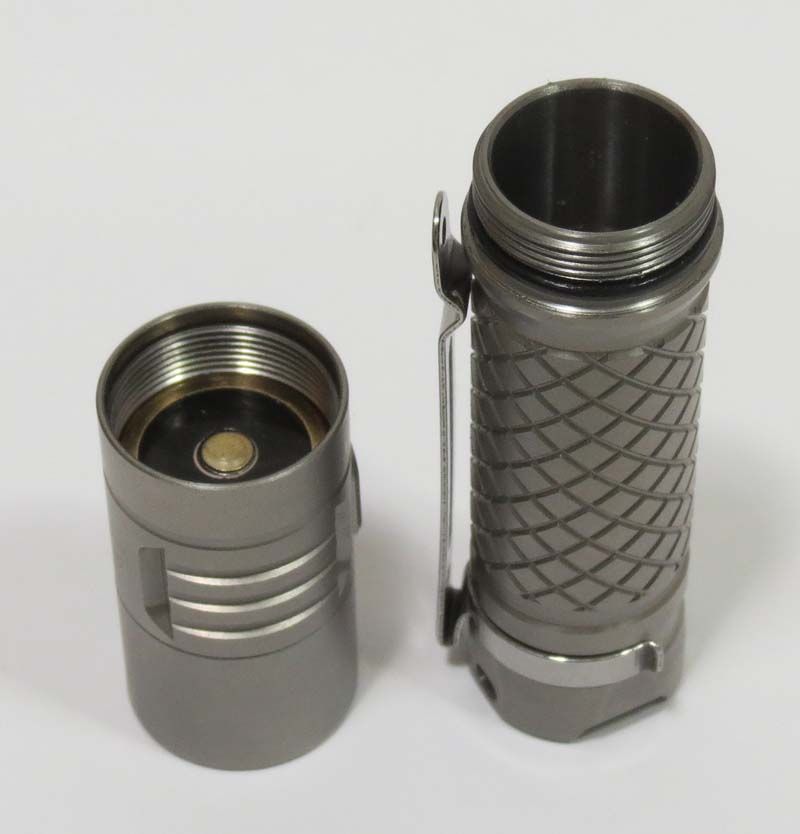 Not only is the flashlight small in size but also in weight. The head weighing in at only 20 grams as does the body.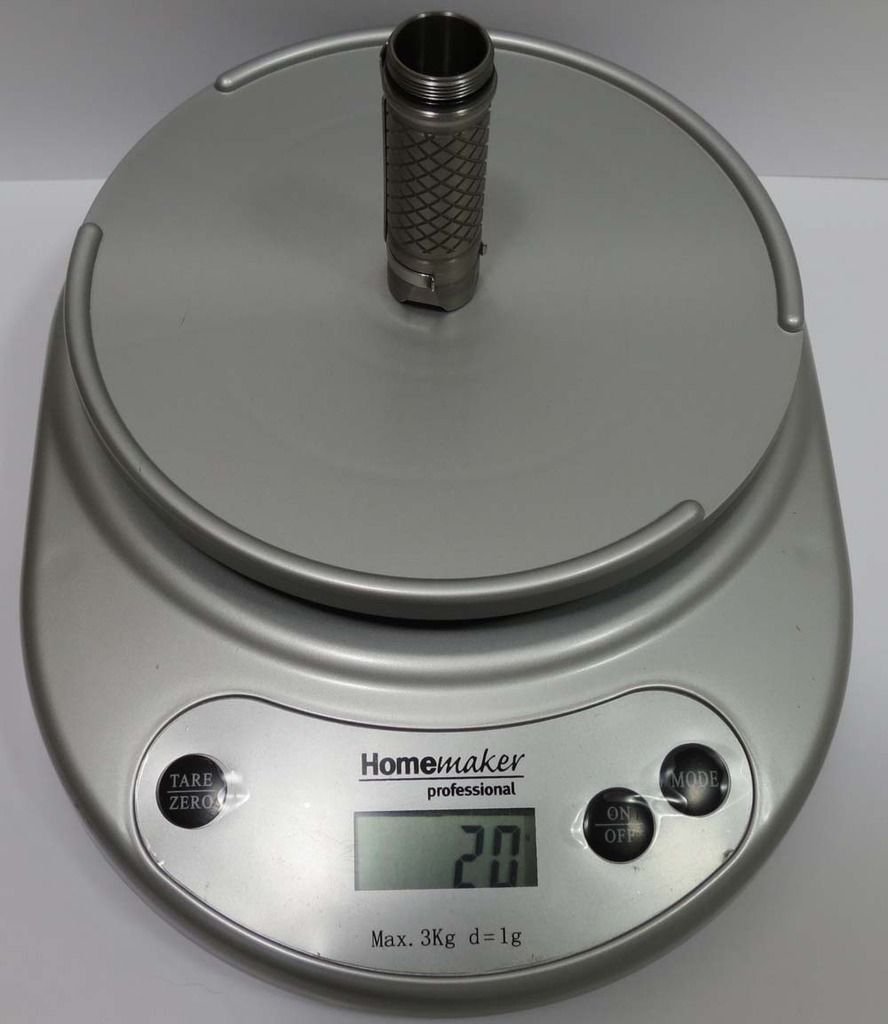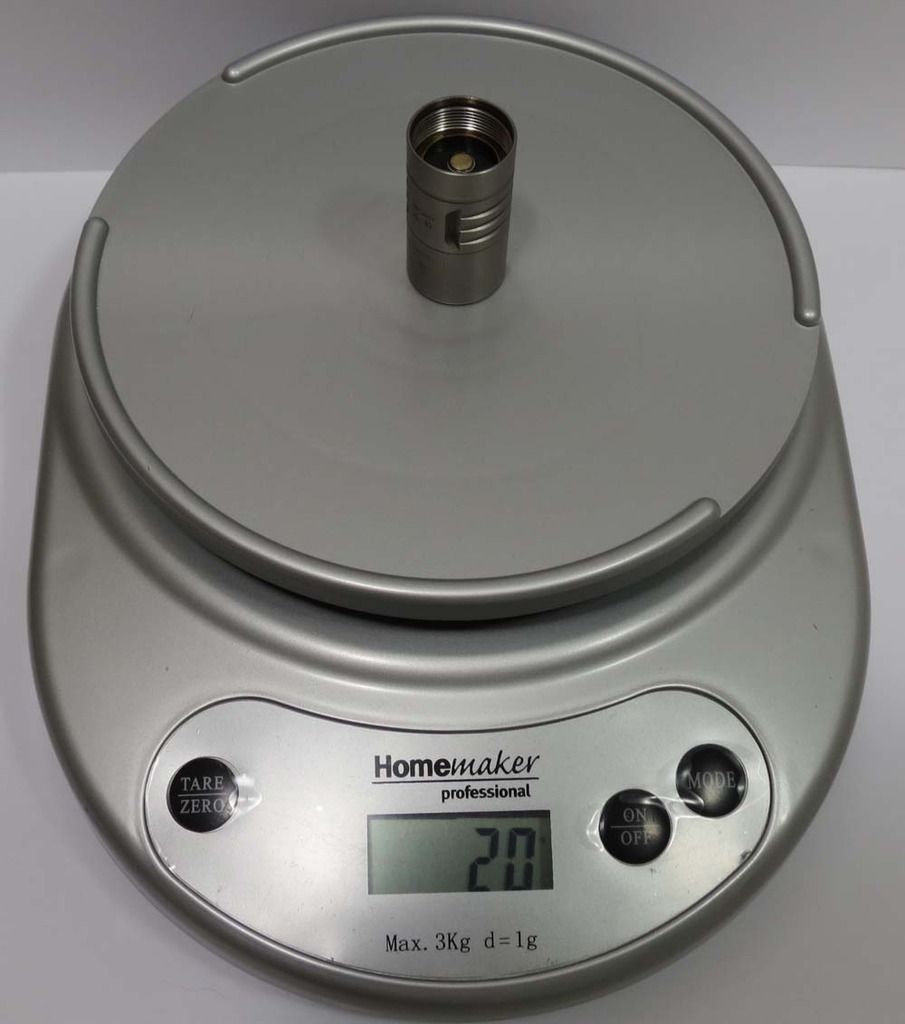 Light Output
Three performance tests were completed on the Klarus Mi7 Ti, these are,
1. Ceiling Bounce test measurements
2. Runtime test with a 14500 battery
3. Runtime test with an Alkaline Battery
Firstly the Ceiling Bounce test. The purpose of this test is to assess the amount of light produced. The results achieved are at the lower end of the scale when compared to other models listed. Performance is excellent considering the size of the flashlight. All other models included in the chart are much larger in size with most requiring an 18650 cell.
All runtime tests were executed with the flashlight mounted in a tripod spaced 1m from the light meter sensor. The flashlight and sensor were stationary for the full duration of the test. A video recording device was used then to record the session with all results recorded transferred to a a spreadsheet for charting purposes.
Next is a runtime test using a freshly charged 14500 Lithium Ion battery. During the first 5 minutes the output was at maximum then dipped sharply from just over 5,500 to 2,400. It effectively dropped down to LOW mode at this point. At this level it maintained a relatively constant result for the next 40 minutes after which the mode dropped to Moonlight (28). At around the 75 minute mark the flashlight turned off. Temperature measurements were not made during the run, however the head became very warm almost hot during the initial 5 minutes. Not too hot to hold.
The drop down to low appears to have been due to thermal levels exceeding a threshold.
Below is a runtime with a new Alkaline AA batter cell. The output here peaked initially at almost 1700 and then gradually dropped to just under 800. Strangely at around the 46 minute mark there was a brief drop and the measurements that followed described a slight increase. Then abruptly a major dip occurred as the mode switched to Moonlight. The flashlight remained in Moonlight mode beyond the 90 minute mark. The test measurement recording was ceased at this point. Output levels at Moonlight were measured as 28.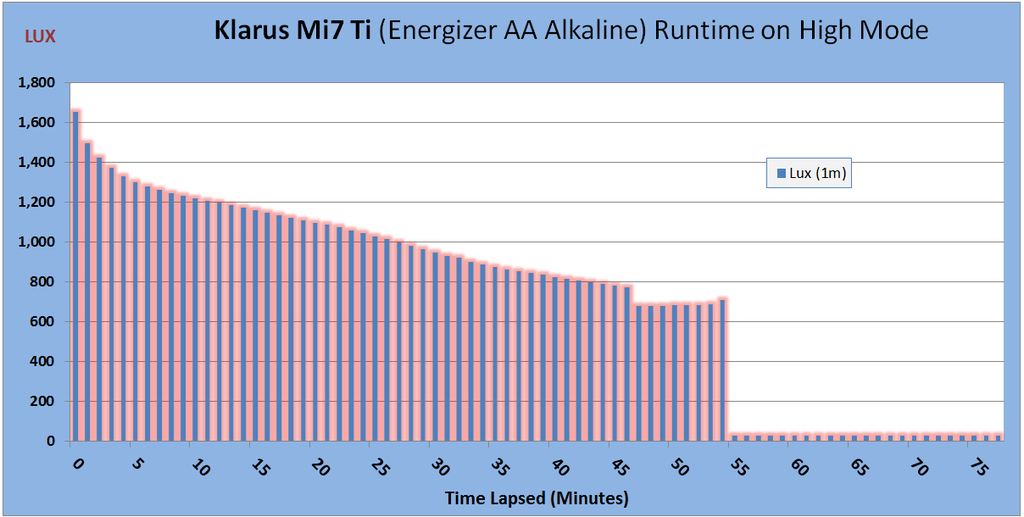 Beam Shots
All photos taken with the following Camera settings. F 2.7, Shutter 1/400 ISO 100
HIGH
Medium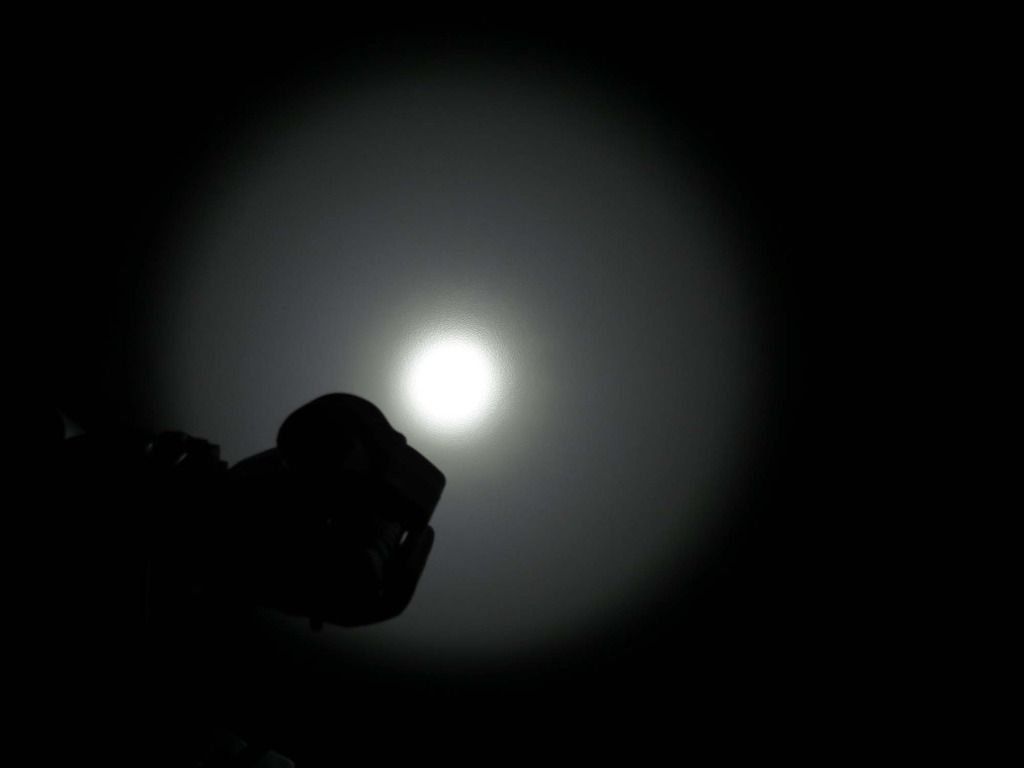 Moonlight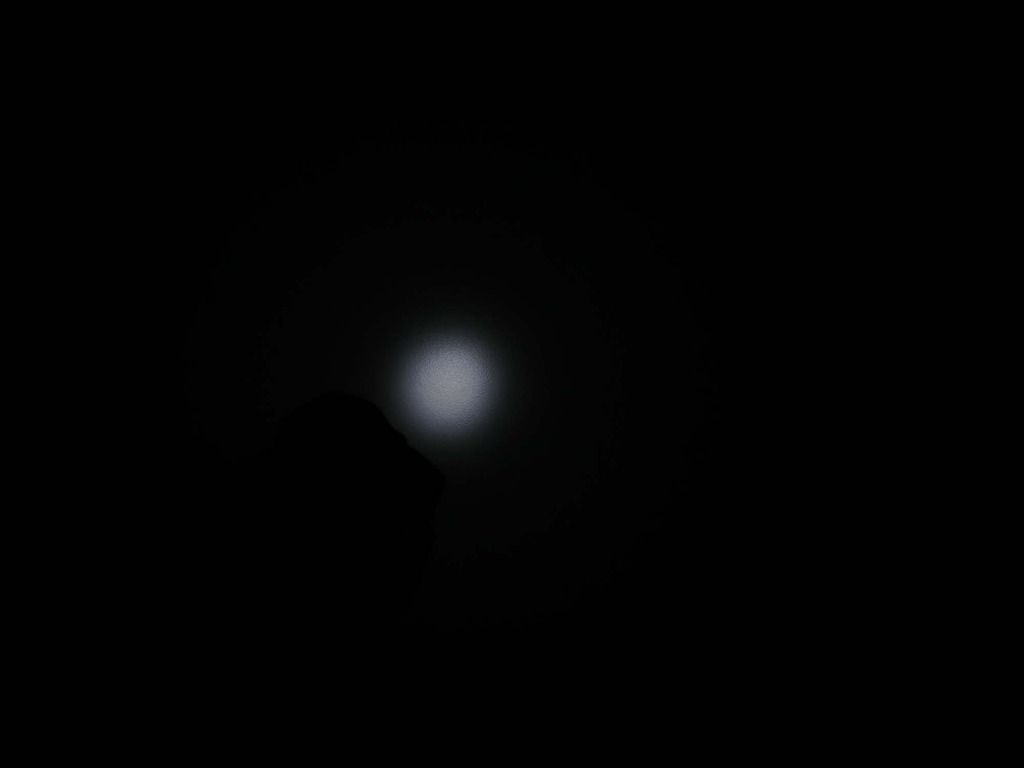 Outdoor Photos
All photos taken with the following Camera settings. F 2.7, Shutter 1/30 ISO 100
Location is at a park with the distant tree approximately 60m from the camera position.
HIGH Mode. A very good amount of light. The 700 Lumen rating seems accurate. The beam pattern is more flood than throw. This is likely due to the shallow OP reflector.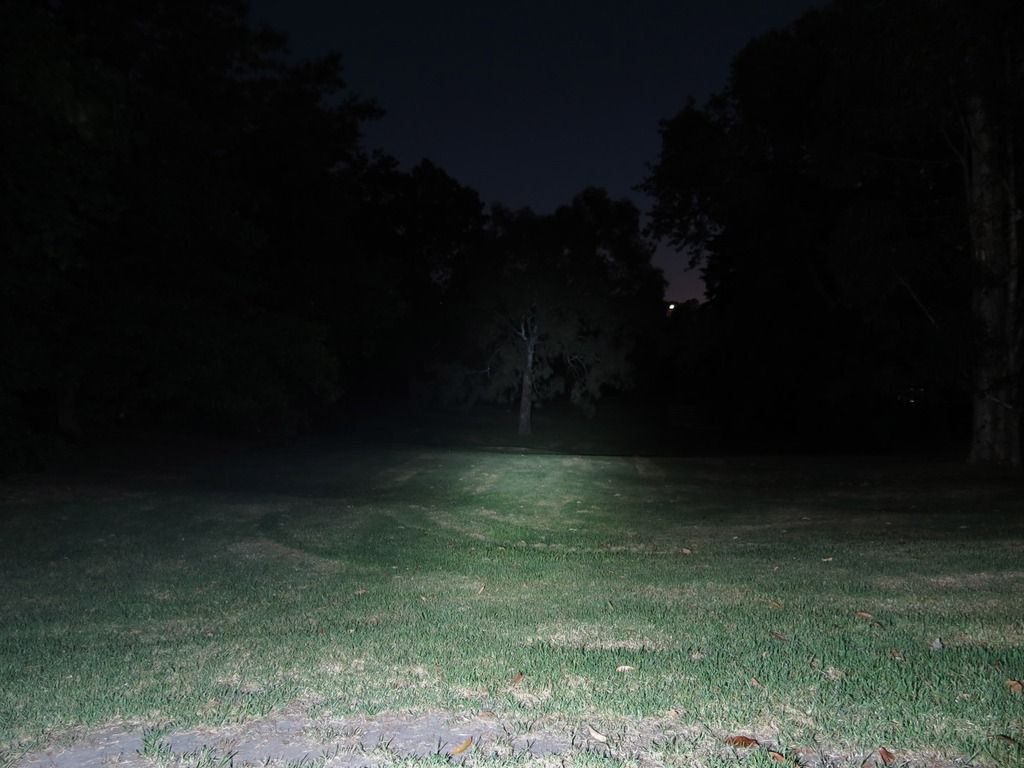 Low Mode – Very usable outdoors.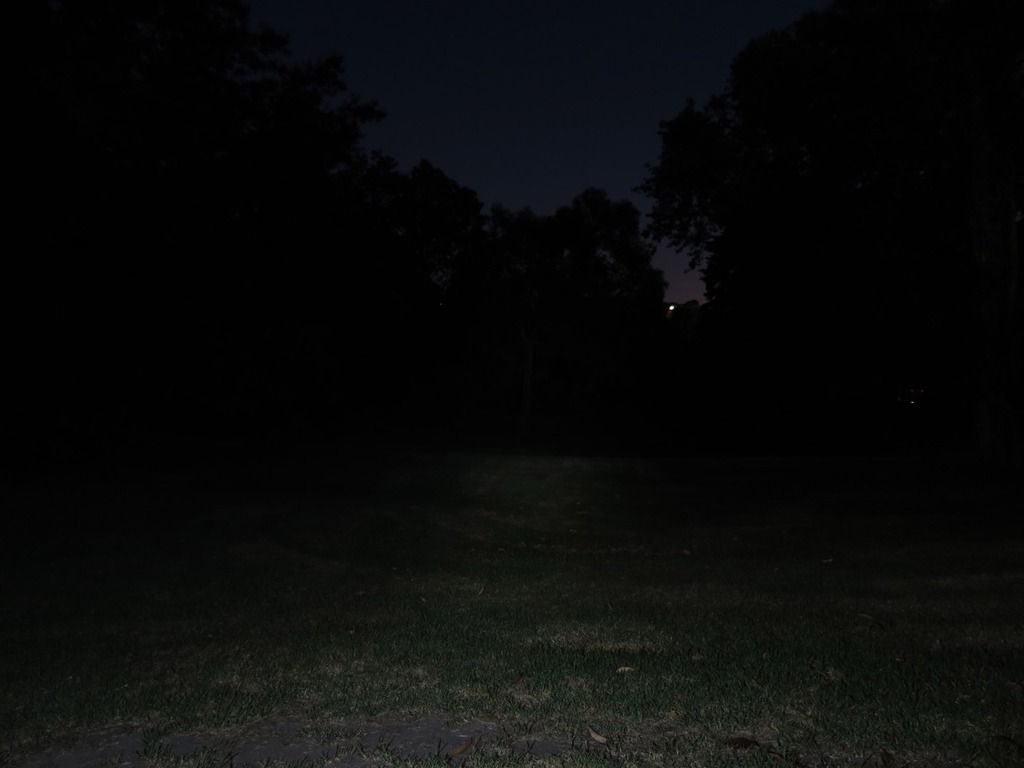 Moonlight Mode
Final Summary
The Klarus Mi7 Ti is an excellent small compact flashlight that delivers very good performance for such a small product. It's compact size allows for ease in carriage and should be considered a true every day carrier (EDC). Easily fits in ones pocket and is really well made with the titanium finish. The titanium body and head are high quality.
Light output is very good as is runtime. Neither should be expected to be exceptional given the size and AA/14500 format of the flashlight, but in both cases the performance is pleasing.
There are some shortcomings in the tube diamater size limiting 14500 battery choices and the lack of mode memory, but these are minor when compared to the strengths of this product.
If you are seeking a premium flashlight of this size, this is a very good choice.
URL to item listing on Banggood.
Klarus Mi7 Ti XP-L HI V3 700LM AA EDC LED Flashlight
At the time of writing this review the new Pro model was priced at $64.95.
Pros:
>Excellent Quality
>Titanum Body!
>Very Good Brightness for such a compact flashlight
>Long Runtime (67hrs on Moonlight)
>Can Tailstand
>IPX 8 Waterproof to 1m (not tested)
>Lockout feature via User interface.
Cons:
>Lacking a Memory mode
>Some battery cells with larger diameter cannot be used.
>Premium price
>Only available in Cool White LED